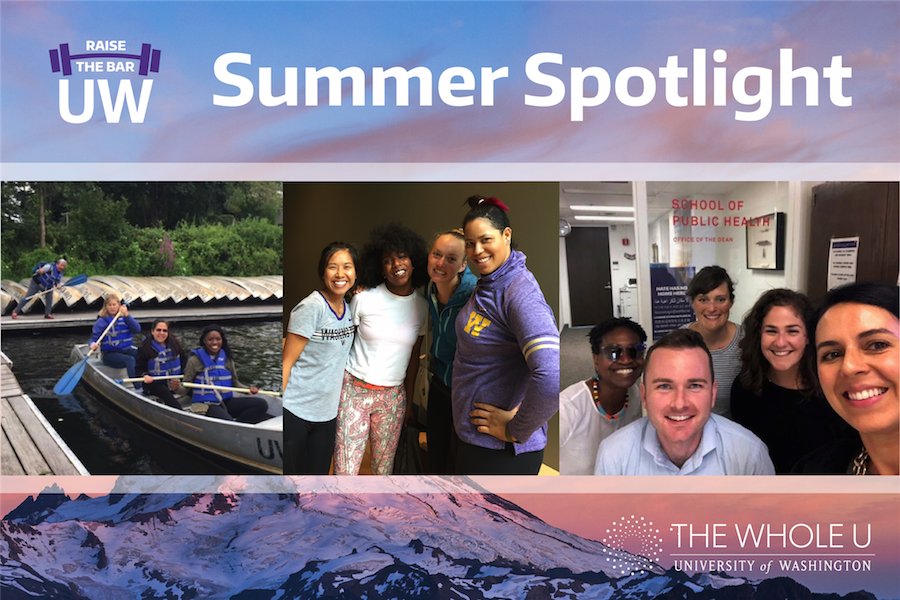 Summer Spotlight: Raise the Bar Week 4
UW made waves in Week 4 of Raise the Bar—rounding out a creative, connection-filled first month of our summer challenge for fostering wellness in the workplace! (Don't miss the items from Week 1, Week 2, and Week 3).
What did Week 4 hold in store? Let's find out!
Making Waves
Mary Jane Lohr, project director for Moms & Babies Program, Families Together, & Supporting Parents Program, checked in again on Team LoKB's progress from School of Social Work and School of Dentistry: "Another summer week has flown by! Team LoKB had fun participating in the canoe/kayak/row boating event put on by the Whole U—thank you! We made some new friends too, which was wonderful!"

"Team member Anh Pham organized a canned food drive for the UW Campus Pantry as part of the team's focus on kindness and sharing with others [read more about the Pantry here] and we also met daily for our kettle bell workouts, Zumba Friday, and stretched at our desks!"

Way to get it done, Team LoKB! Check out more photos from the Raise the Bar Kayak/Canoe Outing.
Quote of the Week
Anna Khoutxaysana, a patient financial specialist II at Harborview Medical Center, shared how participating in the Raise the Bar challenge helped provide a level of consistent accountability that positively impacted her overall wellbeing:
"Sometimes, no matter how important my goals are to me, it's a struggle to bring my best effort to my workout/exercise—or work up the motivation to make it happen.

But whether I'm trying to lose weight, train for a race, keep my stress in check, or any of the other worthwhile reasons to make fitness a part of my life, staying consistent is key, even when I really, really don't feel like it.

When I'm struggling to remember why it's worth all the effort, the Raise the Bar challenge program is indeed the antidote to my temporarily unenthusiastic fitness 'tude any time I need a little extra boost to get me moving, mind, body, and soul."
How has the challenge changed the way she looks at life?
"Every day is another chance to get stronger, to eat better, to live healthier, and to be the best version of ME. Because fit is not a destination, it is a way of life!"
Barre Outing
Julie Ngo, project manager for Information Management-UW Advancement, checked in to share her Raise the Bar squad's experience at an intense lunch time workout at the Pure Barre University studio. "It was tough and we felt it in every inch and bone of our body after but it was fantastic to try something new together!" wrote Julie. "The motivating instructor really helped us push through until the end!"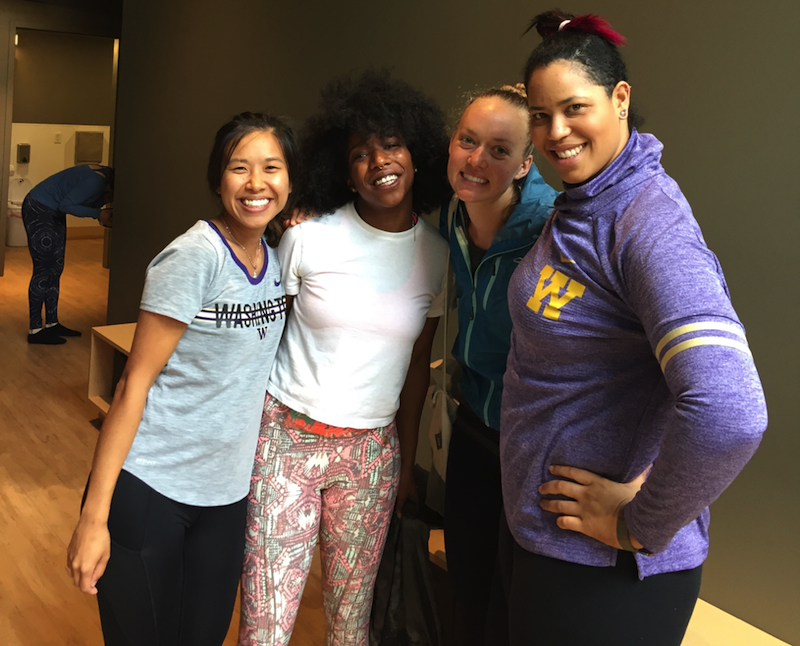 We cropped this photo for size, so you'll trust us that the wall above them reads, "You're only one workout away from a good mood." True words!
Respect the Tech
Shane McDowell, technology manager for IT Operations checked in for the UW-IT Techies team, reporting that their wellness slack/chat channel was helping with motivation and story sharing. Team-supported individual acts toward health and self-maintenance go a long way!
Shane said the most frequent reports were of early morning running, gym work outs, yard work, meditation sessions, and healthy eating, but other activities had included home-brewing Kombucha (pictured below), moving a cast iron bathtub (pictured below), and replacing the timing belt on a VW Beetle (because, why not?).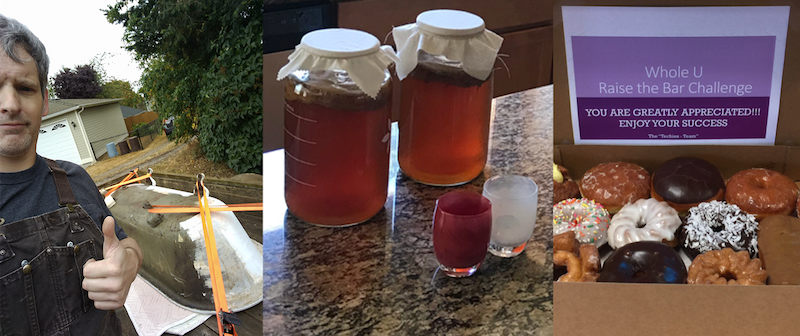 The team found that weekly themes help keep wellness efforts on track: "The first week was "act of kindness" (see donut picture), next was "creative ways to incorporate more walking" and now we're on to "at least one change to incorporate healthier eating into current diet." Shane said they next plan on "picking someone in the organization who you don't know to walk a mile with them in your own shoes to learn more about them."
Pop a Squat
Juanita Ricks, director of Program Operations for Student & Academic Services at the School of Public Health, sent in this photo of the OD Dream Team after day seven of their team Squat Challenge with the caption, "Feel the burn!" That's how you know a workout is working!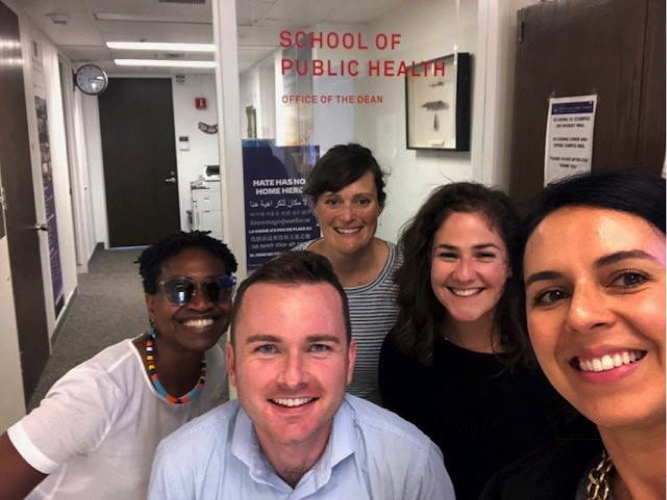 Sittin' Strong
Major Steve Rittereiser of UWPD reports that since the Raise the Bar challenge began, their Wall Sit group has tripled in size! Wall sitting primarily builds isometric strength and endurance in glutes, calves, quadriceps, hamstrings, and adductor muscles. To do a basic wall sit, stand against a wall and slide your back down until your knees are bent at a 90 degree angle. Make sure your thighs are parallel to the ground and your knees do not extend past your ankles.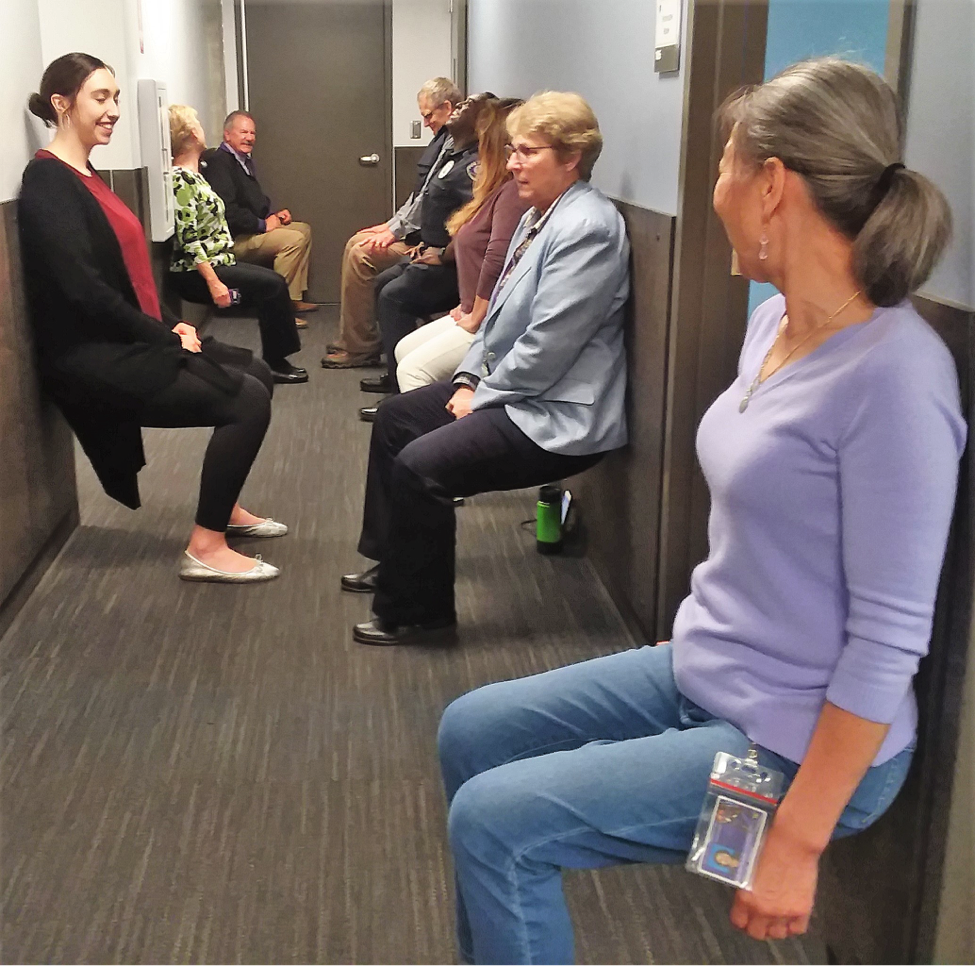 Shoutouts to (clockwise from left) Karly Kern, Karen Erickson, Steve Rittereiser, Doug Schulz, Officer Gabriel Golden, Wendy Matsuyama, Cheryl Price and Sue Park as well as (not pictured) Sherri Vansickle and Robyn Riley!
---
Thanks to all for their efforts toward another inspiring week! Check out our upcoming events for more opportunity to be active and stay healthy at work this summer.
We'll continue featuring your stories of developing healthier, more positive work environments in this space throughout the summer as you continue sharing them with us at wholeu@uw.edu. We also encourage you to join our Whole U Being Active Facebook group to post photos and reflections or share via Twitter and Instagram using the hashtag #raisethebaruw.
---
Special thanks to our Raise the Bar sponsors: UW Medicine, AT&T, US Bank, BECU, and UW Resilience Lab!