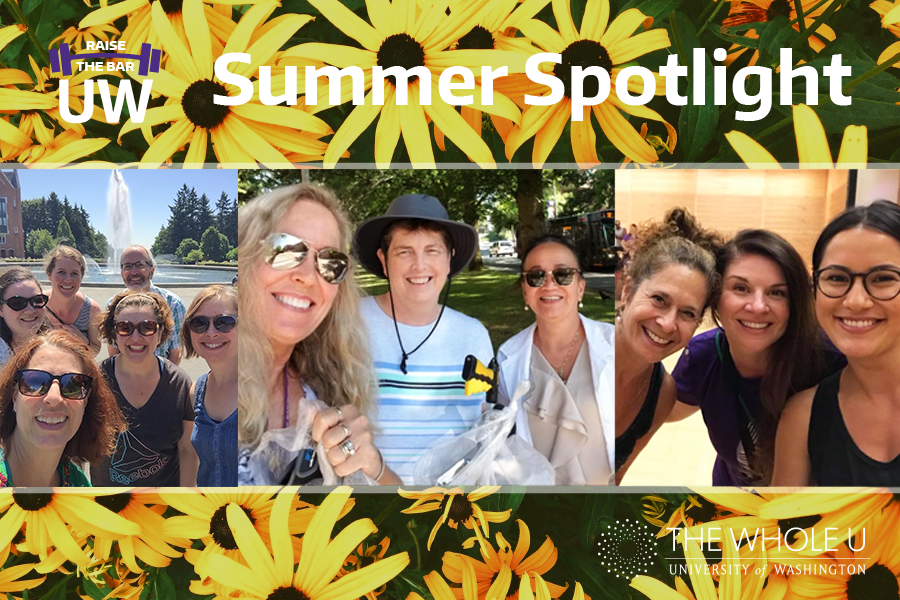 Summer Spotlight: Raise the Bar Week 3
UW teams and individuals entered Week 3 of the Raise the Bar summer wellness challenge ready to build on momentum from Week 1 and Week 2. The sun was out and temps were blazing, but that hardly stopped hardy packs of Huskies from cruising to success in activities ranging from organizing a community clean-up walk to crafting creative "wellness walls" at work—all in the name of recognizing that one's workplace can work in favor of one's overall wellbeing!
Lisa Flint from the Department of Anesthesiology and Pain Medicine dropped us a line to share how the Raise the Bar activities such as yoga classes and last week's Pure Barre have helped her find a sense of balance and greater peace-of-mind—even amid a hectic summer work schedule.
"One reason I appreciate UW hosting these events is I find it challenging to find time for exercise at home with kids, chores, life, etc.," Flint said. "Fitting in an occasional workout during my lunch hour works out great."
There's much more of that in store in the coming month! We encourage you and your team to check out our upcoming August events and find one—or a few—that work for you. We're also thrilled to invite you to join us at Sylvan Grove on August 9 to connect with colleagues and celebrate our shared sense of UW community at a Raise the Bar Summer Social featuring live music and plenty of space for you and your team to pack a picnic.
We can't wait to see you there—but first, let's see how you managed to once again Raise the Bar in Week 3 of the challenge…
When these walls talk, listen!
One of the sure-fire ways to ensure team success in implementing positive, healthy habits at work is to create a "wellness wall" around each area of the challenge. Check out these examples submitted by Malyse Chabot, Katrina Beyer, Claire Tucker Higgins, and the Raise the Bar team from the Business Unit of the UW School of Medicine's Dean's Office. From a "Throw Compliments Like Confetti" board to sections on sharing interests and snacking right to maps of suggested walking routes on campus, when these walls talk, we listen!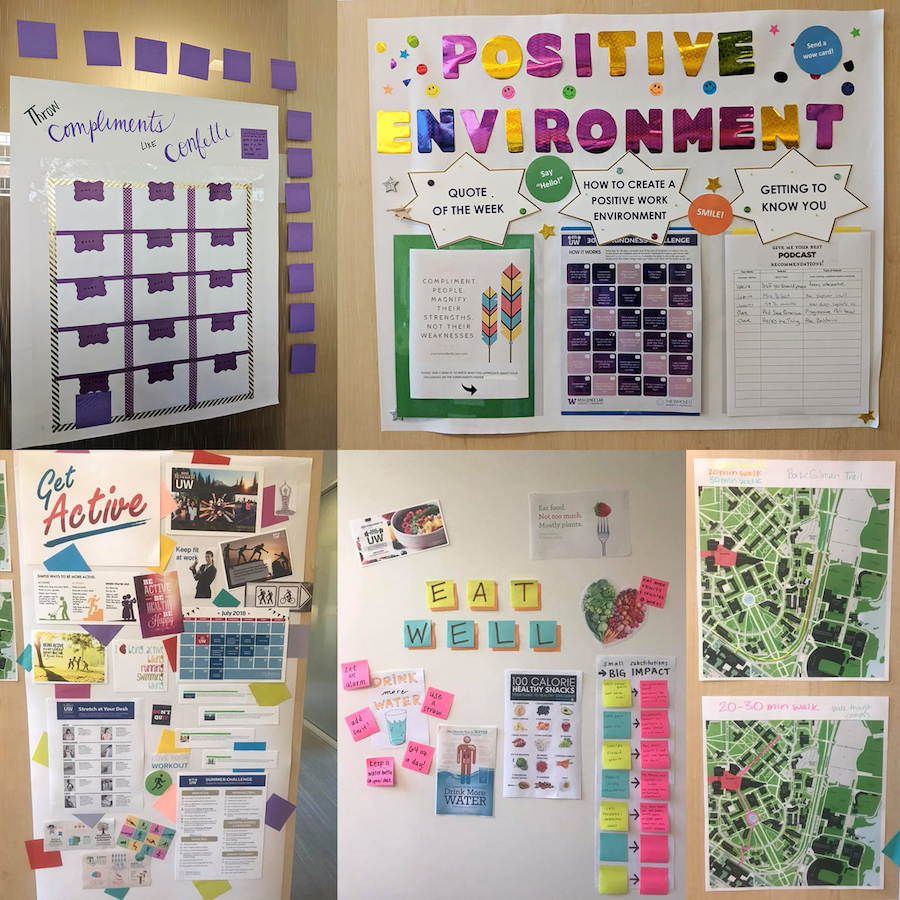 Their team didn't just talk the talk; they also walked the walk—turning up for our Pure Barre workout at the HUB last week before hitting the deck yesterday for a quick in-office workout. "Our group did 10 push-ups, squats, and crunches every hour on the hour today and will continue it the rest of the week!" wrote Malyse. Keep it up, squad!

Green Machine
Chris Pennington and her General Industry Facilities Raise the Bar team decided to up the ante on their team walk by picking up trash they saw along the route, reporting: "A very productive walk about this morning before it got too warm. We walked, did stairs, squats and cleaned up along the way!" Team member Mary Dunlap is credited with the great idea to pick up trash/recycling for providing the tools to do it! Check out these photos Chris shared to our Whole U Being Active Facebook page.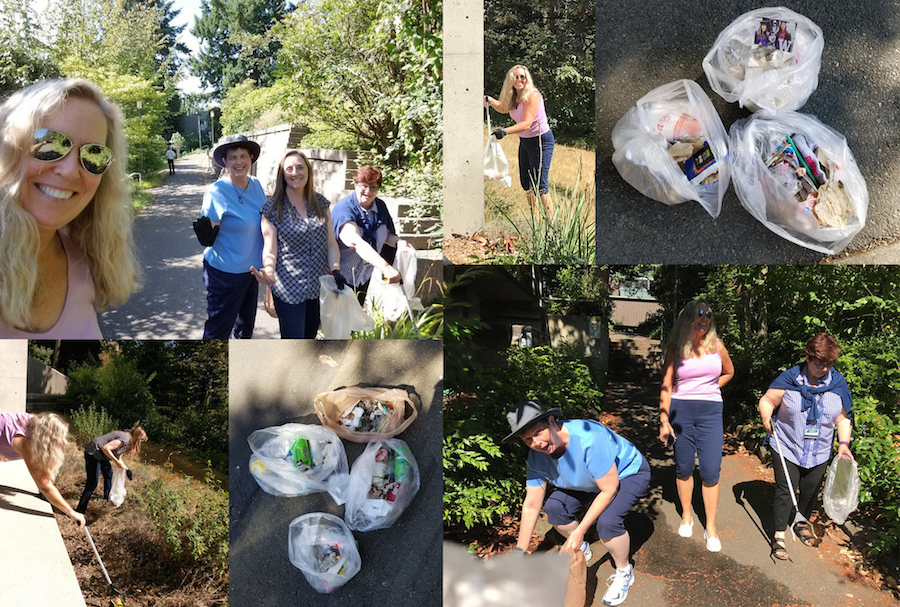 Triple Threat
Sometimes a team outing is so nice, you document it thrice. Julie Dunlap, senior lecturer in the Department of Speech & Hearing Sciences and clinical supervisor at the Speech & Hearing Clinic, shared three snaps her team took on a walk around campus on a classic bluebird day, adding: "We are loving being a part of the challenge!"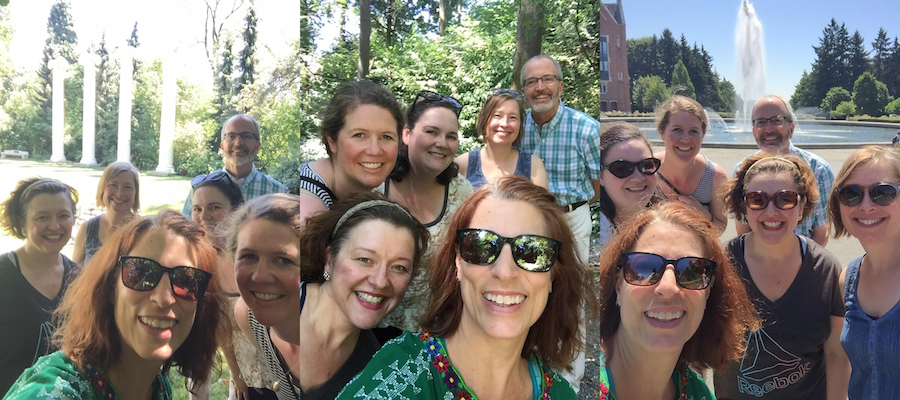 Just Having a Laugh
Nina Velikin checked in for Team E-I-E-I-GO of UW's Data Delivery Group to tell us about a creative way the team manages stress: laughter. "One team member shared a laughing exercise from her Qigong instructor demonstrating how 'laughing from deep within the belly' can lift your spirits," Velikin related. "Laughter without reason takes practice and goes beyond just the sound or movement, but letting go of yourself for that moment and just focus on the joy that laughter brings."
Dawn Hemminger also enjoyed the exercise, stating: "Although it was uncomfortable at first to laugh just for the sake of laughing, I left our session in a better mood and was able to better work on work." Inspired by the success of their stress management session, the team has planned a future "relieving stress by relieving pain" class. If you're interested in joining, contact Suantin Mach at smach@uw.edu for more details.
"We are truly grateful the Whole U Raise the Bar challenge has given us the opportunity to focus on the joy that laughter brings, connect with those in our UW community, and reduce stress by promoting activities of all kinds," Velikin concluded.
A Whole U Super Loop
If you've been following us on social media, you'll know The Whole U team, the intrepid Power Rangers, are also in on the challenge to Raise the Bar. We decided to bridge an afternoon that might otherwise have been spent inside with an energizing loop around campus. Check out our water-front route and a few snapshots below and more on Instagram!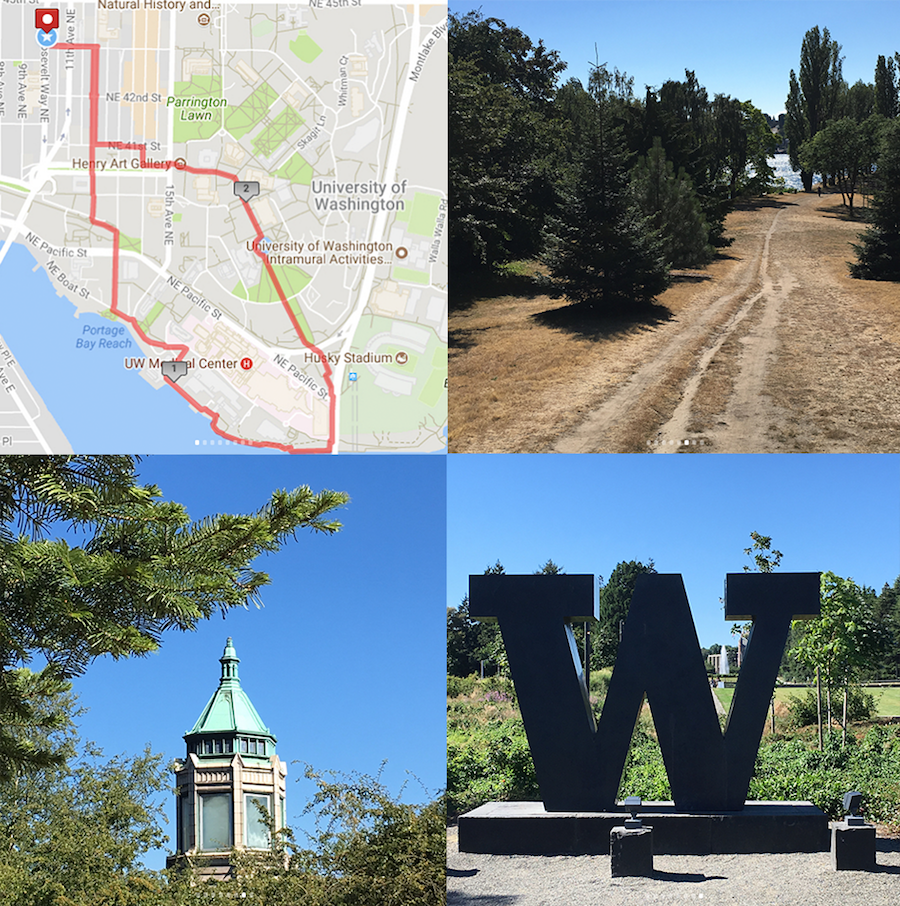 ---
Thanks to all for yet another impressive week! We look forward to seeing the creative strategies you have been able to come up with for Week 4 and beyond!
Every Wednesday through August, we'll be featuring your stories of developing healthier, more positive work environments, so continue sharing them with us at wholeu@uw.edu for a chance to be featured! We also invite you to join and post photos and reflections to our Whole U Being Active Facebook group or share them on Twitter and Instagram using the hashtag #raisethebaruw.
---
Special thanks to our Raise the Bar sponsors: UW Medicine, AT&T, US Bank, BECU, and UW Resilience Lab!