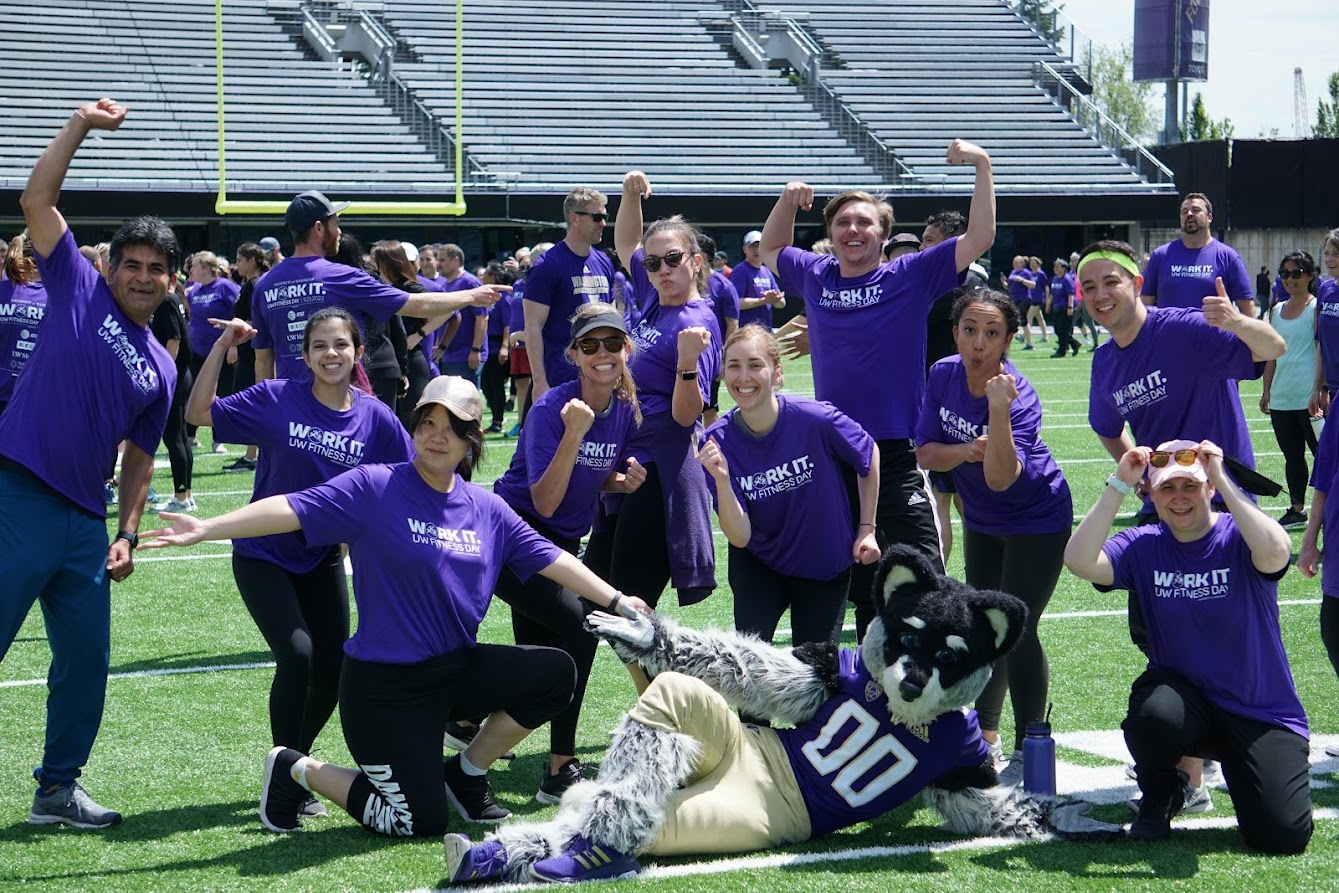 Meet your UW Fitness Day coaches: UW Athletics, UW Recreation & The Whole U
The Whole U is excited to announce that our 10th annual UW Fitness Day will be returning as an in-person event on May 9. Fitness Day is a one-of-a-kind, campus-wide workout celebrating movement and community. 
From coaches and student athletes drawn from various UW Athletics teams to trainers from UW Recreation, these coaches will be with you the whole way on May 9, helping you celebrate the best version of yourself and showing you some great exercises to keep you moving in the months beyond.
All fitness levels are welcome! All participants will receive a performance tech t-shirt and Whole U branded exercise band.
Join us outdoors at four campus locations for a fun and encouraging workout! Click on your preferred location to register:
Meet your coaches
With coaches and athletes from football, soccer, basketball and gymnastics, as well as UW Recreation and The Whole U, UW Fitness Day will be full of motivation, movement and fun!
---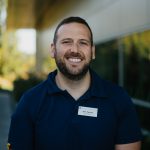 Jeff Palmer 
Fitness and Mindfulness Manager
University of Washington Recreation
Jeff is a 14-year veteran of the fitness industry and the fitness manager for UW Recreation. At the age of 13, Jeff lost 127 pounds with the help of a personal trainer. This weight loss inspired Jeff to become a personal trainer and he has been working in the fitness industry since he could get certified at 18 years old.
Motivational quote: "The ticket to victory often comes down to bringing your very best when you feel your worst."
---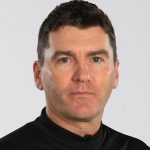 Jamie Clark
Head Coach, Men's Soccer
Clark has been named Pac-12 Coach of the Year twice during his UW tenure. He began his head coaching career at Harvard, and prior to his time at Harvard, Clark was an assistant coach at Notre Dame for two seasons, working under his father, head coach Bobby Clark.
As a player, Clark was a two-time All-American at Stanford, graduating in 1999. He played for his father, Bobby, from 1996 to 1998. As a senior in '98, he became the first first-team NCAA All-American in Cardinal men's soccer history, having earned second-team as a junior in 1997.
Favorite motivational quote: "If you want to go fast, go alone. If you want to go far, go together." – African proverb
Follow UW Men's Soccer on Twitter  @UW_MSoccer and Instagram: UW_msoccer
---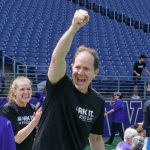 Mike Hopkins
Head Coach, Men's Basketball

Coach Hop took over the helm of UW the men's basketball program prior to the 2017-18 season and immediately made his mark. He not only led the Huskies to back-to-back 20 win seasons in his first two years, but was also named the Pac-12 Coach of the Year both years capping his second campaign with the Huskies' first NCAA Tournament appearance since 2011. Earlier this year, Coach Hop became the sixth coach in program history to win 100 games with the Huskies following a win over Oregon State.
Coach Hop's favorite motivational quote is "how you do anything is how you do everything," and he is most inspired by his mom and dad.
Follow UW Men's Basketball on Facebook @UWMensBasketball  and Instagram @uw_mbb
---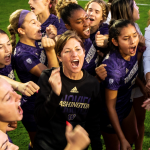 Nicole Van Dyke
Head Coach, Women's Soccer 
Nicole joined the Huskies for her first season as head coach in 2020. In her 15 years as a head coach at three different schools, Van Dyke has coached 42 all-league selections, as well as nine United Soccer Coaches All-Region honorees. A native of Palm Desert, California, Van Dyke played college soccer at Cal State Bakersfield, where she also earned her undergraduate and master's degrees. She holds the career record for points (88), is second all-time in goals (36), and fifth all-time in assists (16) for that program. Van Dyke has played professionally in Sweden for Mallbacken IF and played for the California Gold in the WPSL.
Follow Coach Van Dyke on Twitter @coachvandykeuw and @UW_WSoccer
---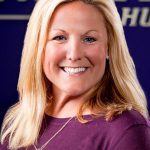 Jennifer Cohen
UW Athletic Director
Named the University of Washington's 15th Director of Athletics on May 24, 2016, Jennifer Cohen has been with the UW for 24 years, primarily overseeing the athletic department's fundraising efforts. In six years under her watch, Cohen has led Husky Athletics to unprecedented success in the classroom, in competition and in the community.
Exercise motivation: I love to be active. I love exercise. I love it with my friends. I love it by myself. The Blaine stairs in Capitol Hill are always a really good release for me. Whenever things are really hard or whatever the challenges or day, the views from up there across Seattle are epic. There's a whole community around there. I love the outcome that always comes from it. You can conquer anything if you can do those stairs.
---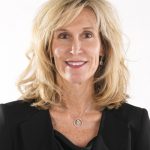 Tina Langley
Head Coach, Women's Basketball
Coach Langley is entering her second season as the head coach of the University of Washington women's basketball team, coming to UW in 2021 after having served as the head coach at Rice University for the last six seasons. She led the UW women to a special season in 2022-23, including their first postseason appearance since 2017, first best conference finish since the 2016-17 season, and best Pac-12 Tournament seed since that season.
Follow UW Women's Basketball on Twitter @UW_WBB
---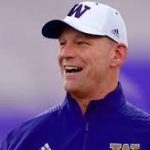 Kalen DeBoer
Head Coach, Husky Football
Coach DeBoer was named the 30th head football coach in UW history in November 2021. His first season, in 2022, was an undisputed success: he led the Huskies to a 11-2 overall record, including a 3-0 mark against ranked teams and a win over Texas in the Valero Alamo Bowl. His Huskies swept its three Northwest rivals, finished in a tie for second in the Pac-12, and he was named Pac-12 Co-Coach of the Year. He was also the Associated Press Pac-12 Coach of the Year and, at the 88th annual Seattle Sports Star of the Year Awards in Feb., 2023, earned the inaugural Seattle Sports Leader of the Year Award.
Follow Washington Football on Instagram @uw_football or Twitter @UW_Football.
---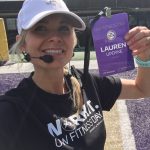 Lauren Updyke
Director, The Whole U
Lauren came to the U.S. from Canada on a track and field scholarship to the University of Louisiana, earning her Bachelor's and Masters degrees in Exercise Physiology. She is a Certified Personal Trainer through the American College of Sports Medicine, and has coached over 10,000 individuals online from all over the world. Before joining UW in 2013, she worked with the wellness program at Duke University for 13 years as fitness and health education manager.
Motivational quote: "The key to success with exercise is consistency and finding your window of opportunity to move. Always remember that anything is better than nothing. Try not to compare your past self with your current self.  Find your best in the season you are in."
Join Lauren for weight training on zoom every Tuesday and Thursday morning! Register here to join the 6:15 a.m. class and here for the 7:15 a.m. class.
---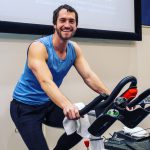 Ben Compton
Cycling instructor, UW Recreation
PhD candidate, UW Communication
Favorite motivational reminder: As long as your feet are moving, you'll be grooving with yourself, myself, and the whole group.
Follow Ben on Instagram @drcycleguy
Get a Rec Class Pass and access to unlimited weekly yoga and meditation classes throughout campus.
---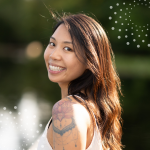 Diana Ratsamee
The Whole U
In addition to her work as marketing and events specialist for The Whole U, Diana is a yoga teacher, meditation guide, wellness program developer, travel guide, backpacker and story teller. She aims to help people connect back to themselves so that they may in turn, connect to the world around them.
Motivational quote: "Never stop learning because life never stops teaching."
Join Diana for 10 minutes of meditation focused on self-compassion and mindfulness, every Monday morning – register here.
---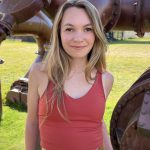 Emily Dalgo
Yoga & mindfulness instructor, UW Recreation
Emily Dalgo is a 200hr Registered Yoga Teacher, yoga teacher trainer, and PhD student at UW. You can find her teaching yoga with UW Recreation, Lululemon Experiential Studio in U-Village, 8-Limbs Yoga Centers, and Studio3 Fitness. She uses her trauma-informed training and permission-based cueing to create a fun, healing environment for her students to feel empowered and at home in their bodies and guides students to release self-judgement and build self-trust.
Favorite motivational quote: "Tell me, what is it you plan to do / with your one wild and precious life?" – Mary Oliver
Find Emily on Instagram @emilychristinagrace
Get a Rec Class Pass and access to unlimited weekly yoga and meditation classes throughout campus.
---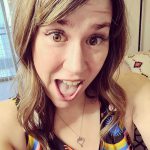 Karen Cornelio
Zumba instructor for The Whole U
Volunteer fitness instructor for UW Recreation
Favorite motivational quote: "If it makes you nervous, you're doing it right." – Childish Gambino
Favorite pastime: I do not have time for pastimes 🤔 but I make exceptions all the time to spend time with good friends doing very mundane things like enjoying a meal, a show, or each other's company.
Follow Karen at karencornelio.zumba.com or on Instagram @corneliok, where she posts a clip of #thisweekinclass.
Get a Rec Class Pass and access to unlimited weekly yoga and meditation classes throughout campus.
---
Benefitting Be The Match
This year, Fitness Day will benefit Be the Match, the nation's largest marrow-donor registry. Our fundraising goal is $5,000 and 100 new registry members.
Learn about Be the Match and, if you are able, make a $5 suggested donation through the UW Combined Fund Drive when you register for UW Fitness Day. And even if you cannot attend UW Fitness Day, you are invited to help us reach our fundraising goal.
Join us after Fitness Day May 9 on Red Square for Get in the Game, an annual event to share the mission of Be The Match and encourage people to join the registry.