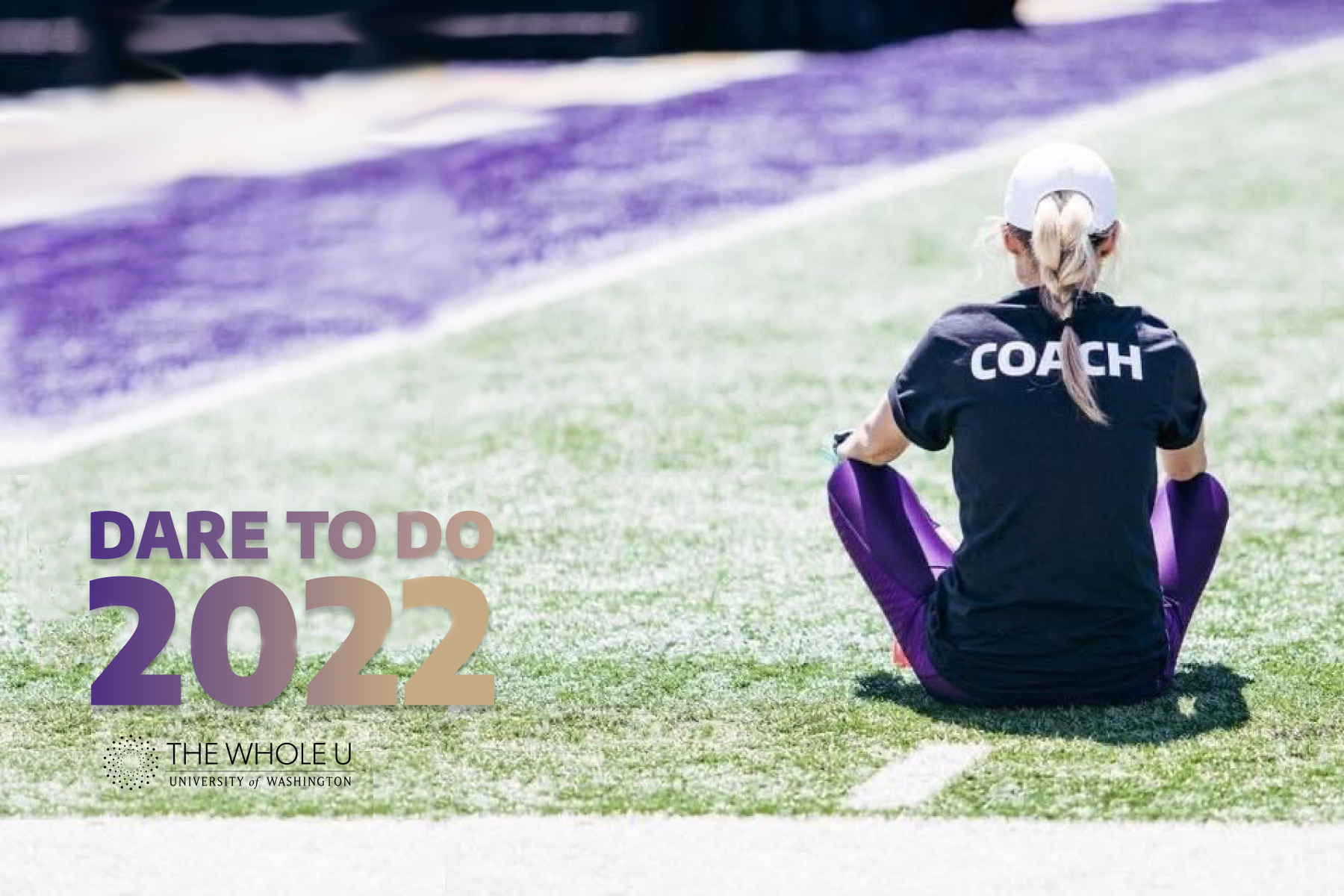 A Fitness Conversation with Lauren Updyke
With the continuation of the pandemic, it can be easy to get lost in the heaviness of it all and forget to prioritize the needs of your body. Movement is an important aspect of overall health, contributing to your emotional, mental, and physical well-being. Although it can be daunting to begin incorporating exercise into your lifestyle, it doesn't have to be.
When it comes to making changes in your exercise routine and hitting your movement goals, having a coach to lead the way can be extremely beneficial. Through The Whole U Program, you have access to a variety of experienced coaches encouraging lifestyle changes that are most important to YOU. When looking to make changes in your physical fitness, Lauren Updyke is here to cheer you on and offer decades of expertise. 
Currently serving as director of The Whole U program, Lauren brings a wealth of knowledge in areas of health and wellness. Lauren is a proud Canadian who first moved to the U.S. for college with a Division-1 track scholarship. She has her Master's in Exercise Physiology, certification from the American College of Sports Medicine, and has coached and trained thousands of athletes over her career. She has run 31 marathons and in 2021 her virtual fitness classes at UW reached over 18,000 UW faculty and staff. Lauren has directed The Whole U program for 8 years, and before she became a Husky, Lauren managed fitness and health education for Duke University's wellness program for 13 years.
Follow along below as we asked Lauren for advice and insights discussing everything from her personal exercise background to the many rewards and challenges that come from incorporating movement into your lifestyle.
---
Tell me about your physical fitness journey.
I have always loved sports. It was a positive outlet for me as a kid and gave me so much confidence. I grew up spending most of my free time outside or on fields. I was the kid that spent most of my recess playing flag football, kickball, soccer, or tag on the playground. My high school track and PE teacher really inspired me though to take my athletic ability to another level and also to motivate others to be more physically active.
When I learned in college that I could take courses and a degree around preventing cardiovascular disease, I jumped on the opportunity. I was awarded an athletic scholarship for both my undergraduate and graduate degree and learned so much about preventative care, exercise physiology, behavior change, and special populations.
For me, moving keeps me focused, productive, and most of all happy. I love impacting others and witnessing them feel the same. I also love when people I train or coach find their inner athlete. You don't have to play a sport at a high level or compete to be considered an athlete.
---
How can others begin to focus on fitness and exercise?
The first step is to find your window of time. We are all so busy…and when we are busy and stressed, one of the first things to go is self-care. The industry also promotes intensity and the next best thing which makes it very hard for people to stay consistent and realistic with their goals. If something is too intense at first, we aren't able to sustain the routine. If someone is new to exercise or if it's been a while, I suggest starting with 10-15 minutes of exercise and then slowly work your way to more. Be patient and know the key is consistency!
The following resources can be a great way to dip your toes in and try something with a smaller time commitment that helps get you back on track. Virtual fitness can especially be a great way to give fitness a try in a safe space where you feel comfortable to be yourself in a non-intimidating space:
Yoga Pose of the Day Handout – Join us in our 21-day yoga pose challenge and learn something new everyday. 
Daily 15 Minute Movement Break – Allow yourself a moment of rest throughout your busy work day and move your body. 
Yoga Anywhere with Diana Ratasmee  – Follow Diana every Wednesday at 12:00 PM for a functional and practical yoga class you can take anywhere allowing harmonious unity for your body, mind and soul.
Stretch at your Desk Program – Take a break and stretch your productivity to get your blood flowing while helping make you feel relaxed and more productive. 
Flex at your Desk Program – Register here and join your fellow co-workers in bouts of exercise throughout your day for a significant impact on your health and productivity.
---
What does physical fitness mean to you?
Physical fitness to me is when moving is part of our daily routine. It is also being able to do the everyday things and not getting injured. Doing activities with my kids like jumping on the soccer field and keeping up with my son and his friends, snow skiing and not being afraid, hiking a new trail, or having the courage to try a new exercise class is also important to me.
I realize that I don't have the time to be the athlete I once was, but I love being able to go for a run or take a strength class and what it does for my mental health and physical health. Exercise is great for improving our moods, our productivity, our bodies and our skin. Nourishing our body with fresh foods is also a great compliment to physical fitness and helps our fitness.
---
Why is exercise an essential component of wellness?
Most know why exercise is an essential component of wellness but it is always great to be reminded. Exercise improves our heart and lung function, it improves our body composition, it helps prevent disease, and it improves our mood and productivity.  It keeps us young, strong, and helps prevent disease. What more could you want? Endorphins are a wonderful side effect of fitness as well. 
---
How do you balance consistent exercise within your busy life?
We must find our window of opportunity and start with a small amount of time. Eventually you will feel the benefits and make it more of a priority and then a necessity in your day.
Balance doesn't always exist. Something has to give when you set time for self-care. To me it sets a boundary that I am a priority to myself, and those around me must understand how important it is to me.
---
What does a week of movement look like to you?
1. I run 3 days a week for 3-5 miles (sometimes a long one on the trails with friends).
2. I strength train 3 days a week (so important especially as we age).
3. I try yoga or dance 1-2 times a week (I'm still terrible at it but I always have fun). 
Yoga is a wonderful way to begin moving your body and feeling out what your body needs most. This month The Whole U is hosting 2 basic, beginner yoga classes that are a perfect introduction for anyone new to exercise or needing something gentle to ease back in:
Yoga with Allé K – Thursday, January 20 at 12 PM – This inclusive yoga class will include a grounding meditation, gentle exercises, mantras, and deep relaxation. Expect beginner friendly movements and a slower pace than other (vinyasa) style classes.
Beginner Yoga Class with Om Operative – Saturday, January 22 at 9 AM – This refreshing and slow paced beginner yoga class includes great cues for accessing the poses safely, and options for modifications.  
---
What are the most rewarding and challenging aspects of fitness?
The most rewarding workouts are the ones I didn't want to do. I feel even more empowered, and I love how I feel after a great workout. The challenging aspect of physical fitness is the feeling of guilt I still get sometimes when I choose exercise over spending time with the family. The parent guilt is real. But I know that my commitment to my health makes me a better parent in both the short and long-run, and my children are learning from the example I set to prioritize my needs, as well as my health.
---
What do you think is transforming the fitness space?
I think virtual fitness is an extremely interesting edition to the fitness space that has really blown up throughout the pandemic. It's not something new, but now more than ever, so many people are turning to virtual fitness. There are more and more companies getting into the game in a big way from Nike to Peloton and Apple. Fifteen years ago I was in a studio recording coaching motivation audios and never did anything with it.  One of my clients said to me how it would be awesome to be able to hear me on her run. It's amazing to see there are now apps that offer this.
I find that virtual fitness offers lots of opportunities to make the fitness industry more inclusive. Now, you can attend a class almost any hour of any day, anywhere in the world. Whether the class is live, or a recorded video. Instructors have the potential to reach more people than ever, and those just starting out are able to give things a try in a safe space. There are definitely challenges to be faced, but I think that virtual fitness offers so much potential to really make exercise attainable. Especially when considering the costs and the reach. The Whole U reached just under 100,000 participants in 2021 and that's while being completely virtual. My fitness classes, while providing me so much grounding and community through this crazy year, reached 18,000 total participation. There's no way we could have done that together in person, and there are so many participants who are not traditional fitness buffs. The potential is inspiring.
---
What are your exercise goals for the year?
This year I plan to run another marathon and I would love to try something new and commit to it once or twice a month.
Do you have similar running goals to Lauren? Be sure to take a look at these various running or walking plans to strengthen your muscles, improve immunity, cope with stress, and practice movement.
---
What is the best advice you have about exercise and incorporating it into your lifestyle?
Never give up on yourself.  No matter what happens or setbacks you may have, always get back into it. If you miss a workout try hard not to feel bad or ashamed about it. Every day is a new day! Take care of your body – you are SO worth it. 
---
If you would like to be directly inspired by Lauren for a more physically active lifestyle, be sure to sign up for her weekly weight training classes and start your own fitness journey!