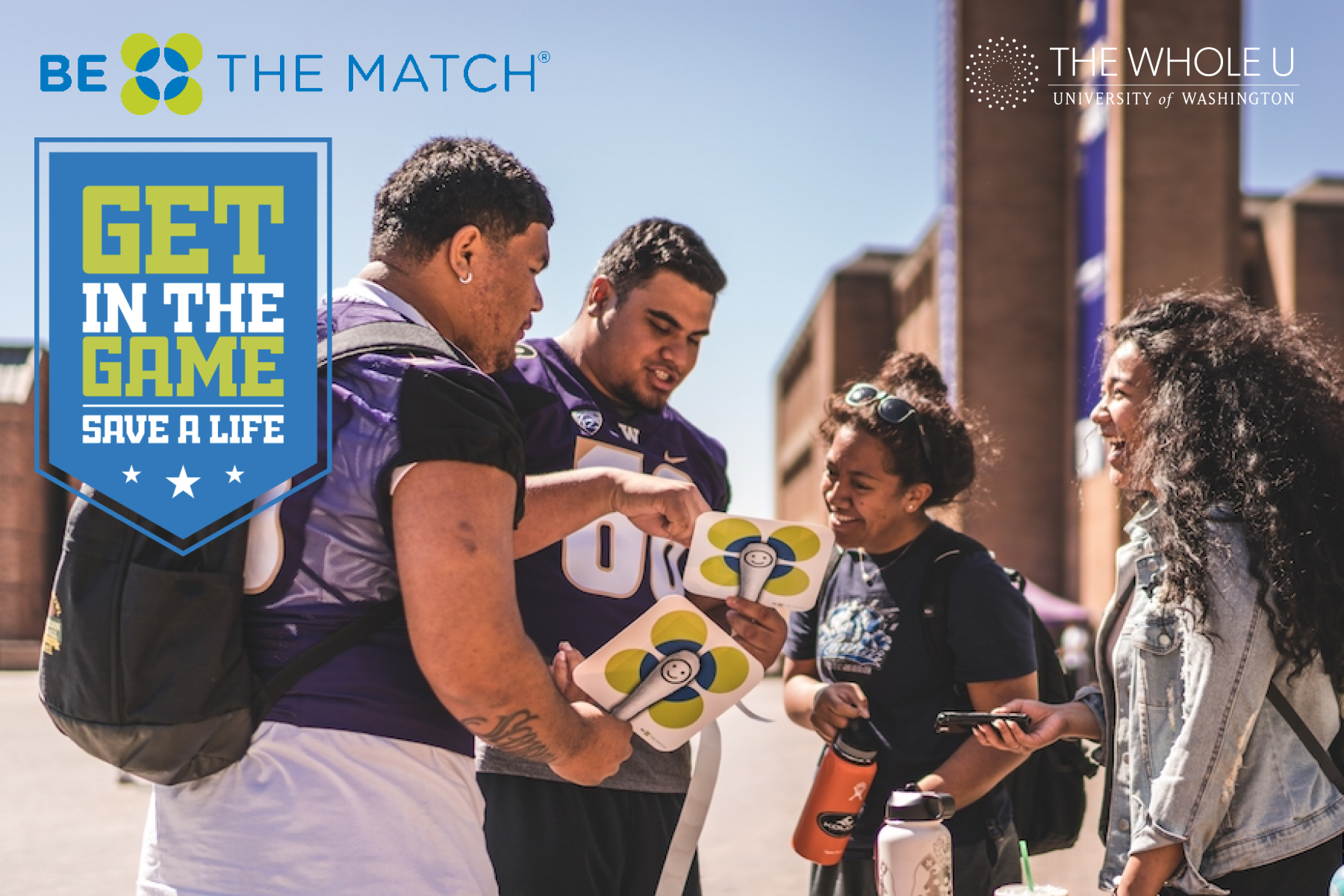 Get in the Game and Support Be the Match
The University of Washington is proud to be a community partner with Be the Match, an education, research and advocacy organization managing the world's largest marrow registry which helps connect people living with life-threatening blood diseases and cancers with life-saving donors. Learn more about this partnership here.
On Tuesday, May 9, the Whole U, Be The Match, and UW Athletics invite you to join us in Red Square at 3:30 p.m. with a mission: spread the word about UW's partnership with Be The Match and talk to students, faculty, and staff about joining the registry.

Come learn more, get a free t-shirt, take a photo with Dubs, and meet UW coaches and athletes.

"We are very excited for our annual event to raise awareness about how UW students, faculty and staff can be real superheroes and help save lives.  This is a fun educational event where people can learn about the process of stem cell donation and have the opportunity to sign up for the registry if they choose.  The Be The Match bone marrow registry literally cures cancer.  While we can't cure all cancers, stem cell transplants can cure over 70 blood disorders, including the type of leukemia that I was diagnosed with 7 years ago.  A stem cell transplant saved my life and gave me the precious time to live my life, see my kids grow, and continue my passion for teaching.  For me, being an advocate for the registry helps me honor my donor, allows me to meet superheros, and kicks cancer in the butt!" – Alexes Harris, PhD, Professor of Sociology & UW Faculty Regent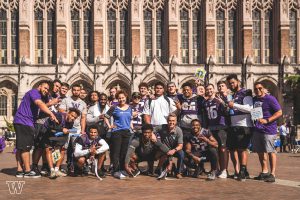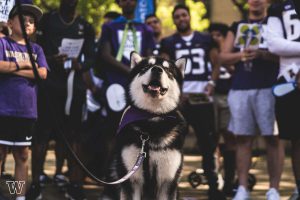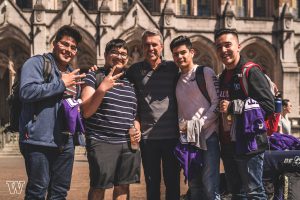 About Get In The Game 
Although the official Be The Match and UW partnership is the first of its kind, Get in the Game isn't a new concept. Created by Coach Tally of Villanova, Get in the Game is a nationwide series of events hosted by university football teams. The mission is always the same, spread the word about Be The Match and show students the impact they can make by joining the registry. Today, Get in the Game is supported by Coach Tally's Foundation, the Andy Tally Bone Marrow Foundation.
To date, UW has had over 500 students, faculty, and staff complete registration for Be The Match and request their swab kits in the mail. This is incredible, thank you to everyone who has become a donor. But, we're just getting started!
Why Joining the Registry Matters
Registry donors save lives. People living with life-threatening blood diseases and cancers need life-saving donors.
Having a 100% match is crucial in predicting positive outcomes post-transplant, but the percentage chance of finding a perfect match is skewed against minorities because ethnically diverse and mixed race donors are underrepresented in the registry. While Caucasians have a 75% chance of finding a full match in the existing marrow registry, African Americans only have a 19% likelihood of finding a match and comprise only 7% of the United States registry.
People of color, particularly those with mixed-ancestries are encouraged to consider becoming potential donors. Growing and diversifying the registry's pool of potential donors increases peoples' chances of finding a match.
Why college campuses? Be The Match is especially looking to register potential donors between the ages of 18 and 44. College students are ideal donor candidates!
Ways to Get Involved
Attend or Volunteer at Get In The Game on May 9
Join The Whole U, UW Athletics, and Be the Match on Red Square on May 9 from 3:30 p.m. – 5:00 p.m. to learn more about joining the registry and saving a life. This fun block party will include music, a photo booth with Dubs, free t-shirts and other swag. Meet UW coaches and athletes and commit together to saving lives through the Be The Match registry.
Interested in being a volunteer? Click HERE! Volunteers will help spread lifesaving information at Red Square on May 9. Help us add hundreds of Huskies to the registry!
UW Fitness Day, a one-of-a-kind, campus-wide workout to celebrate movement, will be returning as an in-person event on May 9.  Register today to participate at UW Seattle, UW Tacoma, UW Bothell, or Harborview Medical Center!
This year, Fitness Day will benefit Be the Match. Our fundraising goal is $5,000 and 500 new registry members. Even if you cannot attend UW Fitness Day, you are invited to help us reach our fundraising goal.
Consider making a one-time, monthly, bi-monthly, or annual monetary contribution to Be The Match through the UW Combined Fund Drive. Your donations can be deducted from your paycheck to make contributions simple.