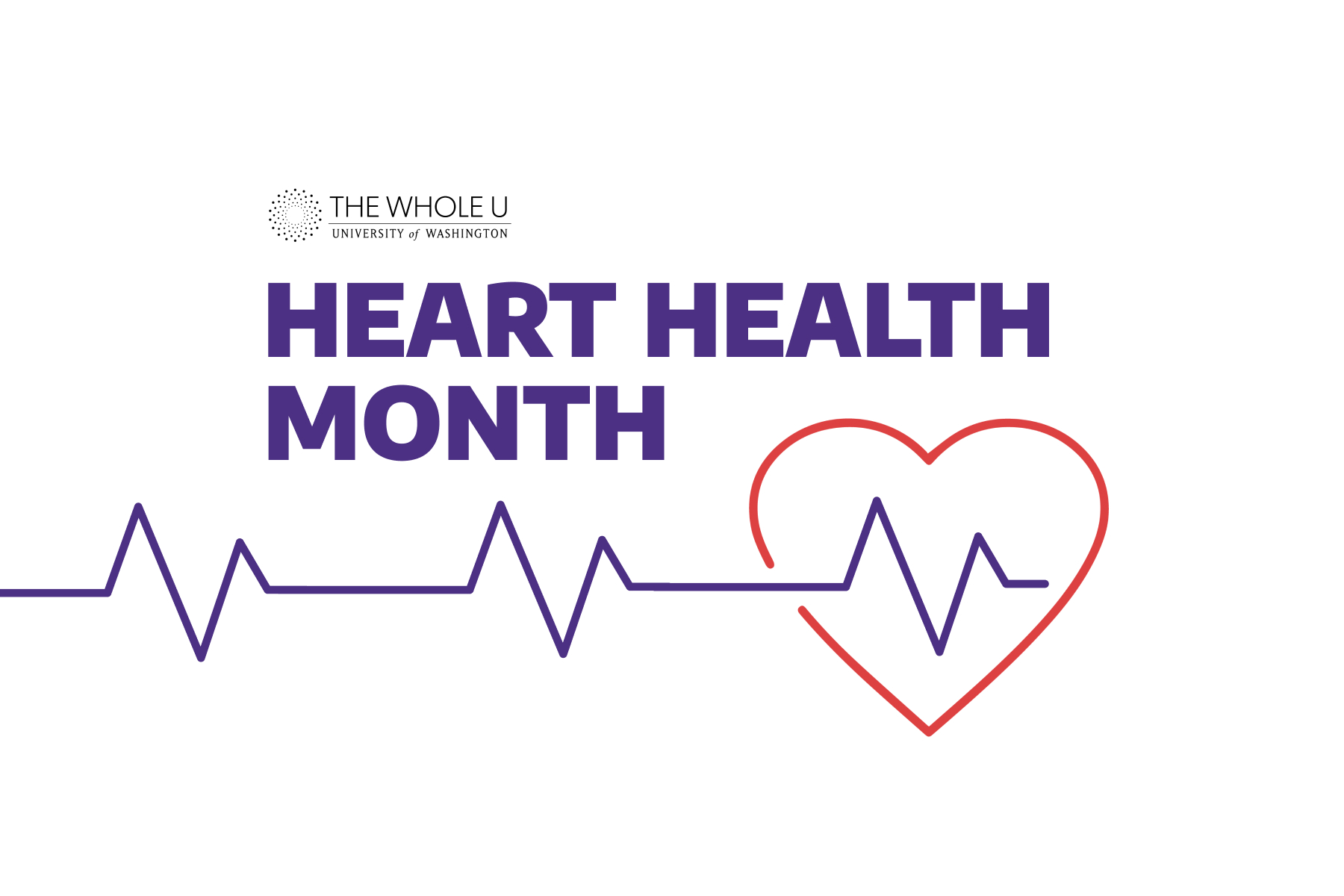 Celebrate Heart Health Month at UW
February is Heart Month—a time to stop and reflect on the importance of heart health and what you can do to keep your most important muscle healthy.
Not only is heart disease the leading cause of death in the United States, taking more than 600,000 lives every year, but this year heart health is especially important as we continue to fight the spread of COVID-19. UW Medicine Heart Institute cardiologist Dr. April Stempien-Otero shared in September of 2020 that the COVID-19 virus is two times more deadly in patients who have high blood pressure, diabetes with heart disease, and artery disease.
Learn more about the connection between heart health and COVID-19 by watching this short interview video with Dr. Stempien-Otero.
To prevent heart disease, UW cardiologist Kevin O'Brien recommends walking for at least 30 minutes a day, five days a week, and eating a healthy, low-cholesterol diet.
O'Brien, who runs the Inpatient Cardiology Service at UW Medical Center, says UW Medicine is one of the best places in the country to come if you have heart problems.: "We're the third largest heart transplant program in the country; we're one of the top programs in the country for valve procedures; and one of the top programs in the country in terms of volume and quality care for people who have genetic heart problems."
His main aim is to keep you out of the hospital with heart trouble in the first place. As mentioned, two of the best ways to focus on strengthening one's heart are to eat healthier and ensure you are staying physically active. These two factors are crucial to one's lifestyle, but mental wellbeing and social support are also important elements that can keep hearts healthy. Read on for tips and resources that will help you stay heart-healthy and strong.
---
Tips for Maintaining Heart Health
The Whole U is here to help you on the path to better health and overall wellness. Below, we examine the many things you can do to support your heart health supplemented with links to content from The Whole U.
As ever, doing activities together often makes them feel easier and more fun. Consider partnering up with a friend or family member in making the commitment to better heart health!
---
Be Physically Active Together

It is crucial to move throughout the day because your heart needs the stimulation to keep doing what it does best! To do this, fit in daily fitness activities.
Frequent Activity: Whether it be taking the stairs instead of the elevator everyday or going out for a short morning jog, it is important to raise your heart rate throughout the day with some form of exercise. There are countless ways of integrating fitness into your lifestyle. Pairing your social life with exercise is an easy way to stay motivated. For example, you can suggest taking a walk during your lunch break with your work friends.
Remember: You don't have to do it all at once. Break up your physical activity into 5- or 10-minute spurts throughout your work day and you'll be done with your workout before time comes to head home!
---
Eat Healthier Together

The most important element of nutrition is understanding what you are putting into your body and listening to what your body needs. Keep you and your colleagues accountable by eating healthier together!
Here are some simple ways to use nutrition to better your heart health:
Stay Hydrated: Drinking water consistently throughout the day helps keep your blood volume or the amount of blood circulating at a steady amount. This means it is easier for you heart to pump blood easily to give your muscles the oxygen it needs to function properly.
Do you find it hard to drink water throughout the day? The Whole U suggests eating your water—check out our article about Foods That Hydrate!
Increase Fiber: By incorporating fiber in your daily diet, you can decrease your chances of many heart-related diseases. Studies have shown that a high fiber diet has been seen to reduce blood pressure and inflammation, control blood sugar levels, and reduce risk of type 2 diabetes.
Wondering which foods are the best to integrate into your diet for fiber? Check out how Ancient Grains can result in a healthier heart or how Citrus Fruits are more powerful than we think.
Reduce Sodium: While the Heart Foundation recommends adults to restrict their salt intake to less than 5g a day (less than a teaspoon) when looking to reduce blood pressure and decrease the chances of heart disease, it is best to consult a dietitian or professional for your specific needs. In general, sodium consumption should be limited because it causes the body to hold onto fluid, causing high blood pressure.
---
Manage your Mental Health Together

Although emotions and mental health can seem more intangible compared to fitness and nutrition, both are definitely among the most essential factors for a healthy heart. Constant stress can be just as harmful to one's body as poor diet or inactive lifestyle. Here are some ways to focus on your mind along with others to better your heart:
Meditation: Whether you and your colleagues take three minutes or thirty minutes to breath, pause, and relax, it is so beneficial to your heart health to give yourself the break your body needs. If done so regularly, stress can be drastically reduced which can lower your heart rate and improve blood flow as well.
If you are new to meditating or just looking for expert guidance, check out this meditation guide made by our very own UW faculty and staff members with guided meditations for being on the move or taking a calming moment.
Join The Whole U and UW Recreation mindfulness instructors Mondays and Fridays for virtual 10-minute guided meditation at 10 a.m. throughout February and March.
Kindness in Social Communities: An easy way to connect with the people around you is by practicing gratitude and adopting social support. As easy as journaling what you are thankful for, you can decrease inflammation and reduce cardiac risks. In addition, interactions to others can help one decrease stress and potentially improve blood pressure as well.
---
More Resources
We all are aware of the consequences of smoking on one's heart. So if you are in need of some guidance for quitting, check out our article on Smoking Cessation. Unsure about the ways to track your fitness and heart health? Check out Our Favorite Fitness Apps and Trackers!
Take time this month to consider your current lifestyle and how you can adopt more healthy habits that, when taken together and sustained over a period of time, will contribute to your overall good health. To get more ideas of where to start, explore the following helpful suggestions from the National Heart, Lung, and Blood Institute (NHLBI).