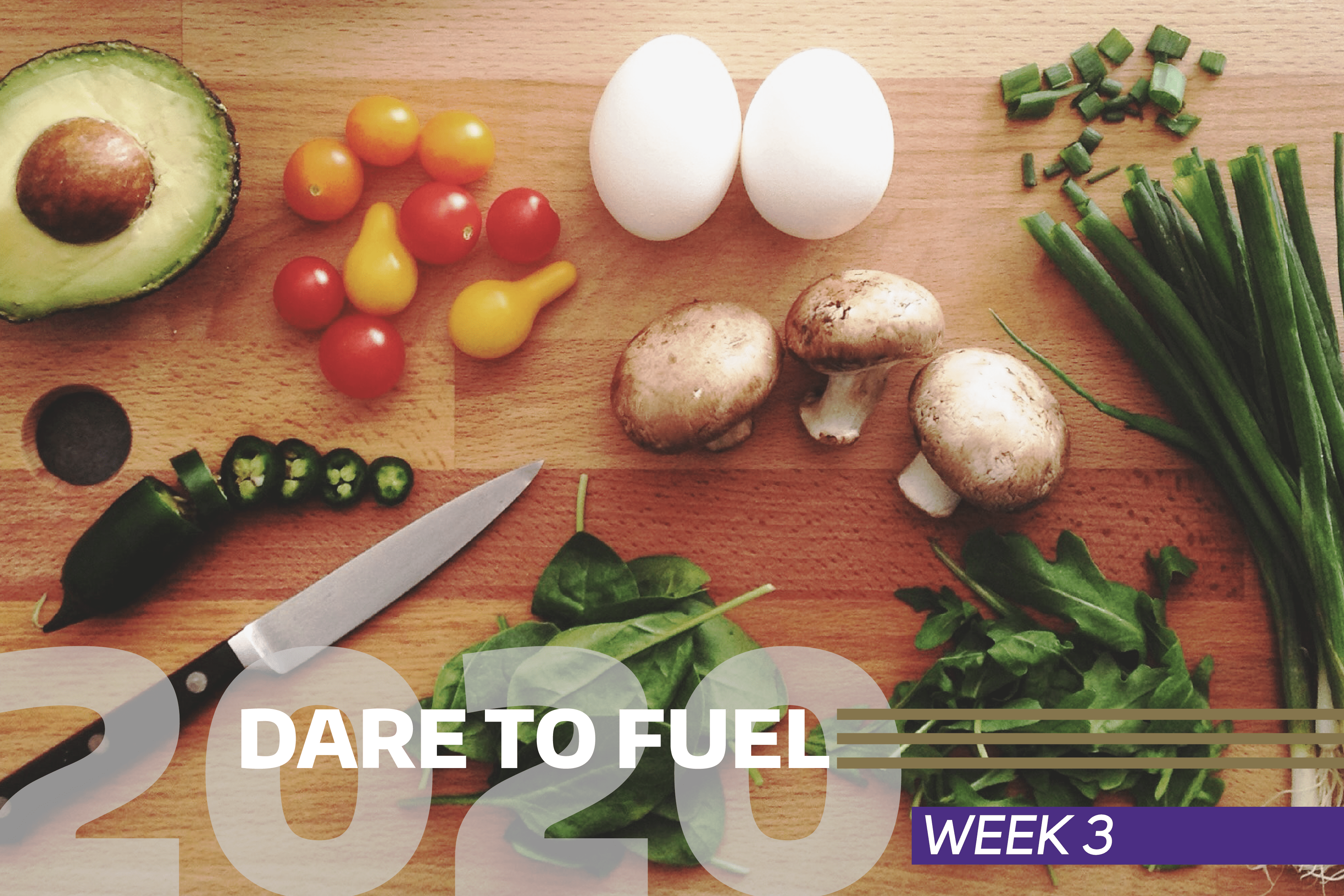 Dare to Fuel: Eating to Energize Your Life
Welcome to Week 3 of The Whole U's six-week Dare to Do New Year's challenge! Each week of the challenge will focus on a different area of overall wellness. You can learn how it works and register here. This week, thousands from across the University of Washington will Dare to Fuel, challenging ourselves to eat mindfully with a focus on ensuring body and mind the nutrition both need to function at their best. Get daily challenges to stay accountable by following us on Facebook, Twitter, or Instagram and read on to learn more from The Whole U's nutrition intern, Aspen Avery, on what goes into eating well every day.
---
Nutrition does not have to be about elimination. Although reducing intake of certain nutrients such as sodium or trans fats can be helpful in supporting good health and preventing adverse health outcomes, increasing your intake of a variety of nutrient-dense foods from each food group is more essential for one's overall health and wellbeing.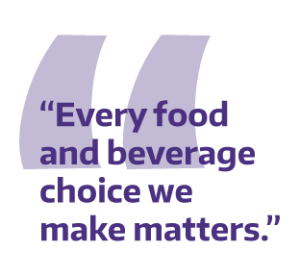 Our body functions on what we put into it, so every food and beverage choice we make matters. Choosing an eating pattern that includes a variety of nutrient-dense foods from across all food groups has been seen to reduce risks of chronic disease and helps in maintaining a healthy body weight.
According to research, vegetables and fruits are associated with reduced risk of many chronic diseases and may be protective against certain types of cancers. Furthermore, whole grains may reduce risk for cardiovascular disease and are associated with lower body weight, while dairy has been linked to bone health in children and adolescents.
To give your body all the nutrients it needs to promote health and reduce risks of chronic diseases, it is important to have a diet that includes all five food groups. Here's a breakdown of how each essential group powers your body:
Vegetables & Fruits
Vegetables are a good source of dietary fiber, potassium, and vitamins A and C, and it is recommended to eat 2 ½ cups of vegetables a day. Fruits are also a good source of dietary fiber, potassium, and vitamin C, and it is recommended to eat 2 cups of fruits daily. Both fruits and vegetables are low in fat, sodium, and calories. Dietary fiber from fruits and vegetables help reduce blood cholesterol levels and may lower the risk for heart disease, as well as reducing constipation and diverticulosis and supporting proper bowel function. Potassium helps in maintaining a healthy blood pressure. Vitamin A keeps your eyes and skin healthy, in addition to protecting your body from infections, while vitamin C is important for growth and repair of body tissues, keeping teeth and gums healthy, and aids in iron absorption.
Grains
Grains contain dietary fiber, iron, magnesium, and several B vitamins, and it is recommended to have 6 ounces a day with at least half of which are whole grains. Dietary fiber from grains further reduces blood cholesterol levels and may lower the risk of heart disease, obesity, and type 2 diabetes, along with endorsing proper bowel function. Iron is essential for the body because it is used to carry oxygen to the blood. Magnesium is important for a healthy immune system, and it is a mineral that is used in building bones and releasing energy from muscles. B vitamins from grains are key players for a healthy metabolism since they help the body release energy from proteins, fats, and carbohydrates, and they are essential in promoting a healthy nervous system.
Dairy (or dairy-equivalent)
The recommended 3 cups of fat-free or low-fat dairy packs calcium, potassium, and vitamin D the body needs. Calcium is the building block for bones, teeth, and in maintaining bone mass. As dairy is the main food group that provides calcium, it is essential to incorporate recommended amounts of dairy into your diet for bone health. Vitamin D works alongside calcium to help build and maintain bones as it functions to maintain proper levels of calcium and phosphorus in the body. As stated previously, potassium from dairy helps in maintaining healthy blood pressure.
Proteins
Lastly, proteins, such as lean meats, seafood, and legumes are good sources of protein, iron, zinc, and B vitamins, and it is recommended to have 5 ½ ounces of protein foods a day. Proteins function as building blocks for bones, muscles, cartilage, skin, and blood, as well as for enzymes, hormones, and vitamins. Zinc in protein foods help support and foster a healthy immune system. There are a wide variety of different protein foods and each protein food provides varying nutrients, so it is important to eat a diverse array of protein foods to provide your body with a range of nutrients designed to keep your body functioning (2015-2020 Dietary Guidelines for Americans, 2015; ChooseMyPlate, U.S. Department of Agriculture).
---
---
Unfortunately, the majority of Americans lack an eating pattern that meets the dietary recommendations of all the food groups. Specifically, almost across all ages and sexes, intake of fruits, whole grains, dairy, and vegetables, as well as vegetable subgroups (dark green, red & orange, legumes, starchy, and other) is lower than recommended levels. Protein intakes are close to recommended amounts, but protein subgroup intakes vary compared to the recommended levels, for example, intakes of seafood are low for all ages and sexes and intakes of meat and eggs are high for adult men (2015 – 2020 Dietary Guidelines for Americans, 2015).
It can seem difficult to incorporate foods from each food group into your diet, especially vegetables and fruit. The majority of us have very busy lives and other priorities may take a forefront before we attend to our diets. In order to help broaden your intake of vegetables and fruits, UW registered dietitian Emily Kelly-Brown recommends adding pureed vegetables into sauces and adding very thinly sliced zucchini or eggplant when making dishes like lasagna or casseroles. You can also use spaghetti squash when making spaghetti and fruit purees can be used in place of oils when baking.
To satisfy your sweet tooth, blend frozen bananas until smooth for a healthy ice cream alternative. More tips on incorporating additional fruits and vegetables into your diet can be found here. Additionally, Bonnie Smith, an inpatient dietitian at the University of Washington Medical Center, has shared some must-try winter produce recipes, such as cinnamon sugar radish chips and persimmon and brie crostini, that can help foster your nutritional goals this winter.
What better time than the start of a new decade to begin thinking more about how to incorporate more nutrient-dense foods from all the food groups into your diet instead of focusing on elimination. Adding just one more serving of fruits or vegetables a day can impact your health and jump start you on the path to reaching your nutritional goals this year!
---
Get even more from your experience working at the UW by heading to our events page where you'll find do-it-yourself downloads that will help you take life to the next level—everything from helpful kitchen "cheat-sheets" for creating delicious, nutritious meals to workout plans for getting stronger and healthier overall.
---
References:
U.S. Department of Health and Human Services and U.S. Department of Agriculture. 2015 – 2020 Dietary Guidelines for Americans. 8th Edition. December 2015. Available at https://health.gov/dietaryguidelines/2015/guidelines/.
---