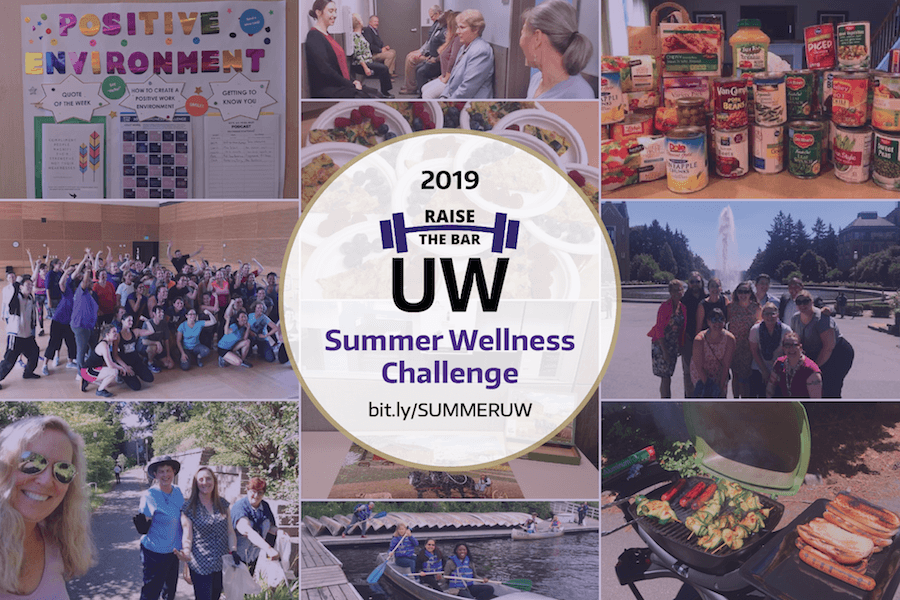 Are you ready to Raise the Bar this Summer?
I personally cannot believe that Spring Quarter is coming to an end! What a year it's been at UW. However, even in looking back on all of the wonderful events and moments of 2019 we've shared as a program in the past year, I am most excited for this summer. Why? Because summer means it's time for The Whole U Summer Wellness Challenge: Raise the Bar.
Raise the Bar is a six week challenge focused on total wellness. It incorporates:
Being Active at Work
Eating Well at Work
Stress Management at Work
Cultivating Kindness and Compassion at Work
Building Community
---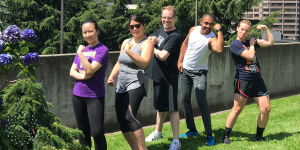 ---
Last year, more than 150 teams and still hundreds more individuals from across all UW campuses and medical centers participated in Raise the Bar, making a commitment to wellness in the workplace. Their growth and stories are some of the best parts about Raise the Bar. Before I get right to why I can't wait to have you join us this summer, I want to share some of their words about this great program.
"We think this was a great challenge to keep each other accountable—and healthier—in mind, body, and soul! It has been a motivator for us for a variety of reasons: wanting to do more physical activity, eat better, drink more water, [being aware of] stress-levels at work and doing more team-building activities." —Jessica Leader of the Regulator$ team within the Division of Cardiology in the Department of Medicine

---

"I am very appreciative of these opportunities for staff to step away from their busy work day to move their bodies. It really made me appreciate my job more, plus the positive feeling I had when leaving." —Jessica Minick, Executive Director, Principal Accounts, after attending July 10's IanFitness Bootcamp class

---

"The Whole U has provided a community of friends and coworkers that I would not have otherwise had the opportunity to meet!" — Betty Lanman of the Department of Radiology, who used the Whole U Summer Social picnic as a chance to connect with colleagues from Team LoKB of the School of Social Work.
---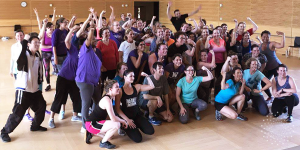 ---
Raise the Bar is my favorite Whole U program of the year. Perhaps because it reminds me of treasured summer camps when I was growing up, or perhaps because the PNW really has the best summer weather and the challenge gives me good reasons to get outside. But I think it's mostly because it's an amazing program.
In no particular order, here are my 10 favorite things about Raise the Bar! After, I'll give you a snapshot of some of the Raise the Bar events that you can sign up for right now!
1. Team and individual accountability
Often I find that the day gets going, the weeks pass by, and I forget about my personal goals outside of work related to wellness. (Yes, even staff at The Whole U feel that way sometimes!) But incorporating wellness at work is just as important—and can be just as meaningful and impactful—as incorporating wellness at home. The Summer Wellness Challenge is the perfect time to slow down, assess how you're doing with current wellness goals and set new ones. In a way, we're all setting aside six weeks to self and team audit our work health, and work together to be better!
2. It's easier than ever to participate with options to join as a team or as an individual!
The summer wellness challenge is for everyone. Whether your team wants to dive in together or if you prefer to fly solo, there is no singular way to participate. We've tailored the challenge to work and be adaptable for all faculty and staff at UW, no matter your schedule or setup. Whether you're working the night shift at a medical center or are an employee working 8:00 a.m. to 5:00 p.m., Raise the Bar resources meet you or your team where you are. If you want to double dip, you can participate on a team and also as an individual!
3. Free, high-quality fitness and other classes! 
We've got a host of events all summer long including bootcamps with IanFitness, yoga classes hosted by Danny Arguetty from UW Recreation, a collage/vision-board crafting workshop, and UW Sports Medicine seminars. Feel extra inspired to get fit this summer by trying something new at work, or explore a new hobby. If you can't attend events in person, we offer an array of online programming accessible 24/7.
4. Be engaged in your UW community and give back!
We're going to end the challenge with an August food drive for the UW Pantry. Raise the Bar isn't just about raising the bar for yourself and your team, it's also about giving back and bettering our UW community. We're excited and honored to partner with the UW Pantry this summer and offer opportunities to give back.
We also encourage you to see what else you can do this summer! I love that volunteering is a focus of Raise the Bar, it's an important part of total wellness that all too often is left out.
5. All participants will receive a checklist to track their progress
One of the best things about Raise the Bar is the checklist. Whether you print it out or keep track of it on your computer, you'll feel a sense of satisfaction and accomplishment every time you check off one of those boxes. Each week the checklist focuses on a different facet of wellness and reminds us all of unique and small lifestyle changes that can make a huge difference. We have a version for both teams and individuals so fear not, we're all capable of finishing the checklist!
6. Food! All the tasty foods at departmental potlucks!
Should I say it again? Food! Healthy food is also delicious food, and it's even better when shared with colleagues. Part of the Raise the Bar team challenge is hosting a healthy summer potluck. We'll even provide you some summer favorites from past summer potlucks at UW. These recipes are hand selected and verified tasty by fellow UW colleagues.
7. Learn and practice strategies to reduce work-related stress
We all know that sometimes work can be stressful. That's why a major part of Raise the Bar is to acknowledge work-related stress and learn how we can better face stress, support colleagues, and practice exercises that mitigate stress. We know that stress mitigation is not a one-stop shop. Different methods work for different people.
Raise the Bar works to incorporate and introduce a variety of methods to help equip all UW faculty and staff with at least one proven method to release and renew.
8. Build community!
It's impossible to go through the Summer Wellness Challenge and not build some sense of community – you can quote me on that! When you participate as a team, you'll find ways to further get to know your colleagues, both bridging gaps and strengthening preexisting bonds. If you participate as an individual, we'll challenge you to get out from behind your to-do list and meet both us and fellow coworkers at Raise the Bar events.
Stepping away from the desk to build community can be uncomfortable at first, but it pays off in feelings of workplace satisfaction and belonging. The Whole U community is here for you and we can't wait to see you around this summer!
9. Actively think about nutrition!
Nutrition is an important part to being productive and having a happy demeanor and attitude. These things are also important to getting work done and being satisfied with your work! Part of Raise the Bar will focus on workplace nutrition and ways to improve your nutritional choices while at work. This is one of my favorite challenge focuses as the afternoon donut can sometimes sound just too good to pass up. But hey, it's all about balance! We'll learn some ways to balance nutrition together, and learn from one another along the way.
10. Any way to participate is a great way to participate!
No matter where or how you work for UW, Raise the Bar is structured to meet you where you are. Maybe you can only participate for a week or two. Maybe you can only make one event—or none at all. Maybe you don't use social media. That's all totally fine! Raise the Bar offers something for everyone, no matter what you might be looking to get from your summer at UW. The goal is to have fun discovering and implementing improvements to your overall wellbeing by helping create a workspace that supports and encourages healthier work habits! Call me an optimist, but nothing sounds bad about that!
---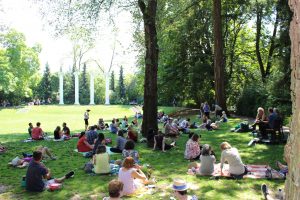 ---
So, do I have you sold yet? I hope so! The Whole U Summer Wellness Challenge: Raise the Bar will begin on July 15 and end on August 25.
Here's how it works: If your team cannot participate together, you can still join us as an individual. If you participate on a team, that's great! Anyone participating on a team may double dip and also participate as an individual. But, you are not required to sign up for both.
Click here to register and learn how to participate as a TEAM.
Click here to register to participate as an INDIVIDUAL (For those not on a team, and those on a team wanting more.)
---
Last but not least, here is just a sampling of the different Raise the Bar events that you can sign up for TODAY!
Raise the Bar – Bootcamp Class with IanFitness at the HUB!
Raise the Bar – Bootcamp Class with IanFitness at South Lake Union!
Summer Yoga & Meditation with Danny Arguetty in the Grieg Garden!
Summer Wellness Challenge IMA Day!
Summer Wellness Challenge University Y Day!
Volunteering with the UW Pantry!
Collage/Vision-Board Craft Workshop
---
Thank you AT&T, BECU, US Bank, UW Recreation, University Y Tacoma, UW Bothell Recreation & Wellness, and IanFitness for sponsoring the Raise the Bar Summer Wellness Challenge!