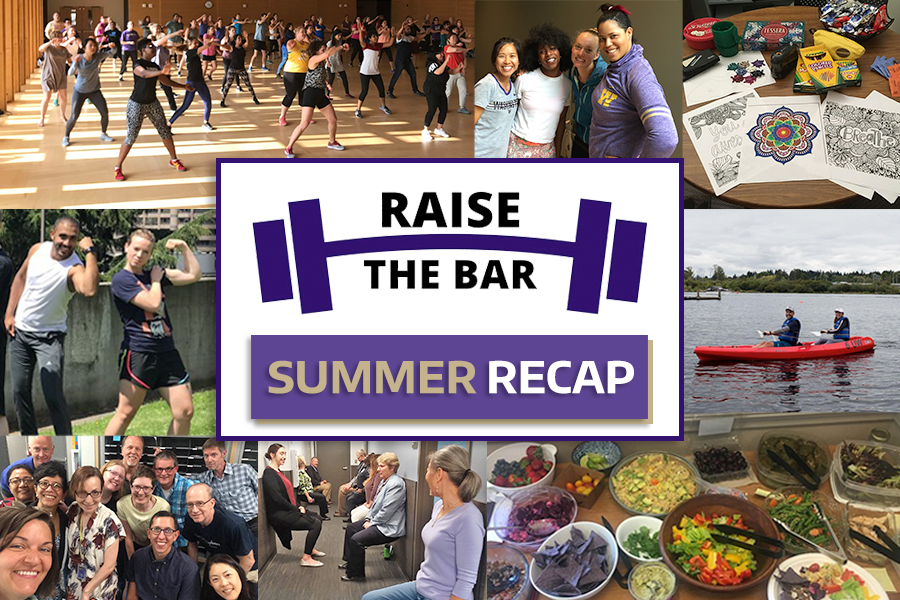 150+ teams 'Raise the Bar' for workplace wellness
Summer is at an end and, with it, The Whole U's Raise the Bar challenge officially comes to a close. But that doesn't mean momentum from two months focused on fostering healthier habits at work won't carry forward into Fall Quarter!
Over the course of July and August, more than 150 teams and still hundreds more individuals from across all UW campuses and medical centers made a commitment to wellness in the workplace in five areas: being active, eating well, managing stress, cultivating kindness and compassion, and building community.
As summer progressed, participants shared their success stories with us, which we in turn shared with the wider UW community in a weekly Summer Spotlight series. The premise was simple: if you can see a healthy practice in action, you too can make it happen. After 60 days, we were thrilled to see the many ways in which UW teams were streamlining their work life to work for their overall wellness—both through their own original ideas and through events, activities, and other programming hosted and developed by The Whole U.
Whether you were with us every week of the way or are just learning about the challenge today, get inspired by the spirit the UW community brought to this summer challenge and hear what many had to say about the experience! Be sure to scroll down for more Raise the Bar resources and Whole U activities to start the school year strong!
Notes & Quotes
"We think this was a great challenge to keep each other accountable—and healthier—in mind, body, and soul! It has been a motivator for us for a variety of reasons: wanting to do more physical activity, eat better, drink more water, [being aware of] stress-levels at work and doing more team-building activities." —Jessica Leader of the Regulator$ team within the Division of Cardiology in the Department of Medicine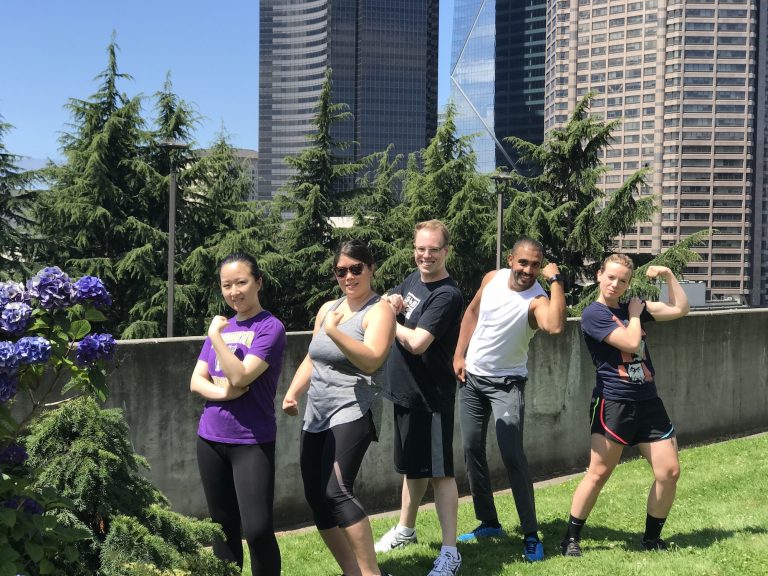 "I am very appreciative of these opportunities for staff to step away from their busy work day to move their bodies. It really made me appreciate my job more, plus the positive feeling I had when leaving." —Jessica Minick, Executive Director, Principal Accounts, after attending July 10's IanFitness Bootcamp class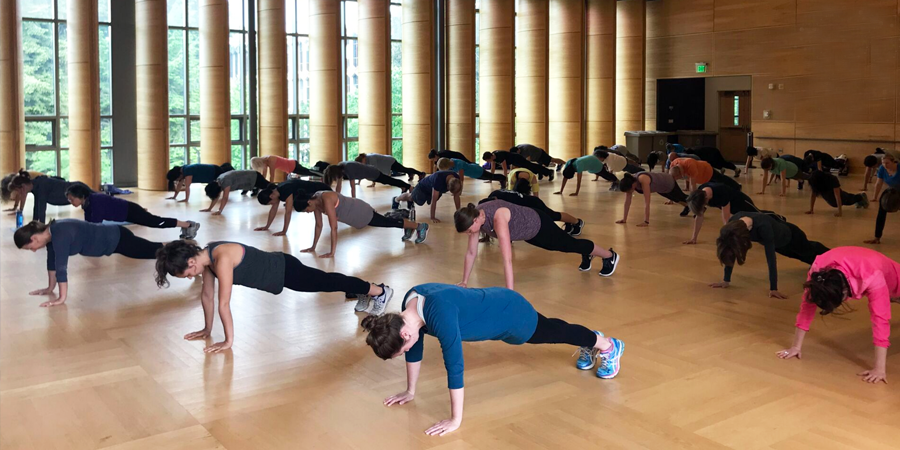 A super-group of staff members from the Comparative History of Ideas program and Department of Microbiology struck a "classic" pose at the Columns during the Whole U Summer Social picnic.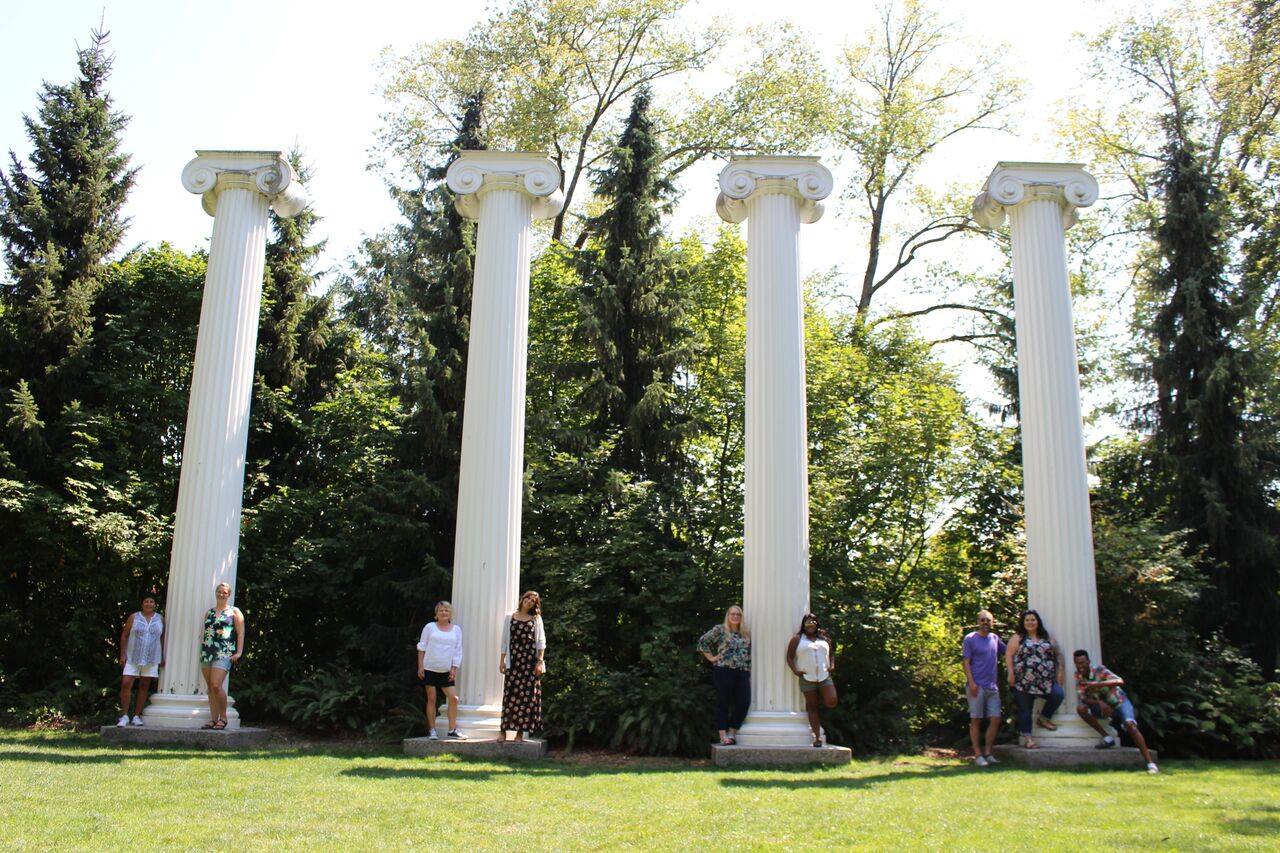 More than 100 UW faculty, staff, and students brought lunch to the Whole U Summer Social in Sylvan Grove where they listened to the musical stylings of classic country and folk duo Margo Murphy and John Roberts.

"It was so nice to listen to live music during my lunch break," said Lisa Flint of UW Anesthesiology & Pain Medicine. "More live music please."
"The Whole U has provided a community of friends and coworkers that I would not have otherwise had the opportunity to meet!" — Betty Lanman of the Department of Radiology, who used the Whole U Summer Social picnic as a chance to connect with colleagues from Team LoKB of the School of Social Work.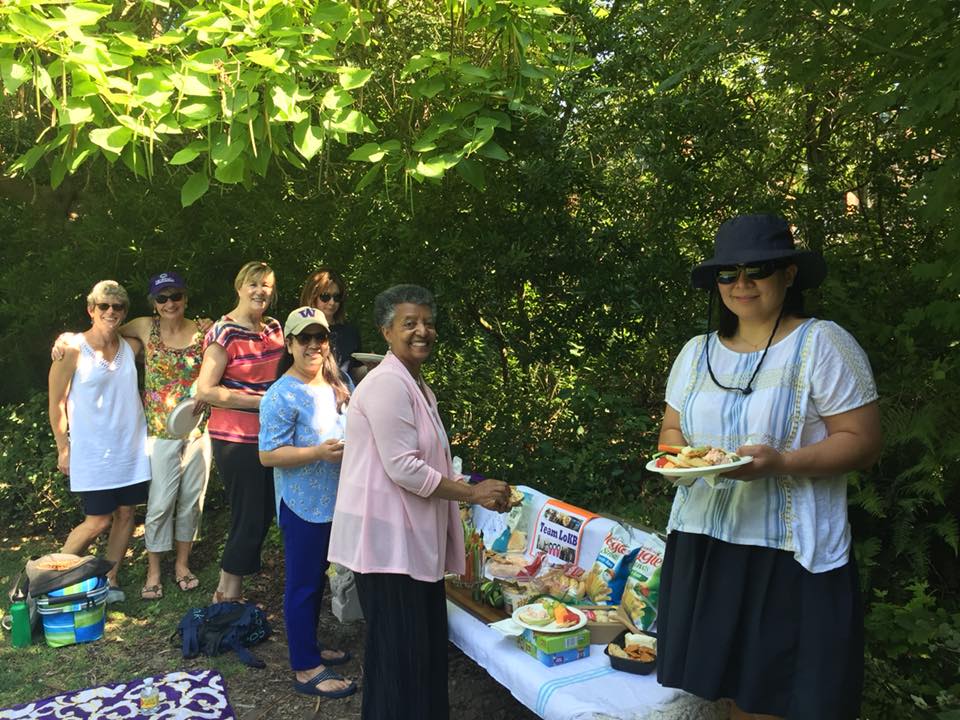 "Sharing a meal together really gave us all the opportunity to chat with individuals we might never have the opportunity to know! I really feel more connected to my UW family after our Community Lunch for the Whole U Raise the Bar Challenge." —Amber Walcker of Team E-I-E-I-GO! from the UW Data Delivery Group

Other teams channeled their Raise the Bar energies to get to know neighboring units. "The Division of Gastroenterology folks reside just down the hall from us in the Health Sciences Building so we'd thought we'd get to know each other a bit," said Suzanne Patterson of the Division of Nephrology. The two divisions connected over coffee and snacks.

Yoga at Grieg Garden on July 19.

"Kayaking was one of the most fun Whole U events I've attended. It was a great team-building experience and the weather was nearly perfect for a couple of hours on the water. Thanks so much to The Whole U for such a great time!" —Laurie Feldman, Advising & Admissions Manager, CFRM, Applied Mathematics

"Courses such as this are valuable not because of the recipes, but because we learn tips and tricks that greatly enhance food prep. Thank you for providing us with this! Chef Tracey is entertaining, knowledgeable, creative, engaging and practical." —Katherine Merriwether, Assistant to the Associate Dean, after our August 15 Summer Salsa Spinoffs Cooking Demo with Chef Tracey

"Chef Tracey shared a lot of great ideas with us and she did it with a lot of humor that made it really fun, and the salsas were delicious." —Gregory Whitman, Project Manager, UW Psychsoc & Comm Health

"[August 16's Bollywood Fitness class was] probably the most fun Whole U event I have attended!  Would love to see even more Bollywood Fitness Classes. Thank you!" —Stanley Choi of UW Aero & Astro

"Creative play helps us manage stress and achieve better focus on our work."—L.A. Smith of Team Bananas Foster at Foster School of Business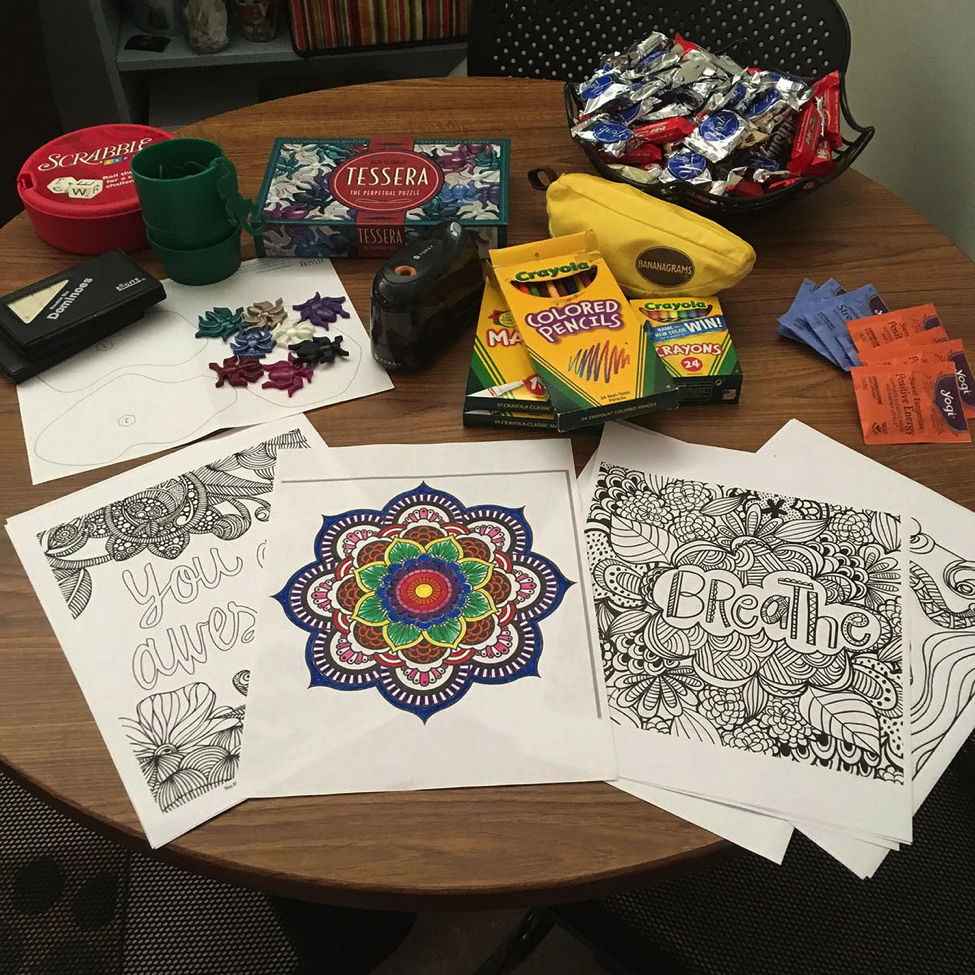 On the final day of Raise the Bar challenge, Katrina Beyer dropped off a donation to the UW Campus Food Pantry from the team from the Business Unit of the UW School of Medicine's Dean's Office (left). Chris Pennington and the team in the Facilities Services Admin Building also hosted a food donation opportunity as part of Raise the Bar (right). Read about yet another food drive organized by Anh Pham Week 2 Spotlight!
Special thanks to Raise the Bar sponsors UW Medicine, AT&T, US Bank, BECU as well as to UW Resilience Lab, whose grant helped The Whole U bring UW community a range of events and wellness content this past summer, including:
Start the school year strong!
Dawg Dash
Register by September 12 to join Team Whole U at Dawg Dash and receive a training plan, workout invite, and $5 off entry to this classic community 5K walk/run and 10K run celebrating the Husky spirit while raising money for student scholarships.
Yoga + UW Football
On Saturday, September 15, join The Whole U, UW Recreation, and UW Athletics for a yoga class for all levels at Club Husky, the distinctive indoor/outdoor space on the South side of Husky Stadium. Then, on September 29, catch the Huskies as they face BYU at home—all for one great price!
Strength Training Videos
Check out our new series of strength training videos featuring Chris Dresher, assistant strength and conditioning coach at UW Athletics:
About The Whole U
Since 2014, The Whole U has engaged more than 120,000 people from across the University of Washington with programming in six areas of focus: staying healthy, eating well, being active, life events and changes, volunteerism, and engaging interests. Under these pillars, we have provided high quality and impactful seminars, activities, events, tools and resources, along with educational content all at no cost to our UW community. We are continually looking to expand our reach and offerings to better connect diverse groups across campus, both to one another and to the greater University.