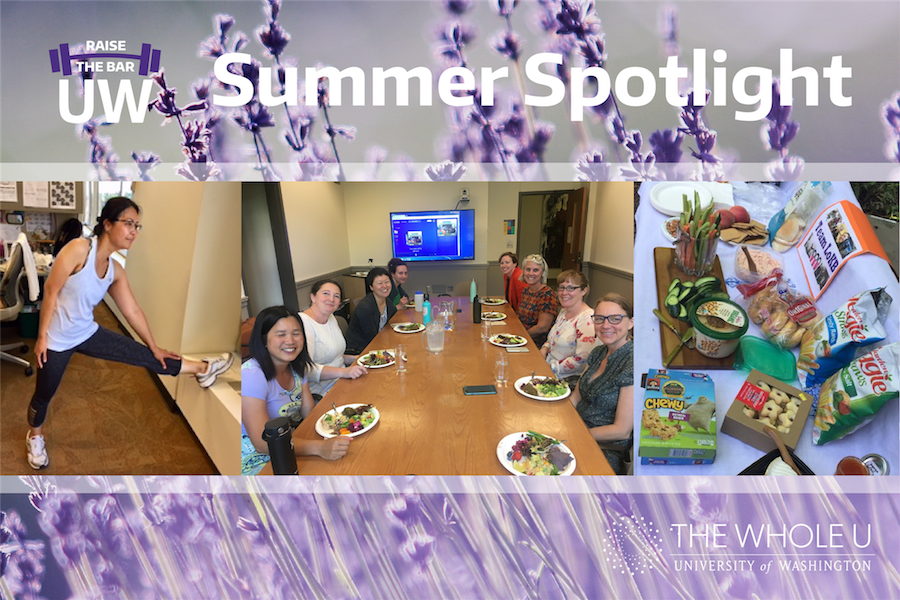 Summer Spotlight: Raise the Bar Week 6
With clouds of smoke engulfing Seattle and UW, teams were still able to fire up ways to foster wellness in the workplace, from lunches with other teams to funny wellness walls. Check out how UW fought through the haze during Week 6 of our Raise the Bar summer challenge.
(Catch up on our recaps from Week 1, Week 2, Week 3, Week 4, and Week 5.)
Building Bridges
One of our challenges in the 'Building Community' section of Raise the Bar is to have lunch with another team. "The GI (Division of Gastroenterology) folks reside just down the hall from us in the Health Sciences Building," said Suzanne Patterson, fellowship program administrator of the Division of Nephrology, "so we'd thought we'd get to know each other a bit." Nothing like connecting over coffee and cookies to celebrate an active summer!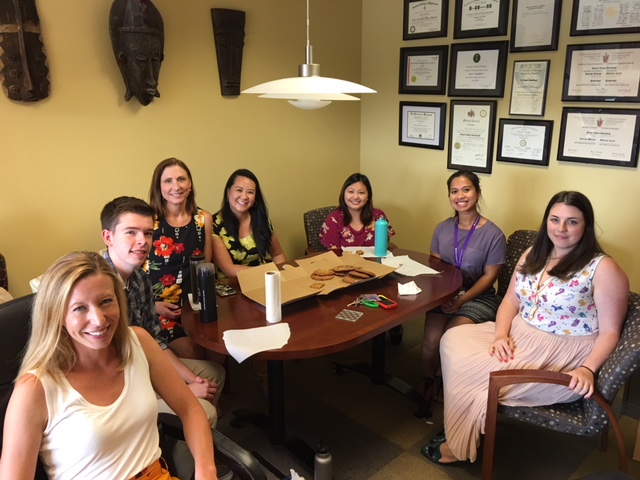 Bollywood Fitness
All summer long, teams have been attending all types of fitness classes and intense workouts, from Tai Chi Tuesdays at UW Tacoma to IanFitness classes to yoga sessions. Last week Soumya Gogula, a Project Manager at UW Medicine IT Services, led a fun and educational Bollywood-inspired fitness workout for our Raise the Bar summer wellness challenge!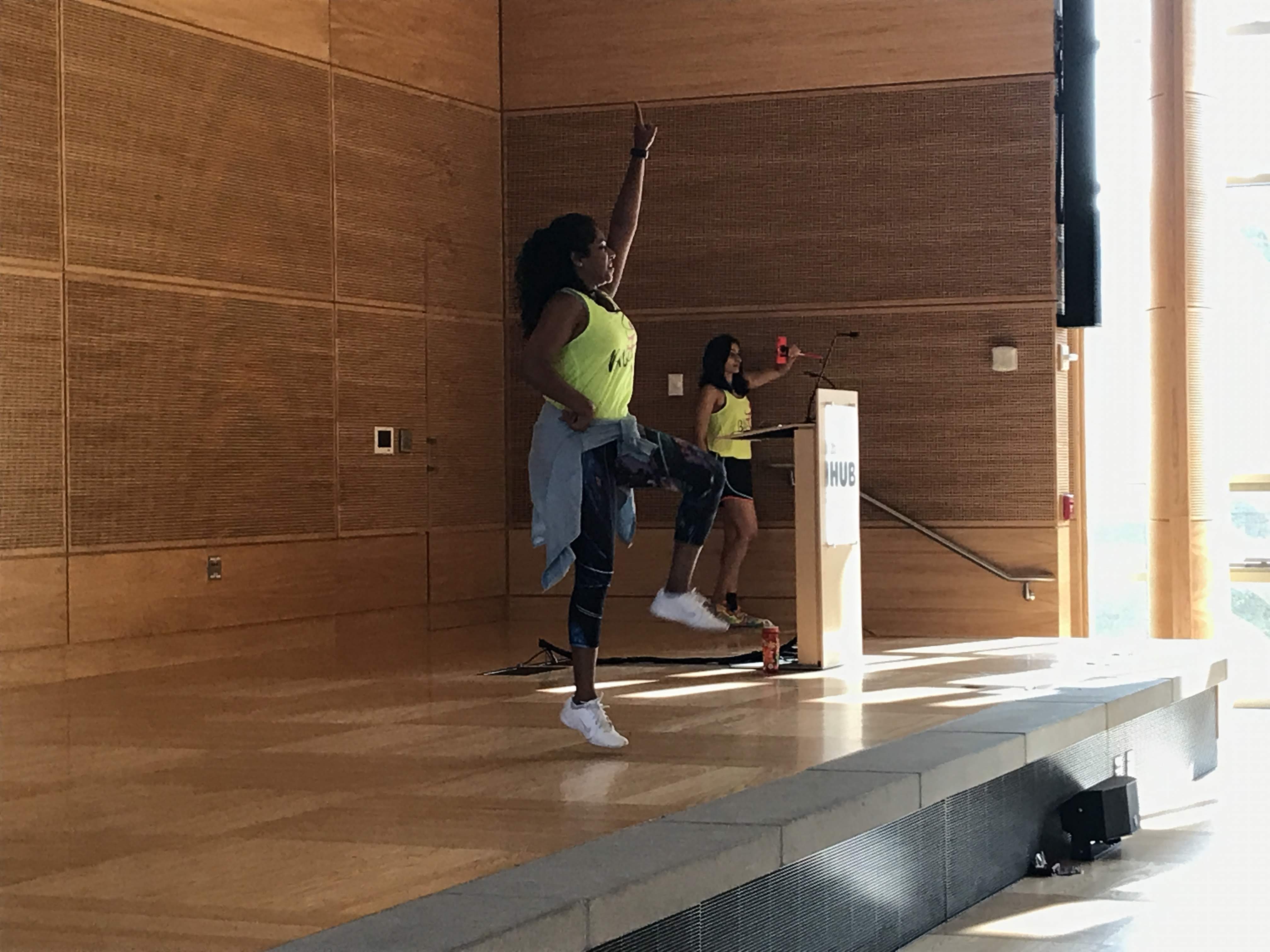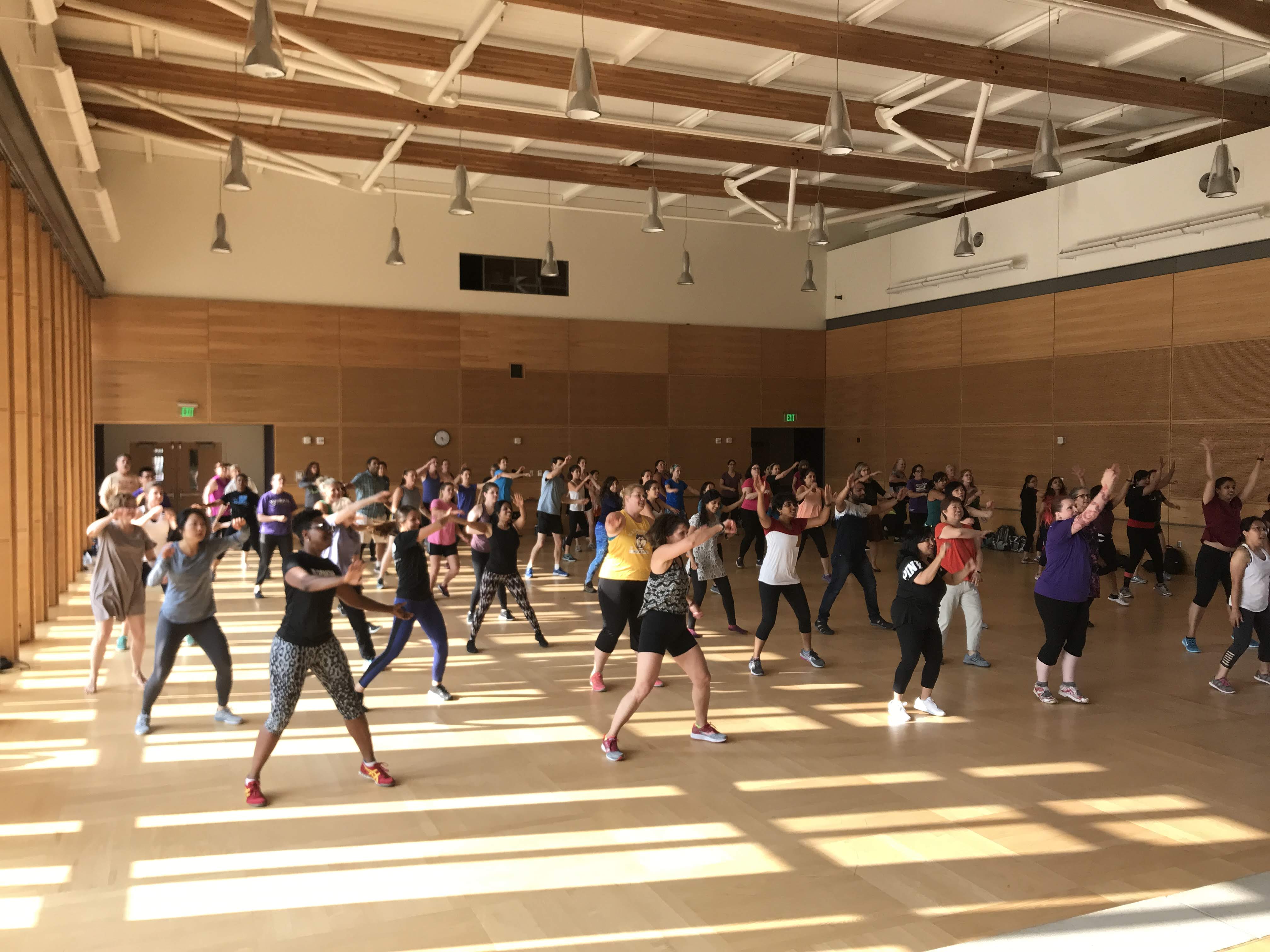 Garden Potluck
From parking lot grilling to breakfast bars, healthy eating has been a fundamental focus for many of our teams. Jodene Davis, Director of Strategic Initiatives at Undergraduate Academic Affairs, and Team UAA ended up going green, bringing veggies from their home gardens to have a potluck lunch bolstering healthy options.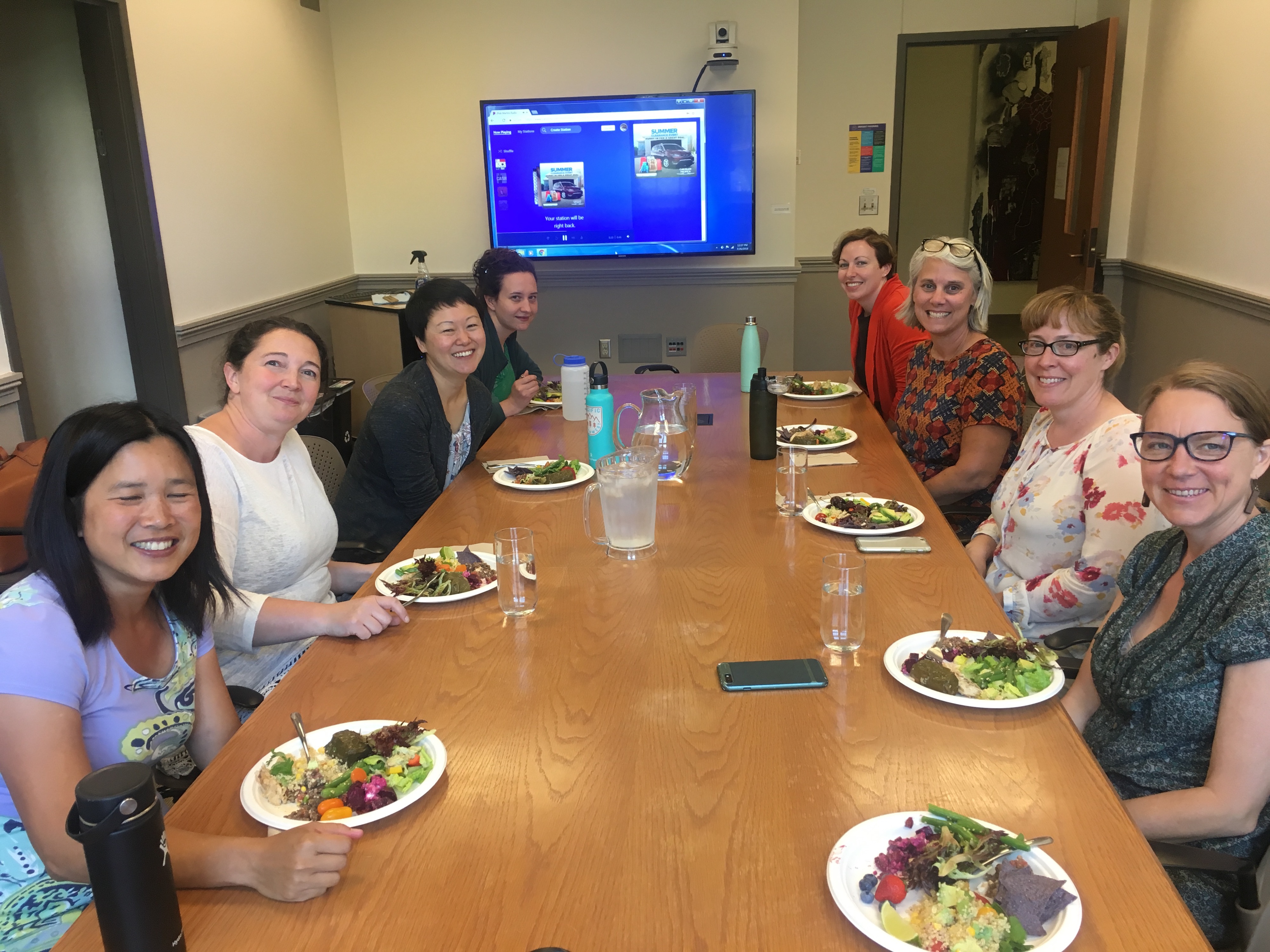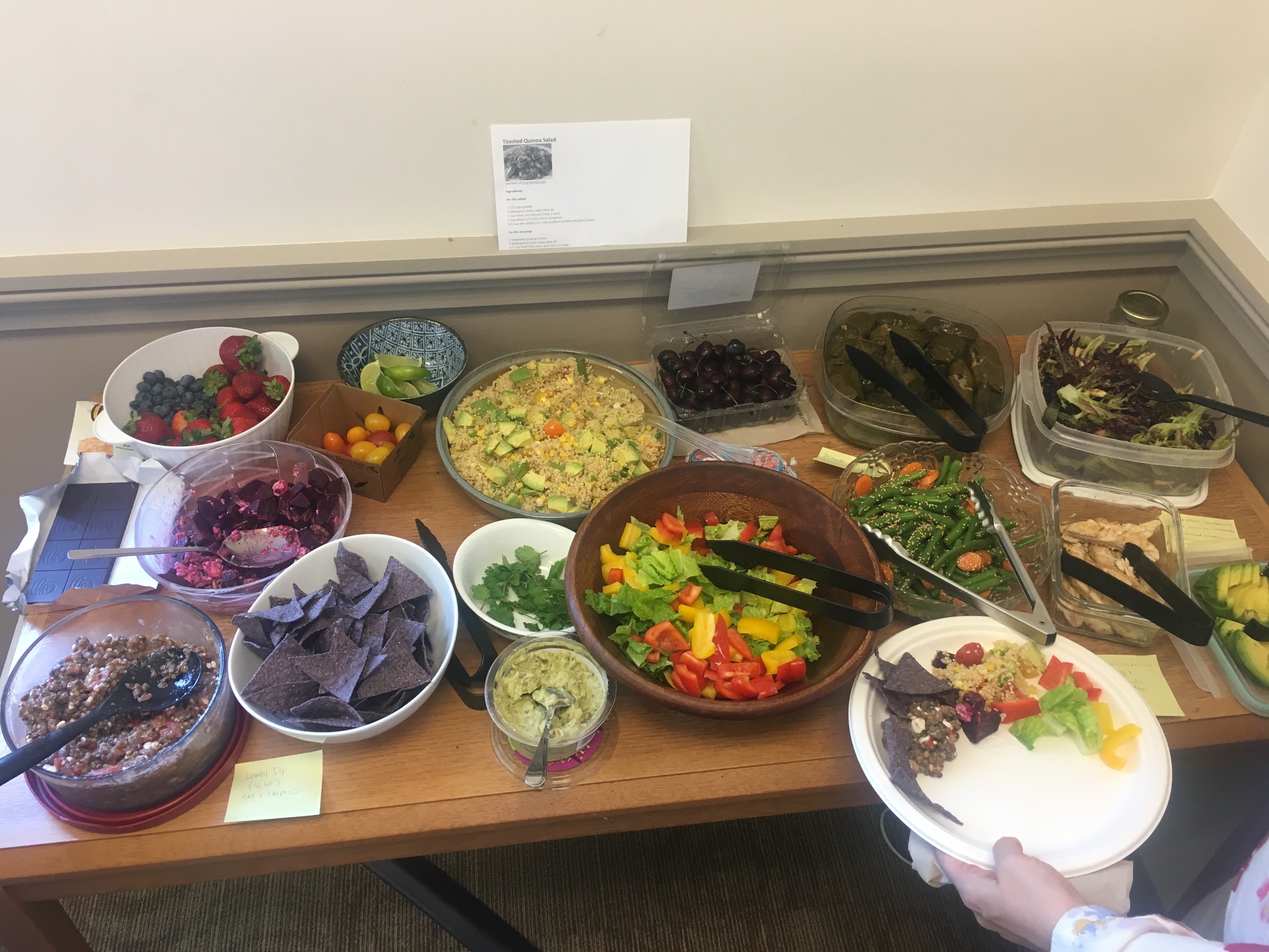 "Be like Fred!"
Teams have been creating "wellness walls" to ensure that they have an organized game plan around each area of the challenge. Jyoti Naik, UW ADA architect/certified access specialist in Engineering Services, showed us the "wellness wall" Team Winning Bigly made, highlighting some selfless acts from our 30-Day Kindness Challenge. According to the far-right drawing, Fred skis, eats low carbs, and is healthy: be like Fred!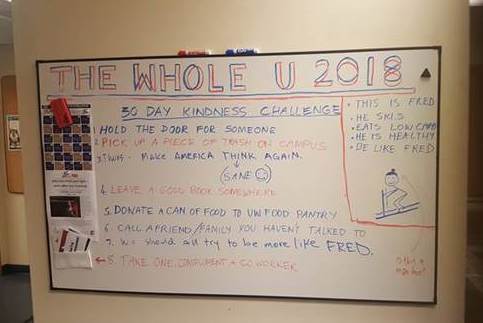 Deeper Reflections
Anna Khoutxaysana, a patient financial specialist II at Harborview Medical Center, shared her reflections on what it takes to stay motivated, what she did to stay active when alone, and how to address stressful situations.
Why do you choose to exercise more than you were before?

"To me, effective workout/exercise & stay active are essential in restoring my inner peace and physical health. When I arise in the morning, think of what a precious privilege it is to be alive – to breathe, to think to exercise, and to enjoy."

How do you maintain your workout, at work and at home?

At work: "Every day during breaks and lunch, I would start with a daily 5-minute routine stretch. After that, I would go for a walk/jog around the Quad, Red Square, and/or by the Fountain to help revitalize my blood flow and stay more alert during the rest of the day.

At home: "I would go for a walk after I get home from work as a method to reduce stress from the day. Also, I would walk to and from the park-&-ride since I live close by.  No matter how old you are."

What are some of the inspiring methods you've developed to manage stress?

"Exercise/workout, smile and laugh, show support to my colleagues when in our bad days, get more sleep and reduce caffeine intake."

How do you stay positive under stress?

"In times of stress, the best thing we can do for each other is to listen with our ears and our hearts and to be assured that our questions are just as important as our answers. In times of great stress or adversity, it's always best to keep busy, to plow your anger and your energy into something positive."
---
Want to find more ways to stay active this summer? Whether you want to train for a 5K/marathon or add some kettlebells to your workout, check out some of our virtual trainings.
We'll continue featuring your stories of developing healthier, more positive work environments in this space throughout the summer as you continue sharing them with us at wholeu@uw.edu. We also encourage you to join our Whole U Being Active Facebook group to post photos and reflections or share via Twitter and Instagram using #raisethebaruw.
---
Special thanks to our Raise the Bar sponsors: UW Medicine, AT&T, US Bank, BECU, and UW Resilience Lab!