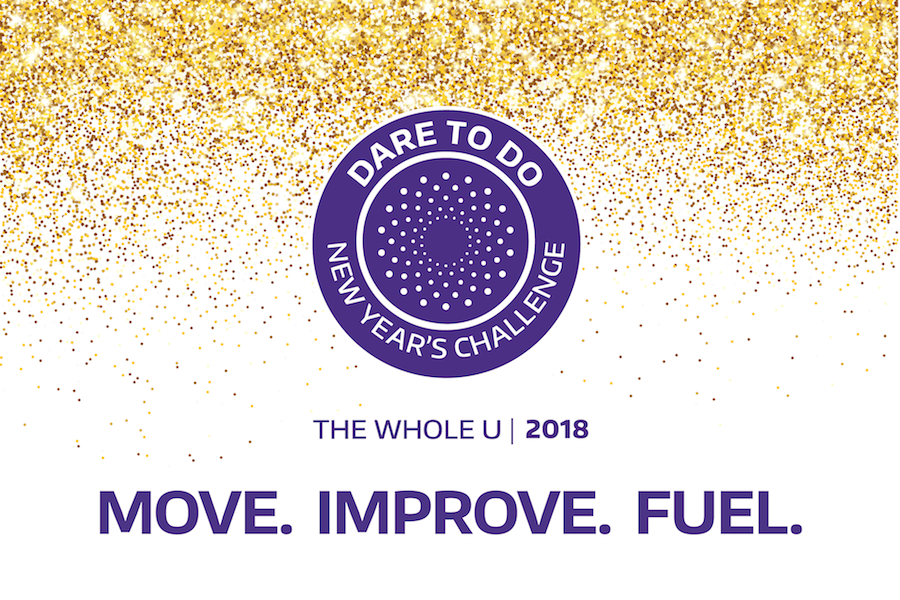 Dare to Do: Challenge Your Whole Self in 2018
With a new year approaching, we're increasingly thinking about parts of our daily lives we could improve—whether that's our approach to physical and mental health or prioritizing our finances and getting better organized.
Last year, Google measured the top five most popular New Year's resolution search terms:
Get Healthy—62,776,640 searches
Get Organized—33,230,420 searches
Live Life to the Fullest—18,970,210 searches
Learn New Hobbies—17,438,670 searches
Spend Less, Save More—15,905,290 searches
Making a resolution is one thing, but keeping it is the real challenge. How do we actualize the promise we make ourselves—translating that initial web search into sustainable lifestyle change? Here at The Whole U, we know one of the best ways of successfully delivering on your New Year's resolution is to partner up. And what partnership could be stronger than one made with thousands of like-minded, goal-setters here at the UW?
That's why we're inviting you to join us this January, February, and March for our annual 90-day Dare to Do wellness challenge. Together, over the course of three months, we'll do more than just keep our resolutions; we'll take meaningful, long-term strides in the way we move, think, eat, and organize towards the ultimate outcome of living fuller, happier, healthier, more productive lives.
The path to achieving goals begins by articulating them. So, as an added incentive, we've created a custom downloadable journal so you can reflect on your progress as you work toward and reach each goal as the year progresses. It includes a calendar for tracking and comprehensive goal setting as well as helpful, inspirational advice and tips from UW experts to guide weekly journaling.
Whether you want to focus on moving more, self-care, nutrition, or any combination of the three, you can customize your plan and then track your way to achieving success. It's a practice world-class athletes swear by. UW Gymnastics coach and former U.S. Olympian Elise Ray says writing down goals is one of the best strategies to ensure you reach them successfully.
"Set little goals every day, because it feels really rewarding and fulfilling to reach them," she says. "If you write it down—even if you don't reach your goal that day—at least you have it there and see that you can carry it over."
This year's challenge is organized into three dynamic month-long units: Dare to Move, Dare to Improve, and Dare to Fuel. With a specific focus each month, you'll be able to dive deep to explore, develop, and reinforce positive lifestyle changes—zeroing in on what it is you wish to achieve. Here's the breakdown.
Dare to Move
Throughout the first 30 days, we'll focus on incorporating more natural movement as well as scheduled exercise throughout the day. Partnering with UW Athletics, UW Sports Medicine, Psychologists, and local fitness discount partners, we'll introduce Weekly Workouts, articles focused on improving and introducing physical activity, and discuss the importance of an active body for overall wellness and mental health.
In addition to our multi-faceted journal, each participant will also receive a Fitness Passport with free passes to participating local gyms and workout programs.
Dare to Improve
Entering February, we'll hone in on self-care, time management, organization, finances, and overall well-being, building on the groundwork we laid in January. In February, our organizational, financial and mindfulness experts, along with UW psychologists, will get us thinking about ways to be more savvy in self-care. Improvement is not only about adding the new, but also perfecting the existing.
In our journals, we'll focus on keeping track of physical activity and improvements in our finances, organization, and mental approach to life's challenges, while tracking our budding strengths and strategies for remaining aligned to our goals.
Dare to Fuel
The challenge's final month will concentrate on the power of nutrition to boost both body and brain. How can we fuel ourselves to more positively impact our workout and workday? To find out, we'll partner with Dr. Will DePaolo of UW's Center for Microbiome Sciences and Therapeutics, Kima Cargill, a professor of clinical psychology at UW Tacoma whose research concerns how overeating is influenced by living in an affluent culture focused on consuming, dietitians from UW Medical Center, Harborview Medical Center, and UW Athletics, and chefs from UW Housing and Food Services and the UW Club. With a raft of new recipes, food substitutes, and weekly action items, you'll learn to fuel for performance and productivity.
Imagine, a little over three months from now, looking back with a sense of satisfaction at the positive changes—and staggering progress—you'll have made. Together, let's make 2018 about challenging ourselves to unlock our full potential!