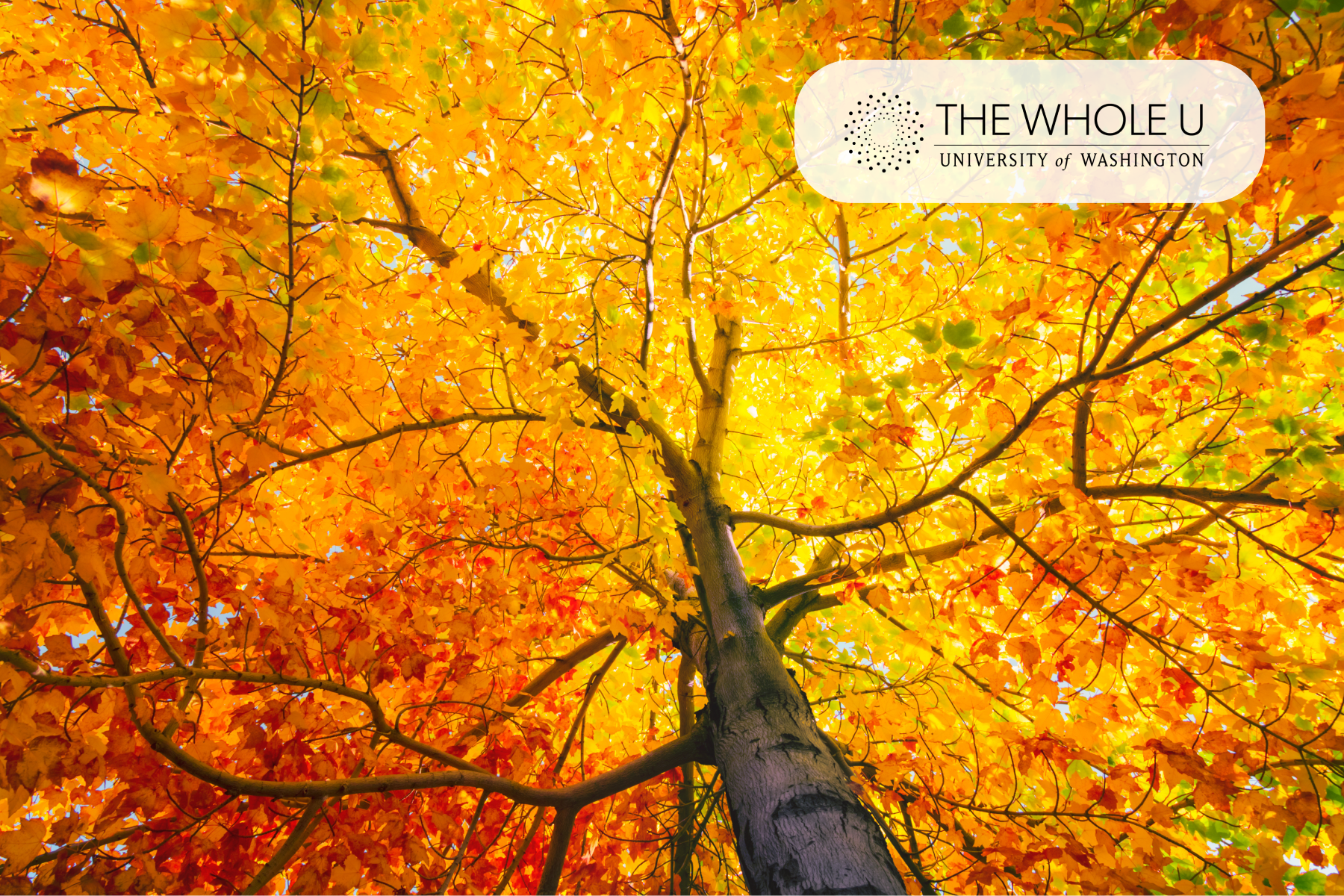 Spice up October with events from The Whole U
This month, take charge of your health by joining us at one of the many benefits fairs and flu shot clinics available across our UW campuses and UW Medical Centers. Join us at the annual American Heart Association Heart Walk bright and early on Oct. 14 or at a Friday morning virtual yoga series starting Oct. 6. And, flex your financials muscles at one of our informative webinars with our financial partners Fidelity, BECU and HomeStreet Bank.
---
Every Monday – Friday
11 – 11:15 a.m.
Virtual
The Whole U's Daily Movement Break, which began during remote work in 2020, is way to connect virtually and take a few minutes to informally move together and connect! Whether it's a yoga, fitness and strength, or guided dance break, each day offers something a little different. All are welcome to join for a fun and light movement break!
---
Every Tuesday & Thursday
6:15 a.m. – 6:45 a.m.
Virtual
Make time for training with weights and join Lauren Updyke for a 30 minute intermediate class each Tuesday and Thursday at 6:15 a.m. on Zoom. All you need is two sets of weights (at least 5lb – 25lb range) and a chair!
This class will include total body and focus on both large and small muscle groups, and will finish with core and stretching.
---
Fridays from Oct. 6 – Dec. 15
7 – 8 a.m.
In this class you are guided through an invigorating yoga flow with continuous and dynamic yoga sequences that benefit your whole being – improving flexibility, muscle, joint and cardiovascular strength, increasing mental clarity and focus, allowing for a harmonious unity of the body, mind, and soul. Deep breathing and meditation techniques are also included for an integrated yoga practice. This class is suitable for beginners and offers something for intermediate and advanced practitioners.
---
Throughout October
Virtual
The Whole U is thrilled to invite you to join our month-long Pumpkin Carving Contest, where creativity knows no bounds! Share your pumpkin masterpiece on Instagram, tagging us @uwwholeu and using the contest hashtag #UWPumpkinContest for a chance to win extra recognition, or email your submission to wholeu@uw.edu, and we'll post it on your behalf.
---
October 11
11:30 a.m. – 1:00 p.m.
Virtual
Visit the first day and in the opening hours of the event, you can visit the with staff hosting nonprofit booths. All the booths will be up throughout the campaign. Check out your old favorites and find your new favorites. This is a great way to learn more about the good work happening here and around the world.
---
October 11 – October 18
Virtual
Join the UWCFD at our annual virtual auction in supporting the incredible work of NAMI Seattle. Your purchase will support the mental health and well-being of our community. There will be cool experiences and tasty treats, gift cards and bottles of bubbly to bid on!
---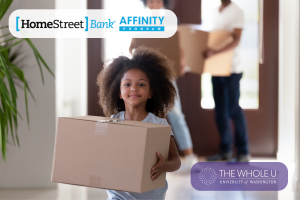 October 12
Noon – 1 p.m.
Virtual
Whether you're buying your first home or just need a refresher, this Zoom seminar hosted by HomeStreet Bank is for you. Learn about today's real estate market, the role of real estate agents, the differences between pre-approvals and pre-qualifications, as well as mortgage applications, home inspections, and appraisals.
---
October 13
11 a.m. – noon
Virtual
Learn tips for making healthier eating choices with UW Recreation's Jaclyn Morimune, registered certified dietetic technician, at a virtual presentation on incorporating nutrition into your lifestyle.
---
October 14
10 a.m. – Noon
Seattle Center
Join The Whole U and UW Medicine in walking the Puget Sound Heart & Stroke Walk! As an institution leading cardiovascular research through the UW Heart Institute, UW Medicine is a strong supporter of the Heart & Stroke Walk each year. Come together with hundreds of Huskies and millions of Heart Walk Heroes around the nation in raising funds for lifesaving science.
---
October 16
4:30 p.m.
Rainier Vista
This event is a UW Endurance Club offering. Join us over the following months as we prepare for the Seattle Half and Full Marathon with a series of walk and run clinics and classes.
In this clinic you will learn proper running and walking form, how to interval train, and fun drills to build strength in your hips, gluteal and core. All levels are welcome.
---
October 18
11 a.m.
Webinar
We'll focus on helping you understand how Social Security works, considerations for choosing when to start claiming your benefit, and the ways Fidelity Investments can help you decide how to make the most of your benefit.
---
October 19
Noon – 1 p.m.
Virtual
Stress stemming from financial concerns is no secret, as recent studies have revealed that more than half of U.S. adults grapple with the negative impact of finances on their mental health. In this informative webinar presented by BECU, you will delve into the intricate relationship between mental and financial well-being.
---
October 22
3 – 4:30 p.m.
Husky Soccer Stadium
Come show your Husky spirit with The Whole U and support the UW Men's Soccer team. Stop by The Whole U tent to pick up your bingo cards and say hello! The first 50 people to check in with The Whole U team will receive a signed poster. The first 10 bingos to redeem their cards at concessions will receive a $10 coupon.
---
October 25
12 – 1 p.m.
Virtual
This lecture will explore topics in diversity, equity and inclusion including inspiring belonging within the University of Washington and creating community with Dr. Maya Angela Smith, the College of Arts and Sciences' inaugural Associate Dean for Equity, Justice and Inclusion.
---
October 27
12 – 1 p.m.
Virtual
During this webinar with the UW Osher Center for Integrative Health, you will discover what distinguishes integrative medicine from traditional medicine and learn how incorporating integrative medicine into your own healthcare can support well-being and longevity. Dr. Iman Majd's background is in Integrative Medicine, Family Medicine, and acupuncture. He pioneers holistic approaches alongside conventional healthcare, particularly serving patients with various medical conditions.