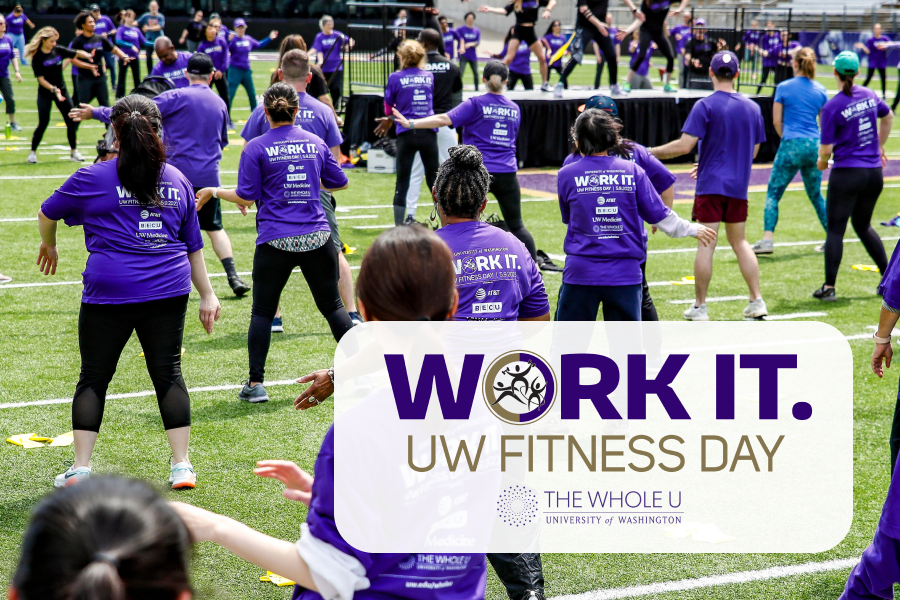 Huskies enjoy community and movement at UW Fitness Day
More than 1,000 members of the UW community came together at UW Fitness Day on May 9 for our annual celebration of movement, friends and fun held at all three campuses and Harborview Medical Center.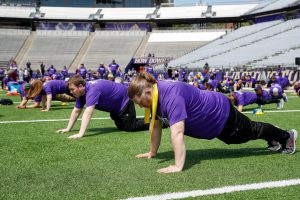 An annual event held in May in recognition of global health and fitness month, UW Fitness Day is a unique, campus-wide opportunity to explore various types of movement while celebrating wellness.
Held at Husky Stadium, the ARC at UW Bothell, the UW Tacoma University Y and Harborview Medical Center, participants of all fitness levels were welcomed and encouraged to personalize the workout to their own needs.
Fitness day provides opportunities to connect with colleagues and members of the UW community in an out of the ordinary context, developing a sweat along the way.
"UW employees across campus and our medical centers work extraordinarily hard and this event is the epitome of centering employee well-being at work," said Mindy Kornberg, UW vice president for Human Resources.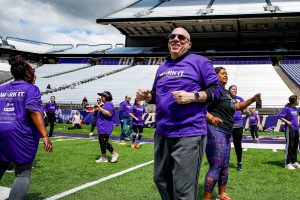 At the Husky Stadium location, the format of this year's UW Fitness Day was different than in years past: rather than moving from station to station, participants all enjoyed the same workout together, following along to coaches leading from the stage during segments focusing on upper body, lower body, cardio/dance and yoga/meditation.
Additional coaches cheered participants on from the field.
---
What participants had to say:
I absolutely loved UW Fitness Day. It helped me get out of the hospital walls for an hour and just participate in a very encouraging, positive and healthy activity. It gave me energy and motivation for the rest of the day.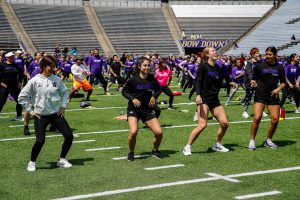 I was worried I was too out of shape for the event but every coach was great and accommodating to all fitness levels and doing it in such a large group helped eliminate that fear! Great event! Can't wait for the next one!
This was a great event! It was just the right amount of exercise. Thanks for the whole experience, from seeing the stands from a field point of view to the enthusiasm of the coaches, the volunteers and everyone else involved!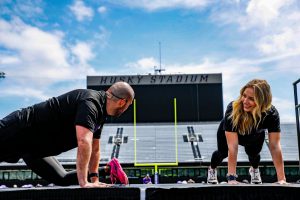 The atmosphere had a very good vibe and I enjoyed every minute of it – even the out of breath moments!
Everyone was so nice! The volunteers and coaches were very kind and encouraging and it was wonderful to be in that environment.
The emails, reminders, getting inside the stadium, greeters, event organizers, exercise coaches/trainers–ALL AMAZING! I learned so much and I will definitely incorporate the exercises I learned.
---
Shout-outs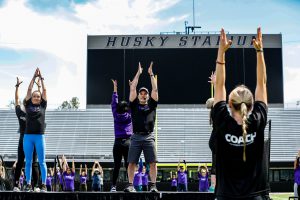 Thank you to our event sponsors AT&T, UW Medicine and BECU and to our volunteer coaches for partnering with The Whole U for this event:
Barre3 Ballard • See Me Wellness • La Clava Cubana • Karen Cornelio Zumba • Aaliyah Earvin • NW Fitness Gym • RowdyBox Boxing • Pure Barre Seattle • UW Recreation • Tacoma Center YMCA • Pranify Yoga • ARC at UW Bothell
Learn more about our volunteer coaches from UW Athletics and UW Recreation and from our community partner businesses!
---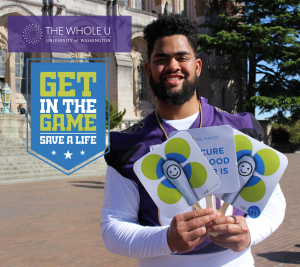 This year's Fitness Day included a fundraising and registration goal for Be The Match, the nation's largest registry of bone marrow donors.
A donor registration event took place on Red Square following Fitness Day, intended to increase awareness of its marrow and stem-cell donor registry and encourage students to sign up for the registry.