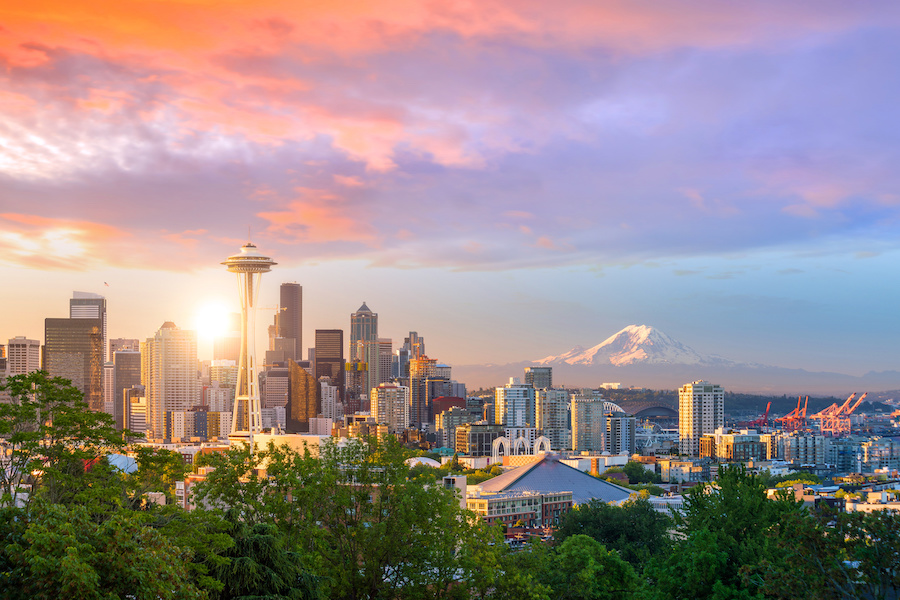 Mental Health Resources During Trying Times
This time has been extremely difficult for our UW community. The past few months, many of us have been struggling to face the new reality of financial hardship, emotional strain and loss, and directives to stay home to slow the spread of the coronavirus. Now, we are grieving the killings of George Floyd, Ahmaud Arbery and Breonna Taylor, while recognizing that for many minoritized people these deaths are just the latest traumas in a tide of loss.
To the Black community, we echo the words of the UW Office of Minority Affairs and Diversity
"We see you, and we acknowledge the deep pain, anguish, and extra trauma you are carrying right now due to this senseless loss of life. In the midst of these challenging times, when the pressures stemming from our history of racial violence and ensuing trauma feel heavy and unyielding, please know that we are here to uplift you, and we are in community with you."
As we continue to grapple with inequity, racism and bias embedded in our social structures, we turn to our community to uplift and support one another. We do not have all of the answers and must continue working to support the UW community. As one component of a greater effort, we offer these resources for self-care during traumatic times.
The following list has been compiled from across the University. We know that everyone experiences trauma differently, but we hope that these resources may provide some support to you.
---
Messages from UW Leaders
If you have not already, take time to read this message from President Cauce addressing structural inequalities, institutional racism, and the lives lost.
This message from the UW Office of Minority Affairs and Diversity addresses the entire UW community and the Black community. President Cauce, Provost Richards, and Faculty Senate Chairs Joseph Janes and Robin Angotti have also shared this message to all instructors for guidance in supporting students and colleagues.
---
Coping with Uncertainty and Anxiety
Kevin Alschuler, PhD (Rehabilitation Medicine and Neurology) presented "Coping with uncertainty and leveraging resilience during COVID-19" on the challenge of COVID-19, of uncertainty, and how to build and use resilience to cope in the best ways possible. Watch the recording. 
Additionally, psychologist, New York Times columnist, and best-selling author Dr. Lisa Damour provides specific dos and don'ts of coping with stress and anxiety in this helpful handout.
---
Learning to Accept—Indeed, Embrace—Feelings of Grief
There's no "right" way to grieve; how you experience loss is unique to you. To work through grief, don't obsess over being resilient. Be patient with yourself and others, and don't compare suffering. As much as you can, try to accept things you can't change.
"What's unique about this is it's not a single loss like the way we're used to thinking of loss, but a protracted losing of the way things were, a loss of what we've come to expect, and it constantly changes," Barbara McCann, a clinical psychologist who sees patients at Harborview Medical Center, told Right as Rain.
"I think people tend to minimize losing normal life, but it's important. It's how we define ourselves."
---
Managing Stress
Stress can be a very personal experience and how we cope with and reduce stress differs greatly based on the individual. This page is built to offer a plethora of resources for stress reduction techniques. You can access stress reducing meditations, playlists, handouts, stretches, apps, and more.
Additionally, read this flyer created by the UW Counseling Center on tips for coping with COVID-19 related stress.
---
Practicing Mindfulness and Meditation
"The stress COVID-19 has caused many of us is real and valid and if you're struggling, you are not alone," says Nicole Montes, M.A., Doctoral Candidate, Psychology Intern, UWCC. "That being said, this unprecedented time can be an opportunity to turn inward, to slow down, and to check in with ourselves, especially if we find ourselves feeling overwhelmed. Mindfulness grounds us into the present moment in a way that often helps quiet our worries about the future and responsibility of juggling to full mental load." Click here to follow the process Montes recommends trying out.
Explore more recorded guided meditations from The Whole U, including on-the-move meditations oriented to the senses, here.
---
Caring for Self and Family
UW Human Resources has complied a list of resources for self-care, adults and elder care, and child care as we look for help navigating the many changes in our lives. Caring for loved ones can be a major stressor in our lives, especially during this unprecedented time.
Whether you are looking for back-up child care, care alternatives for aging loved ones, or support for your emotional health the comprehensive guide can provide information and a network of support.
---
CareLink and SafeCampus
UW CareLink connects you with experts who help you or your family members navigate life's challenges. It is the employee assistance program provided for PEBB benefits-eligible UW employees, their dependents, and other household members at no cost for initial services. You get free, confidential access to counseling, legal advice, financial guidance, eldercare assistance, and more.
SafeCampus is the University of Washington's violence-prevention and response Program that support students, staff, faculty and community members in preventing violence. Call SafeCampus anytime — no matter where you work or study — to anonymously discuss safety and well-being concerns for yourself or others. 206.685.7233.
---
Becoming Educated on Issues of Diversity, Equity, and Inclusion
It is all of our responsibility to educate ourselves on issues of diversity, equity, and inclusion. At the University of Washington, we have access to a wide variety of world-changing research institutes and centers. Knowledge is empowering—expand yours by exploring diversity and diving into the research our community produces.
---
Turning to Nature
Even though we are all trying to stay inside, there are still many ways to appreciate nature in the comfort of your home. Whether it be walking around your backyard or looking out the window and observing the sky, studies have shown many benefits nature has on our mental health. Michelle Ma, UW News shares a holistic look at how a dose of nature at home can help mental health.
One study found that a 20-minute "dose" of nature in cities reduced stress levels. Another showed that more tree cover helped lessen symptoms of depression among residents of nursing homes.
For the ones who can't go outside, studies have shown that gazing out a window or looking at nature photos or videos — including virtual tours — are also effective in promoting positive mental health.
"It's important to be mindful, commit to the activity and think about your observations while looking at these materials or elements of nature," Kathleen Wolf, UW research social scientist in the School of Environmental and Forest Sciences, explained. "That means not merely scrolling through on your computer, but looking at photos or video streams with more intention. It's essentially nature-oriented meditation."
---
Being Active
Many of us turn to fitness in times of need. Being active helps to reduce stress, improve mood, and support a healthy mind-body connection. Whether you are taking walking breaks or practicing strength training, all movement is beneficial.
The Whole U offers a variety of free, live fitness and mindfulness classes each week on Zoom. All are welcome. If you are unable to join a live Zoom workout or would prefer a more personal workout, The Whole U and UW Recreation have recorded many fitness and yoga classes so you can follow along on your own time.
Explore yoga and flexibility videos, strength training videos, and virtual training opportunities from The Whole U and UW Recreation workouts on YouTube.
---
Staying Grounded
Turbulent times may shake us to our core, but there are ways to practice remaining grounded, honing resiliency, and creating a sacred space. Lee Davis, consultant with Professional & Organizational Development shared with us how to stay grounded through emotional and physical windstorms. Watch the recording.
---
Wellness Resources for Healthcare Workers
With packed workdays, demanding pace, time pressures, and emotional intensity, the healthcare environment puts workers at high risk for burnout. Coupled with mental and physical health impacts of the COVID-19 outbreak, healthcare workers need resources for wellbeing more than ever. Call a Code Lavender for yourself and visit this page full of resources specific for healthcare workers mental and physical health. It is crucial to call a Code Lavender and take the time for self-care when you are feeling uneasy or stressed.
---
Wellness Resources for Students
For students and those who work with students, this comprehensive resource list from Rickey Hall, Vice President for Minority Affairs & Diversity and University Diversity Officer, and Ed Taylor, Vice Provost and Dean of Undergraduate Academic Affairs offers further guidance across many areas of life from housing and food support to healthcare, and issues of equity and access.
---
Your mental and physical wellbeing is of the utmost importance to us at this time. We invite you to share with us additional resources for wellness and hope that any of the above can meet you where you are, offering a supportive and helping hand.