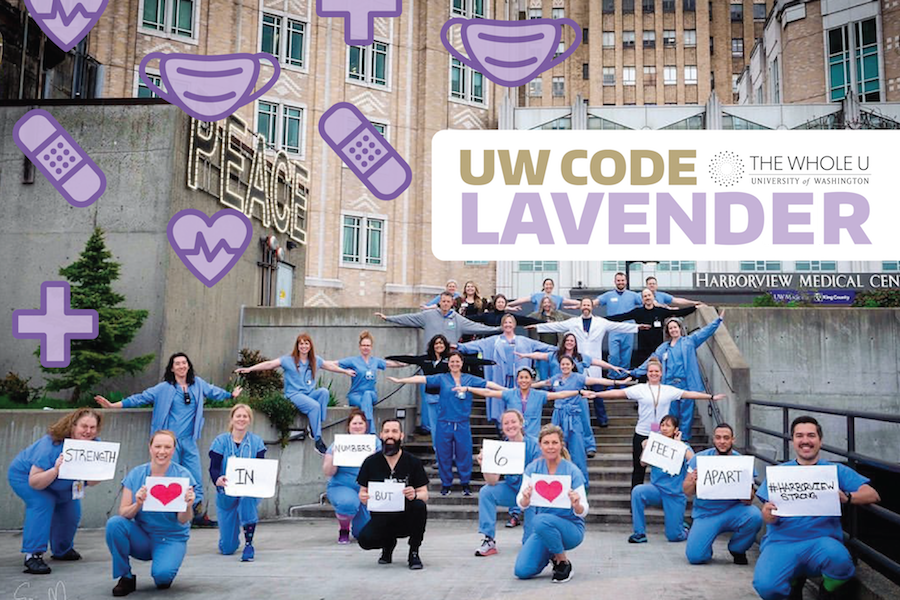 UW Code Lavender for Healthcare Workers
Hi healthcare heroes! The Whole U is the University of Washington's wellness engagement program and we want to offer support during this time of crisis. Taking care of yourself allows you to take better care of others!
Below, you'll find guidance to enhance your mental and physical strength as you continue to care for your patients. Whether you complete a short workout, listen to a playlist, or do a 5-minute meditation, it is crucial to call a Code Lavender and take the time for self care when you are feeling uneasy or stressed.
---
Table of Contents
Other Ways to Support Yourself
---
Meditations
Try the following audio meditations anytime during the day to cope with feelings of anxiousness and provide a sense of calm.
---
Fitness
During these times we don't have access to gyms, parks, or fields to unwind and let loose. Try these two workouts that can be done anywhere and without equipment. This upper body fitness workout can be done anywhere. Perform each exercise for 30 seconds and continue the workout for 10-20 minutes.
---
The following lower body fitness workout can be done anywhere. Perform each exercise for 30 seconds and continue the workout for 10-20 minutes!
---
---
Yoga for Nurses
Yoga with Kelsey Henrickson
Kelsey Hendrickson is a registered yoga teacher and yoga therapist (AAYT), with a BA in Psychology, and a Masters degree in Psychotherapy (in progress).  She began teaching yoga in 2012, first in New York City and now in Sydney, Australia. Her passion is catering yoga and meditation practices to suit the unique needs of her students while helping them to unwind and de-stress. Her classes include a mixture of breath awareness, mindfulness practices and a little philosophy, delivered with a down to earth attitude. Kelsey hopes that by sharing these powerful practices she can help others flow through the challenges of life with grace.
Yoga with Daiva
Daiva has had a lifelong passion for movement and healing. As a hula dancer for 14 years, she fell in love with the connection between the mind and body. She began studying yoga at an early age and deepened her practice upon moving to the mainland from Hawaii, finding it to be the perfect replacement for the movement and spiritual connection she felt through hula. She returned to Kailua in 2013 to complete her 200-hr teacher training under the beloved mentorship of Brigitte Snyder and Martin Doluz at Aloha Yoga Kula.
---
Music
Unwind, relax, and stress less with The Whole U's curated playlists to help you feel at peace. From soft and mellow tunes to upbeat songs that you can't help but smile to, we've got your ears covered. Listen while working, in the car, on a walk, or wherever you are! Click here to access all 5 Stress Less playlists and press play! 
Why music you ask? Here at The Whole U, we are on a constant quest to connect with the UW community prioritizing your health and wellness. Music contributes significantly to health and wellness beyond the enjoyment you feel listening to a favorite tune. Have you ever wondered why you can't help but smile and dance when a song you love comes on? Or why certain types of music make it so that your afternoon of work seems to fly right by? Read more here.
---
Nutrition
Let's talk  about an important physiological necessity – FOOD. Check out this grocery guide that will help you simplify and take the stress out of meal planning and preparation. We've tried to tailor this guidance specifically to your situation and this unprecedented time. Sound like your jam? Read on!
You can also take the guide with you on-the-go with this simplified, handout version full of methods to simplify your meal planning, grocery shopping, and pantry stocking.
---
Ways to Support Yourself and Others
Watch this interview of licensed clinical psychologist Dr. Chris DeCou as he responds to questions from nurses in the UW community about how COVID-19 has affected and continues to affect our mental health. He talks about building emotional and mental strength during a crisis, the power of sadness and grief, when and how to ask for help, and how we can support one another.
Dr. Chris DeCou has also suggested a variety of mental health resources:
Resources to Promote Acceptance/Resilience
 FACE COVID (Based on principles of Acceptance and Commitment Therapy)
NowMattersNow.org (Based on DBT Skills)
Skills for Managing Acute Stress & Disaster Mental Health
 PsySTART: Building Your Responder Personal Plan
 MedFIT: Self-Assessment and Self-Care for Healthcare Workers
 PRE Skills: Performance and Resilience Enhancement (Developed for soldiers in combat, currently being adapted for healthcare workers by Dr. Barb McCann, Brittany Blanchard, and Dr. DeCou in collaboration with the team at Walter Reed)
Free Smartphone Apps
Mindfulness Coach
Virtual HopeBox
CBT-I Coach
My3
Paid Smartphone Apps
Headspace (free for now to anyone with an NPI number)
Calm
The Waking up App
More about Dr. Chris DeCou:
Dr. Chris DeCou is a licensed clinical psychologist at Harborview Medical Center. His research centers on the study and prevention of suicide among under-served and under-studied populations, and the association between experiences of trauma and suicidality. Chris has authored and co-authored more than 30 publications in peer-reviewed journals, and presented on suicide prevention at many national and international meetings. He is the recipient of several awards, including recognition from the Society of Clinical Psychology, the International Society for Traumatic Stress Studies, and the International Union for Circumpolar Health. Chris is also involved in several clinical trials focused on testing new approaches to the assessment, treatment, and pragmatic prevention of suicidality in high-risk clinical populations. Prior to completing his graduate training in Clinical Psychology at Idaho State University, Chris was employed as a full-time police officer, and was also certified as a firefighter/EMT. His experiences as a first responder continue to inform his research and clinical activities, and motivate his interest in developing pragmatic and patient-centered approaches to suicide prevention.
---
Please contact us at wholeu@uw.edu if you have further additions for our healthcare heroes to add to this page!