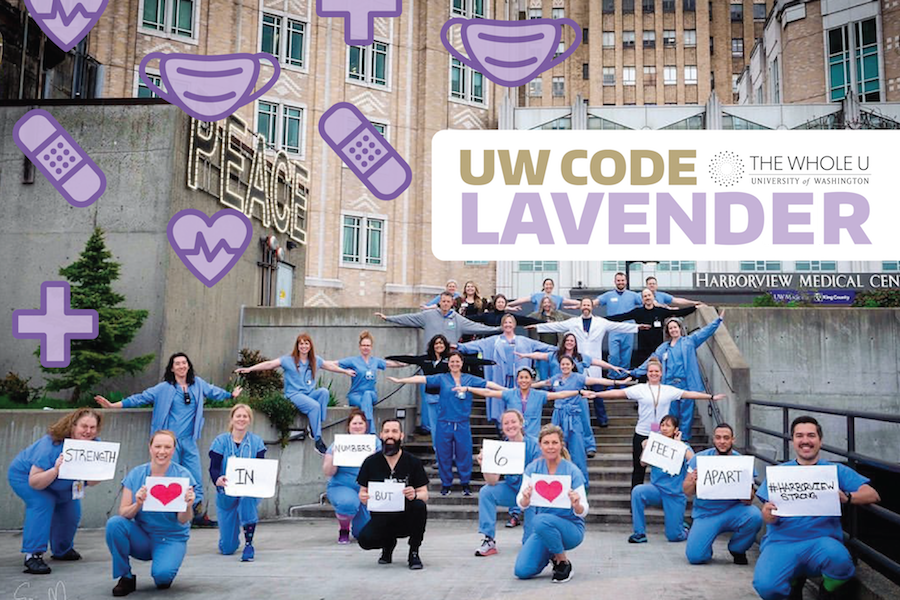 UW Code Lavender for Healthcare Workers
Hi healthcare heroes! The Whole U is the University of Washington's wellness engagement program and we want to offer support during this time of crisis. Taking care of yourself allows you to take better care of others!
Below, you'll find guidance to enhance your mental and physical strength as you continue to care for your patients. Whether you complete a short workout, listen to a playlist, or do a 5-minute meditation, it is crucial to call a Code Lavender and take the time for self care when you are feeling uneasy or stressed.
---
Meditations
Try the following audio meditations anytime during the day to cope with feelings of anxiousness and provide a sense of calm.
---
---
Fitness 
During these times we don't have access to gyms, parks, or fields to unwind and let loose. Try these two workouts that can be done anywhere and without equipment. This upper body fitness workout can be done anywhere. Perform each exercise for 30 seconds and continue the workout for 10-20 minutes.
---
The following lower body fitness workout can be done anywhere. Perform each exercise for 30 seconds and continue the workout for 10-20 minutes!
---
Yoga for Nurses
Enjoy this yoga experience by Kelsey Henrickson. Kelsey Hendrickson is a registered yoga teacher and yoga therapist (AAYT), with a BA in Psychology, and a Masters degree in Psychotherapy (in progress).  She began teaching yoga in 2012, first in New York City and now in Sydney, Australia. Her passion is catering yoga and meditation practices to suit the unique needs of her students while helping them to unwind and de-stress. Her classes include a mixture of breath awareness, mindfulness practices and a little philosophy, delivered with a down to earth attitude. Kelsey hopes that by sharing these powerful practices she can help others flow through the challenges of life with grace.
Music 
Unwind, relax, and stress less with The Whole U's curated playlists to help you feel at peace. From soft and mellow tunes to upbeat songs that you can't help but smile to, we've got your ears covered. Listen while working, in the car, on a walk, or wherever you are! Click here to access all 5 Stress Less playlists and press play! 
Nutrition
Let's talk  about an important physiological necessity – FOOD. Check out this grocery guide that will help you simplify and take the stress out of meal planning and preparation. We've tried to tailor this guidance specifically to your situation and this unprecedented time. Sound like your jam? Read on!
You can also take the guide with you on-the-go with this simplified, handout version full of methods to simplify your meal planning, grocery shopping, and pantry stocking.