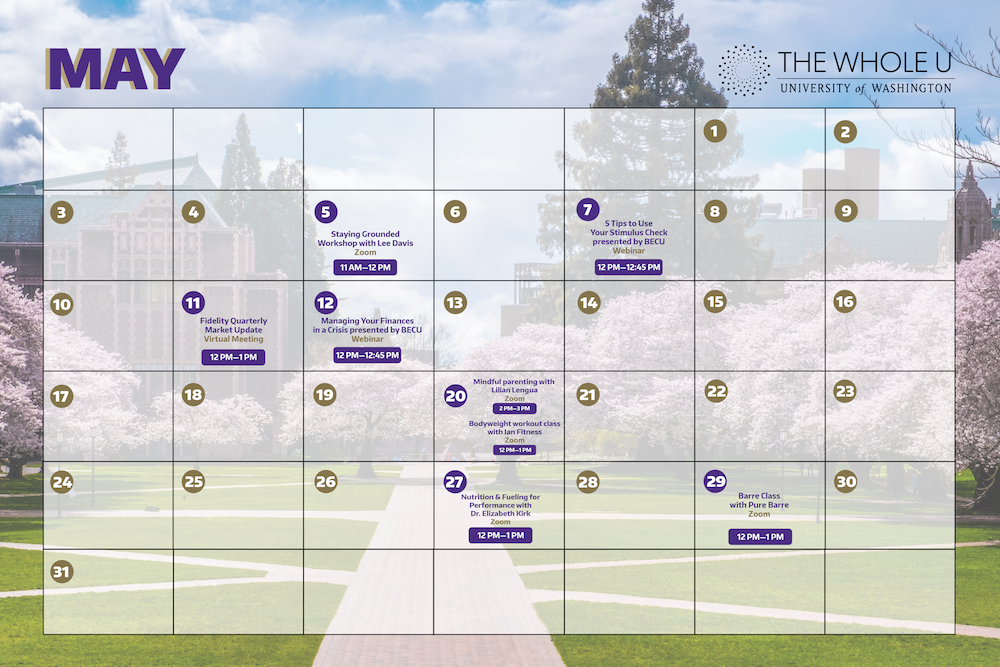 Stay strong with virtual events in May!
As we stay at home and work remotely, The Whole U wants to continue supporting you during COVID-19 by bringing you more awesome events in May! It is important to remember to keep your physical, mental, and financial health as top priority especially during times like these. That's why we're offering virtual fitness classes, financial guidance seminars, and mindfulness workshops throughout the month of May to keep you strong—not stressed!
---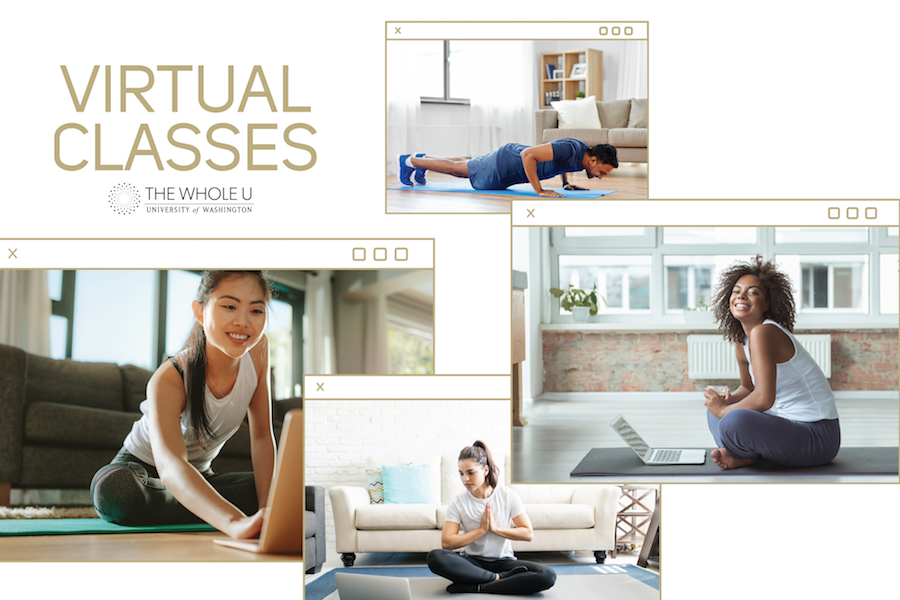 Tune in with The Whole U to free online mindfulness and fitness classes. Whether you join in a dance class, practice push ups with The Whole U, bend your way into a yoga pose or take 20 minutes to practice meditation, we've got you covered with a variety of opportunities. There is no better time than now to join in!
Classes are updated every Friday by 4 pm and all classes are ongoing unless stated otherwise! Click the link above to get the full list of classes offered and more details about each class and their instructors.
---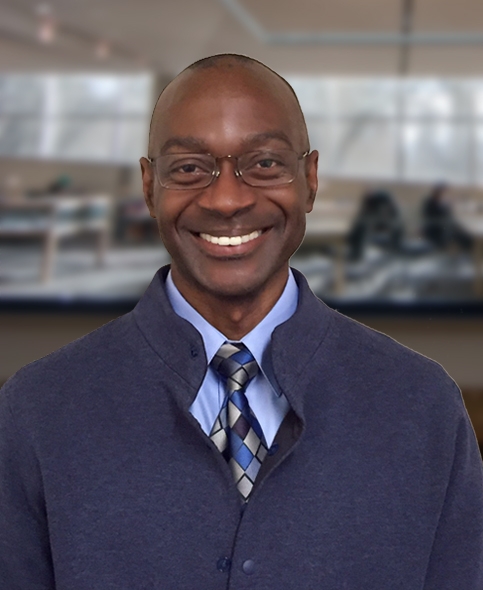 Staying Grounded Workshop with Lee Davis
May 5, 2020
Zoom, 11 am—noon
Are you looking for some tips and guidance to live purposefully, especially during times like these?
Look no further because Lee Davis, certified master training specialist and curriculum developer with a B.S. in Training, Education, and Development, is joining us soon to remind us what is important in life and how to stay mindful and aware. Lee Davis will cover topics of self-love and self-care, in addition to navigation through hardships. Join us to take a deep breath and enjoy what is present in our lives.
---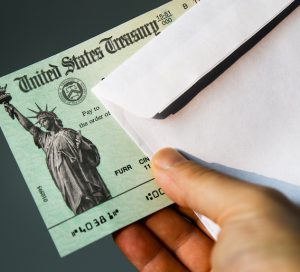 5 Tips to Use Your Stimulus Check presented by BECU
May 7, 2020
Webinar, noon—12:45 pm 
Are you wondering what are the most economical and financially wise ways to spend your stimulus check?
The Whole U invites Ruth Kaneko, the Financial Educator at BECU, to discuss tips and tricks o how to use your stimulus check. During the COVID-19 pandemic, many folks may be facing a more difficult time financially. Please feel free to join us to gain some professional insight on how to budget and save for the rainier days.
---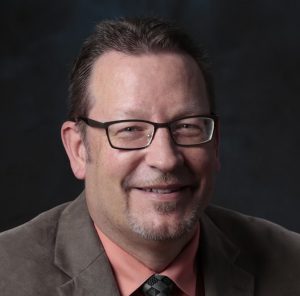 Creating a Work or Home-Based Ergonomic Workspace with Peter Johnson
May 11, 2020
Virtual Meeting, noon—1 pm 
Are you smoothly transitioning to working remotely? Do you need some guidance from a professional on how to create a more productive work environment at home?
Come join The Whole U as we invite Peter Johnson, a Professor Emeritus in the Occupational and Environmental Exposure Sciences program, specializing in ergonomics, to speak to us about how to best work with what you have to set up your workspace for comfort and productivity.
---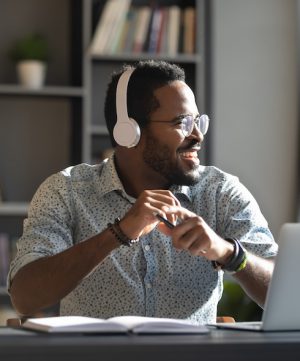 Fidelity Quarterly Market Update
May 11, 2020
Virtual Meeting, noon—1 pm
Whether it be gaining more financial knowledge on the current market or improving your investing skills, join The Whole U and Fidelity to update yourself on the financial markets.
The workshop will help you recognize different asset classes during the previous quarter and develop a stronger investment strategy for your future savings!
For more Fidelity workshops and classes, visit here to access various financial topics throughout the month of May!
---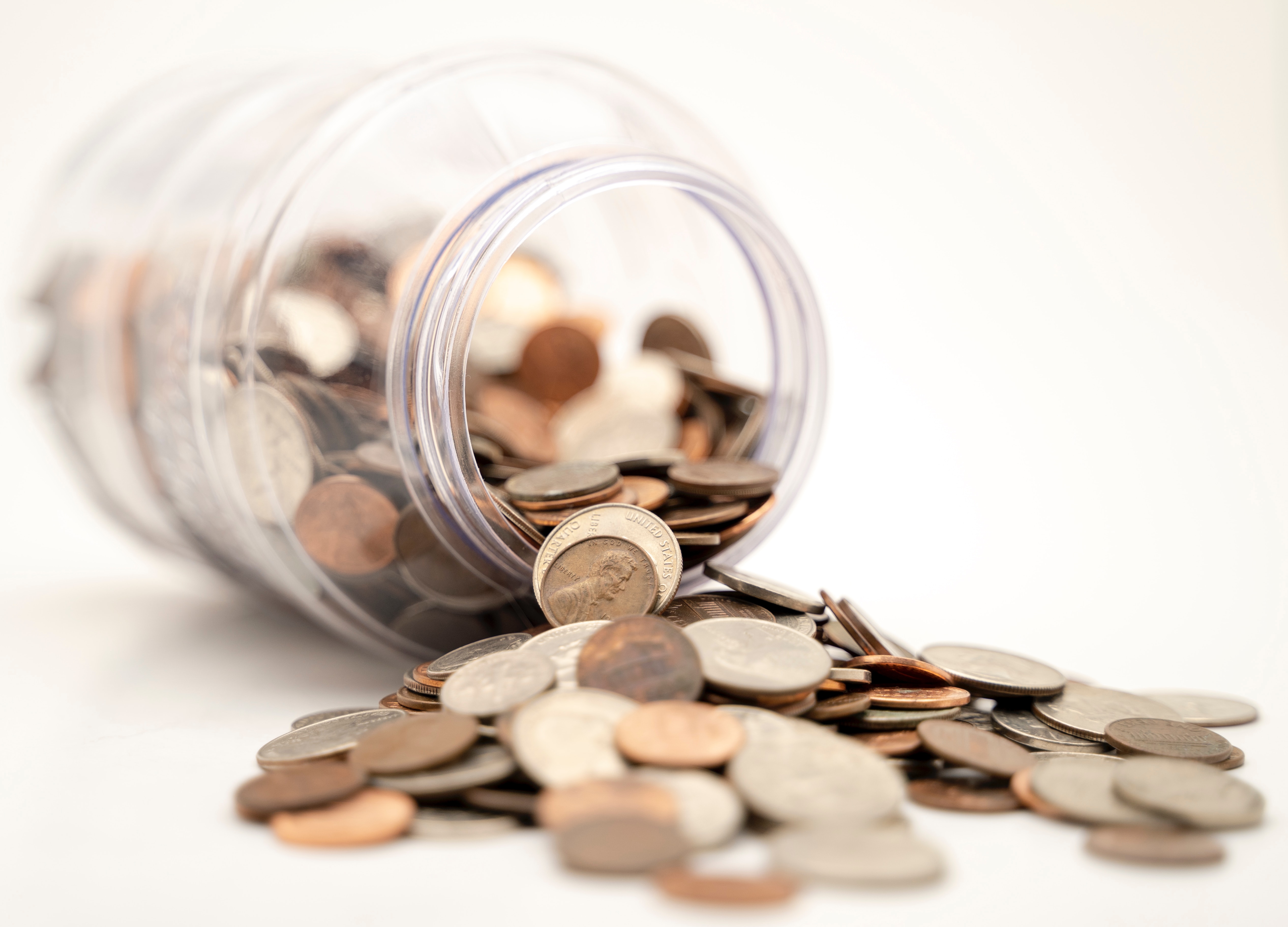 Managing Your Finances in a Crisis presented by BECU
May 12, 2020
Webinar, noon—12:45 pm
Need some financial guidance on how to budget and save wisely during uncertain times?
Join us with Ruth Kaneko, the Financial Educator at BECU, to look into creating emergency budgets or ways to modify your existing budget to cater to current needs. Kaneko will also review available resources to use during this time.
---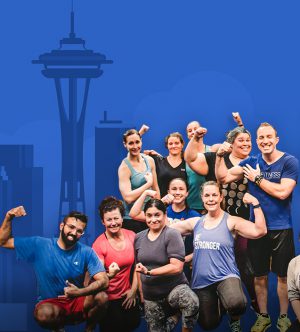 Bodyweight workout class with Ian Fitness!
May 20, 2020
Zoom, noon—1 pm
Looking to continue this month's fitness motivation with a virtual, interactive, full body workout?
The Whole U invites Ian Fitness for this "Keep Employee Health and Fitness" Month! Join us to break a sweat, move around, and feel stronger with Ian Weinberg, the Chief Motivating Officer of Ian Fitness! Wear comfortable clothes, stay hydrated, and bring your A game for a super fun workout!
---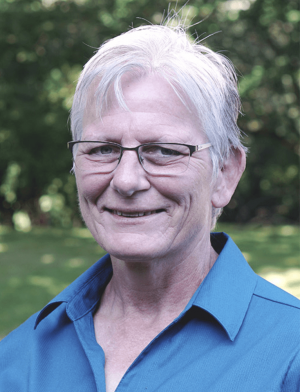 The Whole U Speaker Series: Nutrition & Fueling for Performance with Dr. Elizabeth Kirk
May 27, 2020
Zoom, noon—1 pm
Are you curious about how to properly fuel your body for your particular sport or exercise?
Dr. Elizabeth Kirk, the senior lecturer in the epidemiology program and acting director of the Nutritional Sciences Program at the UW School of Public Health, will be joining us to provide some expertise on what are the right foods, supplements, and mindset to have when it comes to improving our athletic performance.
Bring your questions to ask over Zoom!
---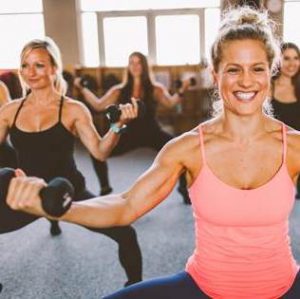 Barre Class with Pure Barre
May 29, 2020
Zoom, noon—1 pm
Looking for ways to stay active at home, but in an interactive and upbeat way?
Great news! Pure Barre is hosting a Barre Class with The Whole U for a high energy, low impact workout. Target your abs, glutes, thighs, arms, and more during this fun workout with your work friends!
Wear comfortable clothes, stay hydrated, and bring a sweat towel to this fun class.
---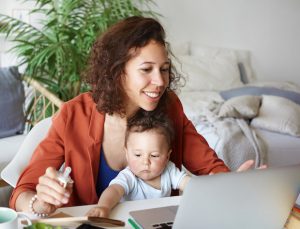 Join TIAA online for a live webinar to learn about best ways to save for retirement and how to invest in the market!
All UW employees are welcome to attend.
To sign up for the webinars as a member or a guest, and to view the full list of the upcoming webinars, please visit the page here!
---
Whether you want to try Flow and Vinyasa yoga or just want a little guidance on deep stretch and relaxation, the UW Recreation is offering all virtual classes for free until the week of June 5th!
From weekly live streams daily to recorded classes, join in to destress and relax with your work friends. In addition, there are specialty programs offered such as Yoga for Healing which supports students in regaining empowerment, cultivating a sense of wholeness, and inner resilience and much more!
From Boot Camp, Total Body, and CORE Conditioning to Zumba, there are fun fitness classes for everyone at every athletic level. If you can't make the live classes during the week, there is a recorded class library available for all with a UWnetID.
Are you looking for virtual adventures at the comfort of you home?
Join in on UWild Workshop Series for Virtual Rock Refresher designed for UWild climbing course graduates! In addition, there will be upcoming classes on Basics of Fly Fishing, Improvised Wilderness Medicine, and more camping classes!
---
Wondering what other fun, exciting events and informative articles are offered by The Whole U? Head to our events page to explore all the do-it-yourself downloads and fitness plans that will help you take life to the next level!
From helpful kitchen "cheat-sheets" for creating delicious, nutritious meals to workout plans for getting stronger and healthier overall, use our downloads to be more accountable and driven in your daily life. Follow us on Facebook, on Twitter, or on Instagram to stay up to date on everything going on, including fun social media-specific features and contests!