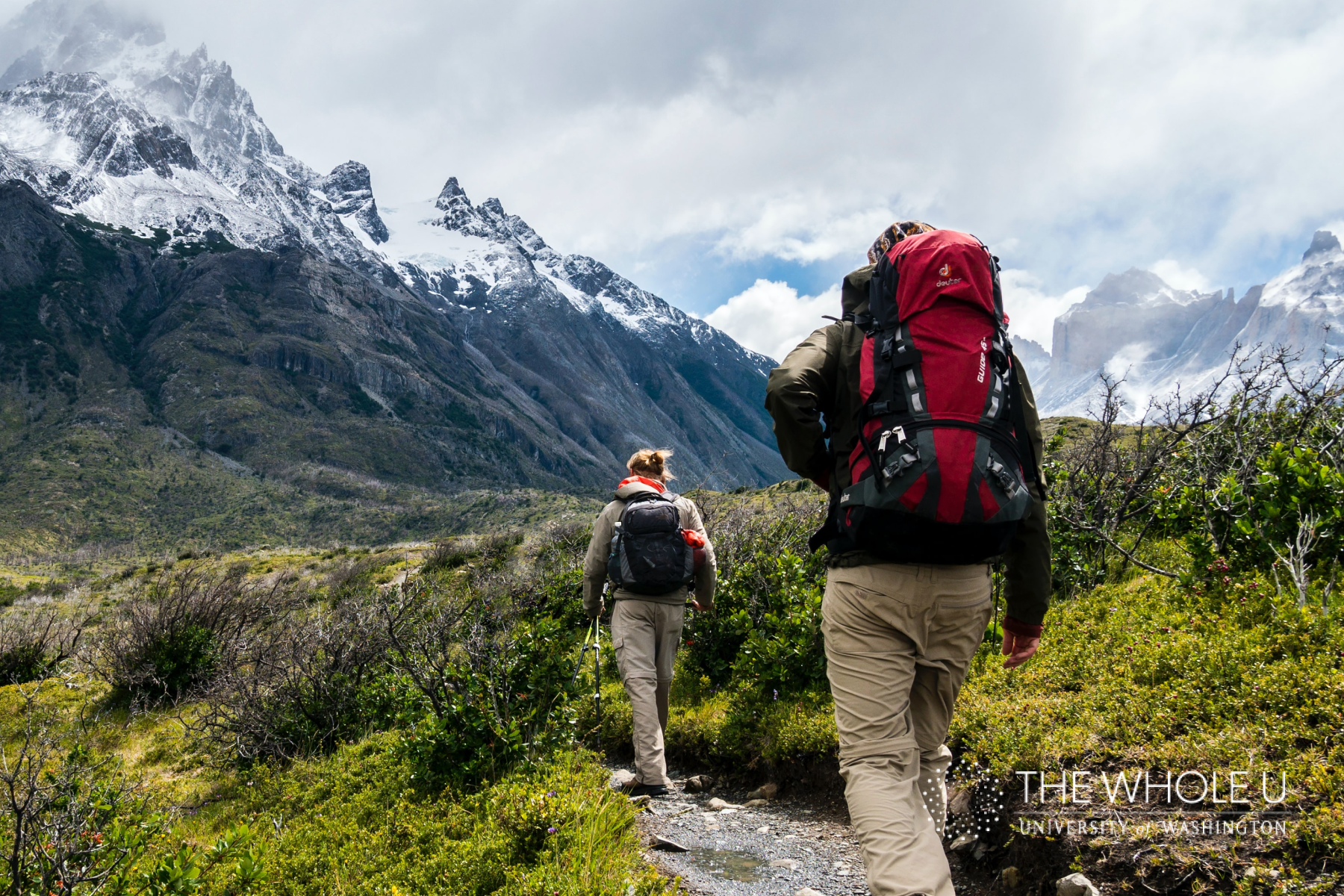 Why we love to walk in winter
Ever since moving to the Pacific Northwest from the icy East Coast, I've taken up walking as one of my favorite wintertime activities. Why, you ask? Isn't it much nicer to walk when it isn't so wet and dark out? That might be true, but making a 30-minute walk an integral part of your winter routine carries with it so many under-sung joys and benefits.
For starters, walking gets you active and outside. Flip the script on the idea that winter has to be about staying sedentary indoors. In winter, there are so many sensations to be experienced and appreciated that are unique to the season. Plus, if you're anything like me and loathe the winter darkness, walking during the day—such as to work or as part of a midday lunch break—can be an essential reminder that there's still a lot of light to be had. Plus, you'll be among the first to notice the subtle changes in daylight that signal spring's steady approach.
A great first step is to get your gear in order. Find your most supportive pair of water-resistant shoes or boots (or invest in some) and put them on a mat right by the door. Do the same for a favorite sweater or sweatshirt and waterproof jacket or shell. Think of these as your power-ups as a pedestrian (a reflective vest or accessories also go a long way). Winter walking is about comfort and keeping as many elements of your walking ensemble the same will be key to sustaining the practice.
A second step is to start a walking log. You can do this with a host of available fitness tracking apps or you can keep an analog chart of digital spreadsheet. You don't necessarily have to track your mileage either (though I get great satisfaction tabulating my total at the end of the week). Instead, record your destination or something you observe or think of on the walk. The main idea is that tracking something related to walking will make it more habit-forming.
My third piece of advice is to use your walk for personal development. What I mean by this is to fuse that time with something (or someone) you love or that you want to spend time on. This will make it easier to justify stepping out and give you added motivation to go that extra mile. When I walk to work, I like to use that time to go through what I have to work on that day. When I walk home, I like to listen to audiobooks or podcasts that I might not otherwise find time for or use the time it takes me to walk somewhere instead of driving to do some clear thinking about creative projects I am working on in my free time. Whether you walk with someone or solo, this can be some of the most productive time you give yourself!
---
---
Two of my favorite places to walk in the Seattle area are Seward Park and Green Lake. For a few more ideas, consider the following list of some of Washington's most enjoyable winter outings. Choose from sun-tipped seashores and snow-clad summits when taking the less-traveled path to moving more this winter!
---
Location: Graham Visitors Center, Washington Park Arboretum
Area: 230 acres
Gain: n/a
Difficulty: Easy
Why Go: UW Botanic Garden's Witt Winter Garden is at its best during February and, beginning Sunday, February 4 through February 25, you can take Free Weekend Walks from 1-2:30 pm through an array of plant life—including many specimens found nowhere else in the Northwest. With a central lawn encircled by tall cedars and firs and unique small trees, shrubs and perennials at what seems like every turn, this is your best bet for "getting away" without the getting away.
---
Location: Ballard, Seattle
Gain: n/a
Difficulty: Easy
Why Go: Find a moment of solitude and serenity at the end of sea, city, and sky on Golden Garden's pebbly beach. Soak in super views of Puget Sound and the Olympic Mountains on a clear day from the shore or explore the park's two wetland areas, a short loop trail, and secluded northern beach. The park is also a great place to bring a pet with an off-leash area for dogs to the north of the park (Note: Dogs are not allowed on beaches, or children's play areas in Seattle parks, per the Seattle Municipal Code).
---
Location: Central Cascades, Stevens Pass – West
Distance: 3.3 miles, roundtrip
Gain: 760 feet
Highest Point: 1320 feet
Difficulty: Easy
Why Go: For family fun, head to Heybrook Ridge. This hike starts at a low enough elevation so as not to be heaped in snow, but don't be surprised if you reach the mountain views at the top to find them blanketed in the white stuff (look out and see Mt. Index, Bridal Veil Falls, and the surrounding Skykomish valley). Even the most reluctant hikers will find their reticence melting away somewhere between the first stream crossing and the surrounding stands of Alder trees on this eminently-doable 3.3-mile roundtrip.
---
Location: Olympic Peninsula, Hood Canal
Distance: 5.0 miles, roundtrip
Elevation Gain: 150 feet
Difficulty: Easy
Why Go: Not a fan of snow? Hit the beach at Fort Flagler State Park. Once part of five military installations established throughout the Puget Sound, Fort Flagler became a state park in the 1950s and today boasts miles of prime, natural coastline. Start walking a 5-mile loop hike on the stony beach at the north of the park with views to Port Townsend and Whidbey Island off to either side. Grab a warm fleece or outer shell as the wind can change suddenly, but don't let a few gusts stop you—it doesn't phase the bald eagles often spotted soaring overhead.
---
Location: Puget Sound and Islands, Whidbey Island
Distance: 4.0 miles, roundtrip
Gain: 520 feet
Highest Point: 570 feet
Difficulty: Easy to Moderate
Why Go: Create your own adventure on a day trip to Fort Ebey State Park—a great reward after a winter of working out indoors. A  popular spot for paragliders, look for them in the distance  as views of the Olympics rise as dark and distant sentinels across the gunboat gray waters of the Strait of Juan de Fuca.
---
Location: Snoqualmie Region — North Bend Area
Distance: 2.5 miles, roundtrip
Gain: 800 feet
Highest Point: 1400 feet
Difficulty: Moderate
Why Go: Take a "nature bath" in the forest and stand in awe of giant rocks towering overhead on this less-traversed loop that leads to the Old Mt. Si trailhead. Press on when you reach it for a winter twist on one of the region's most well-loved hikes.
---
Location: Eastern Washington, Spokane Area
Distance: 4.0 miles, roundtrip
Gain: 1328 ft.
Highest Point: 5883 ft.
Difficulty: Moderate to Difficult
Why Go: Steep, short, and satisfying, this is a prime winter day trek if you find yourself in Eastern Washington. Be sure to bring your snowshoes for a satisfying finish to this winter-only route to the mountain's summit. The nearby ski area operates a winter-only weekend concession shop inside the 1934-built Vista House, so snag a cup of hot cocoa and toast your toes relaxing by the fireplace before heading back down or exploring this state park's many other trails.
---
Location: North Cascades, Mountain Loop Highway
Distance: 8.2 miles, roundtrip
Gain: 3950 feet
Highest Point: 5760 feet
Difficulty: Moderate to Difficult
Why Go: Grab a headlamp and start before dawn for stunning 360-degree views at sunrise. Ascend nearly 4,000 feet on your way to the top and views of Glacier and Snow peaks in the distance. Check the pass' snow conditions first, however, to see if the trailhead is accessible.
---
Share your favorite winter outing in the comments!