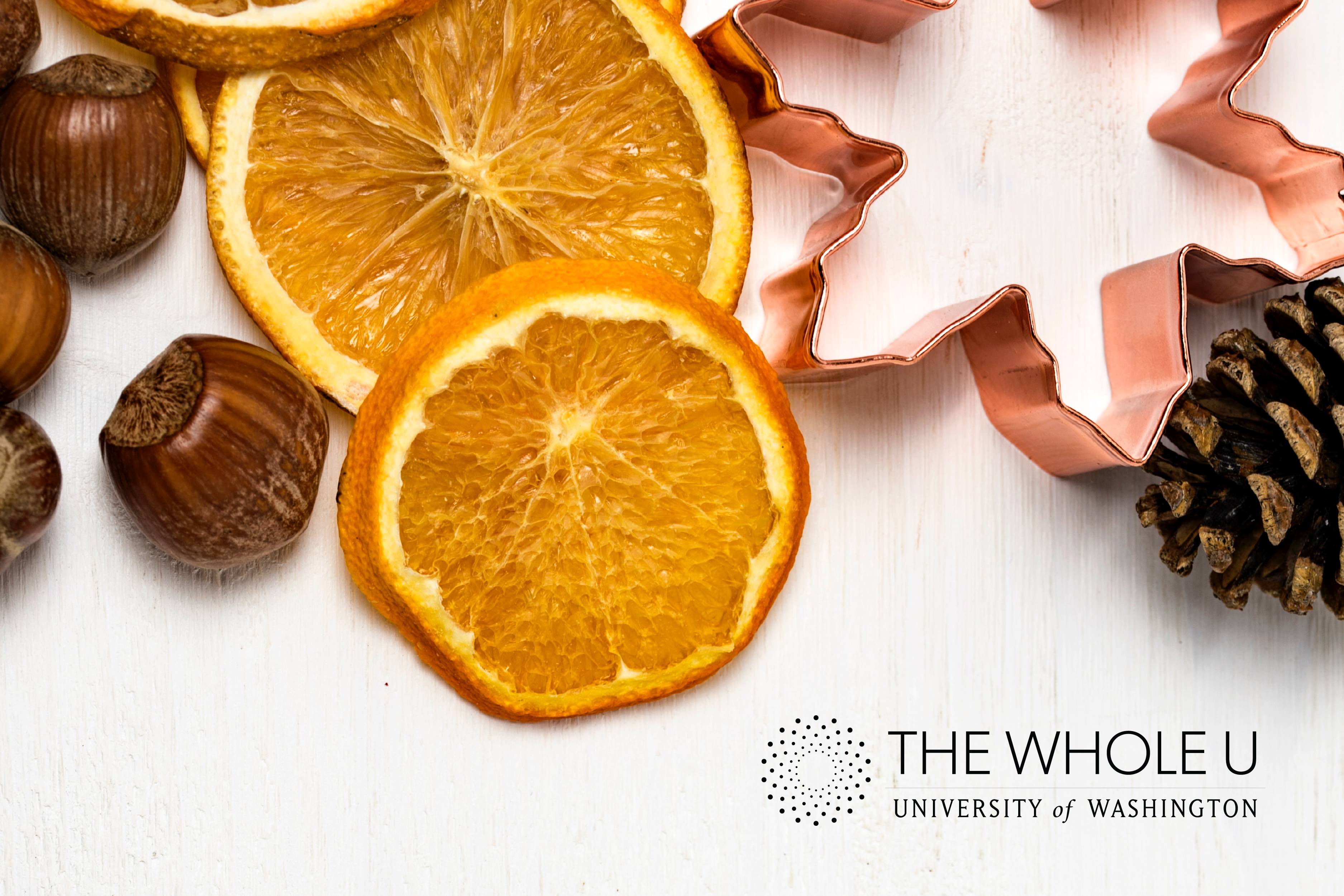 Healthy food choices made easy for the holidays
Beginning in November and lasting through the start of a new year, this season is often filled with busy schedules of shopping, preparing meals, get-togethers, and office functions. For many, it can be a time when exercise and nutrition may drop a few spots on priority lists—especially when it gets dark outside so early! This can lead to feelings of guilt and regret during and after this time of year, as well as stress and anxiety over possible weight gain and poor health decisions.
Fortunately, the holiday season does not have to be a time of stress and guilt. We can create realistic expectations that promote self-confidence and empowerment in our ability to make healthful food choices. Focusing on what you can do and what is under your control will help you avoid unnecessary feelings of guilt or anxiety during this time. We can also create plans and practice mindfulness to help us regain power over our health during this time of year.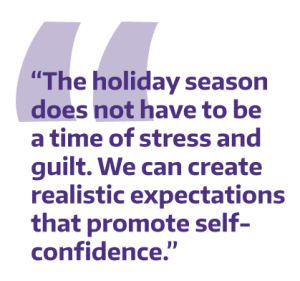 Where to begin? Judy Simon, a dietician and instructor in the Nutritional Sciences Graduate program at the University of Washington's Roosevelt Clinic, shares various tips and tools that can help you take back your nutritional confidence this season.
When it comes to meals, Judy advises that you should "stick to your normal routine and don't skip meals to save room for later." If you come to a party or get-together hungry, you may be more inclined to make less healthy food choices. Additionally, she says "research has shown that we feel fuller with less food when we eat mindfully," so one should "enjoy and savor every bite."
Remember, small indulgences over the season are not damaging nor will set back your diet and exercise routines.
Over this season, you may find yourself rushing from one function to another or from the mall to the grocery store, which is not only cutting into your normal workout routine, but also impacting how and when you eat.
Judy advises that when on the run, "a handful of unsalted almonds or walnuts…can help stave off hunger pains and keep you energized until you have time to sit down to a meal."
Carrying water and energy-packed snacks can help you from making impulse buys or trying all the food-samples in the store. Further, Judy says that, "physical activity throughout the day helps keep your mind clear and stress levels low," so keep moving whenever it is possible; take the stairs over the elevator or park at the back of the parking lot to get a few more steps in. Over the course of several weeks, a little can really add up.
Events can be one of the hardest times to make healthy food choices. Our self-control can be tested at every corner—from the salty snacks and sweet drinks to sugary desserts. Judy Simon advises to drink water and eat a hydrating snack before arriving at the party in order to help prevent overindulging.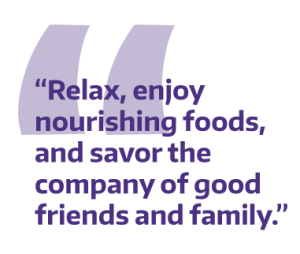 Additionally, Judy says to "check out the buffet table first, then fill your plate with lots of vegetable and fruit options," after you have filled your plate, "move away from the table and find someone to talk with." Locating yourself away from the food area will help prevent excessive picking and nibbling of table treats you might regret later.
Lastly and most importantly, Judy advises to just "relax, enjoy nourishing foods, and savor the company of good friends and family." Try to keep stress levels low, and "focus on spending time with special people." 
Cherishing the people and relationships in our lives can be one of the most effective ways of deemphasizing the preponderance of foods, drinks, and events that might not exactly mesh well with our regular eating and exercise routines. At the same time, sharing in special foods and events is part of celebrating with others at this time of year, so remember it is okay to indulge every once in a while.
We hope these tips can help you feel confident in your food choices this season as well as promote your wellbeing heading into 2020. More tips by Judy Simon for eating healthy this time of year can be found here.
---
If you're looking for nutritious snacks to keep you full and energized, download our 8 Baked Snack Recipes handout!
---
Passionate about nutritional health, Aspen Avery is a master's student in the MPH Epidemiology program at the University of Washington and nutrition intern for The Whole U. In her spare time she likes to go swimming and try new restaurants with friends.