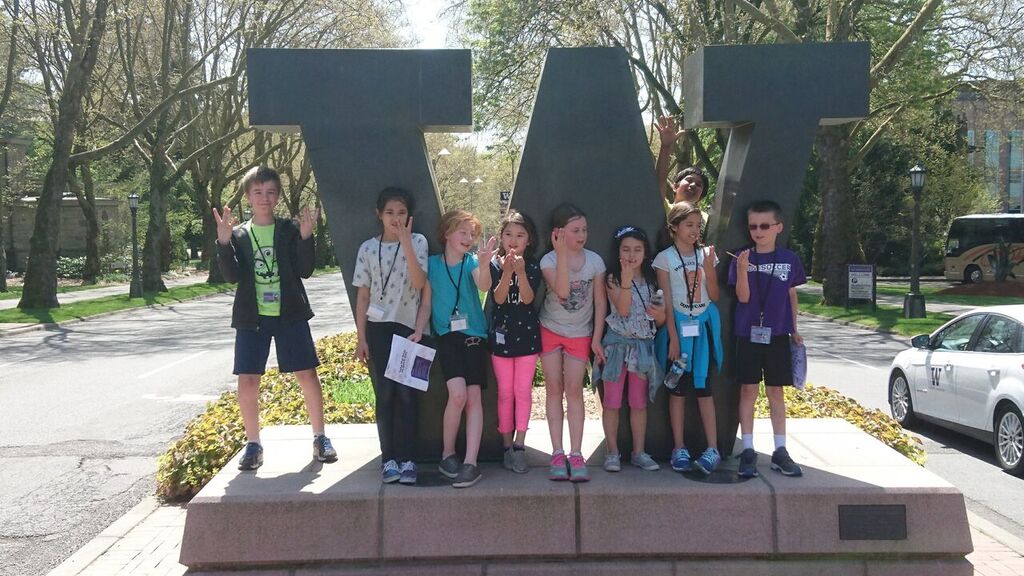 Families Go Behind the Scenes of UW's Best
Where do brain science, yoga, and elite athletics come together? Where else but UW Take Our Daughters and Sons to Work Day? On Thursday, April 26, more than 230 University of Washington faculty and staff members and their children joined The Whole U for a full day of activities that threw open the doors onto the many facets of working at the UW.
From a morning session exploring connections between mind and body with creative brain teasers and an awakening yoga practice to an afternoon touring the UW Campus Police Department Station and UW Athletics facilities, it was a full day of learning, sharing and discovery.
Dr. Eric Chudler of the Center for Sensorimotor Neural Engineering gave an interactive presentation on the inner workings of the human brain that included an experiment replicating the functioning of brain synapses as well as fun brain teasers and optical illusions.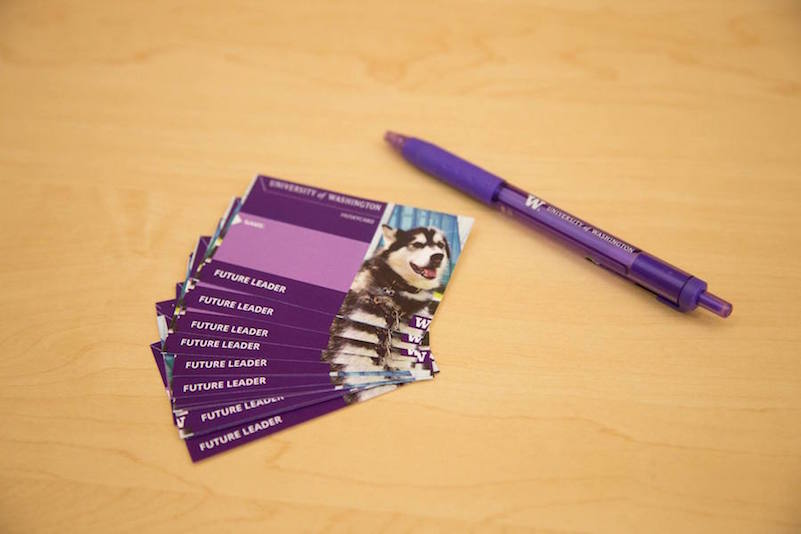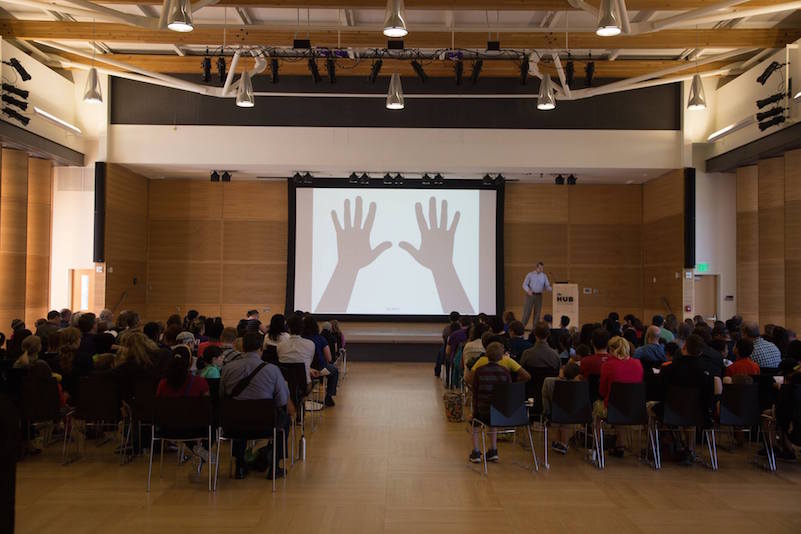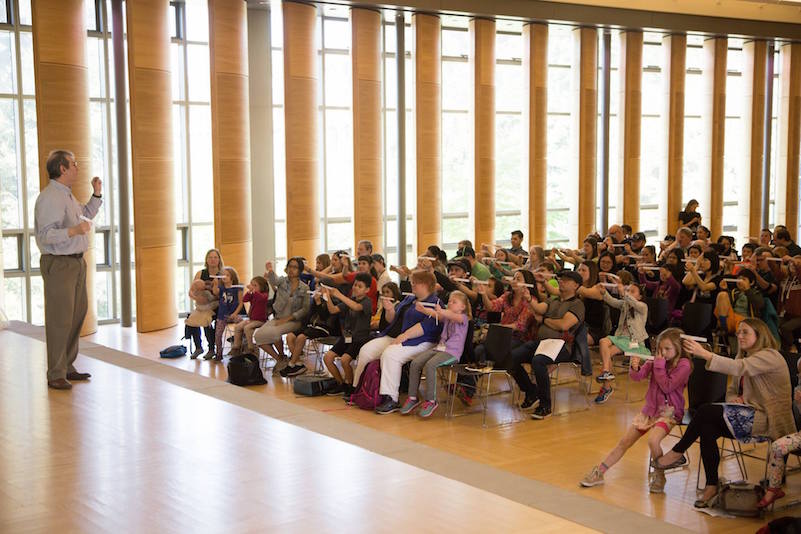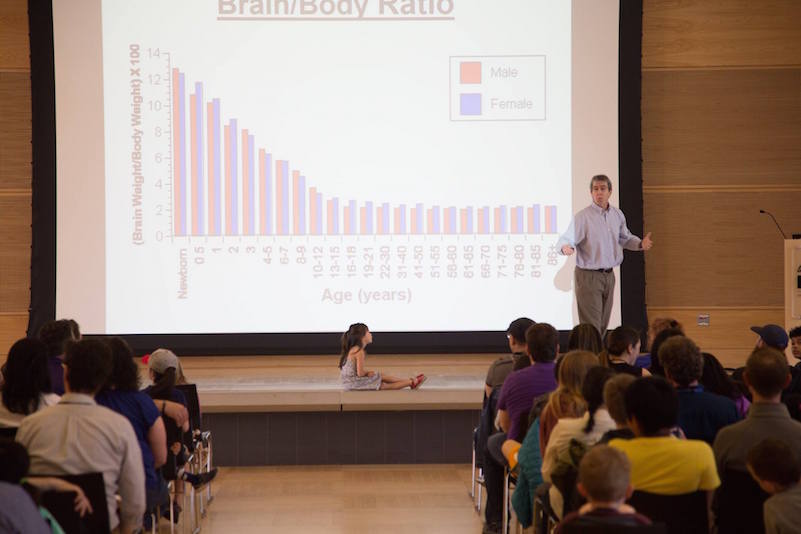 Danny Arguetty, manager of the Mindfulness Program at UW Recreation, next led the group in a yoga practice that was as fun as it was fulfilling.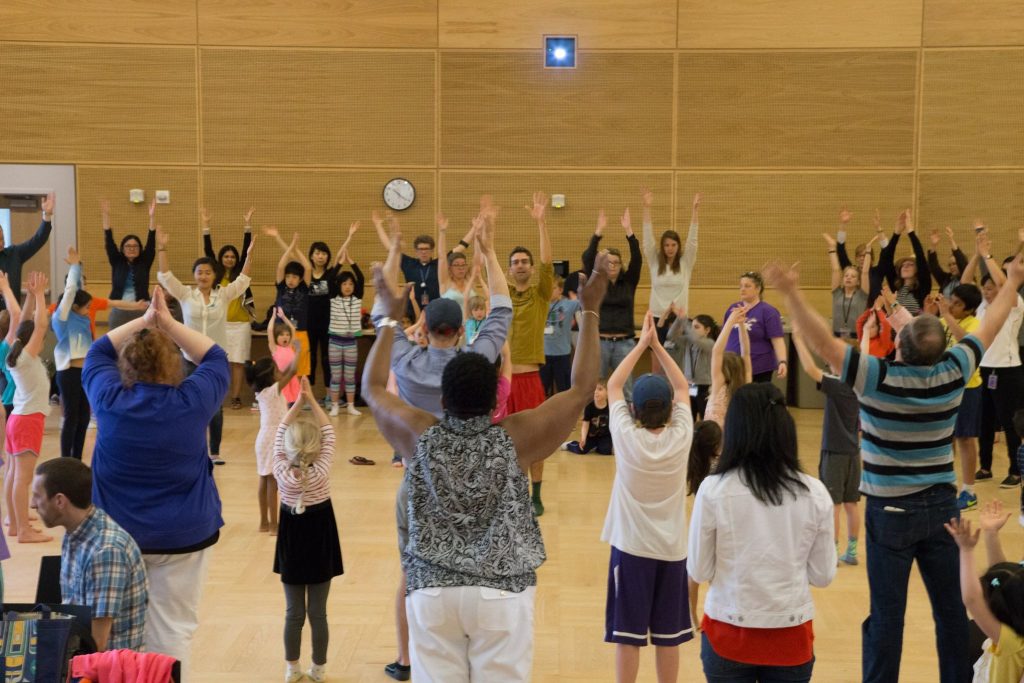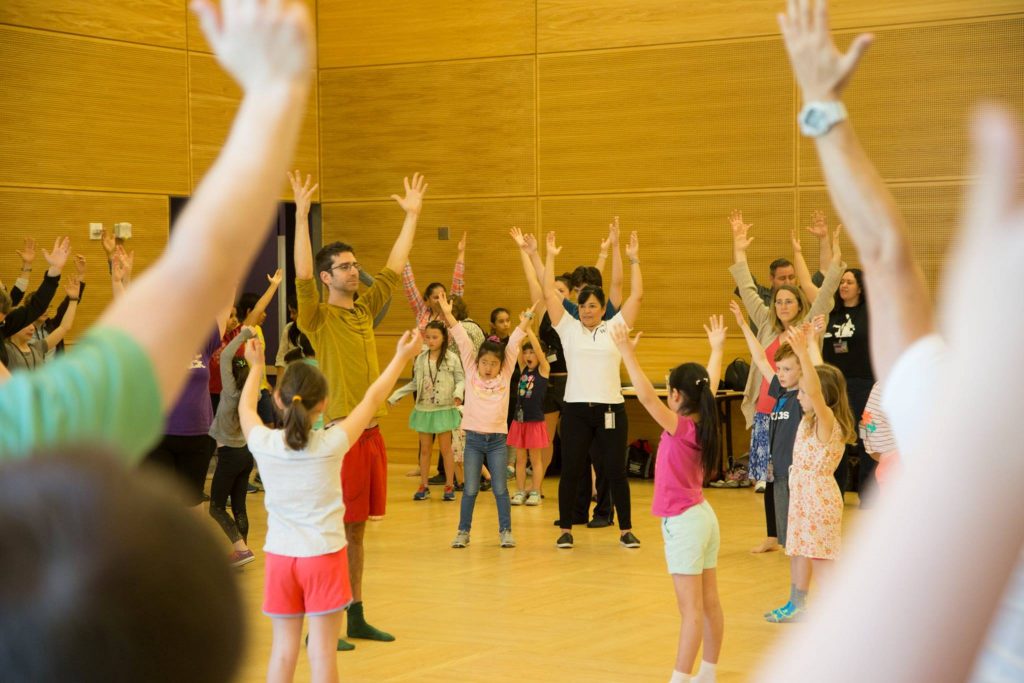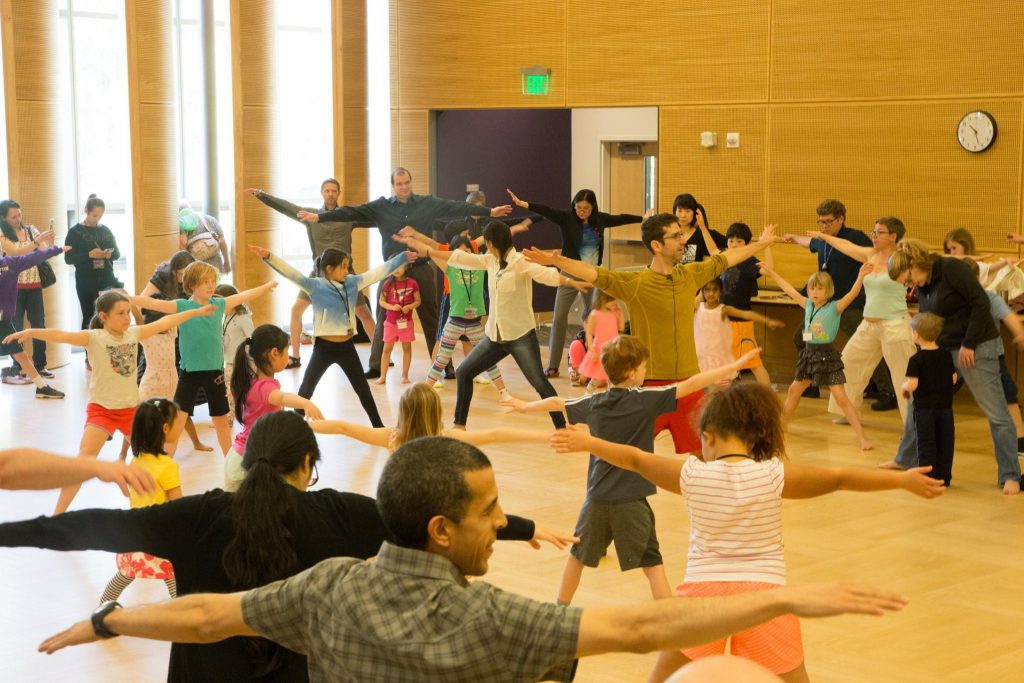 Families took a break for lunch before embarking on a specially-created scavenger hunt filled with fun facts about UW landmarks and history.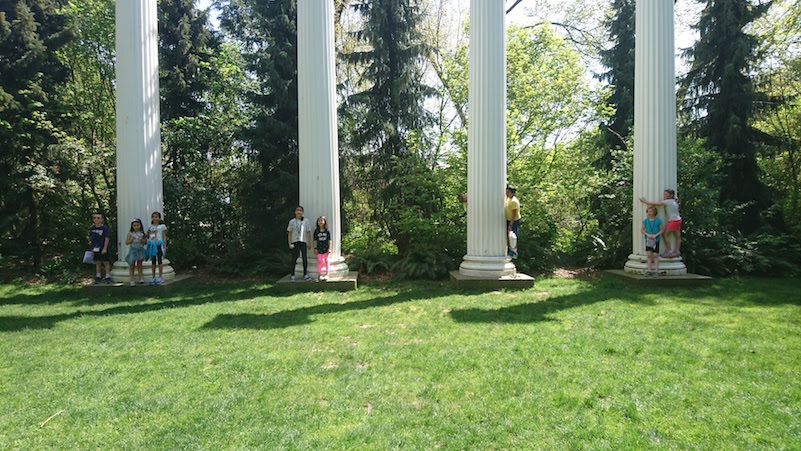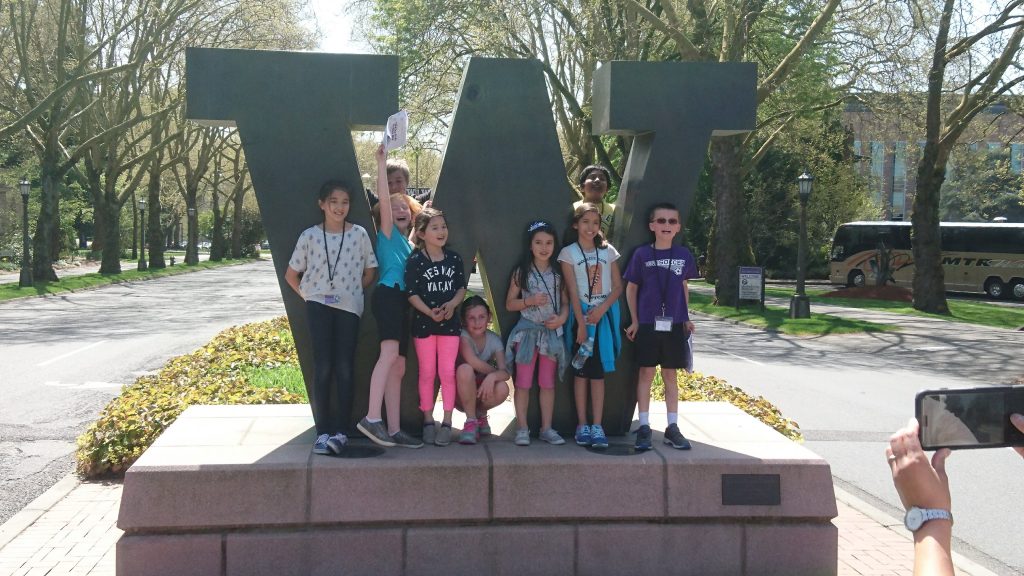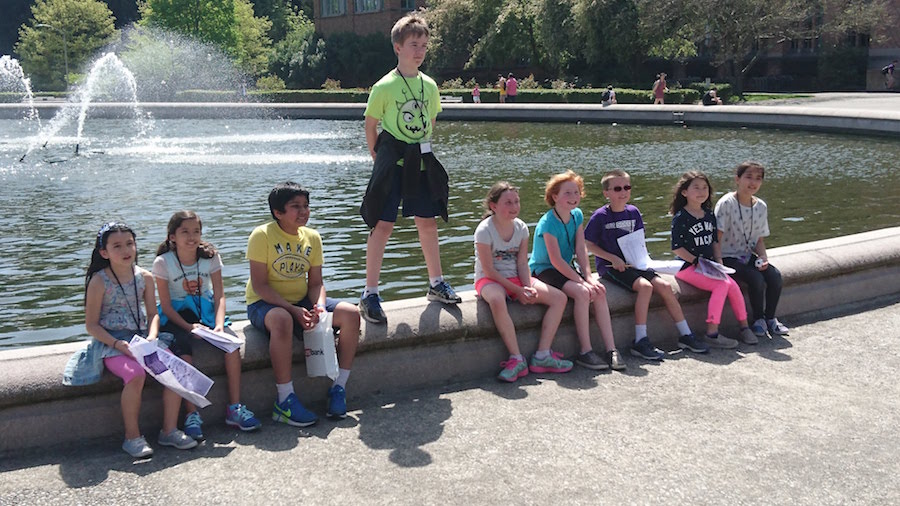 The final stop on the hunt was the UW Police Department station where kids and their parents picked up prizes, snapped photos with one of the Department's K-9's, took a tour of headquarters, and climbed about in a police cruiser.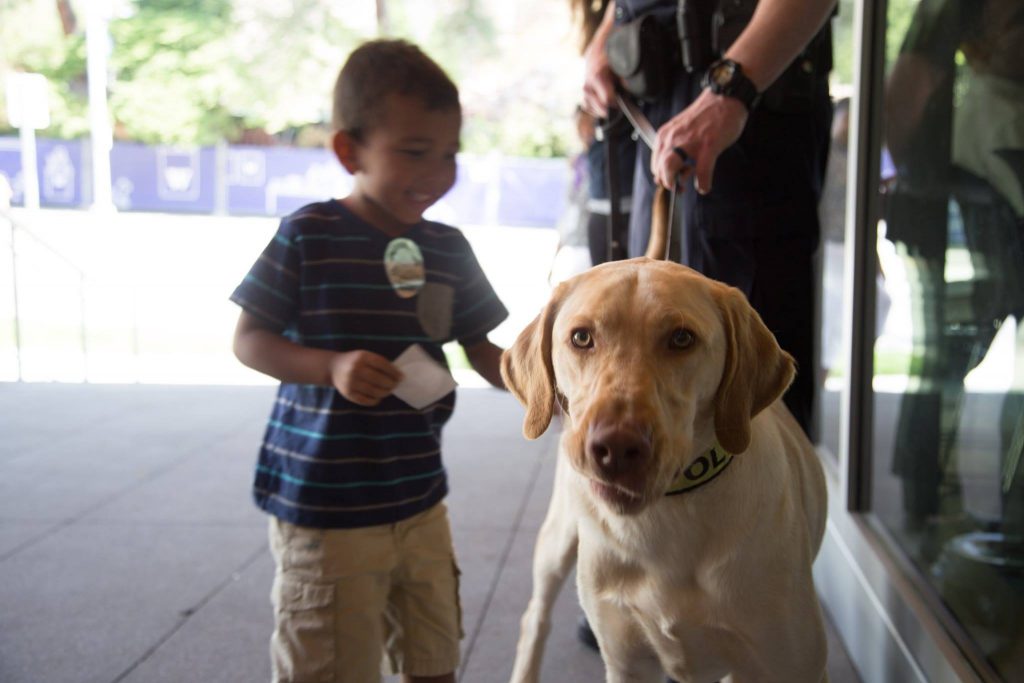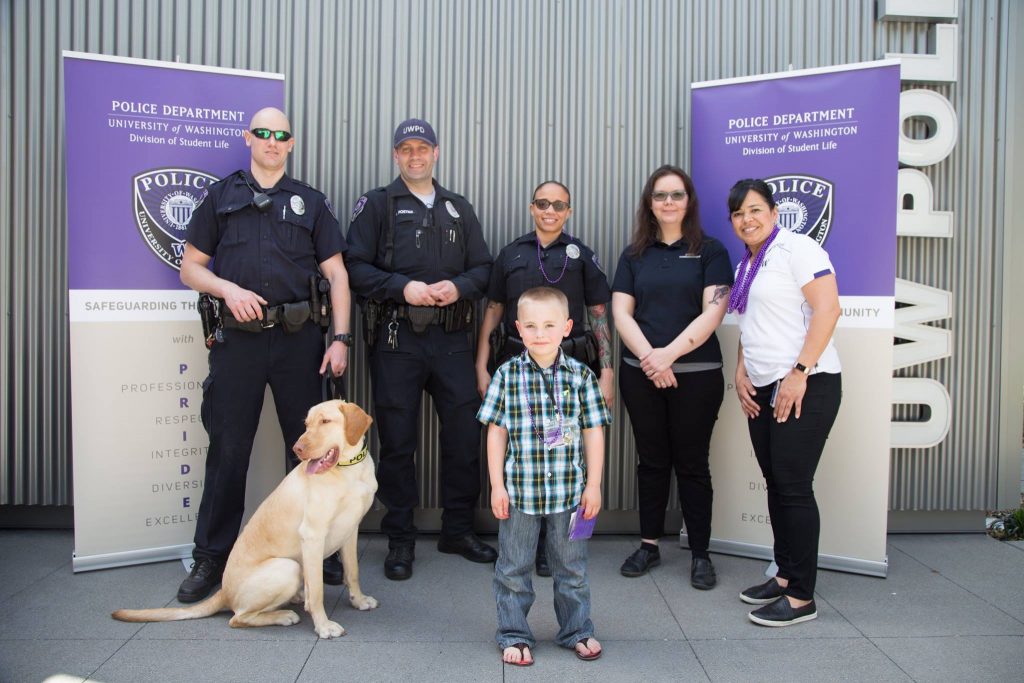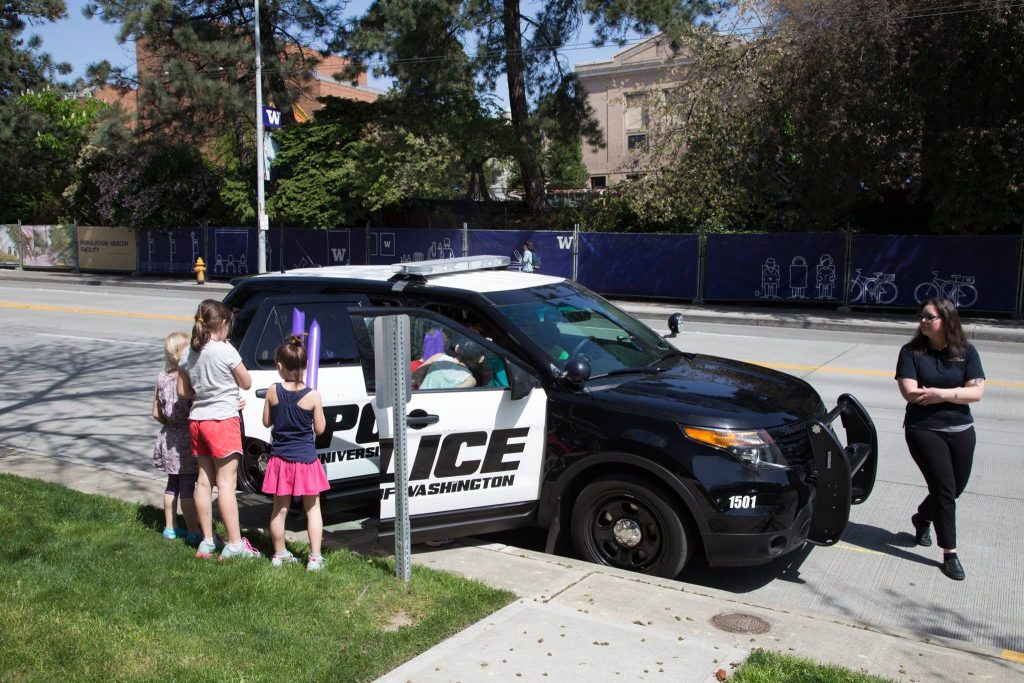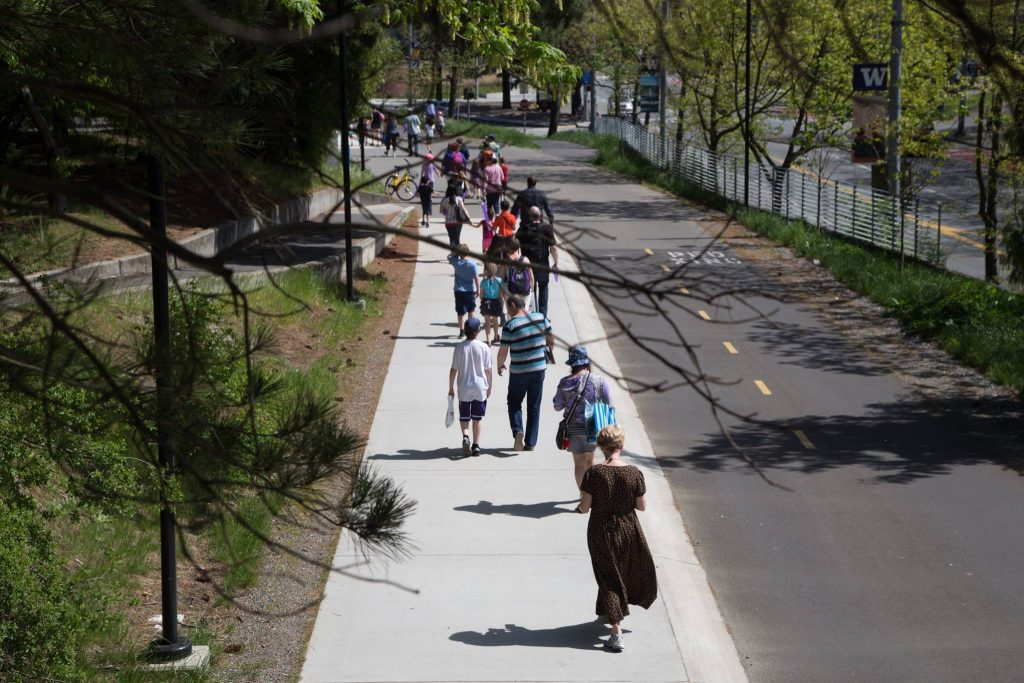 The day continued with an exclusive behind-the-scenes tour of UW Athletics Husky Hall of Fame and a Husky team meeting room where kids and parents cooled off by watching a supercut of the year's best moments in Husky Athletics followed by a Q&A session where kids asked questions press conference-style with the tour guide providing in-depth answers and next-steps for following their newfound Husky fandom.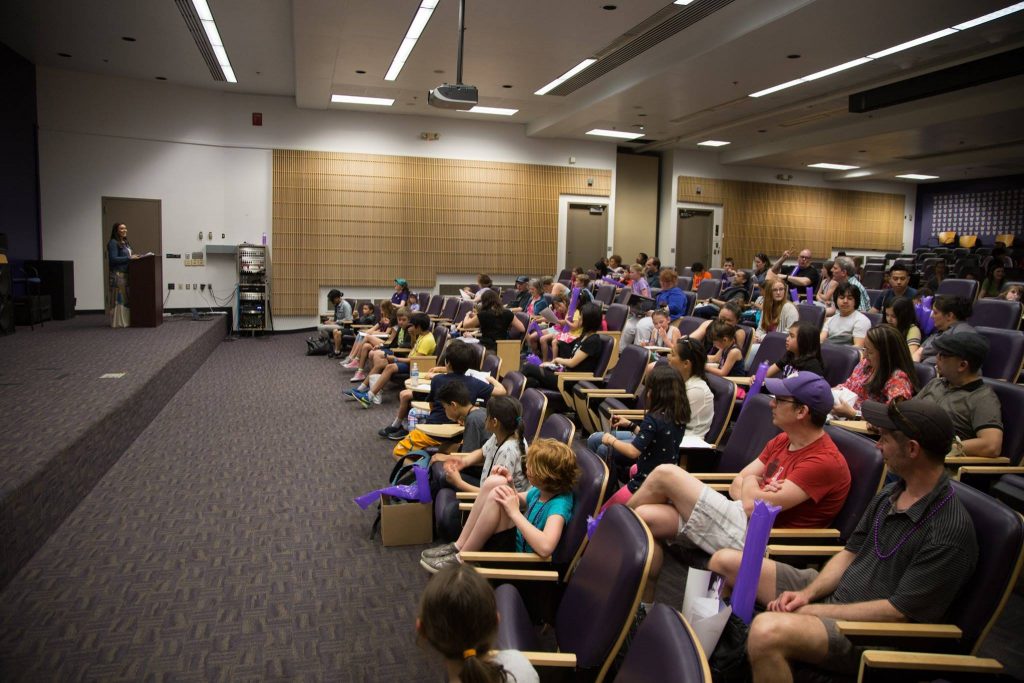 After that, parents and children stormed the field at Husky Stadium for a half-hour of fun that included kicking field goals, playing catch, turning handsprings, and snapping family photos that will make for indelible memories at the Greatest Setting in College Football.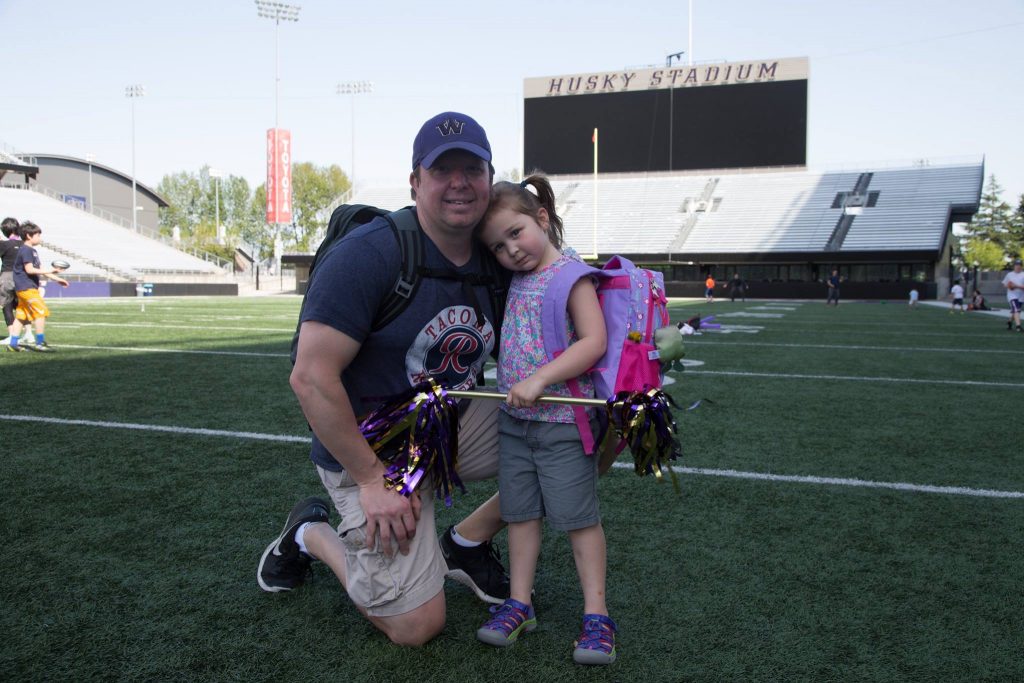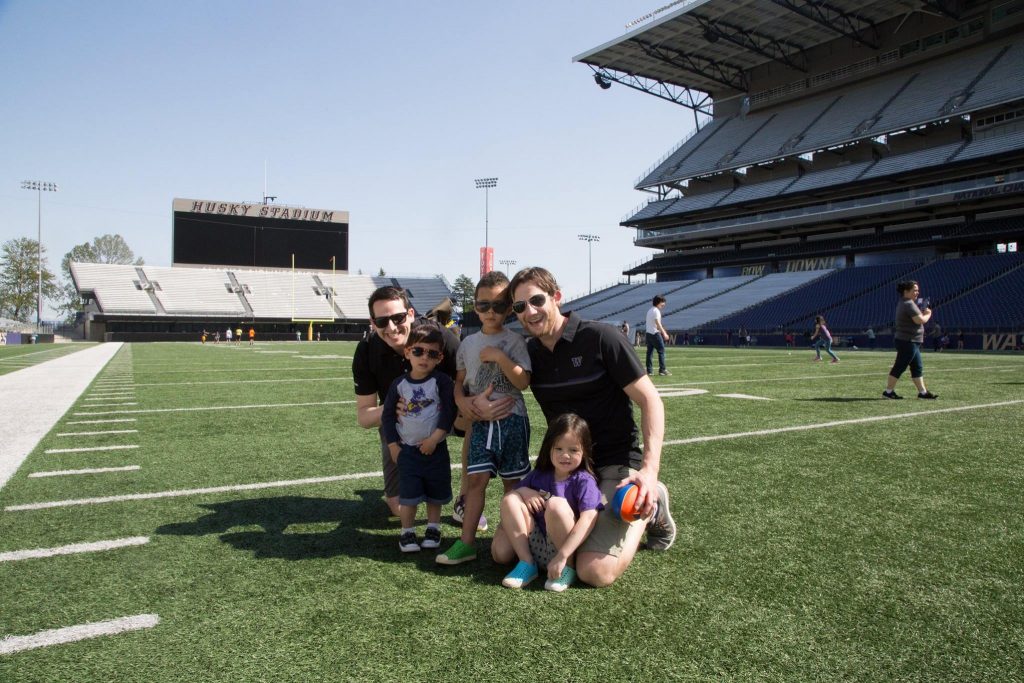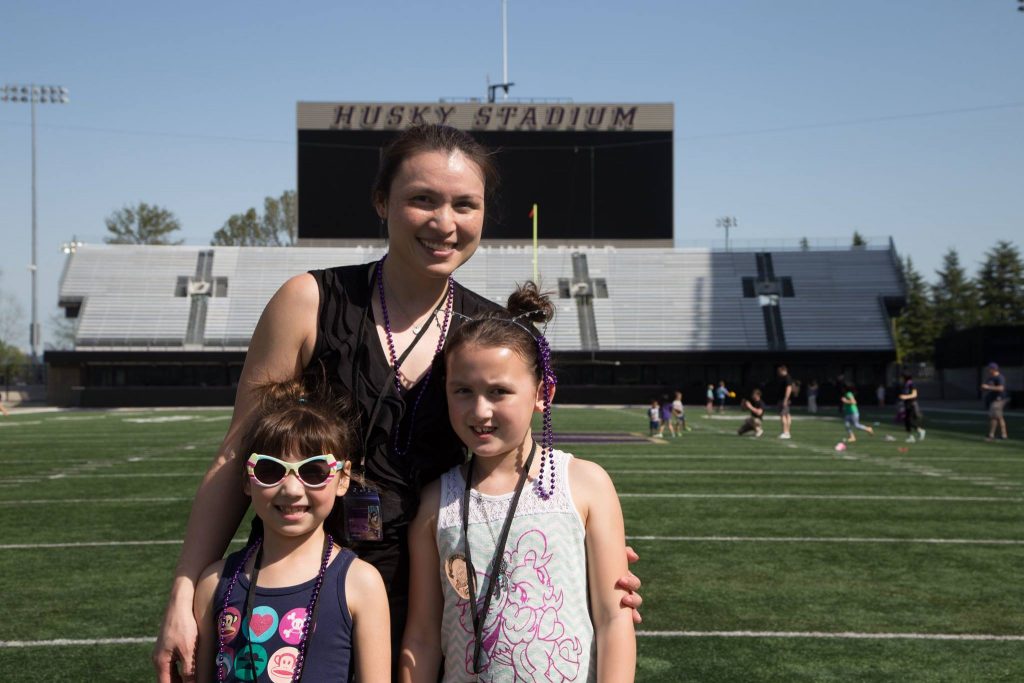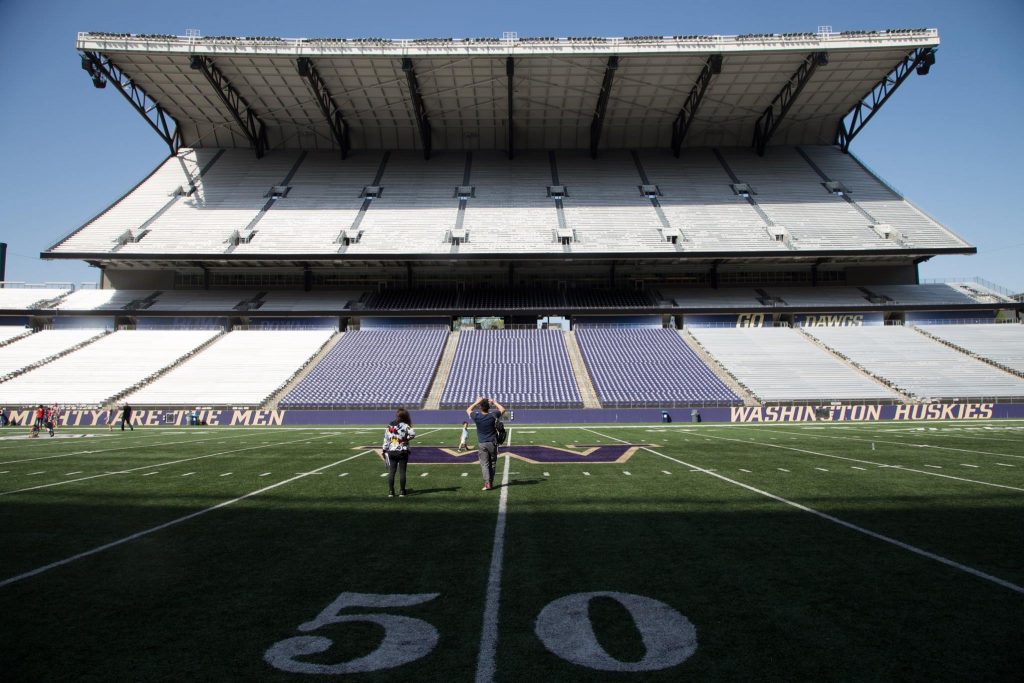 The day wasn't over yet, as #1-ranked UW Softball took the field for practice and families looked on from the stands.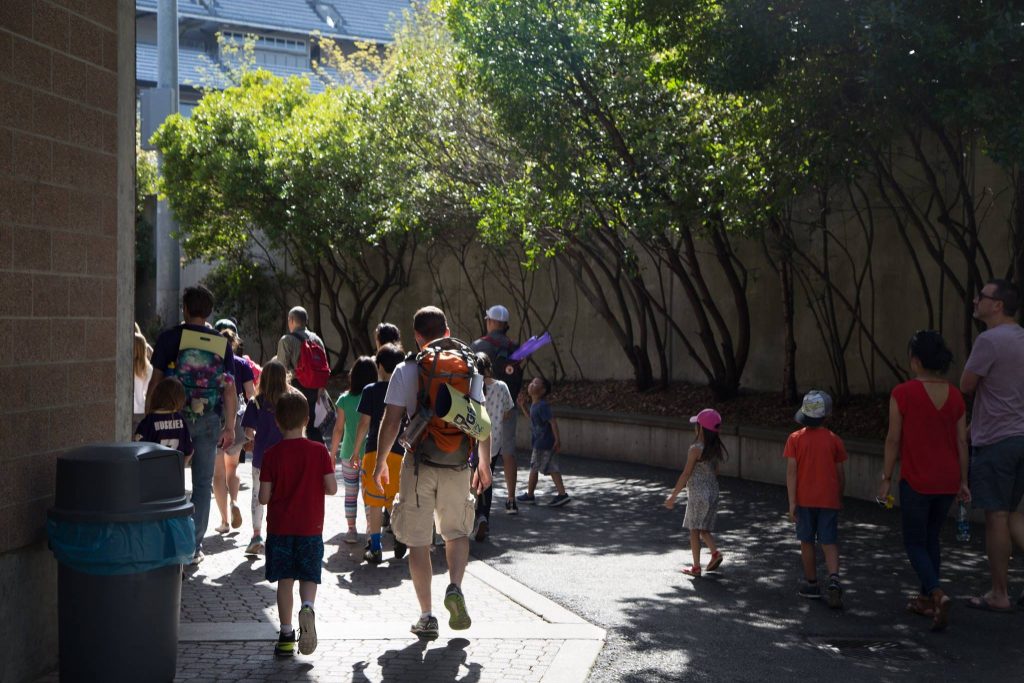 What was your favorite moment from Take Our Daughters and Sons to Work Day? A few of you let us know:
"This year this event was excellent: well structured and organized, interesting for both parents and kids. Thank you for making this event available to all staff!" —Bartosz Pietrzak, Business Intelligence Solutions Architect, UW-IT
"The brain lesson and yoga lesson were very well executed and the instructors did a wonderful job of keeping an audience composed of kids focused and entertained. The scavenger hunter helped us explore the University and visit some places that I did not even know about—and I work here! The tour of UW Athletics was great, especially having the chance to play at the football field.  —Fernando Resende, Assistant Professor, School of Environmental & Forest Sciences 
"Thank you for your work to make the campus a welcoming place for our family." —Scott Shiebler, Psychologist, Student Life Counseling Center
"LOVED the information shared by Eric Chudler; my 2nd grader took notes during the presentation, and used the info to write up his own presentation to share with his class the next day." —Lori Finch, Analyst, UW-IT
Check out more photos from the day at our Facebook page!