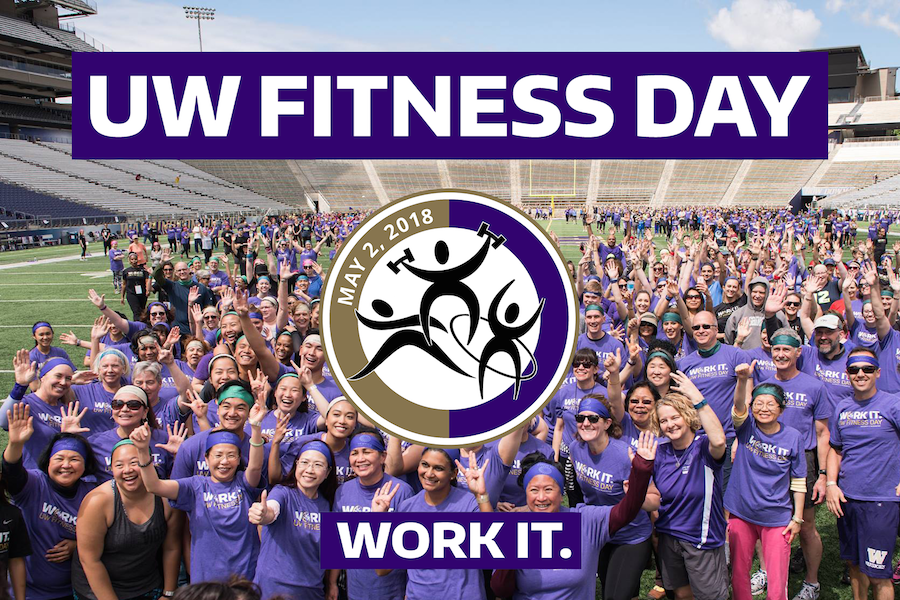 7 Reasons to Attend UW Fitness Day on May 2
"Take care of your body. It's the only place you have to live."  —Jim Rohn
Exercising in a group keeps you motivated, accountable, and ultimately is just much more fun! The Whole U's next big signature event will be UW Fitness Day on May 2 from noon to 1 p.m. on-field at Husky Stadium.
Since The Whole U first launched in 2014, we have attempted and broken Guinness World Records together as well as set our own goals and achieved personal fitness milestones. Last year marked the first UW Fitness Day. This year, we're doing it again—but even bigger!
Take a look back on everything we've achieved together to date and see what's to come in just over a month!
UW Fitness Day is for anyone and everyone part of the UW community. If you're ready to Work It, register here.
If you're on the fence about attending, here are seven reasons you will NOT want to miss this event, whether you are UW faculty, staff, or a student:
1. A Variety of Exercises
This year's event will be even bigger than last year's. We've doubled the number of stations from 20 to 40 stations combining strength training exercises, cardio bursts, dance, tai chi, yoga, and meditation into a holistic circuit training workout with modifications that make it accessible—and fun—for all.
2. Inspiring Coaches
Each station will be led by one of 40 UW coaches from UW Athletics, UW Recreation, The Whole U's community fitness partners, or the wider UW community. Coaches at each station will provide pointers, encouragement, and extra motivation as you move with your group through each station. (Stay tuned beginning April 11 when we'll begin introducing them individually in weekly Wednesday feature segments!)
3. Whole U Expertise
Lauren Updyke, assistant director of The Whole U and a Certified Personal Trainer with a Masters in Exercise Physiology, will introduce and lead the workout. Lauren has experience coaching more than 10,000 individuals and will be fresh off running her sixth Boston Marathon (26th marathon overall), ready to impart energy and a positive, motivating mindset to all in attendance.
4. Leave Feeling Refreshed and Focused
To end the workout, you'll cool down and center yourself with a meditation led by Bonnie Duran, associate professor at the UW School of Social Work and director of the Indigenous Wellness Research Institute. Afterwards, grab a KIND bar to refuel on your way out the Stadium!
5. Institutional Impact
May is recognized as Global Health and Fitness Month, and there couldn't be a better time to recognize UW's power to advance the population health initiative at the local level. When the UW community works together, we are a force that creates impact! We can move mountains when we move together!
6. Build Community
500 people have already signed up, so secure your spot and REGISTER NOW. You'll never know what connections you'll make or who you might run into unless you go!
7. Give Back
As part of our efforts to make the wider UW community healthier, more successful, and secure, help us give back by bringing a food item to donate to Any Hungry Husky, the pantry that helps mitigate the social and academic effects of campus food insecurity by providing students, staff, and faculty with access to shelf-stable, non-perishable goods and community resources at no cost.
Your offerings can include: canned fruits and vegetables; canned chicken, tuna, and salmon; soups and stews; peanut or other nut butters; shelf-stable milk and dairy alternatives; cereal, pasta and grains; Kosher, Halal, and other culturally diverse foods; cooking oil; toiletries & other household items.
---
You don't have to take our word on why UW Fitness Day is going to be a blast. Here's what participants from last year's event had to say:
"Getting a chance to do something healthy and productive with my work community was awesome!"
—Kelly Chapman, Administrator, Undergrad Ed Honors

"I really enjoyed the variety of movements and actually learned a few new exercises to incorporate in my existing workouts."
—Lynn Hermanson, Graduate Advisor, UW Tacoma School of Social Work

"The event was a lot of fun and I met some new people. I'm active already, but it was still nice to get out and get an extra workout in that day."
—Michael Jeffery, Software Development Manager, IHME
So join us May 2 to celebrate and support heath and movement in its many forms. Whatever your fitness level, come ready for an afternoon of fun, friends, and fitness. All participants will receive FREE t-shirt! You'll never forget taking part in this slice of Husky history!
---
Special thanks to UW Medicine, University Book Store, UW Athletics, UW Recreation, AT&T, KIND Snacks, Coca-Cola, US Bank, and UW discount fitness partners for sponsoring this event!