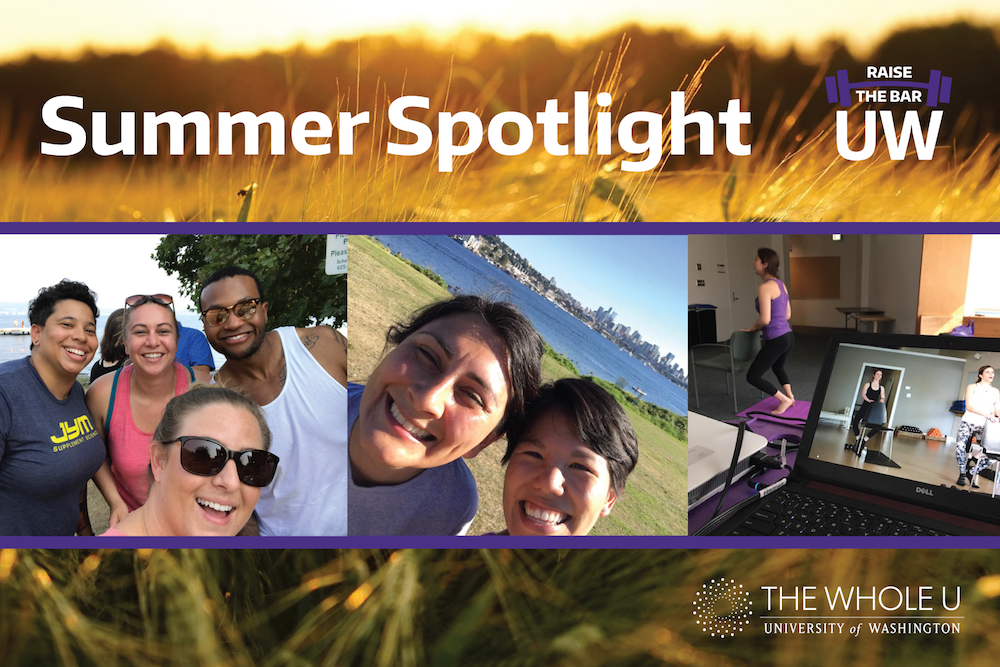 Raise the Bar: Summer Spotlight Week 7
It's the last week of the Raise the Bar challenge for wellness in the workplace, so we thought we'd leave you with a story we hope will inspire participants to carry forward the momentum you'll have built over the past 60 days into the new academic year and beyond. It's one that started with a step and resulted in a globe-spanning adventure of "peak" performance.
Here at The Whole U, one piece of wellness advice we'll often hear is some variation of, "When possible, take the stairs." It's a simple choice—one step in a series of steps we can take every day to be more healthy in the workplace. But how often do we overlook "take the stairs" or other small choices like it because, on an act-by-act basis, those decisions seem inconsequential or we convince ourselves they'll matter little in the long run.
One Raise the Bar team did just the opposite, taking matters into their own hands to illustrate just what is possible when daily determination fuses with creativity and team spirit and compounds over time. Jan Hamanishi, a medical illustrator and graphic designer in UW Medicine's Department of Obstetrics and Gynecology, reported what happened on behalf of her Raise the Bar team, also comprised of Robin Pfaff and Geena Gallardo and led by Jessica Adams.
It all began in July of 2014 when a friend asked a couple of us here at work if we would like to climb stairs for a Whole U event. You had the option of climbing the Space Needle, Mt. Baker or Mt. Rainier and winning badges. The three of us did them all, but I never dreamed I would get into stair climbing and still be at it more than three years later. I must say, I never would have lasted this long if I weren't doing it with friends. That has been the key for all of us.

Together as a group, we climb 12½ flights twice a day, morning and afternoon, and count the 3 flights we climb when we come into work each morning. You may not always want to do it, but you always feel better after having done it 100% of the time. It only takes 10-12 minutes to go up and come down, but it feels good to move, and visiting with your fellow stair steppers gives you a needed break and adds joy to your day. Another unforeseen benefit is that I no longer experience an afternoon slump.
That's when Jan decided to take it up a level—literally. To make the daily stair climbing more interesting and goal-oriented, she decided to chart her progress in the form of a world map, tallying the total stairs she climbed each day on the way to "summiting" some of the world's highest peaks. With each step representing a foot of elevation gain, she has now completed 32 peaks, "most of them the highest mountain in whatever country."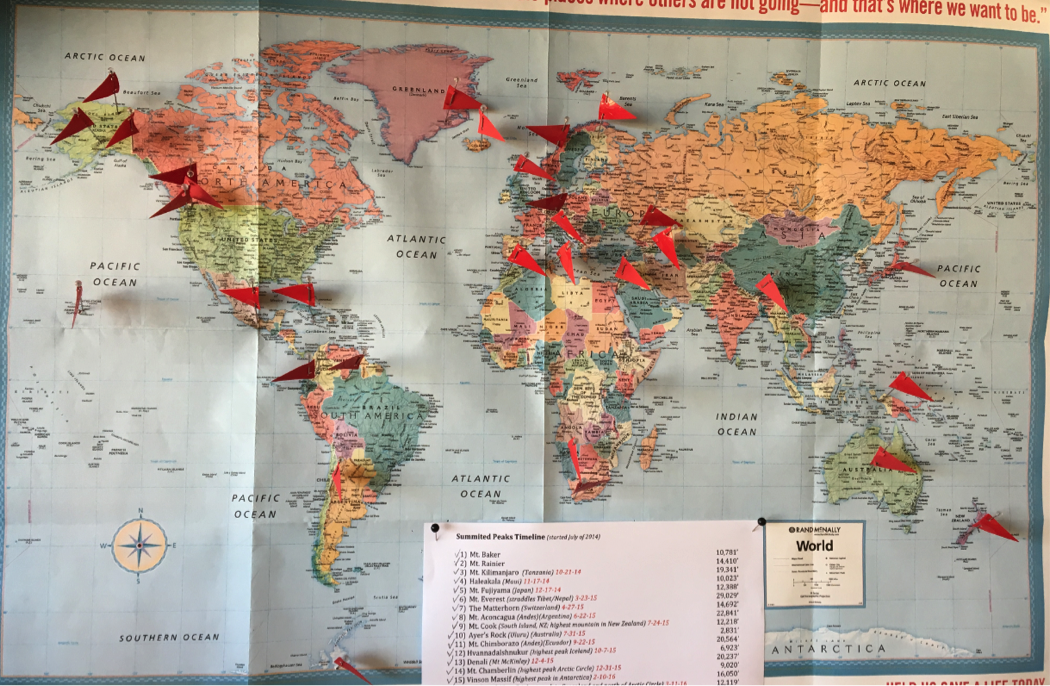 "It is fun to pick out peaks all around the world," she says, adding that her goal is to place pins in as many countries as she can. Since July 1, 2014, she's climbed 410,357 steps. "While I am currently the only one of our group who is summiting mountains, all the others are stair stepping right along with me."
If that goes to show what a team can do together over the span of three years, Wanda Frederick's report on her team's Raise the Bar progress illustrates what a team can achieve in the span of two months. The community relations and communications specialist in the Department of Aeronautics & Astronautics reported that her team of six (four of whom are pictured below) "really embraced the challenge," and felt their in-office progress toward wellness translated into a host of healthy activities at home.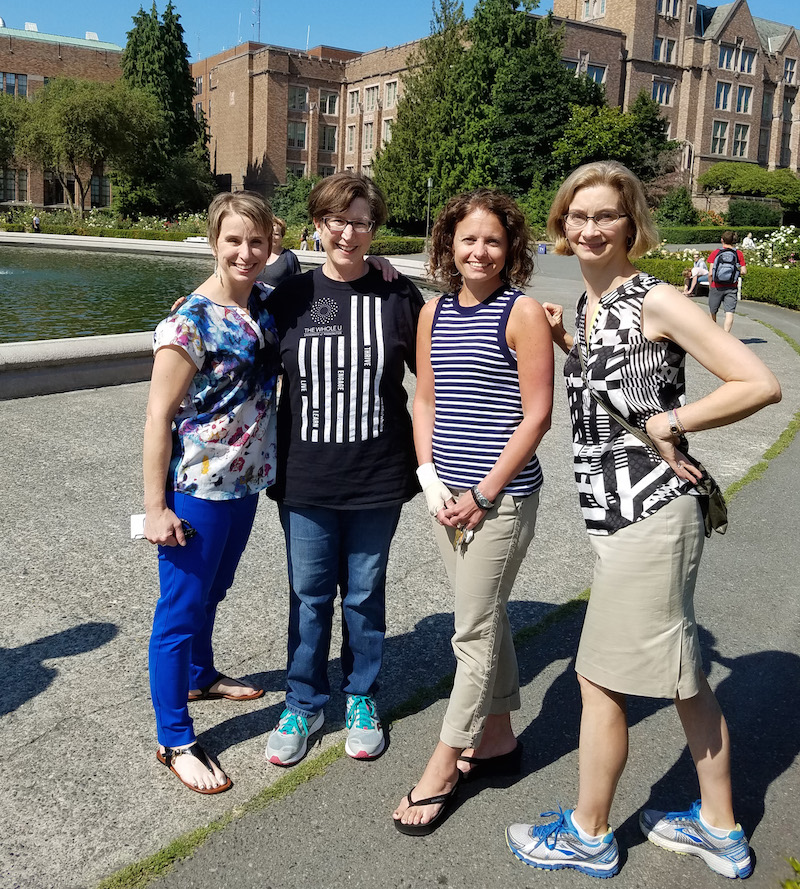 "It has been fun for us to take part in the challenge," Frederick says. "It has brought us closer as a group of co-workers and closer to our health goals. Our team has really taken wellness to heart and will continue the effort even after the challenge is over."
Their advice for others hoping to build a culture of workplace wellness? "Start wherever you can, no matter how small. Little changes are easier to incorporate into your routine and those desk dips add up over time. It's all about supporting each other, which can only improve the work environment."
Even so, keeping up momentum can be a challenge with changing schedules and changing seasons, but Carmen Parisi, facilities manager at UW's Information School, reported how team #ischoolwonderwomen stayed connected, overcoming an initial challenge of iSchool staff being located in three different buildings on campus.
Parisi says the team divided themselves into three sub-teams and began bridging the gap by exchanging a series of emails as a way of getting to know each other. Together, the sub-teams replied to two questions: "What was your first job?" and "What are some of your favorite hobbies and how do they help in your work?"
"Everyone provided enthusiastic, honest, and inspiring answers," Parisi says. "I learned something new from everyone and have a deeper appreciation for my co-workers."
In addition, Parisi says iSchool crowd made sure to get face-time with each other by attending The Whole's Raise the Bar activities throughout the summer, including circuit training, yoga, and Zumba classes. Their biggest takeaway? "We can do anything!"
---
We received so many fabulous submissions from teams from all corners of the UW! Next month, we'll include even more of them in a comprehensive recap of this 60-day journey in pursuit of wellness. As ever, special thanks to UW Medicine for their support! What's next? Yoga Month! Register today to be a part of our UW-wide celebration, which will feature a slate of free classes and informative articles from UW experts featured weekly on our website.