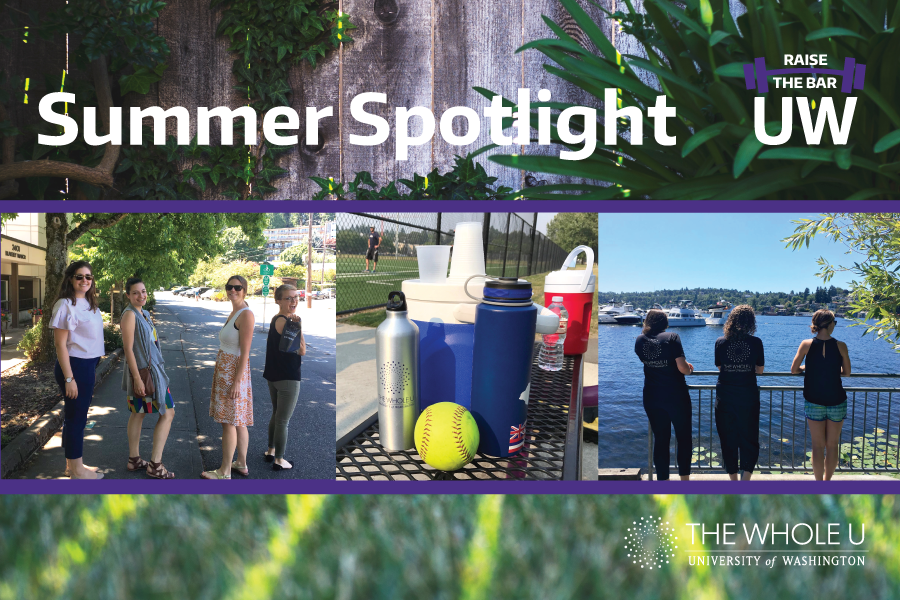 Raise the Bar: Summer Spotlight Week 4
With temperatures on the rise and a smoky vail descending on Washington from the north, our Raise the Bar teams could easily have thrown in the towel, cranked the AC, and shelved workplace wellness for less sweltering weather over the course of the past week. But did they? Far from it! From team hydration and work pod appreciation to botanical garden tours and yoga classes, Week 4 of the 60-day challenge was not one for wilting.
Have a look at some of what went down when temps went up. If these UW work teams can achieve this much during stifling heat, imagine how productive you and your group can be at improving wellness in the workplace in more temperate times!
---
Leading things off was the UW Medicine Supply Chain Department team. Jacqueline Thiebe, value analysis project manager for surgical services, shared that the group had established a walking plan to encourage the team to take at least one 15-minute walk per day. Scheduled from 10 a.m. to 10:15 a.m., the daily walk was inspired by these two articles about the best ways to optimize a 15-minute slice of time.
Here's the team pictured out on their first walk. Way to brave the heat! For more inspiration for team walks, check out our coverage of UW Walk Week this past April.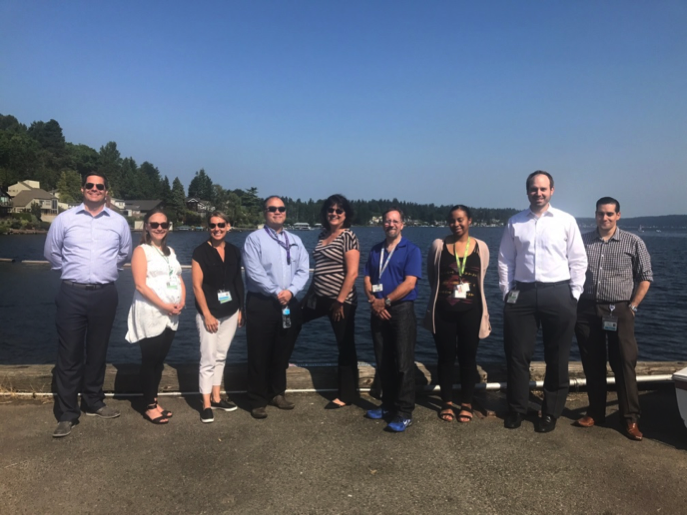 There's no better way to start the day than with a good breakfast. Team "Wonder Women of Wellness" from the College of Engineering planned a healthy breakfast spread together for Week 4. Assistant Director for Donor Relations & Stewardship Kathleen Crowell reports the theme of the breakfast was, "Not your typical breakfast," which is to say, "veggies were encouraged!" Not only does it look delicious, but also incredibly refreshing.

Next up for the Wonder Women? "We are also planning a group meditation exercise and a stretch/walk," Crowell says. 'Thanks for the inspiration!" Want more ideas on what a healthy breakfast looks like? We've got you covered!
Katrina Beyer and Malyse Chabot of the Business Unit of the UW School of Medicine's Dean's Office collectively shared these photos of their team's horticultural tour at the UW Center for Urban Horticulture. They channeled some flower power with these snaps from Yesler Swamp. "We got our whole office involved! We try to have a Business Unit activity every quarter," Chabot says. "We walked all the way there and all the way back on the hottest day of the year!"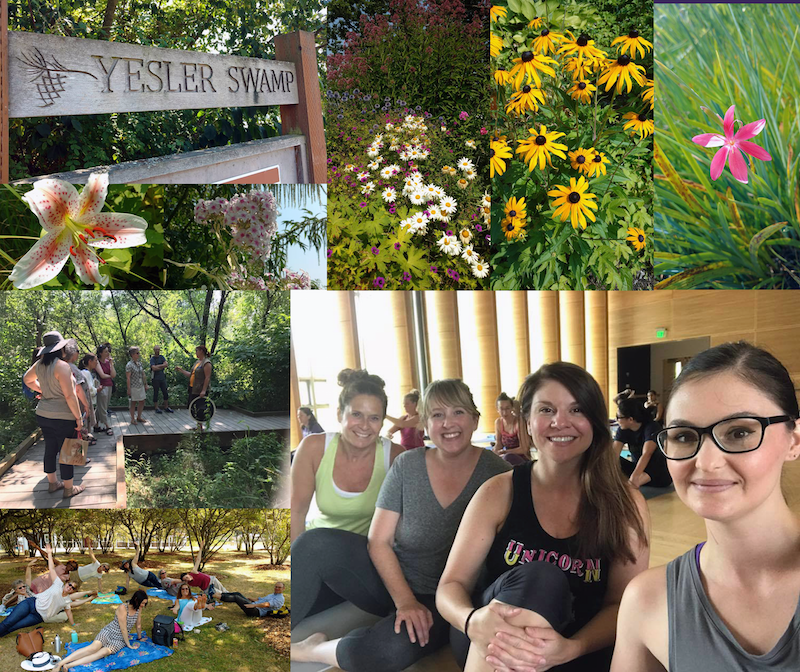 The UW Medicine Organizational Development & Training team walked the walk with a "revamped" Raise the Bar space. HR Specialist Megan Mason sent us this series of photos, adding, "We all want to make healthier choices, and paying attention to the aesthetic appeal of our workplace has really brought us together in this creative/healthy endeavor." Check out the fresh, floral touches on this Wellness Wall.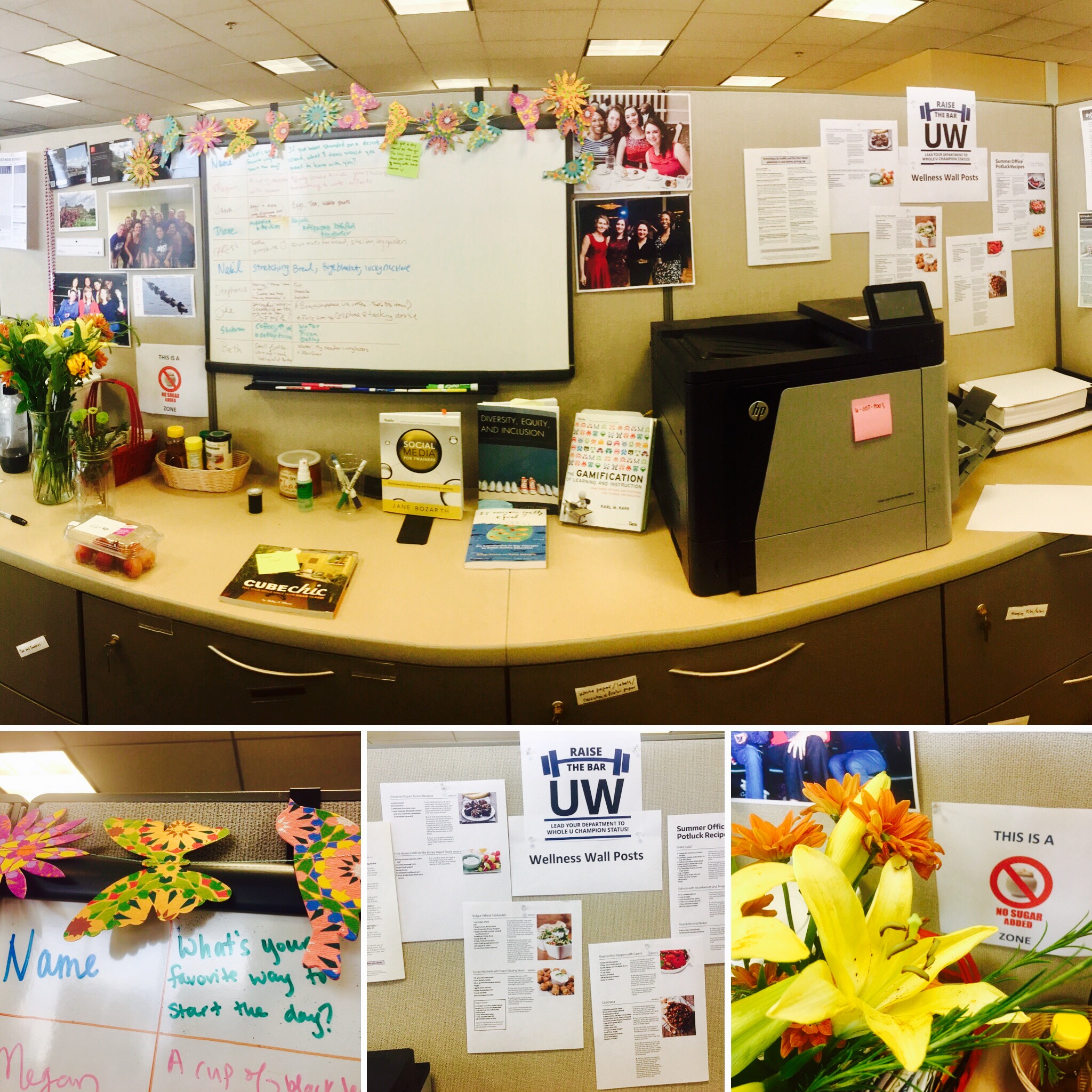 Angela Shelley, program manager of Foster's Global Business Center, sent in some more photos from her team's weekly walks, adding that the squad is "doing our best to model all our fun Whole U gear while we're out and about! We'll be trying out the waterproof gear bags during this afternoon's SUP session, as well." Consistently cool—and credit for finding some major shade for an energizing stroll!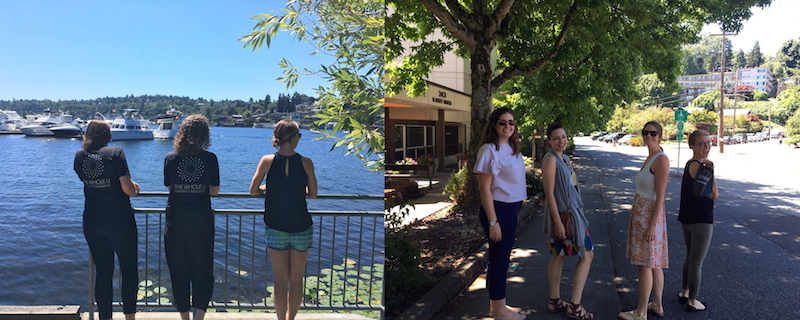 Assistant Dean for Planning and Administration at the iSchool, Mary Clark snapped this still-life of "everyone hydrating at the IMA summer softball semi-finals"—players and fans alike! Bringing water for everyone is just playing sound, fundamental softball. Great look!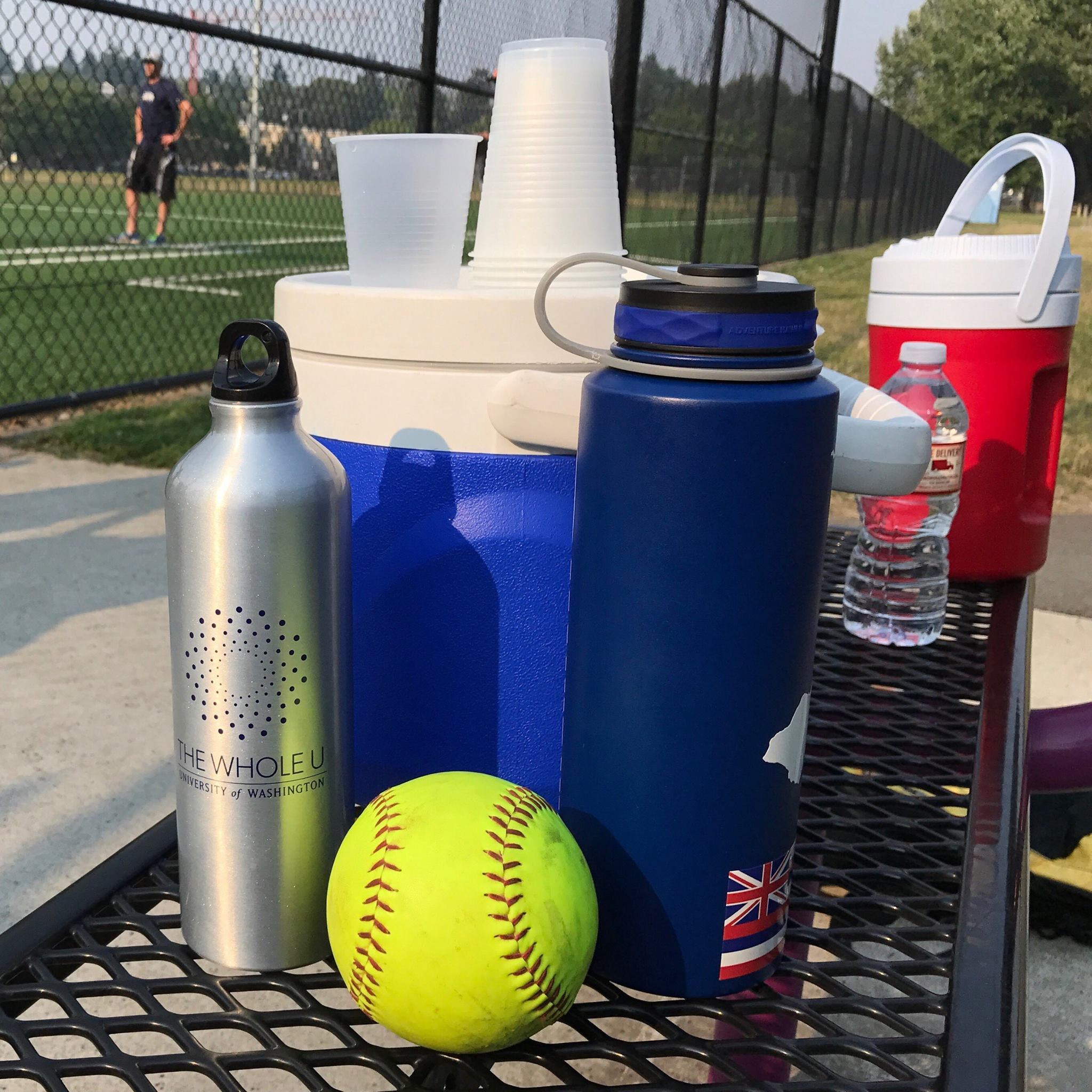 Margaret Bracken Thompson, manager of the Kenya Research and Training Center at the UW's Department of Global Health, submitted this photo of how her Raise the Bar team planned to get crafty by saying thanks with custom-made "WOW" cards. Just as the cards marked a way for her team to show appreciation for each other's work, we appreciate the tailored touch in turn!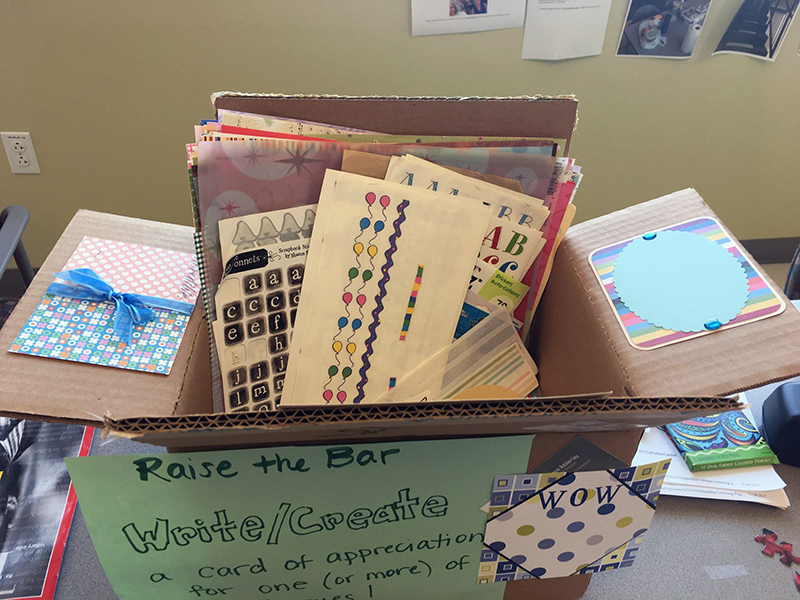 Megan Bentley-Moon, advisor & certification specialist at UW Tacoma's School of Education, led her team in talking about the importance of taking time to stretch and breathe. One team member even brought in breath mints—or "breathe mints"— for everyone "as an anchor to remind us to take deep breathes and pause to stretch/improve posture, etc." Extra fresh with extra points for the pun!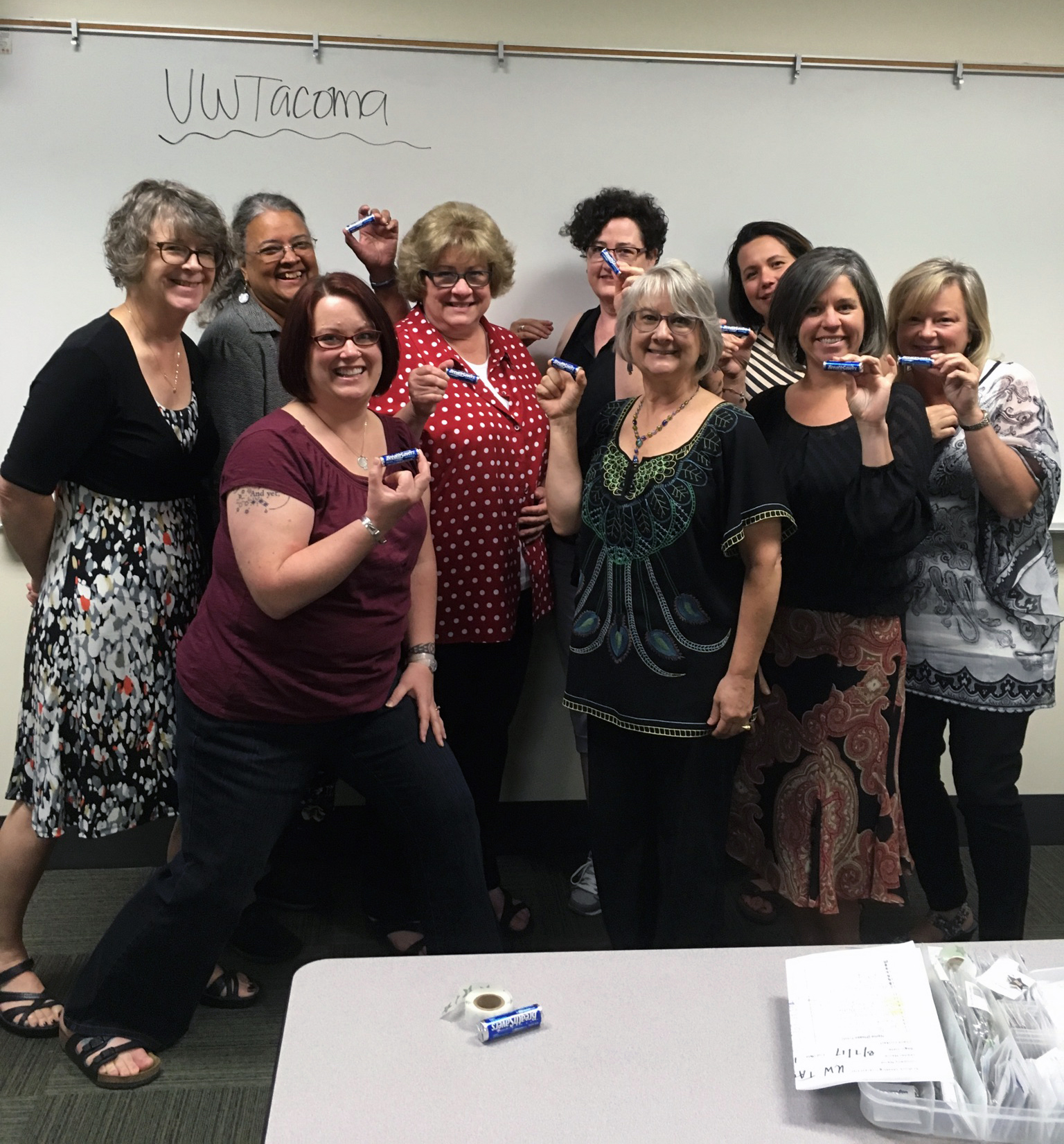 Merris Mullaley checks in with our final Week 4 highlight, reporting that the Office of Research and Graduate Education Team at the School of Medicine organized a salad bar potluck as part of the Raise the Bar Challenge. Everyone brought different ingredients or toppings to add to salads. The one thing they forgot to bring? A camera.
"Everyone had such a good time that we forgot to take photos," Mullaley says. "Here is a drawing that a coworker, MaryBeth Augusta, did of the event." Now that's what we call dedication to documentation! If those fruit skewers tasted half as good in person as they look drawn in MS Paint, it must have been quite the potluck indeed.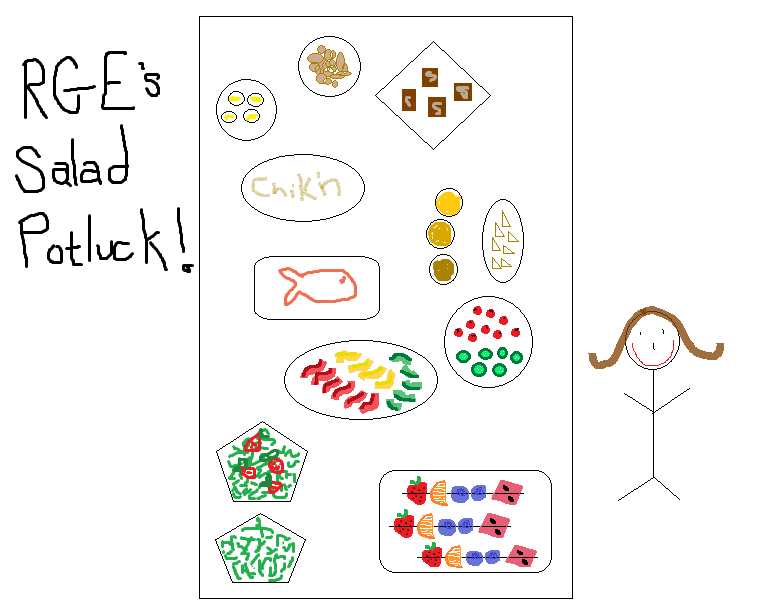 ---
Have a team success story? Share it, along with a photo or two, on Twitter and Instagram using the hashtag #raisethebaruw or email them to us directly at wholeu@uw.edu for a chance to be featured.
If you haven't joined our private Whole U Being Active Facebook group, do so to get inside inspiration from your fellow UW staff members as they post throughout the week! As ever, a big thank you to UW Medicine for their support!