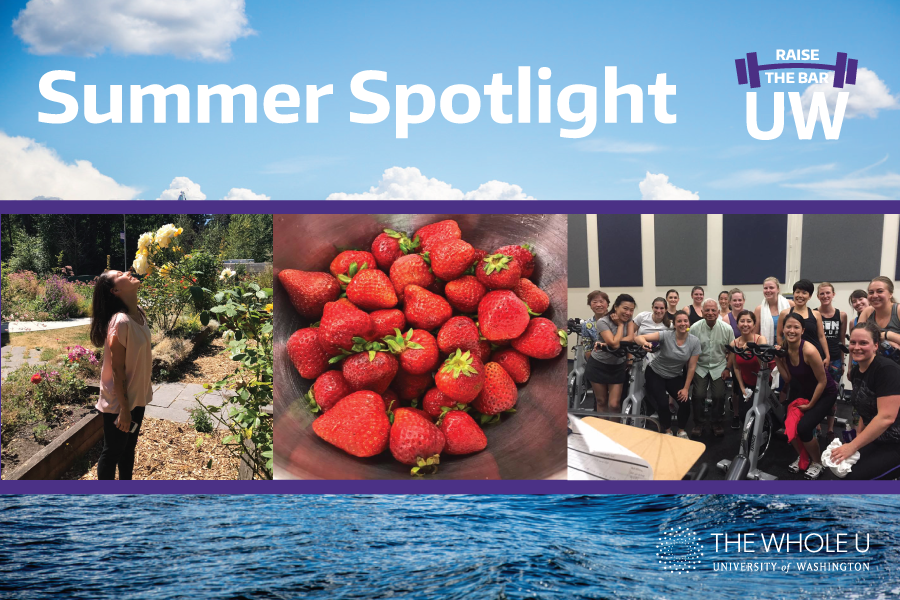 Raise the Bar: Summer Spotlight Week 3
In Week 3 of our 60-day Raise the Bar challenge for wellness in the workplace, we saw groups push through to new heights (quite literally, in some cases) as well as double down on successful strategies and activities implemented during Weeks 1 and 2. Whether you were baking healthy snacks, blasting tunes at a group spin class, or cruising the halls as part of a walking meeting, your healthy habits are proving infectious—and it shows.
Amy Thickpenny, assistant director, Donor Relations, reported one team member's reaction to the challenge and how it has touched many facets of working life at the UW:
"[The biggest takeaway was] thinking more broadly about the definition of team; the circle of influence we each have extends beyond just our immediate work group and we are all important sources of support for one another. [One piece of advice is to] talk about what you are doing to improve your health and encourage others to share their tips."
As we enter into the sweltering "dawg" days of summer and the middle of our challenge, it's always good to bear in mind the potential influence and impact of just a few small actions or supportive gestures can have on the wider community. From your submissions this week, we saw groups large and small coming together for wellness in a big way.
---
Angela Shelley of the Foster School of Business' Global Business Center team shared the following picture, thanking "our all-star, in-office, certified yoga instructor, Jess Rush," for her role in leading a yoga practice every Wednesday on Denny Lawn during Raise the Bar.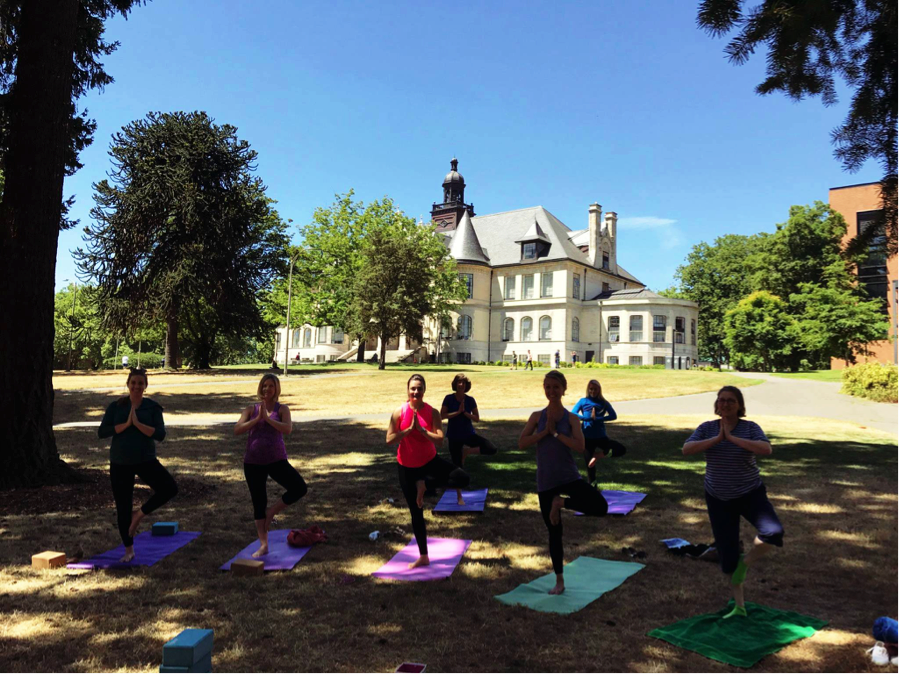 Among the poses practiced was Sleeping Swan (also known as Pigeon) pose and Tree (pictured here). Another GBC team member, Program and Office Manager Nedda Soleymani, elaborated on the group's Raise the Bar success.
What have you done to improve your workplace environment?

So far, we have implemented multiple components of each area of wellness. One of our staff members, Jess Rush, has also begun offering summer yoga classes for Foster Faculty and Staff, which has become very popular with our department. It has even motivated people outside of the challenge to get outside and get moving!

In addition, we have begun team walks every Monday and Friday to get moving and motivate our entire team! Regarding stress management, we have put up several posters around our office to help manage stress, and have created a "stress free zone" with games and gadgets to alleviate stress.

Why participate in the Raise the Bar challenge?

The GBC has taken on this challenge not only as a team building exercise, but also to ensure that all of our teammates are enjoying a healthy and happy working environment. We all enjoy working together and find that this positive reinforcement regarding healthy work and lifestyle changes only makes our office environment better.
GBC also knocked it out of the part with a summer potluck. Angela Shelley reported it was, "full of healthy homemade lunch options, including Greek quinoa salad, Asian crunch salad with gluten-free brown rice ramen, Southwestern corn salad, tofu and shrimp fresh rolls, an incredible cheese plate, and 'bliss balls' (gluten-free, dairy-free, sugar-free date treats!)."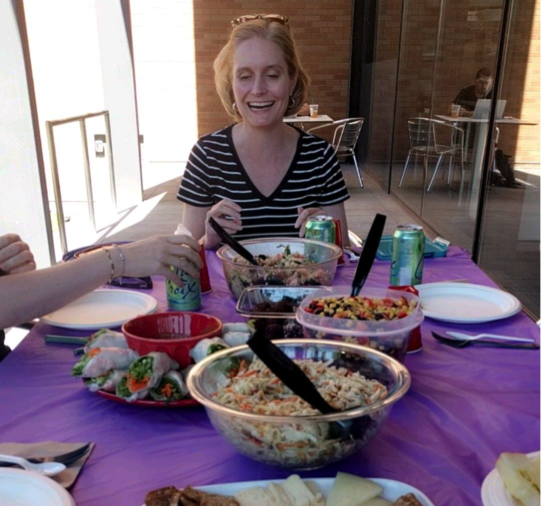 Jyoti Naik,
 University ADA architect and certified access specialist with Engineering Services, baked healthy apple roses for her team. They look exquisitely delicious!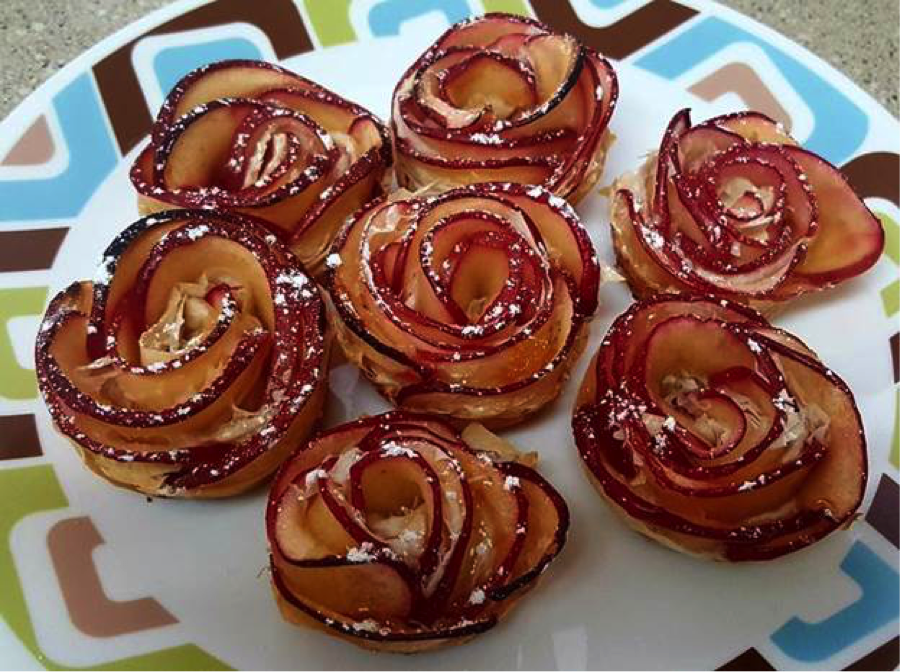 "Even our K-9's feel the need to take a break and enjoy some time with co-workers! Thanks Whole U for helping us remember to enjoy the day!" said Sue Carr, Strategic Initiatives and External Relations Manager, 
UW Police Department.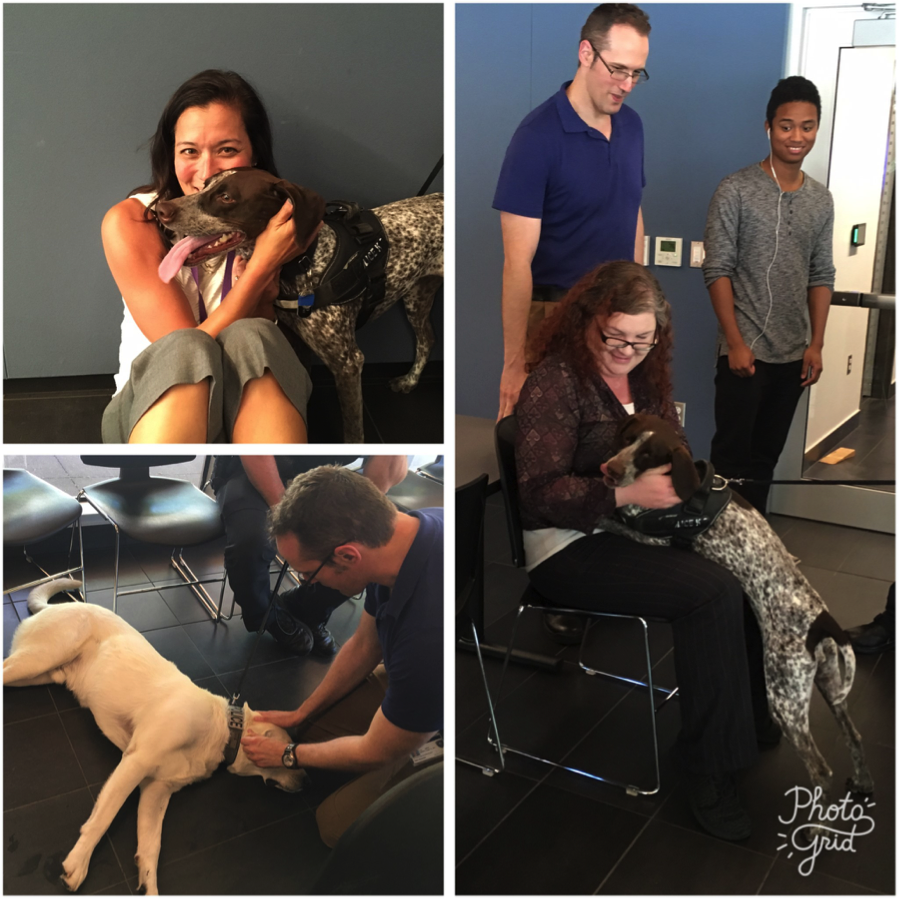 Gynecologic Oncology Division Coordinator Jessica Adams of UW Medicine's Department of Obstetrics and Gynecology submitted the following report on her team's Raise the Bar progress: "Last week our team embarked on a stress-free walking tour of the Medicinal Gardens and identified a few trees along the Brockman Memorial Tree Tour. It's been challenging to get all of us together at the same time, but once we make it and step away from our desks we are so rejuvenated that it reinforces to us the importance of these regular breaks—and we've found that we all have great health ideas and LOVE nature! We are inspired to continue raising the bar during the many years we plan to work on the UW campus."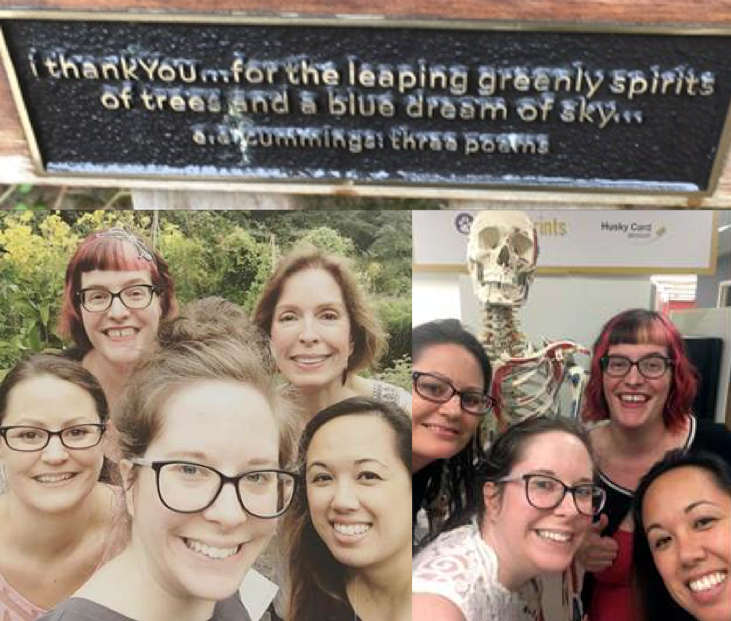 Jessica Norman hosted Raise the Bar groups for a Whole U "Beat the Heat" cycle class on July 27. Multiple participants submitted their photos and raved about her high-energy set list, but Jessica captured the energy of the group, in turn, with these two snaps.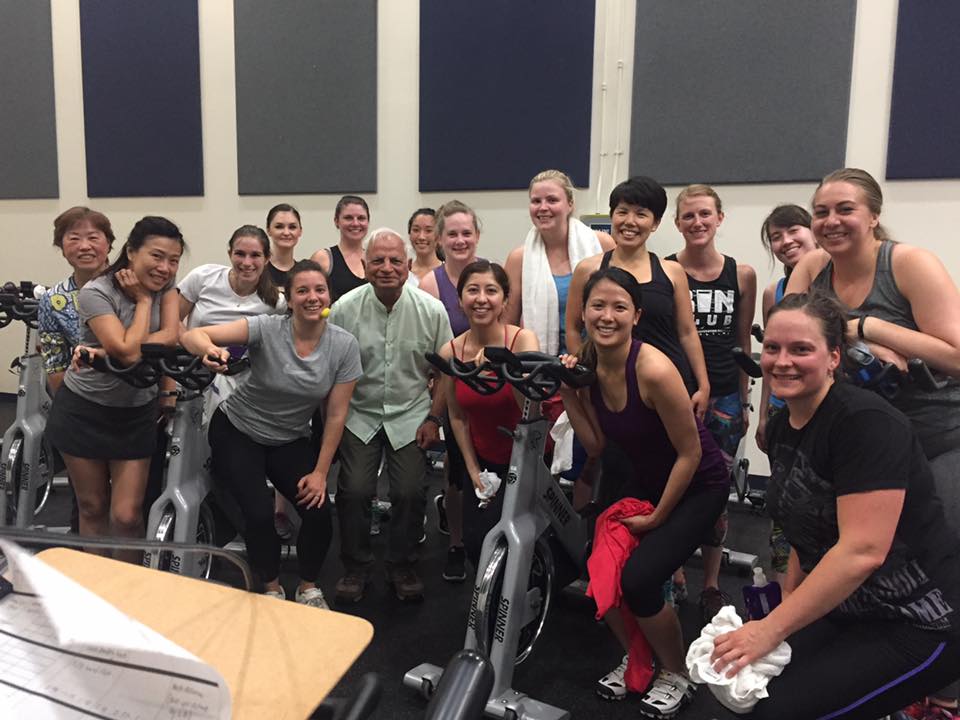 Team Off the Grid's Dana Hansen gave Jessica a shout out in a Facebook post, saying, "Legs feel a bit wobbly after an amazing spin class, but thank you Jessica for being an inspiring instructor!" Dana's legs were evidently no longer so wobbly several days later when she set out to climb Mt. Pilchuk on a solo weekend hike. Activity begets activity—forever and always!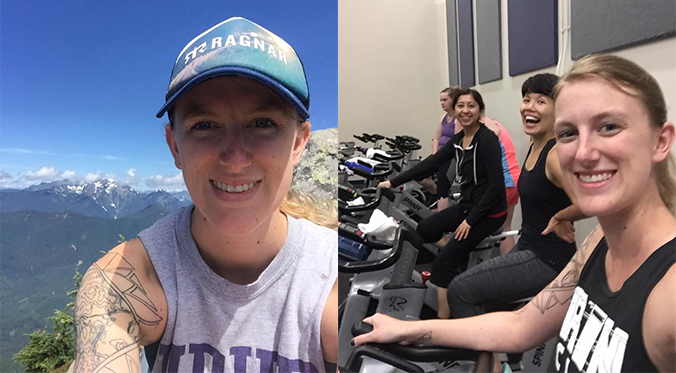 Vanessa Encina shared this shot from the Raise the Bar Whole U food demo on Healthy Snacks to Eat at Your Desk. "We learned how to make easy quinoa salad, yummy baba ganoush, and healthy granola bars," she said.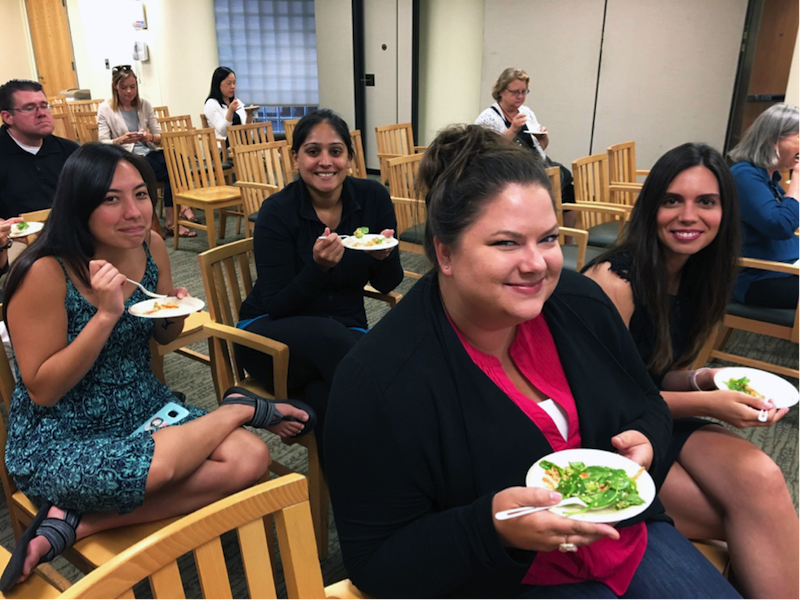 Kristen LaBreque from UW Bothel DEM team reported a successful Smoothie Wednesday as a great way to start the day together as a team.

Earlier in the week, the team took a team walk on a glorious bluebird day at UW Bothell, reveling in campus' fresh air and floral fragrances.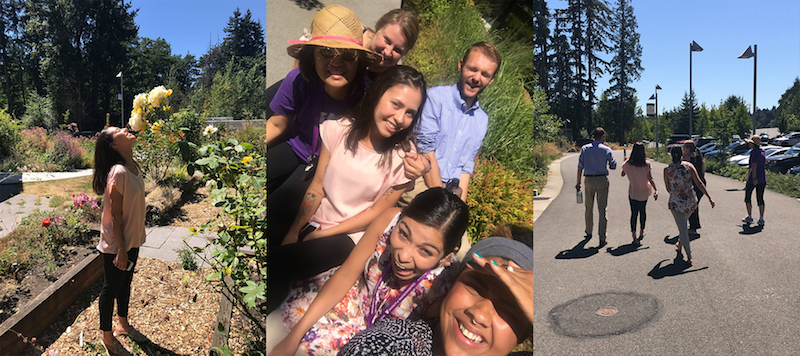 ---
Have a team success story? Keep sharing your reflections and photos on Twitter and Instagram using the hashtag #raisethebaruw, or email them to us directly at wholeu@uw.edu for a chance to be featured.
If you haven't joined our private Whole U Being Active Facebook group, do so to get inside inspiration from your fellow UW staff members as they post throughout the week! As ever, a big thank you to UW Medicine for their support!