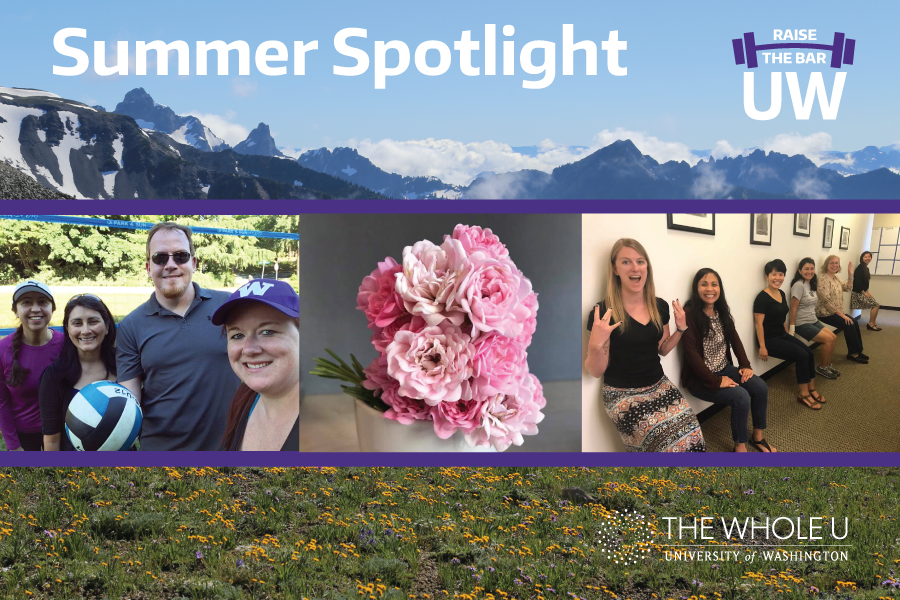 Raise the Bar: Summer Spotlight Week 2
From wall-sits and destress sessions to pushups and potlucks, Week 2 of our Raise the Bar challenge for wellness in the workplace held a range of sunny surprises. In addition to all your work to emphasize a culture of team wellness, we've been floored by your humor, hard work, and incredibly clever team names.
As we soar ever higher into summer, we'll defer to someone who knows a thing or two about reaching into the stratosphere to sum up what many teams reported feeling in Week 2. Wanda Frederick, Community Relations and Communications Specialist at the William E. Boeing Department of Aeronautics & Astronautics, had this to say:
"I think this challenge has helped bond us as as group and made us more conscious about feeling good."
We couldn't agree more. The best part? That good feeling is only just getting going. Peruse the recap below to prep and get ideas for Week 3 and beyond!
---
The Power of Positivity in Practice
University of Washington Medical Center's Dr. Tejaswini Dhawale shared how the Raise the Bar challenge is playing a key role in encouraging her Platinum Oncology team to stay positive while caring for patients. In her answers to our questions, she broke down their successful strategies, underscoring how caring for oneself perpetuates a cycle that results in improved care for others.
Why did your team choose to join the Raise the Bar challenge?

We spend our working hours taking care of sick patients with cancer. This can be physically and emotionally demanding work.

As a team, we think its important to take time out of the day to reach out and support each other and to integrate healthy behaviors into our daily routine in order to better care for ourselves. The Raise the Bar challenge has been a fun way to accomplish this!

At baseline, we work as a team as we share complicated and, at times, critically ill patients. Joining Raise the Bar challenge helps create a positive environment for us to work together.

What things did you do to improve your workplace environment?

We brought in healthy snacks to share with the team. We planned a social activity that involves physical exertion. We started a team member of the month poster on our team door. We have continued to decorate our workplaces with spirit animals and quotes. There is also a stress-free zone brochure posted on the door.

What are some tips your team has for other teams/departments or just anybody who wants to improve their workplace?

Social outings and team building events outside of work have been the most helpful and positive in our experience. So, to get along at work, it helps to have enjoyed each other's company outside of work.

Can you tell us something you'll take away from this challenge?

While it shouldn't require a reminder, this challenge has reinforced that to take care of others, one must take care of themselves. It has served as a good reminder on ways to regain a positive attitude and care for ourselves, each other, our extended co-workers, our patients and families.
---
Team "Milgard Muscle" took a mid-day stroll along the Foss Waterway. Jamie White sent in this photo of her team, including Annemarie Martin, Aubree Steffens, Melody James, and Sally Schwartz, with Mt. Rainier peaking through in the distance. "Loving the view!!!" she says. So are we!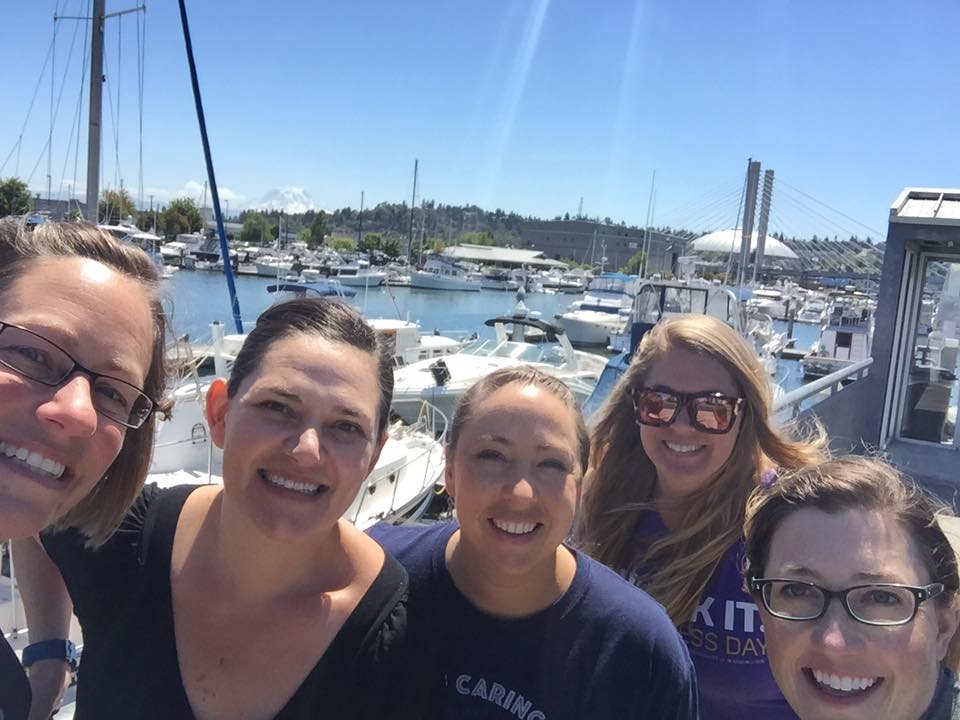 Julie Klein, Associate Director for Advancement at the School of Nursing and Health Studies, sent us this photo of her team taking time out to do wall sits, smiling all the while. Fabulous form! Feel the burn!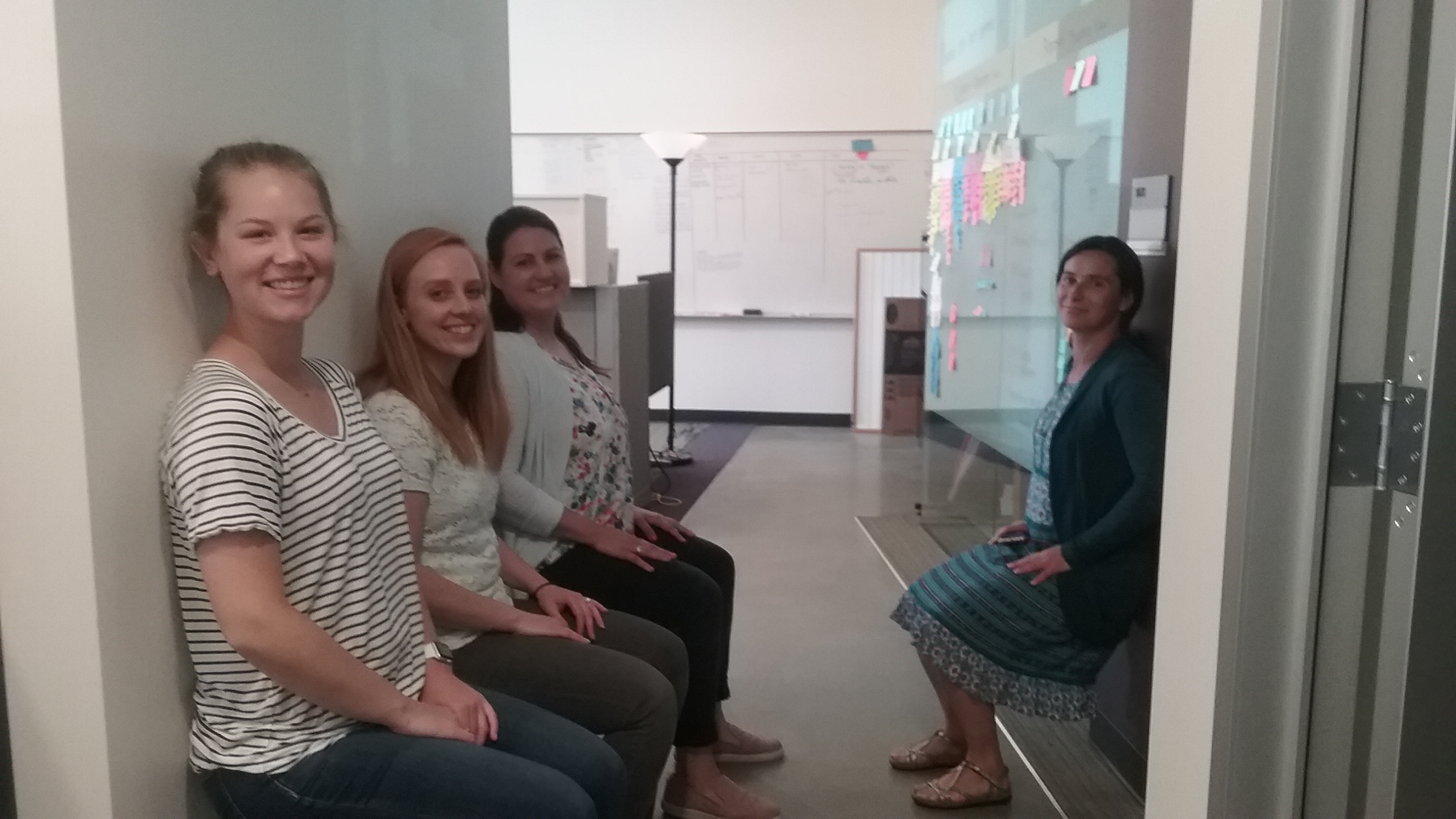 Sue Carr, Strategic Initiatives and External Relations Manager at UW Police Department, sent the following photo, adding, "Thanks to The Whole U Raise the Bar Challenge, this is one way we combat stress in our meetings!" A quick squish, stretch, and snap and you're ready to get down to business.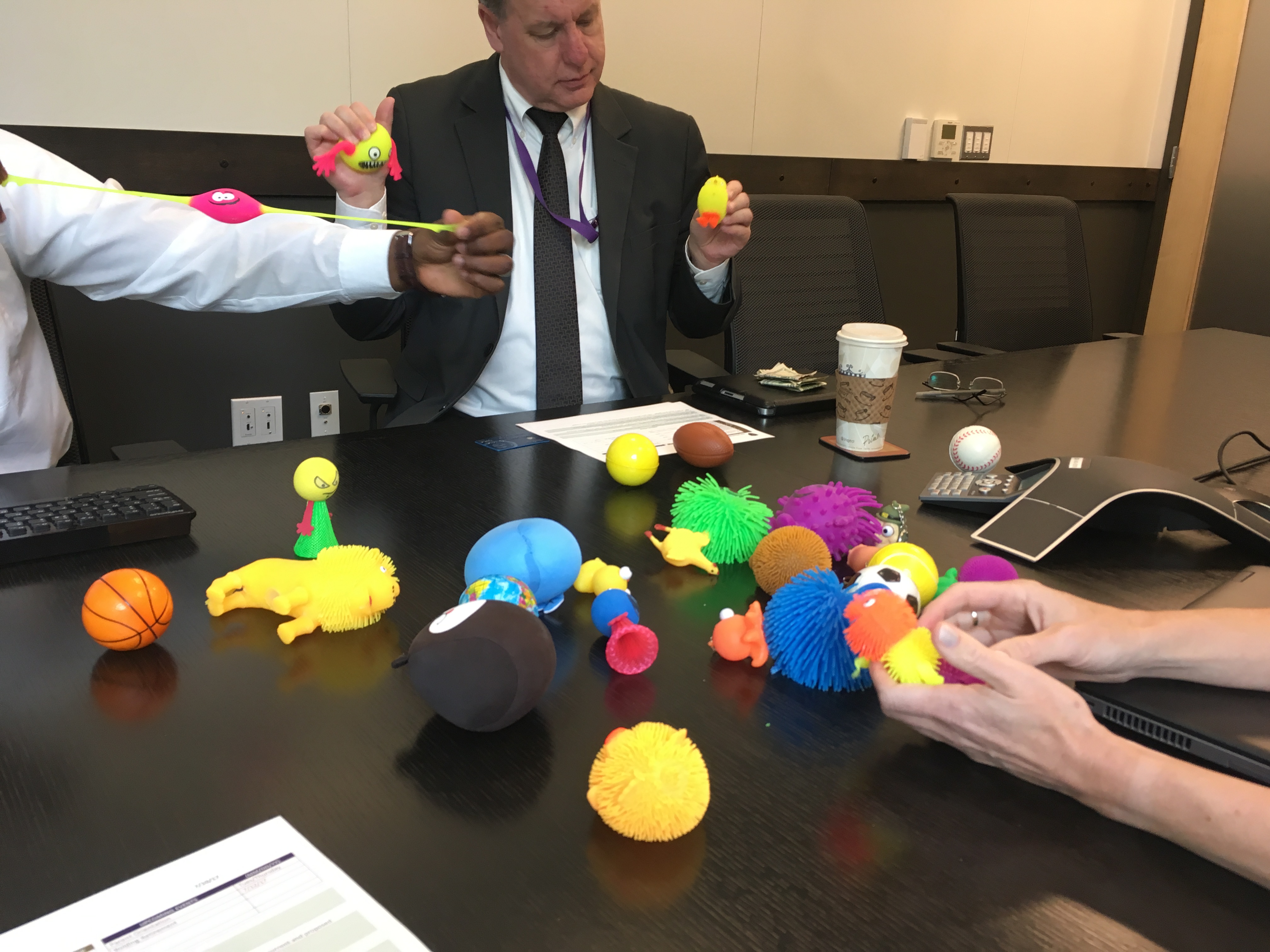 Lindsay Åppeslånd, Assistant to the Chair of the Department of Electrical Engineering, said her team (aptly named "Off the Grid") had been working out together, but recently started playing tennis and volleyball instead to try to involve more people. Here they are taking a quick time-out to spike volleyballs in the shade at lower Rainier Vista.

"Our team is pretty diverse in experience of working out, so we have developed weekly activities that are targeted towards the differences and we are embracing them," Åppeslånd says. She also submitted these snaps of in-office wall-sits and an office potluck. Wellness inside and out? We dig it.

Angela Shelley and members of the GBC Team took a lunchtime walk with their wellness mascot, Macaroni. The "dawg" days of summer never looked so energized!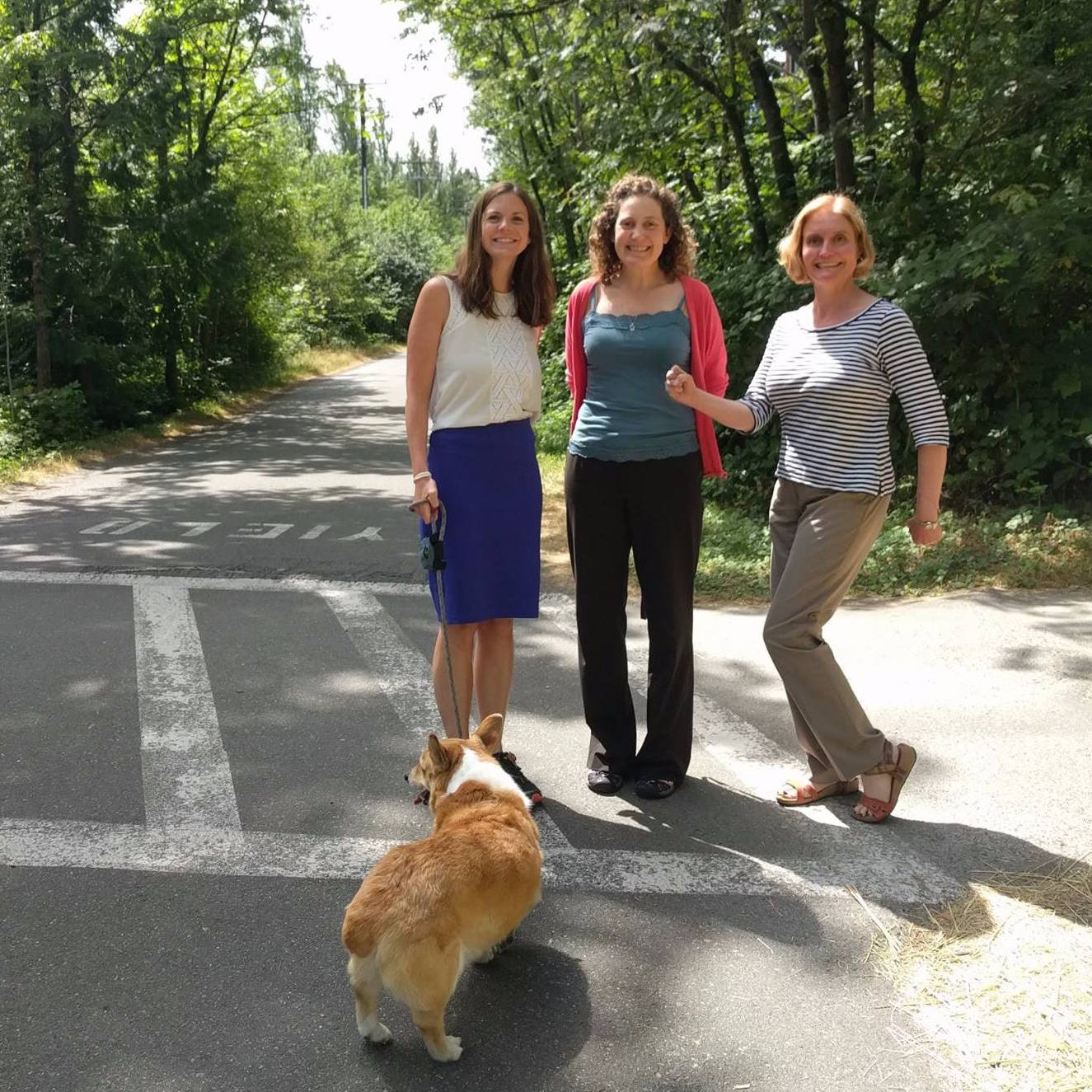 Malyse Chabot reported that her group did push-ups and chair dips before taking a walk together by the water, picking blackberries, rosemary, and some flowers (see below) along the way. "Not only was it a way to stay active, but it was really relaxing and helped us destress!" she says.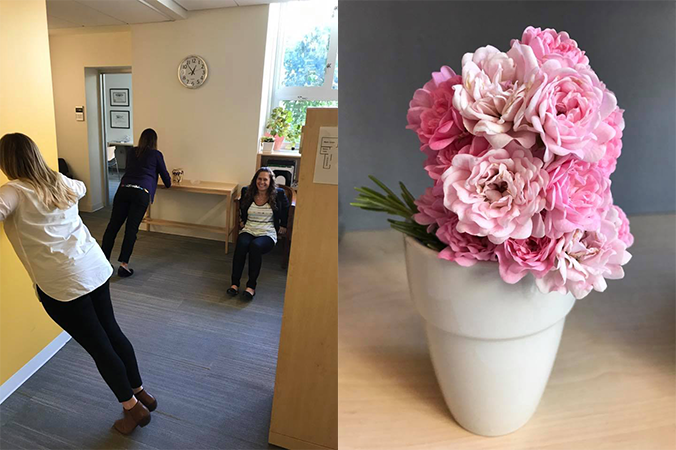 ---
You all were phenomenal in raising the bar over the course of Week 2. What will Week 3 hold? Only you can say! Keep sharing your in-depth stories, reflections, and photos on Twitter and Instagram using the hashtag #raisethebaruw, or email them to us directly at wholeu@uw.edu.
Stay tuned on Twitter and Instagram for more featured photos throughout the rest of the week. If you haven't joined our private Whole U Being Active Facebook group, do so to get inside inspiration from your fellow UW staff members as they post throughout the week! Once again, a special thanks to UW Medicine for their support!
Before signing off, here's one last submission from Mary Jane Lohr and the School of Social Work LAF group. When no one wanted their picture taken after an intense round of wall pushups, Mary Jane got creative with an approximate illustration.