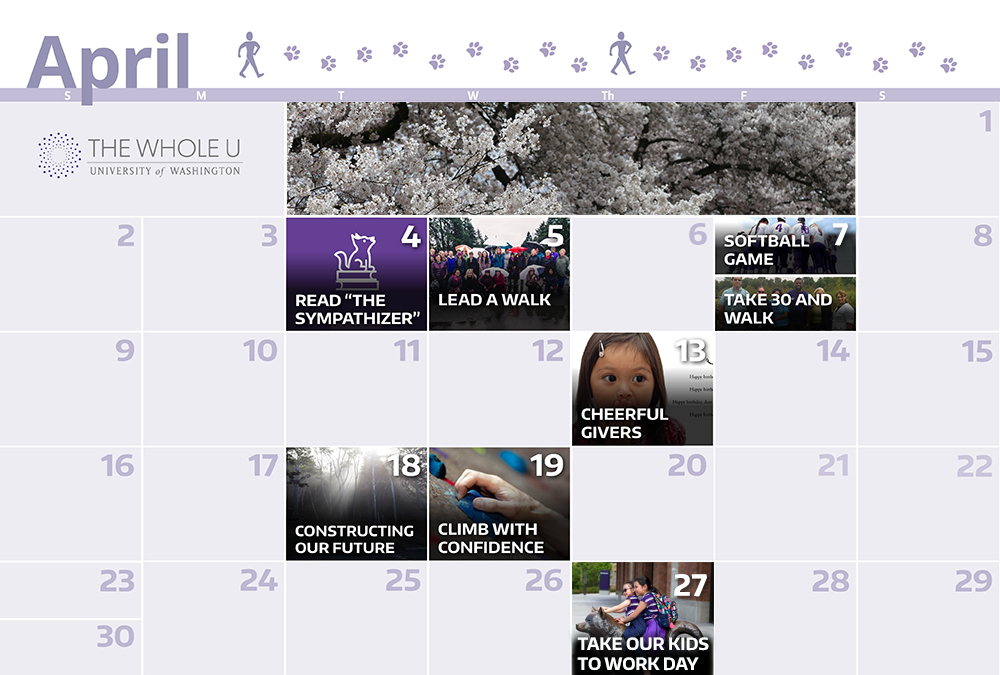 Spring into April Events with The Whole U
As the showers settle and cherry blossoms bloom, we've got plenty of events to help you take advantage of these longer, warmer days. In March, you put your best fork forward and made small, but impactful dietary changes. Start this month by continuing to make incremental positive change in your daily routine by participating in UW Walk Week! Taking a walk break will help banish winter's gloom for good along with bringing many overall health benefits. For that matter, so will reading a book with DUB Club, spending your time bringing happy birthdays to less fortunate children, and learning how to climb with confidence, injury-free. From walks and talks to everything else under the sun, we've got you covered.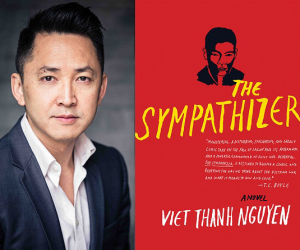 Read The Sympathizer with DUB Club (April 4)
Winner of the 2016 Pulitzer Prize for Fiction, The Sympathizer is an immigrant tale told in the voice of a man of two minds—and two countries: Vietnam and the United States. Written by Vietnamese professor Viet Thanh Nguyen, the novel debuted in 2015 and brings a new light to a war that, until now, has largely been reflected in an Americentric perspective. The plot follows a nameless narrator brought up by an absent French father and a poor Vietnamese mother who is educated at an American university, but betrays those closest to him to fight for the Communist cause in the Vietnam War. On April 4 at noon, join DUB Club for a discussion of The Sympathizer for which a light lunch will be provided. Mention that you are a part of DUB Club at the UW Book Store check out for a 20% discount.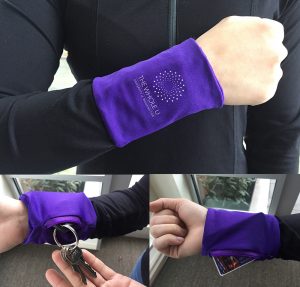 Lead a Walk (April 5) / Take 30 and Walk (April 7)
People from all over the nation will be choosing to walk on April 5, but how many of those people can say they did so in style? Celebrate National Walk Day with The Whole U by organizing and leading department or group 30-minute walks across all campuses. When you do, you and your group will all receive a Whole U branded pocket wristband (pictured left) for making the move to be active during your workday! If you are interested in being one of our walking leaders, please register here. Two days later, continue to reap the benefits of getting up and moving at National Walk to Work Day, April 7! If your commute allows it, choose to walk to work. If not, walk at work at any point throughout the day. You only need 30 minutes! Walk on your own or with a colleague, then share a photo of your experience with The Whole U to receive your Whole U branded pocket wristband. Register here.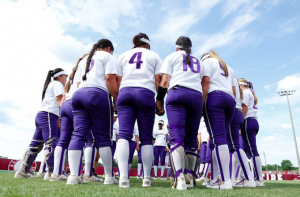 2017 Husky Athletics Appreciation Night – Softball vs. Oregon State (April 7)
Get ready to play ball! UW Softball shows no fear on the field and plays to #LeaveNoDoubt. It's an athletic ethos responsible for victory after victory that has resulted in their #8 rank this season. April 7, be a part of the action with family and friends as UW Softball looks to bring out the bats and flash leather against Oregon State. Faculty and staff receive FREE admission along with up to two guests. First pitch is at 5 pm. It's going to be a great night at the ballpark and we are proud to partner with UW Athletics for Husky Athletics Appreciation Night. Can't wait to see you there!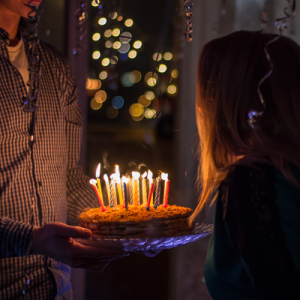 Cheerful Givers Birthday Bag Blitz:
Bringing Happy Birthdays to Less Fortunate Kids (April 13)
Remember that excitement you had for your birthday when you were a kid? Help bring that same birthday cheer to disadvantaged children this April as The Whole U and UW Combined Fund Drive cohost Birthday Bag Blitz with Cheerful Givers, a nonprofit organization that provides birthday gift bags to less fortunate children. Make a few new friends as you help bring that excitement and cheer to birthdays again. Help package these very special gifts with us. You will also hear from a representative from Mary's Place who will share more about the work to distribute these gift bags to local families in need. We can think of no better way to welcome spring than by gifting smiles to young neighbors in our community. After all, a smile can go a long way, and memories last a lifetime, so register here to make a big difference ($10 minimum donation).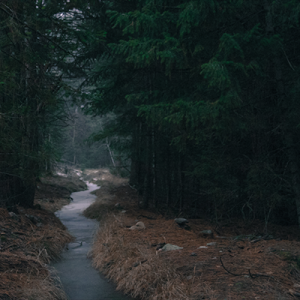 Constructing Our Future:
Exploring the Building Blocks of Regional Climate Resistance (April 18)
Worried about the specter of climate change and its impact on the region? Across the Pacific Northwest, numerous agencies, communities, and research groups are working to make our region resilient to this very present threat. Regional climate resilience is something that requires input and engagement from diverse stakeholders in our community. Strategic Communications Lead for the UW Climate Impacts Group, climate scientist Heidi Roop is interested in increasing the reach and impact of research-led science communication efforts. On April 18, Roop will host a discussion-driven seminar about the regional climate impacts exploring how UW's Climate Impacts Group is contributing decision-relevant science to communities, politicians, and decision-makers in order to help build a better future for our region. Register here.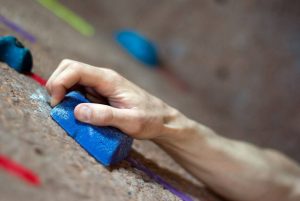 Climb with Confidence! (April 19)
Even though it's great for you, climbing can take a toll on your body. Whether you're a seasoned scaler or just starting out, injury shouldn't necessarily have to factor into the equation. Learn how to avoid injuries with Catherine Braden, a physical therapist at the UW Sports Performance Center and a climber for five years with special interest in climbing medicine and overuse injury prevention.
On April 19, Catherine will present a physical therapy talk covering common overuse injuries for climbers, strategies for prevention, and tips on how to improve your climbing and overall health. All levels are encouraged to attend, including those who have never climbed before. Don't let the fear of injury stop you from reaching peak fitness! Let us know you plan on being there by registering today.
Don't Miss…
Take Our Kids to Work Day, April 27. Give your child a sense of the sensational work that happens at the UW everyday. Register and secure your spot in a range of activities, guided tours, and more.
---
The Whole U is excited to offer these events to kick your spring season into gear. Join us throughout the month and enjoy the benefits of walking, giving, mindfulness, and confidence! As summer rolls around, let us know what you'd like to see in future seminars and events by sending an email to wholeu@uw.edu.