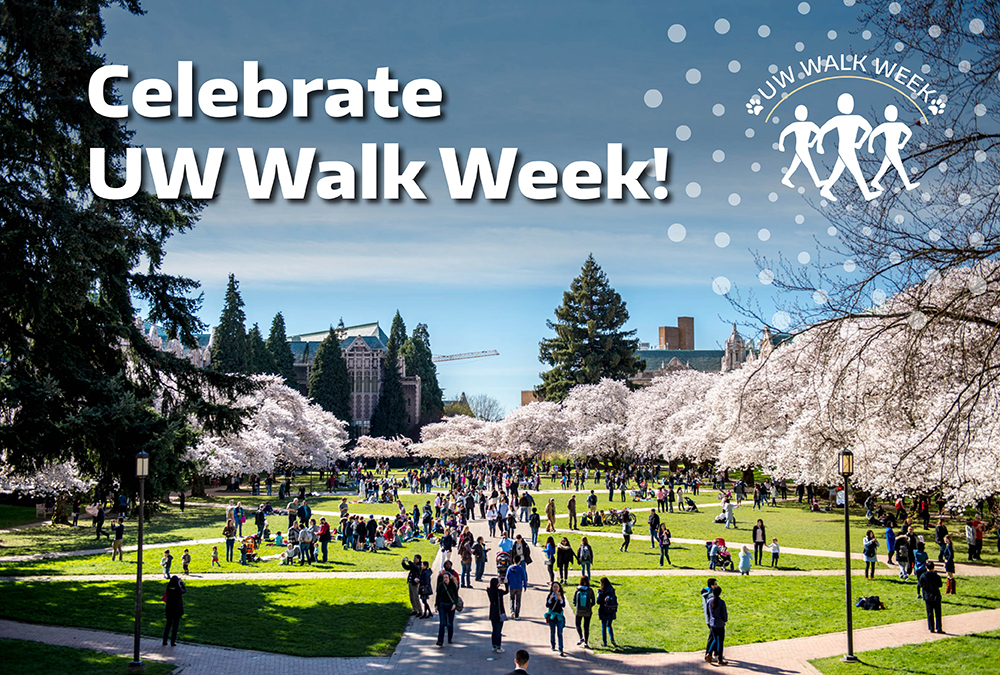 Walk It Out: Celebrate UW Walk Week April 3-7
We're told time and again that sitting is bad for our health, yet we find ourselves doing it throughout the day anyway. We sit in front of our screens working until the day is over and, as the next day comes, we follow in the same cycle of sitting.
The American Heart Association and the Center for Disease Control have found that sitting for a majority of the day makes us more prone to serious diseases and health issues. However, sustained walking sessions of at least 30 minutes, five days a week, with correct walking posture have been proven to reduce health risks and carry many overall health benefits, including reduced chance of cancer, type 2 diabetes, heart disease, anxiety, and depression. Add to that the fact that walking strengthens your body, increases life expectancy, and balances your cholesterol, why wouldn't you walk?
This spring is the perfect time to break the cycle of sitting and make time for more movement. That's why next week we encourage you to take a walk—both on your own and with your colleagues—during UW Walk Week! Not only will walking help you shake off those winter blues, you'll likely find it also boosts your energy, productivity, and enthusiasm for whatever work your day might hold in store.
Adding a 30-minute walk to your days is easier than you think—and we can do it together! Celebrate National Walk Week with UW and The Whole U with the following events:
On April 5, celebrate what moves each and every one of us by organizing and leading departmental or group 30-minute walks across all UW campuses. The Whole U will provide leaders with walking routes to consider, as well as a survey asking them for a count of how many people joined on the walk. You and your group will all receive a Whole U-branded pocket wristband for making the effort to move throughout your workday—and to make doing so even more convenient going forward! If you are interested in being one of our walk leaders, please register here.
Wear comfortable shoes and commit to walking to work or at work at any time throughout the day on April 7! It's a great way to reinforce the practice if you participated in a group walk April 5 or strike out on your own and find a daily walk that works for you. Share your experience with The Whole U on social media using the hashtag #UWWalkWeek and tagging our account or simply email us a photo to wholeu@uw.edu. No matter how you share your walk with us, you'll receive a Whole U-branded pocket wristband, but to do so, please don't forget to register!
Walk-around Workarounds
If, right now, you're thinking of the many reasons why you or the majority of Americans find it hard to take a walking break (space, weather, time constraints, energy levels, etc.), don't let that stop you from stepping out to reap the benefits of a short stroll. Here are a few walk-around workarounds to keep you up and active in any environment, any day of the week:
If you consider yourself an avid exerciser, you might think you're doing enough already. However, sitting for long stretches has the potential to neutralize many of the benefits of even the most dedicated workout regimens. Think of a daily walk as a booster shot for your regular routine—a warm up or cool down that leaves you more ready than ever for both work and your next workout.
If you think the rain is a pain, take your walk inside. Try taking a walk around the office or climbing the stairs. Our favorite rainy day walking fix: head over to the UW Tower for the Tuesday Tower Trot held weekly at noon.
We understand that everyone is busy and there will be some days where you can't carve out a sustained 30 minutes for a walk. When something comes up, try logging an equivalent of 30 minutes in short spurts by getting up every hour or two and walk around the office. If you have a meeting in another location a short distance away, leave enough time to walk there at a comfortable pace instead of driving.
Follow us on Facebook, Twitter, or Instagram to see where we'll be walking or to share your snaps. Can't wait for next week when we'll see you on the sidewalks!