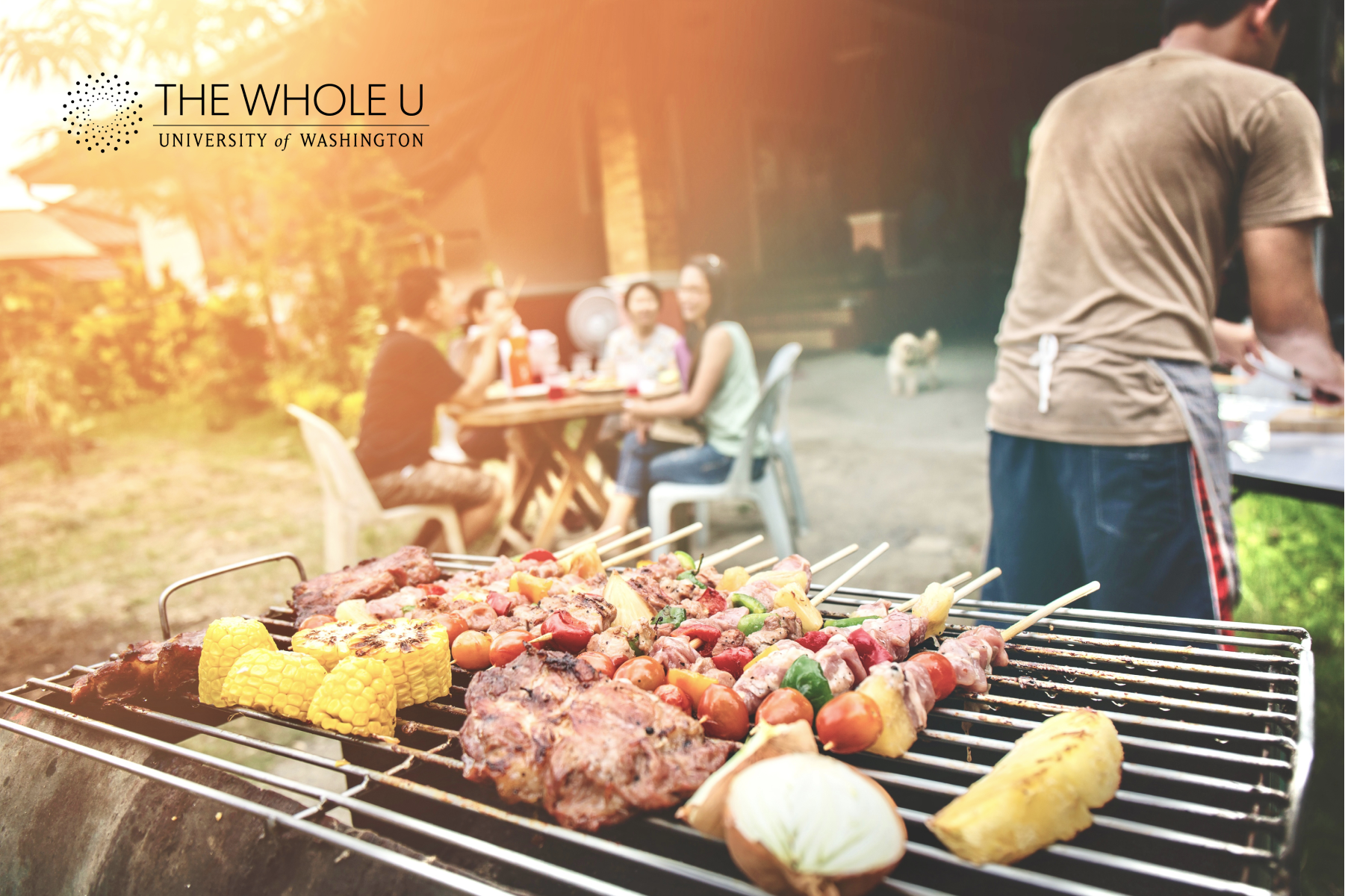 Summer nutrition: BBQs, BYOB choices, and more
Long warm days, beautiful warm nights…it's the season for outdoor parties, barbeques, weddings and other social events. As you enjoy time with your family and friends this summer, consider the following tips from UW Medicine registered dietitians to bring a variety of color, nutrients, and balance to your gathering table.
"BYO" – Bring your own snacks and drinks
Potlucks and barbecues are the perfect place to share with others. Offering to make a few healthy side dishes can help bring variety to your plate and provide balance with some of the richer options that you may choose to eat less of at your next gathering.
Part of balance is having options. You can create your own "mocktail" or other non-alcoholic drinks if you are looking to reduce your alcohol intake. Alcohol and celebration often go hand in hand. Enjoy yourself, but remember to consume responsibly and drink lots of water when you're in the summer heat.
Looking to try something new? Give the recipes at the bottom of the page a try! From the tasty and fresh ingredients in the blueberry and farro salad to the mouthwatering and refreshing non-alcoholic mojito—they're sure to be a crowd pleaser.
Mindful eating
At the end of the day, filling your plate with the yummy choices available is not going to derail your health. But incorporating a mindful eating practice can help you to not overindulge at your next gathering and help to reduce various side effects like tummy ache, heartburn or other gastrointestinal issues.
The following tips will help you navigate eating mindfully:
1. Eat prior to the event. Do not arrive famished! Eating healthfully prior to events will help keep your hunger reasonable and help you to make more mindful choices.
2. Do a walk-through. Take a few moments to see what food offerings are available and choose your very favorites. Balance out rich foods with those full of vitamins and nutrients like fruits and vegetables, plant-based proteins, lean meat, poultry and seafood. But don't restrict yourself from what looks good!
3. Portion size. Allow yourself to eat what you enjoy; just be mindful of foods that don't make you feel the best or that have little nutritional benefit.
4. Stand. Interestingly, people tend to over-consume when they are sitting down versus standing and eating. If you're hoping to not feel too full, try standing while you enjoy your plate.
5. Savor. Take a few moments to enjoy your food visually and aromatically prior to digging in.
6. Slow it down. Chew slowly and thoroughly, giving yourself time to enjoy the flavors.
7. Stay in the moment. Resting your utensils between bites and/or bits of conversation can help you be more mindful of intake and really help to savor the food. Plus, it allows us to give others our undivided attention.
8. Stay hydrated! Warmer weather dehydrates you quickly, and often, what your body interprets as hunger is really thirst. Alcohol at parties often can take the place of water; to avoid dehydration (and a nasty hangover!) make sure you are also drinking water throughout the event.
Tasty and nutritious recipes
The following recipes are sure to excite your taste buds and are perfect for creating both large batches and single servings to enjoy for any group size.
Be sure to check out our simple, locally sourced and delicious summer recipes as well!
Blueberry & Farro Salad
Ingredients
1 cup farro
2 ¼ c vegetable broth
1 English cucumber, diced
2 cups fresh blueberries
2 Tbsp fresh mint, chopped
½ cup feta cheese, crumbled
¼ cup pistachios, chopped
1/3 cup olive oil
Instructions
1. Rinse farro and place in saucepan with vegetable broth. Bring to a boil; reduce heat to low and simmer for 20-25 minutes until tender. Drain.
2. Let farro cool; place in a bowl with diced cucumber, blueberries, mint, feta and pistachios.
3. Whisk olive oil, lemon juice and a pinch each of salt and pepper.
4. Toss the farro salad with the dressing and let sit for 15 minutes (at a minimum) prior to serving. Recipe creates 4 small servings, or 2 generous servings.
I have found any berry works well with this recipe. Quinoa, whole wheat pasta or barley are also great substitutions!
Recipe adapted from Delish Knowledge.
Non-alcoholic mojito – so refreshing!!

Ingredients
1 lime, cut in wedges
20 fresh mint leaves
2/3 cup soda water (or lime sparkling water)
Crushed ice
Instructions
1. Place your limes and mint leave in a highball glass; squeeze some of the juice from the limes before adding them. Muddle together.
2. Add in crushed ice, mix and top with soda water. Add a straw, garnish with a mint leaf, and serve immediately.
Remember, a balanced diet and exercise routine has a cumulative effect. Eating well and maintaining your fitness feeds life back into your body and mind. There is nothing wrong with indulging and everyone deserves to kick back and enjoy themselves.
Your food choices at a friend's backyard barbecue aren't going to make or break your healthy lifestyle. But approaching your plate with variety will help to keep you feeling great all summer long. It IS possible to have your cake and eat it too… with a little mindfulness and forethought!