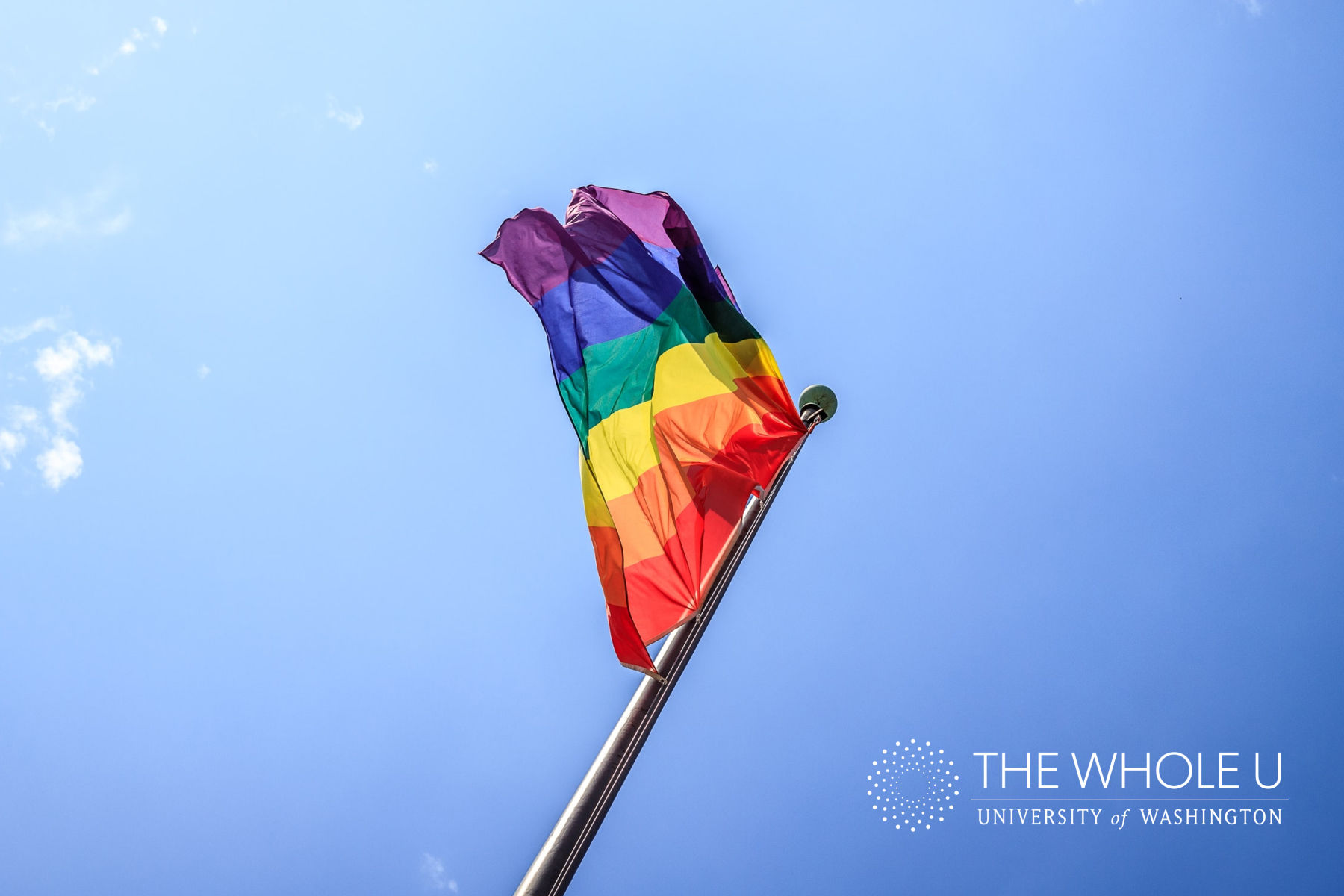 Events & activities to celebrate Pride Month
June is nationally recognized as Pride Month, dedicated to honoring the 1969 Stonewall uprising in Manhattan, celebrating LGBTQIA+ communities, and raising awareness for LGBTQIA+ equality. Explore ways to engage with Pride Month and resources for LGBTQIA+ communities at UW below.
---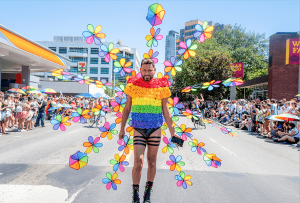 Each year, Seattle Pride brings to life a wide variety of ways to engage in the LGBTQIA+ community, learn about advocacy efforts, celebrate Pride Month, and connect with local artists and musicians. Explore all that Seattle Pride has to offer in 2023 here and view a list of events here.
Seattle Pride Parade
Sunday, June 25, 11 am, Westlake Park to Seattle Center
All are invited to attend the largest parade in Washington for its 49th year of celebration. The Seattle Pride Parade is an opportunity to commemorate the past, celebrate new wins for equality, and get encouragement for the work yet to come. With 300,00 parade-goers and more than 200 organizations participating, this event is sure to be a fabulous time! Learn more and view the Parade route here.
AND… PrideFest Seattle Center is back! Sunday, June 25 from noon-8pm immediately following the downtown Pride Parade. Three stages, three beverage gardens, over one hundred artists, over a hundred exhibitors including festival food vendors….and as always: FREE!
---
PrideFest Capitol Hill is back! Three stages, two beverage gardens, over a hundred vendors—including your favorite Broadway businesses—and free fun for all ages! We also have family, youth, and all ages activities happening on Barbara Bailey Way and the AIDS Memorial Pathway Plaza and fun extending into Cal Anderson Park and Bobby Morris Playfield.
The street festival runs for five blocks from Roy in the north to John/Olive in the South, just across from the light rail station.
---

Follow the yellow brick road to Fremont Studios on June 10. You won't feel like you're in Kansas anymore when you join us for this special Pride month bash!
For nearly 40 years, Lifelong has fought for marginalized communities in Washington with relentless compassion—because no one should have to battle stigma, judgment, or the devastating effects of illness alone.
---
A weekend for everyone, including workshops, Sage Dinner, health festival, music performances, parties, and more. Join Pacific Northwest Black Pride for their 6th annual Pride Celebration. The theme, "One Community, Many Faces," is a testament to the commitment of collectively and courageously working for freedom and justice for all Black LGBTQIA+ people.
---
Snohomish Pride
Saturday June 3, 10am-3pm, Downtown Snohomish
Join the fun at the first annual Snohomish pride! Come for a parade, fair, wine walk (fee-based, 21+), bingo, queer cabaret, live music and karaoke throughout the day.
---
Please join us for a much, much needed night of laughter, community, and resistance while we fundraise for Black trans liberation! There will be light refreshments, raffle prizes, opportunities to interact with performers (bring yall's tips!), and so much more! Come ready to donate as you learn about LRP's work to protect Black trans life in Washington state and beyond! Tickets: $50 /// Raffle tickets: $20 (purchased at event).
---
OL Reign is excited to offer 20% off tickets to our Pride Match on 6/10! Come see our world class players including Megan Rapinoe, Jess Fishlock, and Quinn as they take on the Kansas City Current!
---
The Puget Sound Business Journal, in partnership with GSBA, invites you to celebrate the 2023 Outstanding Voices and our Largest LGBTQ+ owned businesses!
---
Puckduction Presents the 5th Annual Queer Prom Seattle 2023 The Gayla July 8 at Benaroya Hall in Downtown Seattle. It's a 21+ event and The Prom you never knew you always wanted; Queer Prom Seattle returns for our 5th year! Featuring burlesque, drag, comedy, the crowning of Queer Monarch, and of course DJ for our dance!
---
UW Events & resources
Pride Month U Bookstore reads
Staying at home and want to pass time with a good read? University Book Store has compiled a list of rich, eye-opening books to read for Pride Month.
Check out 7 fantastic titles highlighting queer stories. From non-fiction, memoir, to riveting novels, each one of these books reveal different aspects of queer life.
Or, check out these LGBTQ+ book suggestions from Men's Health and NPR.
---
At the Q Center, we facilitate and enhance a brave, affirming, liberatory, and celebratory environment for UW students, faculty, staff and alumni of all sexual and gender orientations, identities, and expressions. The Q Center envisions a Washington community where justice, equality, compassion, and respect for all people prevail. Located in HUB 315.
Meet the new Q Center director, Brennon Ham, at a  virtual Lunch & Learn: Pride Edition hosted by the UW Combined Fund Drive June 21.
Upcoming event: Lavender Graduation 2023, Wednesday June 7, 5-8pm, HUB
Lavender Graduation is an annual ceremony conducted on numerous campuses to honor lesbian, gay, bisexual, transgender, queer and questioning students to acknowledge their achievements and contributions to the University.
---
The University of Washington Queer (Q) Faculty, Staff, and Allies Affinity Group is an association whose vision is to foster a campus climate where all Q Faculty, Staff and Allies are valued and respected, regardless of sexual orientation or gender identity. Their mission is to ensure the inclusion and success of Q faculty, staff and allies through recruitment, retention and training opportunities.
---
Support
Connect with organizations through the UW Combined Fund Drive
You can help support LGBTQIA+ nonprofits through the UWCFD. Nonprofits need your support now more than ever. We invite you to be offer support to and show your pride by supporting LGBTQIA+ organizations in this time of unprecedented need.
Engage with LGBTQ+-serving nonprofit organizations at a Pride Month Lunch & Learn hosted by the UWCFD on Wednesday June 21 from 12 – 1 p.m.
Click here to view a full list of organizations working within LGBTQ+ communities and advancing advocacy and equity for LGBTQ+ identities.
---
Our celebration of the LGBTQIA+ community shouldn't stop once June concludes. Check out the Seattle Pride website for future events celebrating the unique communities in the Seattle area! We invite you to share with us more virtual Pride Month events and activities to add to the list.