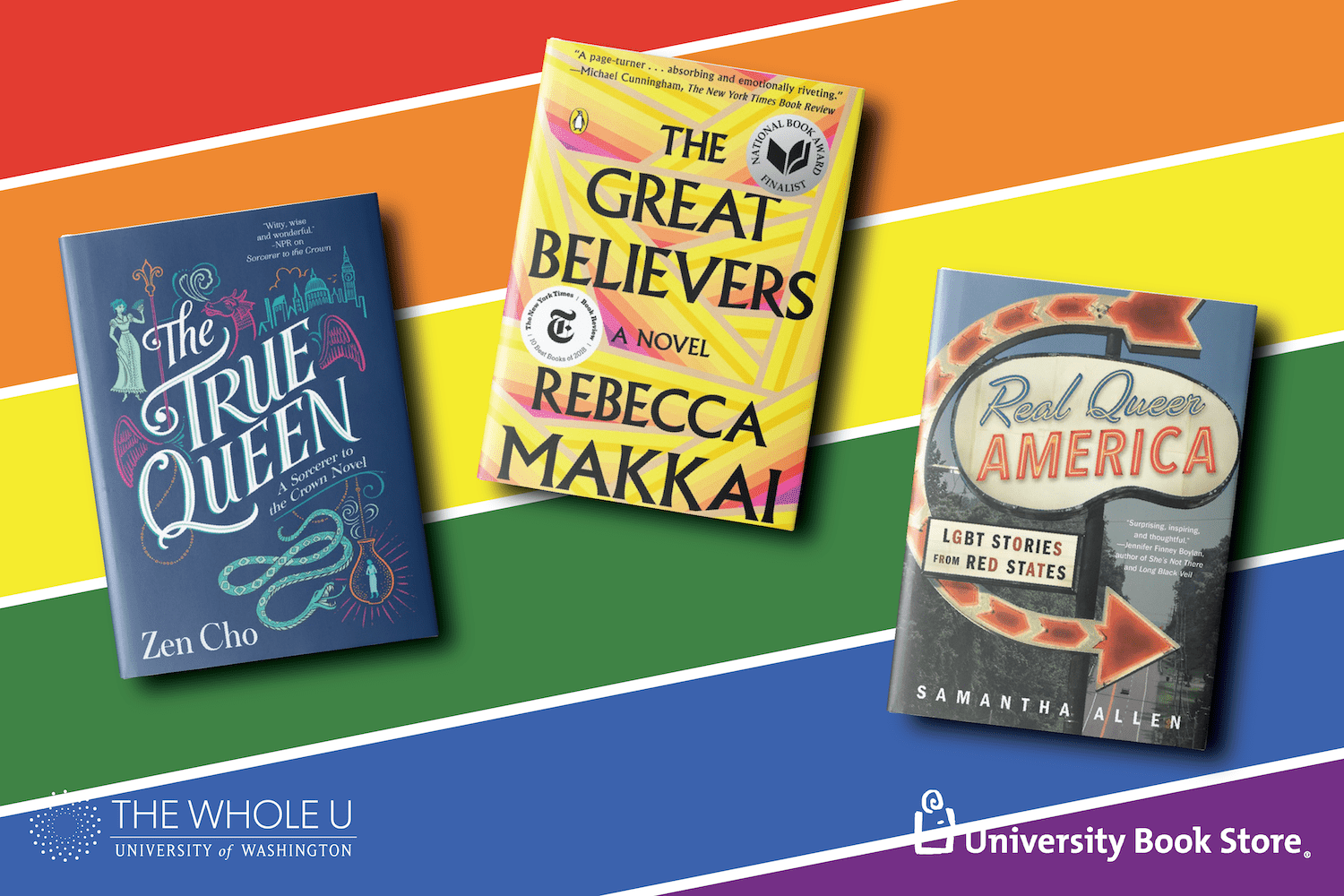 7 Reads for June's LGBTQIA Pride Month
June will be here before we know it—meaning LGBTQIA Pride Month is just around the corner. To celebrate the rich spectrum of genders, sexualities, and most important of all—people—University Book Store highlights 7 fantastic titles about queer people. From non-fiction, memoir, and enthralling novels, each of these books presents aspects of queer life.
---
Ten years ago, Samantha Allen was a suit-and-tie-wearing Mormon missionary. Now she's a senior Daily Beast reporter happily married to another woman. A lot in her life has changed, but what hasn't changed is her deep love of Red State America, and of queer people who stay in so-called "flyover country" rather than moving to the liberal coasts.
Allen takes us on a cross-country road-trip stretching all the way from Provo, Utah to the Rio Grande Valley to the Bible Belt to the Deep South. Her motto for the trip: "Something gay every day." Making pit stops at drag shows, political rallies, and hubs of queer life across the heartland, she introduces us to scores of extraordinary LGBT people and a national network of chosen family fighting for a better world.
---
From the moment a doctor in Raleigh, North Carolina, put "male" on Jacob Tobia's birth certificate, everything went wrong. Alongside "male" came many other, far less neutral words: words that carried expectations about who Jacob was and who Jacob should be, words like "masculine" and "aggressive" and "cargo shorts" and "SPORTS!"
From Jacob's Methodist childhood and the hallowed halls of Duke University to the portrait-laden parlors of the White House, Sissy takes you on a gender odyssey you won't soon forget. Writing with the fierce honesty, wildly irreverent humor, and wrenching vulnerability that have made them a media sensation, Jacob shatters the long-held notion that people are easily sortable into "men" and "women." Sissy guarantees that you'll never think about gender—both other people's and your own—the same way again.
---
Love and Resistance edited by Jason Baumann, introduction by Roxane Gay
A ragtag group of women protesting behind a police line in the rain. A face in a crowd holding a sign that says, "Hi Mom, Guess What!" at a gay rights rally. Two lovers kissing under a tree.
This powerful collection—which captures the energy, humor, and humanity of the groundbreaking protests that surrounded the Stonewall Riots—celebrates the diversity of this rights movement, both in the subjects of the photos and by presenting Lahusen and Davies' distinctive work and perspectives in conversation with each other. A preface, captions, and part introductions from curator Jason Baumann provide illuminating historical context. And an introduction from Roxane Gay, best-selling author of Hunger, speaks to the continued importance of these iconic photos of resistance.
---
A finalist for the 2018 National Book Award, The Great Believers is a dazzling novel of friendship and redemption in the face of tragedy and loss. In 1985, AIDS begins to devastate big cities like Chicago and Paris. Yale Tishman, the development direct for an art gallery in Chicago whose career begins to take off, loses all of his friends to the carnage of the AIDS epidemic. As the virus gets closer to Yale, the only person he has left is Fiona, who in 30 years will go to Paris in search of her estranged daughter.
The intertwined stories of The Great Believers take us through the heartbreak of the eighties and the chaos of the modern world as both Yale and Fiona struggle to find goodness amidst disaster.
---
Yes, this was featured as one of our Best Books of 2018, and yes, this essay collection is that good! A Finalist for a Lambda Literary Award, Chee writes a manifesto on the entangling of life, literature, and politics, and how the lessons learned from a life spent reading and writing fiction have changed him.
In these essays, he grows from student to teacher, reader to writer, and reckons with his identities as a son, a gay man, a Korean American, an artist, an activist, a lover, and a friend. He examines some of the most formative experiences of his life and the nation's history, including his father's death, the AIDS crisis, 9/11, the jobs that supported his writing—Tarot-reading, bookselling, cater-waiting for William F. Buckley—the writing of his first novel, Edinburgh, and the election of Donald Trump.
---
Seven years ago, the Atargatis voyaged to the Mariana Trench to film a mockumentary about ancient sea creatures of legend. The ship and all hands were lost at sea, without any explanation. Some have called it a hoax; others have called it a tragedy.
Now a new crew has been assembled. But this time they're not out to entertain: some seek to validate their life's work, some seek the greatest hunt of all, and some seek the truth. But for the ambitious young scientist Victoria Stewart, this is her time to discover what happened to her lost sister.
Whatever the truth may be, it will only be found below the waves. But the secrets of the deep come with a price…
---
Austen meets Miyazaki in this delightful Regency fantasy. Sisters Muna and Sakti wake up on the peaceful island of Janda Baik and they can't remember anything except that they are bound as only sisters can be. The witch Mak Genggang claims they're under a curse, and eventually Sakti slowly begins to disappear. The only hope of saving her is to go to distant Britain, where the Sorceress Royal, and old friend of Mak Genggang, has established an academy to train women in magic.
In order for Muna to save her sister, she must learn to navigate high society, and trick the English magicians into believing she is a magical prodigy. As she's drawn into their intrigues, she must uncover the secrets of her past, and journey into a world with more magic than she had ever dreamed.
---
Want to meet your (new) favorite author? University Book Store hosts hundreds of reading and signing events every year! Check out our events page or sign up for our e-mails and stay up-to-date on all things University Book Store!