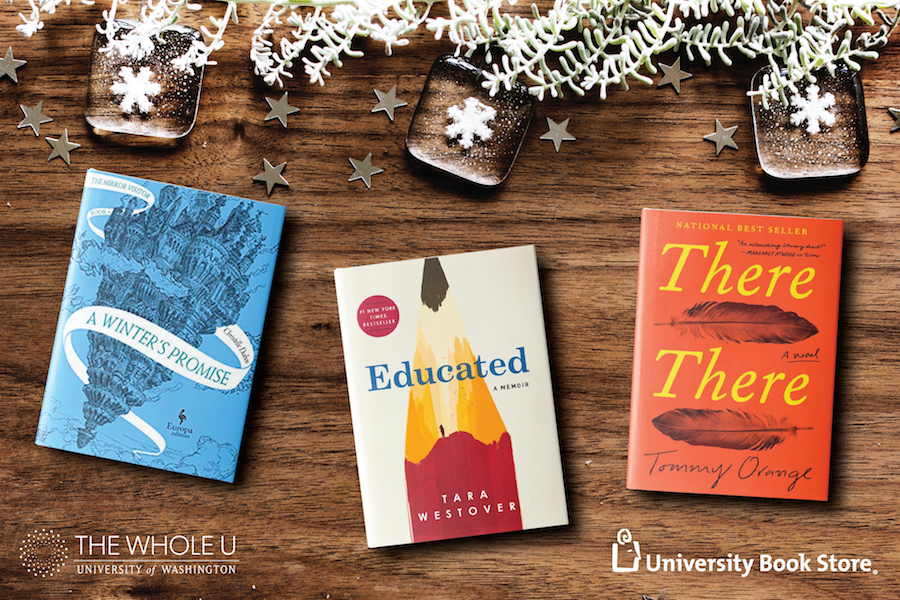 University Book Store's 9 Best Reads of 2018
As 2018 comes to a close, University Book Store looks back on some of our favorite reads from the past year. These are titles that have inspired us, made us laugh, made us cry, and have lingered with us long past the last page. So, to welcome 2019, here are nine of our favorite reads from 2018!
---
Friday Black, by Nana Kwame Adjei-Brenyah
2018 has been a tumultuous year – though for many Americans of color, that is none too surprising. Adjei-Brenyah's debut, both gruesome and heartfelt, is written in this zeitgeist: this is a short story collection meant to be read in the right now.
These dystopian stories pair violence and tenderness in ways that are beautiful, striking, and impactful. Through his stories, Adjei-Brenyah unveils hidden horrors in the reader's already chaotic state–things can, in fact, be worse.
Yet the characters persevere, even without knowing exactly what to do, and sometimes without resolution. And yet they persevere.
---
Our October Book of the Month is a title that would have been November's and December's title if we could have made it so. Virgil Wander is a beautiful portrait of a small Midwestern town trying to flourish again. After movie house owner Virgil loses his memory in an accident, he must reconstruct his life, and the town's history, from the colorful community around him.
With intelligent humor and captivating whimsy, Leif Enger conjures a remarkable portrait of a region and its residents, who, for reasons of choice or circumstance, never made it out of their defunct industrial district. Carried aloft by quotidian pleasures including movies, fishing, necking in parked cars, playing baseball and falling in love, Virgil Wander is a swift, full journey into the heart and heartache of an often overlooked American Upper Midwest by a master storyteller.
---
Since its release in June, Tommy Orange's first novel has captivated readers with his portrait of an America shared with only a few.
In a voice of both urgent rage and dactylic finesse, There, There is a multigenerational story about the inherited cycles of violence and recovery.
Each of the characters has their reasons to attend the Big Oakland Powwow: to honor a dead uncle's memory, to watch a nephew perform traditional Indian dances learned from YouTube, or to reunite with a family left behind in shame—there will be communion, tradition, sacrifice, heroism, and loss.
---
Dreamers, by Yuyi Morales
Leaving home doesn't mean leaving your spirit behind.
In this beautifully illustrated picture book, Yuyi Morales celebrates the identities of migrantes who make their homes in new places. Through her own story of coming to the U.S. in 1994, Morales describes their transition into a new life elsewhere.
At the library, she and her infant son find both a sense of belonging and the language needed to share their passion, courage, and heart with those around them.
---
Educated, by Tara Westover
Tara Westover was seventeen when she first entered a classroom. Born to survivalists in Idaho, her upbringing was so removed from society that no one ensured an education. But when one of her brothers got into college, a door opened, and Tara stepped through.
Her quest for knowledge transformed her, taking her over oceans and across continents, to Harvard and to Cambridge University. Only then would she wonder if she'd traveled too far, if there was still a way home.
An account of the struggle for self-invention, Educated is a tale of fierce family loyalty, and of the grief that comes from severing one's closest ties. With acute insight, Westover has crafted a universal coming-of-age story that gets to the heart of what an education is and what it offers: the perspective to see one's life through new eyes—and the will to change it.
---
This French runaway fantasy hit, led by an unforgettable heroine, is filled with intrigue, suspense, and magic as the first in a quartet. Long ago, the Rupture broke the world into floating, celestial islands called arks.
Ophelia is headstrong, matter-of-fact, and can both read an object's past and can travel through mirrors. When she becomes engaged to Thorn, she must follow him to the capital of cold, icy ark called the Pole.
Nobody can be trusted in the Pole, and there Ophelia slowly realizes she's been pulled in as a pawn in a long political game, with possible, world-wide ramifications.
---
Junk, by Tommy Pico
One of NPR's most anticipated poetry books of 2018, Junk is the third book in Tommy Pico's Teebs trilogy. A book-length poem that explores personal and cultural erasure, Junk explores…well…junk in all its forms through a stream-of-consciousness voice of  Teebs, an exaggerated version of Pico, who struggles to anchor himself after a breakup, the loss of a job, and an apartment.
The narrator wonders what happens to the sense of self when the illusion of security has been stripped away. And for an indigenous person, how do these lost markers of identity echo larger cultural losses and erasures in a changing political landscape?
And will there be Chili Cheese Fritos along the way?
---
It wasn't on purpose that How to Change Your Mind became as personal as it did.  A unique and elegant blend of science, memoir, travel writing, history, and medicine, How to Change Your Mind is a triumph of participatory journalism.
By turns dazzling and edifying, it is the gripping account of a journey to an exciting and unexpected new frontier in our understanding of the mind, the self, and our place in the world.
The true subject of Pollan's "mental travelogue" is not just psychedelic drugs but also the eternal puzzle of human consciousness and how, in a world that offers us both suffering and joy, we can do our best to be fully present and find meaning in our lives.
---
Part writing guide and part memoir, Chee's collection of essays weaves together a tapestry of beautiful prose, each one a formative mark on the map of his past. Whether he writes about roses, tarot, or the AIDS crisis, Chee's prose is beautiful, masterful, and heartbreaking all at once.
How to Write An Autobiographical Novel questions how we create and shape ourselves through art, and how we fight when our existence is under constant attack.
---
Want to meet your (new) favorite author? University Book Store hosts countless of reading and signing events every year! Check out their events page or sign up for an e-newsletter!