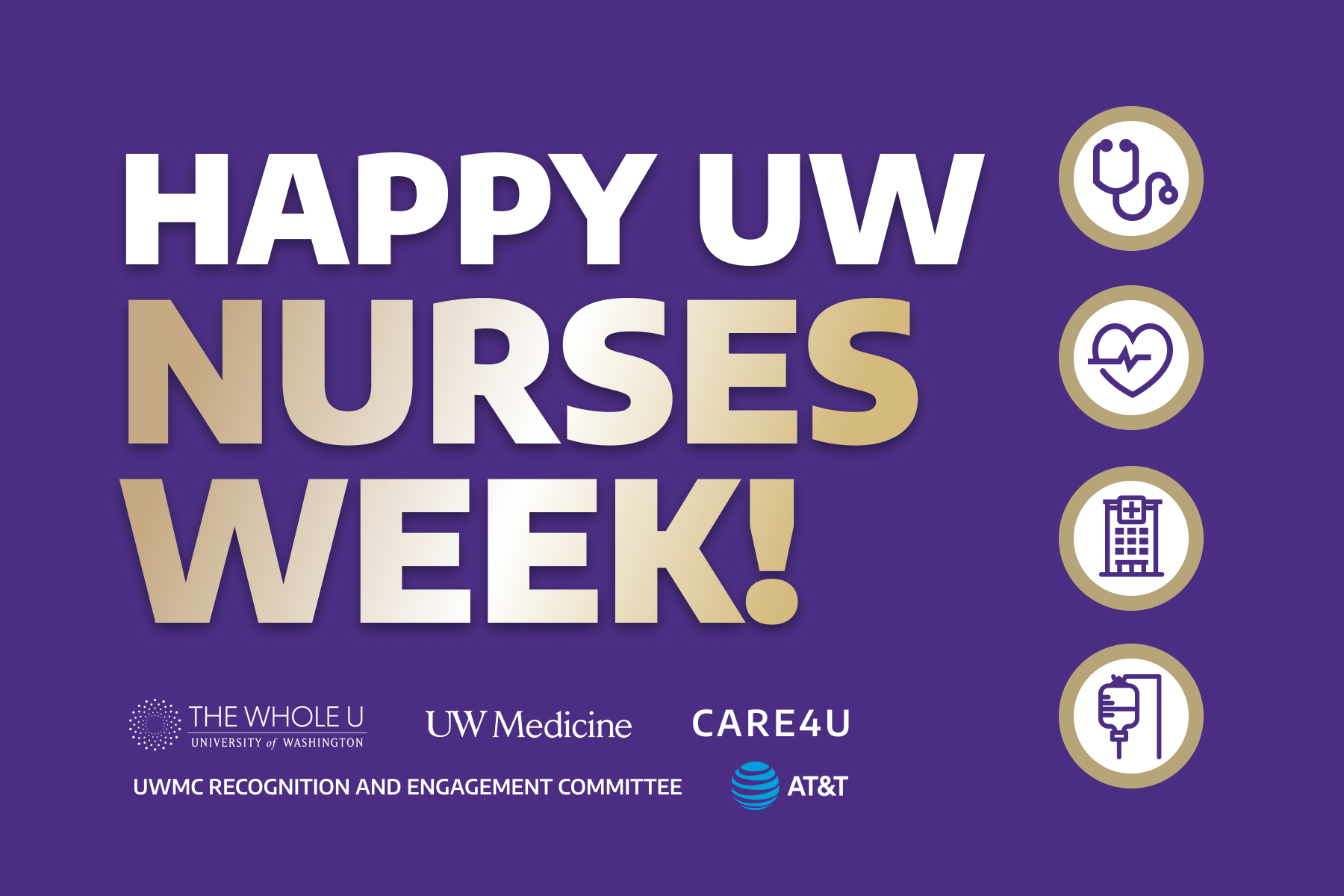 Celebrating UW Medicine caregivers during Nurses Week
The Whole U was thrilled to celebrate the incredible nurses at UW Medicine alongside our partners and AT&T during Nurses Week, which is celebrated annually from May 6-12.

Every second of every day, nurses across the UW Medicine healthcare system provide life-saving care. During Nurses Week, we recognized and celebrated our nurses with the following events and activities.
Trauma-informed care and centering the unique needs of nurses
We started off the week with our first featured speaker, Dr. Sam Himmelstein, who is a psychologist and thought leader in trauma-informed care. Sam's seminar, Help – my brain is hijacked! Trauma informed strategies for regulating your nervous system, shared strategies to regulate the nervous system when the unexpected happens, the practical application of mindfulness and how to foster authentic connections.
UW faculty and staff can view the event recording on SharePoint. 
---
Prioritizing self-care and connecting with wellness resources
Following Sam's presentation, The Whole U was joined by a variety of partners and well-being experts at the UW Medical Center's Self-Care Fairs.
Over 800 healthcare staff visited stations including aromatherapy, mindfulness, gratitude, nature for restoration, nutrition, financial advising, physical therapy and more.
The fairs were hosted at the Northwest and Montlake campuses for both day and night shifts.
Highlights included spinning the gratitude wheel at the UWMC Nursing Leadership station, a magical string quartet, delicious tea from Cascadia Forest Therapy, interactive activities with Nicole Johnson from Unwound Retreats, UW swag from The Whole U station and many more unique offerings.
Thank you to our amazing partners who supported and staffed the self-care fairs:
---
Relaxing with music – from classical to Coldplay!
 An absolute highlight of the self-care fairs was a string quartet including Elisa Clegg, UW staff on the UW Medicine Office of Healthcare Equity Team, and artists Libby Phelps, Cherilyn Reimers and Lauren McShane.
Thank you to this wonderful quartet for joining us and sharing your gift of music. If you couldn't enjoy the show, click the below video to see a snapshot!
Love what you hear? These artists have a wide variety of entertainment experience and would be perfect to perform at your next event! Get in touch here: Elisa Clegg, Libby Phelps, Cherilyn Reimers, Lauren McShane.
---
Finding community in fitness
By Tuesday morning, it was time to get active in community together with The Whole U's annual UW Fitness Day. We celebrated at Husky Stadium with over 1,000 attendees and Harborview Medical Center with 100 healthcare staff signed up to participate.
At Husky Stadium we stormed the field and were led through a workout together, and at Harborview attendees enjoyed a relaxing yoga class outdoors with NW Fitness. You can read more about UW Fitness Day's celebration on The Whole U website.
---
Connecting with advocacy
Later that afternoon was our second featured speaker, Darcy Jaffe, Senior Vice President for Safety and Quality at the Washington State Hospital Association, former Chief Nursing Officer and Senior Associate Administrator at Harborview Medical Center and former Co-Director of the UW Medicine Center for Scholarship in Patient Care Safety and Quality.
Darcy returned to UW to discuss the importance of advocacy in nursing and how politics and policy impact healthcare.
During Darcy's talk, we also heard from UWMC Chief Nursing Officer Cindy Sayre on the importance of sharing your unique voice in advocacy for nurses and UW Medicine's commitment to safe staffing.
UW faculty and staff can view the event recording on SharePoint. 
---
Relaxing with massage clinics
It's no surprise that nursing can be a stressful career, both for the body and mind.
To shower our healthcare heroes with a little extra love, we hosted chair massage clinics at all three hospitals—UWMC Montlake, UWMC Northwest, and Harborview Medical Center.
Clinics reached both day and night shifts and brought much needed relaxation to nurses in the workplace. Appointments were extremely popular and filled fast!
---
Taking a moment for grace and self-compassion
The final and most anticipated speaker of the week joined us Thursday afternoon. Dr. Kristin Neff is a leading researcher of self-compassion, and presented a gracious and encouraging session that included a practice specific for healthcare workers that can be used in the moment with patients or during stressful times.
The chat was overflowing as staff shared the impact of Dr. Neff's discussion, reminding us all that taking a moment for self-care and self-compassion is essential in care-giving environments and is not selfish.
UW faculty and staff can view the event recording on SharePoint. 
---
The best way to the heart is through… the stomach!
Throughout the week UW Medicine leadership rounded with treats and handouts for nurses during their shifts. Lots of yummy snacks, re-usable hot and cold packs and Husky Strong t-shirts were delivered across UW Medical Center and Harborview Medical Center spreading love and appreciation to our nurses.
---
The impact of celebration and appreciation
Celebrating Nurses Week is a reminder that there are never enough ways to say thank you to our amazing nursing staff. Nurses' contributions to our hospitals, clinics and UW Medicine are paramount and make an immeasurable difference.
From all of us at The Whole U, it's been an absolute pleasure to celebrate our nursing staff this past week and we look forward to continuing our celebrations in years to come!
Thank you to all of our amazing partners and AT&T FirstNet for sponsoring The Whole U and UW Nurses Week. We couldn't have done it without CARE4U, the UWMC Recognition & Engagement Committee, partners at Harborview Medical Center and the many community groups who joined us in celebration all week long.