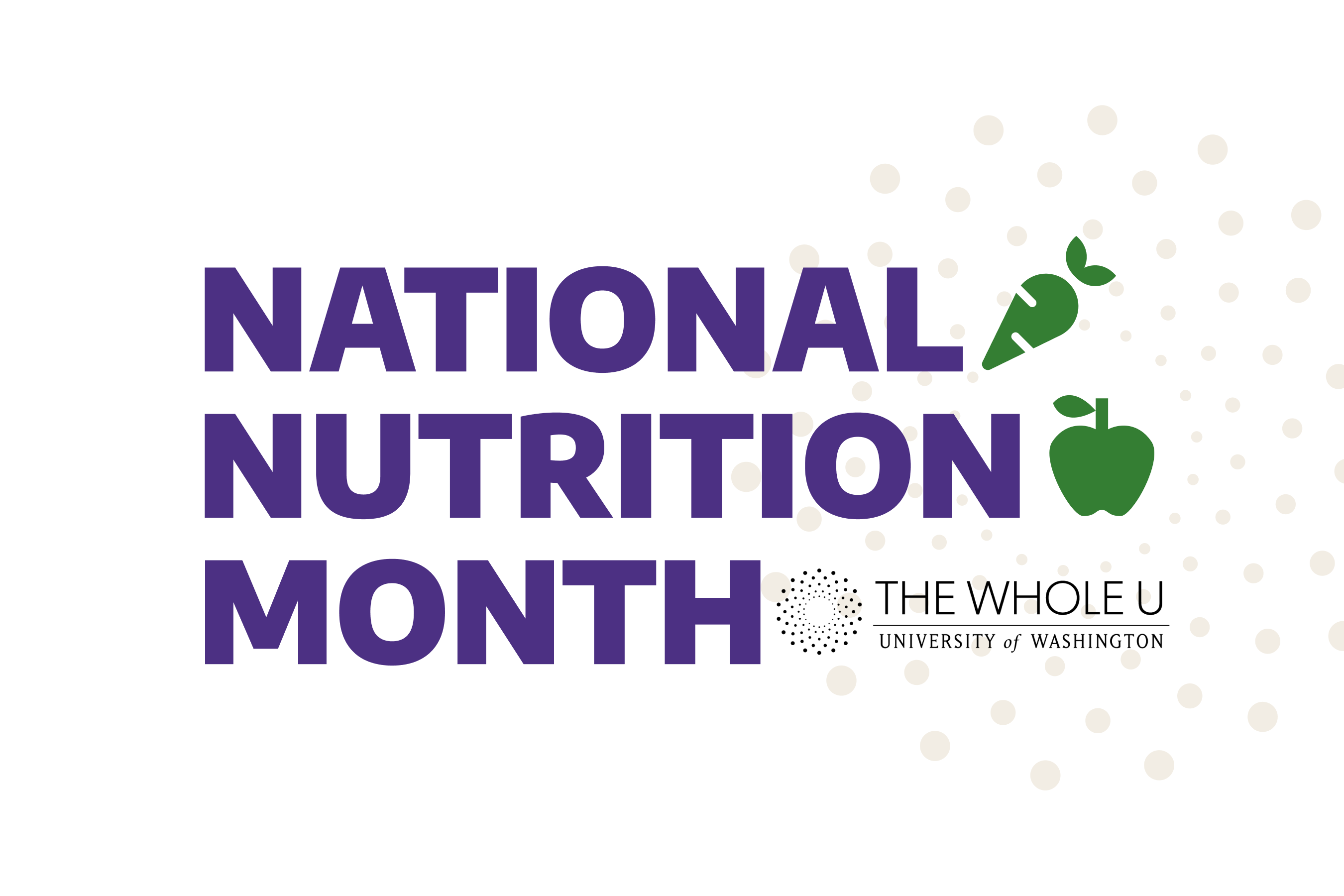 Celebrate National Nutrition Month
March is National Nutrition Month, an annual campaign created by the Academy of Nutrition and Dietetics. During the month of March, the UW community is invited to celebrate National Nutrition Month together with a variety of virtual opportunities. Participate in a challenge, connect with colleagues, try new recipes, and win prizes! Check out all of the opportunities below.
---
31 Days of Fruits and Vegetables Challenge
Fruits and vegetables provide a wide variety of essential nutrients including vitamins and minerals. They also increase the colors on our plates and add flavor to our meals. Although we know that fruits and vegetables are an important food group for a balanced diet, many people do not reach the daily recommended values. Pledging to eat more fruits and veggies is easy. But actually doing so can be much harder!
Join The Whole U in our 31 Days of Fruits and Vegetables Challenge this March. Over 900 UW faculty and staff have already committed to more fruits and vegetables. Together we'll honor this food group and work to bring more color and variety onto our plates by consuming the daily recommended value of fruits and vegetables each day.
Register for the challenge now!
Participants get access to the National Nutrition Month Tracker that includes recommended servings for reaching your daily values and lists a variety of fruits and vegetables to try.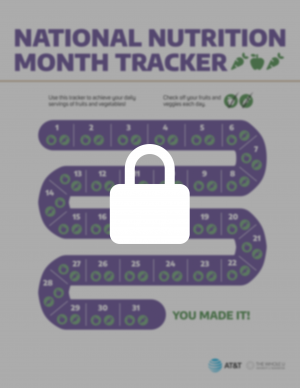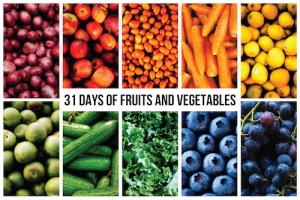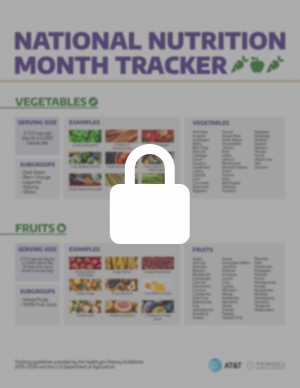 ---
Connect with colleagues: 
Host a potluck either in office or on zoom, bring your lunch and host a watch party learning more about nutrition through The Whole U YouTube channel, or share recipes and create your own cookbook. Submit photos to wholeu@uw.edu from your groups for a chance to win cool Whole U swag!
Suggested seminars to watch as a team: 
The Whole U will publish articles covering a wide range of nutrition topics throughout March and will be sharing nutrition tips and tricks from UW experts on social media. Follow us on Instagram, Facebook, and Twitter for content related to nutrition this March and all year long.
If you're looking for reading material covering a wide variety of nutrition topics, peruse our Eating Well pillar. Additional resources for nutrition can be found on our Healthy Living Nutrition page.
Cookbook from UW Medicine Registered Dietitians
Hot off the press is a brand new cookbook for National Nutrition Month with favorite recipes by the Harborview Medical Center registered dietitians. These 9 simple but tasty recipes will get you from sunrise to sunset with blueberry coffee cake, soups, salads, large meals, and more. See what the dietitians have to say about each recipe and give them a try in your own kitchen.
Click here to download the cookbook!

Support a campus-wide food drive for the UW food pantries
Host a food drive within your department and connect with the UW Combined Fund Drive about how to donate food items or funds to support our local UW Food Pantries.
Those who register will receive a welcome email March 1 that includes all the ways you can participate in more detail. Participants who submit their trackers and/or photos from potlucks and connections by April 1 to thewholeu@uw.edu will receive The Whole U lunch tote via campus mail.
We're looking forward to once again celebrating National Nutrition Month and hope to have you join us!