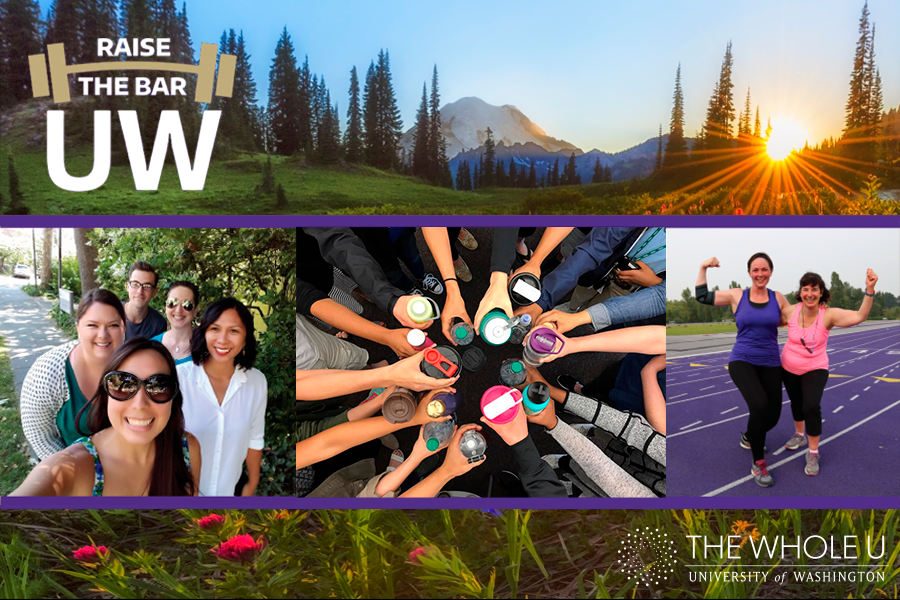 It's Raise the Bar UW Summer Wellness Time!
Summer is just around the corner.  The sun is out, the produce is fresh and the activities are available so it's time to get outside and have some fun together at UW. Summer also means that the UW Summer Wellness Challenge returns! We invite you to join us and take a moment to slow down this season. Take time with your team, family, or by yourself and raise the bar on your health and well-being.
The UW Summer Wellness Challenge is a 4-week guided challenge where you can work through a checklist each week with action items that enhance your wellness and invite you to take a moment for yourself and your development. You can participate on your own, with your family, your colleagues, or your whole department.
The Whole U will provide a wide variety of events and activities for you to attend throughout the summer. Events ranging from outdoor yoga on campus to dance and creative classes.
Summer 2022 is all about pausing, taking a moment, and refreshing for fall. Sound good to you? Be sure to register today!

The Summer Wellness Challenge starts July 11 and ends August 13.
How it Works
1. Team captains, or individual participants register here. You can sign up for yourself, your family, a group of friends, or your team at work. All are welcome! For teams, only one person needs to register. This person is your team captain and will receive weekly emails and updates.
2. Everyone registered will receive a weekly email from The Whole U with the focus of the week, the wellness checklist to complete, and the events available. Captains will share this information with your team, or individuals can get to work on your own.
No matter how you participate, you can reap all of the benefits from spending 4 weeks focused on improving your personal health.
---
Wellness Checklist
Here are examples of the wellness checklist. Teams and encouraged to complete within the four-week program.
Being Active
Encourage more physical activity during your workday: Take stretch breaks, short walks, use the stairs, try a new activity, participate in a yoga class.
Self Care
Create strategies to reduce work-related stress: Meditation breaks, game spaces, shared meme of the week, digital detox challenges.
Eating Well
Encourage healthier nutrition decisions: Hydrate throughout the day, take lunch breaks away, host potlucks or picnics, try sustainability challenges, read labels, share recipes.
Cultivating Kindness and Compassion
Build compassion, empathy, and kindness: Share words of affirmation, spread happiness with your team, host team meeting boosts.
Building Community
Foster community and stronger connections: Host a clean up day, volunteer together, participate in the food drive, celebrate coworkers' anniversaries and birthdays.
---
More Reasons to Participate
Throughout the summer, The Whole U will plan outdoor events as well as activities on Zoom for you and your team to try. Here are examples of the types of events you can expect to see!
Meditation
Yoga
Bootcamp
Summer Picnics
Barre3
Pure Barre
Canoeing
Moving Breaks
Weight Training
Cooking Classes
Dance Classes
Food Drive
Art Classes
---
What Past Participants Had to Say
A few years ago, more than 150 teams and still hundreds more individuals from across all UW campuses and medical centers participated in the Summer Wellness Challenge, making a commitment to wellness in the workplace. Their growth and stories are some of the best parts about Summer Wellness. Here are some of their words about this great program.
"We think this was a great challenge to keep each other accountable—and healthier—in mind, body, and soul! It has been a motivator for us for a variety of reasons: wanting to do more physical activity, eat better, drink more water, [being aware of] stress-levels at work and doing more team-building activities."
—Jessica Leader of the Regulator$ team within the Division of Cardiology in the Department of Medicine
"I am very appreciative of these opportunities for staff to step away from their busy work day to move their bodies. It really made me appreciate my job more, plus the positive feeling I had when leaving."
—Jessica Minick, Executive Director, Principal Accounts, after attending July 10's IanFitness Bootcamp class
"The Whole U has provided a community of friends and coworkers that I would not have otherwise had the opportunity to meet!"
— Betty Lanman of the Department of Radiology, who used the Whole U Summer Social picnic as a chance to connect with colleagues from Team LoKB of the School of Social Work.
---
Wellbeing at work is just as important as wellbeing at home. So let's commit to elevating wellness together so we can do our best possible work this summer.
Register NOW!
Thank you BECU and AT&T for sponsoring The Whole U