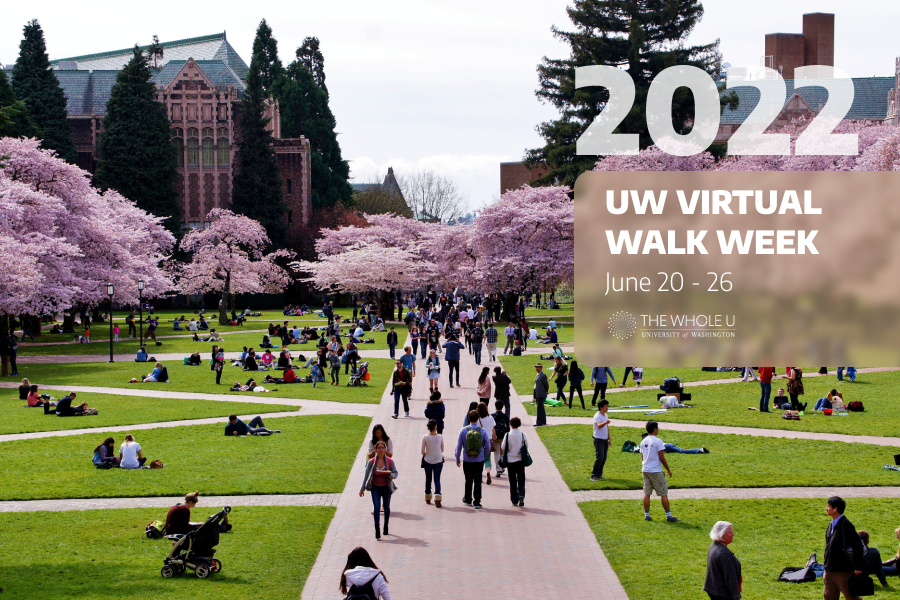 June Events & UW Walk Week Returns
Jump into June with a wide variety of events to kick off the summer! The Whole U is thrilled to bring back UW Walk Week this June, among other activities to engage your personal interests, prioritize your well-being, and build community together.
Read on to learn more about opportunities to get involved this June!
---
Summer is here, and with it, UW Walk Week! Register for UW Walk Week and commit to walking 30 minutes each day and return to work or class feeling more focused and energized.
You can walk individually or walk with your colleagues and classmates; break up your thirty minutes throughout the day or get it in all at once!
---
Join The Whole U on Global Running Day June 1 and pledge to run, walk, or use mobility devices for 1 mile or more reaching a total of 2022 miles together!
Global Running Day is a worldwide celebration of running that encourages everyone to get moving. It doesn't matter how fast you run or how far you go—what's important is that you take part, enjoy being active, and inspire others.
---
Understanding and embracing neurodiversity in the workplace – and in all of our communities – can foster more inclusive spaces for everyone.
Join UW WorkLife for a panel discussion about how we can create a UW workplace community that is neurodiversity-friendly.
---
These 5-week Spanish language courses are taught on Zoom with Molly Malone, founder of Enterprise Spanish. Come laugh, engage, and enjoy learning Spanish travel phrases and vocabulary. You will find yourself engaging in fun personalized stories, learning about different cultures, and listening to authentic music…all in Spanish!
A $35 participation fee covers weekly, hour-long classes for 5 weeks, access to class recordings, and additional resources from your instructor Molly. An incredible deal!
---
Join The Whole U Friday mornings on Zoom. In this class you are guided through an invigorating yoga flow with continuous and dynamic yoga sequences that benefit your whole being – improving flexibility, muscle, joint and cardiovascular strength, increasing mental clarity and focus, allowing for a harmonious unity of the body, mind, and soul.
Your $45 participation fee covers weekly, hour long classes for 9 week throughout the summer. An incredible deal!
---
Many home buyers are interested in fixer-uppers. Whether a fixer-upper is more aligned with your budget, you're a do-it-yourself type of person, or are excited about the challenge and opportunity to give your home a personal touch, fixer-uppers attract all sorts of buyers. But what should you know before stepping into this commitment? At this webinar with HomeStreet Bank, loan officer Jeff Wood will explore the ins and outs of buying and remodeling a fixer-upper home.
---
Though there is a rich history of coffee in Seattle, its roots span further beyond Starbucks and Seattle's Best. Come learn about the rich roots of coffee, from its discovery in Ethiopia, to its reach in our cups today.
Attendees will explore how coffee culture and cafes are a historical and significant part of world heritage, the various coffee stages and their nuances, and how rich brews are produced around the world.
---
Cook virtually in your own kitchens alongside UW colleagues as you learn how to make delicious Paella! Along the way, you'll learn a bit of Spanish and some cultural history about our featured dish.
This 60-minute cooking event is BYOI (Bring Your Own Ingredients).  No need to prep anything beforehand – we'll do all the cooking and chopping together! This is a family-friendly event, but adult supervision is necessary.
---
As the weather begins to warm up this season, many folks will opt to bring out their bikes and make the most of their sunny commute. As one can imagine, this could mean a greater risk, as more folks on the road mean higher likelihood for accidents.
During this event, you'll learn bicycle safety tips from our local bike experts at Bike Works. We'll cover the rules of the road, from properly fitting your helmet to riding defensively and predictably. Find out what you can do to prevent bicycle injuries during this informative seminar.
---
Join your UW colleagues at these ongoing opportunities to practice mindfulness and stay active together.
15-minute moving break (Monday thru Friday)
10-Minute Meditations (Mondays)
Weight Training with Lauren Updyke (Tuesdays and Thursdays, 6:15 a.m. and 7:15 a.m.)
Zumba with Karen Cornelio (Tuesdays, Thursdays, and Saturdays)
Dance Fitness with Dalya Perez (Tuesdays and Thursdays)
---
Not able to join us live? Tune into a wide variety of The Whole U events and activities on YouTube. From expert-led health seminars to fitness and art classes, there's something for everyone in The Whole U YouTube library.
---
We hope to see you this June as we welcome back the sunshine and enjoy a summer break together. Our campus may be a bit less busy, but we'll keep the action coming all summer long!
Thank you to The Whole U sponsors AT&T and BECU for helping to make our programming possible.