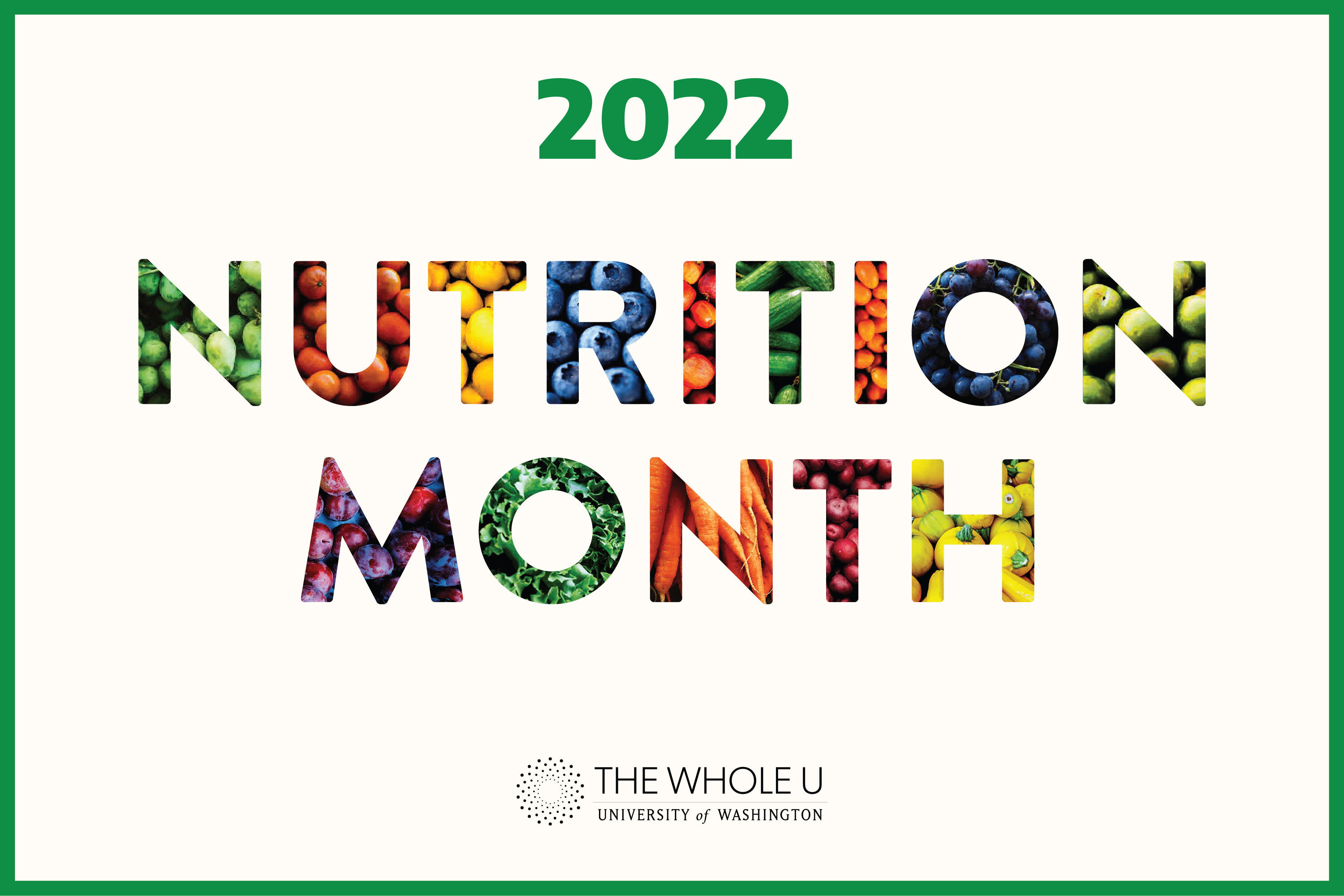 Celebrate National Nutrition Month this March
March is National Nutrition Month, a month dedicated to exploring the benefits of a nutrient dense diet. There are many ways to celebrate and prioritize nutrition throughout the Month of March and the entire year. Explore the following resources from The Whole U. 
---
Get Involved
We all know that water is essential for our bodies and for good health. So why is drinking enough water each day so incredibly difficult?
If you're someone who reaches the afternoon and realizes that you've only had a cup of coffee to drink – this challenge is for you. Do you keep your water bottle on your desk and sip throughout the day? This challenge is still for you!
Over 28 days you'll follow along a hydration handout encouraging you to reach your recommended daily dose of water. Through 28 days of consistency, you will start to notice your joints feeling better lubricated, brain sharper, and the habit of drinking water each day more manageable to stick with.
---
Celebrate National Nutrition Month over the next 31 days by challenging yourself with our 31 Days of Fruits and Vegetables Challenge. Your goal is to reach the daily recommended value of fruits and vegetables in your diet each day in March.
Register below and download our National Nutrition Month tracker. Follow along each day and mark off when you reach your goal for the day.
The tracker includes some useful nutrition information that includes what daily recommended values are based on the dietary guidelines from Health.gov.
---

Fermented foods are an important part of the diet in many cultures, and over time fermentation has been associated with many health benefits.
In this one hour event on March 16 you will earn about the history of fermented foods and the health benefits that come with them. We will explore a variety of fermented foods and provide recipes for making your own!
---

Cook
Take your next meal to the next level with our downloads for Eating Well.
Start Cooking Whole Grains. Make your own Herb & Spice Blends and from-scratch Salad Dressings. Cool off with Infused Water recipes. Make your meal desk portable with Meals in a Jar recipes. Keep breakfast fresh and fun with this two-page guide to creative, nutritious Breakfast Toast combinations.
---
Read
Take a look at this quick read to understand how the food you put in your food directly impacts your brain. Brain function and mental health might not be the first thing you think about when you think about the food and drinks you put into your body, but this article draws a comparison between the brain and another complex, high-performance machine. Additionally, it lists out a few key foods that help improve the brain while debunking some common food myths!
---
Yona Sipos, a lecturer in the Department of Environmental & Occupational Health Sciences and the Nutritional Sciences Program, discusses the importance of food systems in the environment and sustainable food choices. Sipos describes nutritional sustainability as the integral to sustainable food systems, which require robust social systems to transform ecological goods and services—nutrient-rich living soils and aquatic ecosystems—into nutrient dense foods. Read further to understand how the food you eat impacts the environment around you. 
---
There are many nutritional factors that influence our skin health like all of our organs and bodily functions, our skin is majorly impacted by the food we put in our bodies. This article opens with information of low glycemic index foods and dairy in correlation to acne. Secondly, the connection between diet and aging is discussed before listing out foods for overall healthy skin including fatty fish, avocados, walnuts, and many more. 
---
Elizabeth Kirk, senior lecturer in epidemiology at the UW School of Public Health, studies how nutrition and diet influence performance and wellness which is incredibly prevalent in our everyday lives. Many individuals report extreme exhaustion and strength difficulty through movement so Having food available that is nutrient rich is important for all of us, no matter what we are doing. She also highlights how fueling is not only for before the performance, but after as well regarding the recovery process. 
---
Learn more
The Academy of Nutrition and Dietetics launches an annual campaign for National Nutrition Month. This year, the focus is to Celebrate a World of Flavors. Expand your nutritional palettes this March by exploring food from global cultures. 
The Whole U Foods of the World series highlights favorite dishes from UW faculty and staff. Each article shares a family or ethnic recipe from the author's cultural traditions. Click here to learn more and cook these dishes in your own home.