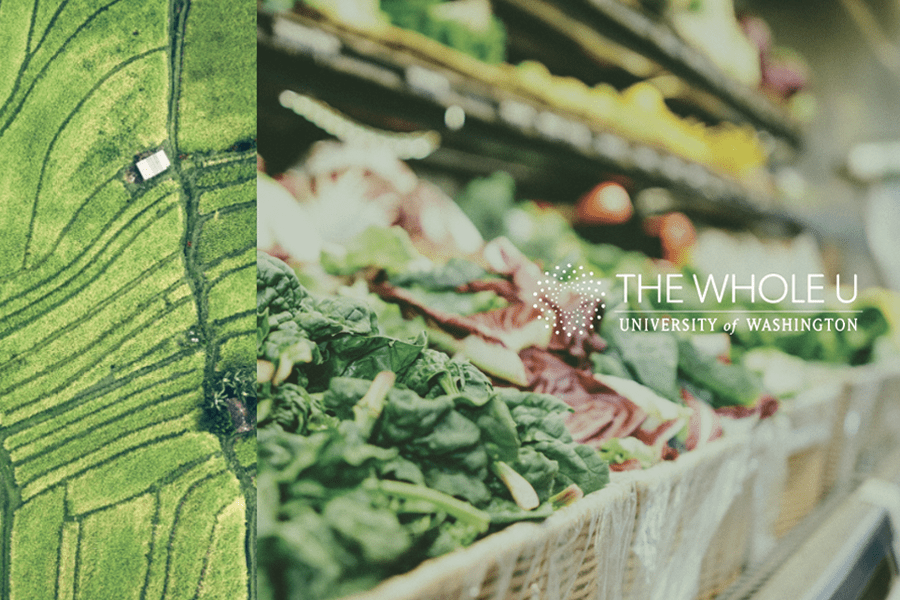 Nutrition Month: Sustainability and Our Food System
Welcome to the fourth and final week of National Nutrition Month! So far, we have focused on how nutrition affects our brain and mental health, physical performance, and skin health.
This week, we take a global perspective—focusing on how nutrition affects our environment and nutritional sustainability. To do so, we enlist the expertise of Yona Sipos, who serves as a lecturer in the Department of Environmental & Occupational Health Sciences and the Nutritional Sciences Program as well as core faculty in the Food Systems, Nutrition, and Health major. We caught up with Sipos to answer questions concerning the importance of food systems and sustainable food choices.
---
What is nutritional sustainability?
Nutritional sustainability is integral to sustainable food systems, which require robust social systems to transform ecological goods and services—nutrient-rich living soils and aquatic ecosystems—into nutrient dense foods. These nutrient dense foods move through food supply chains, food environments, and result in individual, population, occupational, ecological, and economic health outcomes.
We are in a time of greater challenges to nutritional sustainability and growing inequality due to the social and economic disruptions from the COVID-19 pandemic.
But the USDA is reassuring Americans that there are "no nationwide shortages of food, although in some cases the inventory of certain foods at your grocery store might be temporarily low before stores can restock…. no wide-spread disruptions reported in the supply chain" (current as of 03/22).
Support and resources are coming together for those who are most impacted, particularly children, seniors, low income and marginalized populations. Here in Seattle, you may wish to check the updated list from the Education Lab at the Seattle Times detailing food, mental health support, and more resources to support the community.
As we socially distance and stay home, it is important to assess and support nutritional sustainability as possible, planting greens and herbs in a windowsill or garden if you have the space, doing your best to plan for access for all including by supporting local food banks, and limiting your food waste – check fridge containers, label and rotate them, eat your leftovers.
---
What are some more nutrition and food system issues that we may face because of the COVID-19 pandemic?
While our supply chains remain strong, nutrition and food insecurity is already rising. Prior to the pandemic, during a time of great economic growth, the US population already experienced a rate of approximately 11% food insecurity.
As with the great recession in 2008, we can anticipate seeing this number increase as for example more food service sectors face layoffs and increasingly limited economic options. Increasing food insecurity is sure to impact children, seniors, and other vulnerable populations, including university students.
Here in Seattle, our farmers' markets options are currently closed down (accurate as of 03/22), and school meals and food businesses have much reduced operations, if at all. These closures limit access to nutrient-dense, locally produced foods and also creates economic peril for those farmers and food service workers who've just lost their markets and jobs. The whole food system is intimately connected. As a starting point, there are new ways emerging for consumers to purchase direct from farmers.
---
What can people do right now?
Don't panic purchase; do plan! Consider a more limited food access plan whether from grocery stores, food banks, or both. Give yourself extra time to manage food acquisition. Be gentle on yourself and others. Accept less diversity in your diet.
Plant seeds if possible! Greens, especially!
If possible, consider signing up for a CSA (community supported agriculture). Some farms offer sliding scale fees, and many farmers may now have unexpected produce to sell. Our very own UW Farm has a CSA – and also donates fresh produce to the Campus Food Pantry; these are important resources for our campus community.
Donate money to food banks if you have the means. Food banks will experience greater demand and any support at this point will help with future planning and preparation.
---
What are some simple ways we can improve our nutritional sustainability when grocery shopping?  
Right now, we should have plenty of extra incentives to conserve and improve our nutritional sustainability where possible. Whether we go to grocery stores or food banks, most of us are probably acquiring food less often than we used to, while we may be faced with fewer choices of what's available.
When available, choose nutrient dense produce with a longer shelf life – for example, apples, carrots, potatoes, cauliflower, kale. Choose whole grains and generally, limited or no added sugar. There is a chance you will have more time on your hands while home-bound. Consider trying to cook some basics: rice, beans (dried if possible), eggs. See where you can add in veggies, whether they are fresh, frozen, canned, or dried.
---
What's something about nutrition and sustainability that many people get wrong / or that you wish more people knew?
Fundamentally, our food system relies upon a diversity of crops, genetics, and ecosystem materials and processes in addition to a robust labor force. The way our food is produced and moves through the supply chain will impact individual to population health, including farmers and farmworkers, as well as the health of our planet.
How your food is produced and processed is oftentimes even more important to population and planetary health outcomes than which foods you are eating. Meat and dairy that is intensively reared results in all sorts of negative ecological impacts, and so do monocrops of soy and corn. There is not a single diet that works for all!
---
What are your thoughts on how nutrition/our food system affects our environment? Do you believe this is a talked about topic?
There is a bi-directional relationship between food systems and our ecological environments, as well as climate. From soils to aquatic systems to air quality to climate, the food system is entirely reliant upon intact and robust ecological systems.
At the same time, our food systems contribute significant ecological and climate impacts – both from production methods and all the way through the system to generating vast amounts of food waste and packaging. These issues are beginning to be discussed in the mainstream, but more attention, discussion, and action is welcome and arguably necessary!
---
Is there any recent research on this topic that should be highlighted?
A growing body of governmental, academic, and popular literature digs into a food systems approach to nutrition, health, and community ownership. The IPCC reports clarify the urgency for lower emissions and greater carbon capture and identifies how food systems, including what we choose to eat as consumers, have significant roles to play in mitigating and adapting to the climate crisis.
For food waste, there was a research report out of Canada released last year, "The Avoidable Crisis of Food Waste", that partnered academics, industry, and community-based organizations who found that food waste is an even greater issue than previously understood. Upwards of 50% of food produced in Canada is now understood to be lost or wasted, and a similar story may well exist here in the US. Finally, I'll highlight Farming While Black: Soul Fire Farm's Practical Guide to Liberation on the Land, a recent book by Leah Penniman, a US farmer and activist who is committed to racial equity and justice throughout the food system.
---
Is there anything I haven't asked that you wish I had?
The FAO (Food and Agricultural Organization) reports that 70% of food we consume globally comes from small farmers. What can we do as a global society to support farmers, farmworkers, and protect farmland? Many of these agroecosystems also support valuable biological and ecological processes, as well as cultural knowledge and diets.
How would our local to global food systems look and operate if equity and community based decision-making were centered? As we face multiple crisis points related to public health, climate, and inequality, we have the opportunity to question and critically examine all the assumptions that have been built into our food system.
---
Dr. Yona Sipos works at the intersection of food systems, community-engaged scholarship, sustainability and equity. Her PhD in Integrated Studies in Land & Food Systems at the University of British Columbia investigated long-term, community-university partnerships critical for community food systems. She contributed to food system sustainability reports in Canada and the US and has served on the Vancouver Food Policy Council in British Columbia and the Prince George's County Food Equity Council in Maryland. Dr. Sipos was program director for the Chesapeake Foodshed Network, a regional initiative across six states and Washington, DC, developing learning opportunities and work groups across the food system while advancing an emphasis on community ownership and equity. Dr. Sipos's expertise in food systems and sustainability education is complemented by her background in plant biology, soil ecology and agricultural forestry.