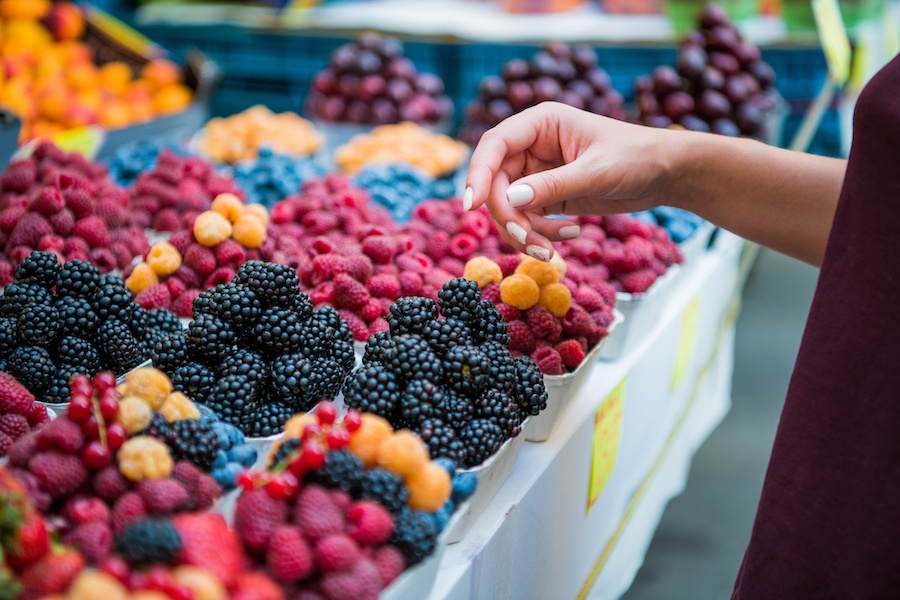 Any Washingtonian knows that August is peak blackberry season along with other delicious berries easily accessible. These tiny, brightly colored, sweet-tart fruits are so abundant here in the Pacific Northwest it's hard not to notice them at the grocery store, farmer's market, or simply on the side of the road.
Berries are delicious and have many health benefits:
Low in calories and rich in fiber.
Packed with antioxidants that fight oxidative cell damage and may reduce the risk of cancer and heart disease.
Contain high doses of vitamin C, which helps prevent infection and supports a healthy immune system.
Rich in folate, which aids in DNA formation and helps prevent certain birth defects.
Provide potassium for a healthy heart and iron for red blood cells.
Close out the last few weeks of abundant and fresh berries with the following guidelines for berry picking and recipes to try.
---
Berry Tips & Tricks
Shopping. When purchasing, select berries without mold, soft spots, and discoloration and avoid containers that are damp or stained. Choose berries that are plump, with a full, deep color. Unlike some fruits, berries don't continue to ripen or get sweeter after harvesting.
Storing. Refrigerate unwashed and untrimmed berries, in a single layer on a paper towel and cover loosely. Delicate berries, like blackberries, raspberries, and boysenberries, can be stored for up to 2-3 days. Sturdier berries, like strawberries and blueberries, can be stored up to 5 days.
Washing. Wash berries only when you're ready to use them. Rinse very briefly and delicately in cold water. Shake off the excess water, trim away any stems or leaves and lay out on a paper towel to dry.
Freezing. Stocking up and freezing seasonal berries allows you to enjoy them year-round. After washing and trimming the berries, make sure they dry completely on a towel. Distribute evenly on a baking tray with raised edges and place in the freezer until berries are frozen solid (overnight should do the trick). Remove from freezer, and transfer berries to a plastic zip-top bag. Extract as much air as possible before sealing. They will last up to eight months.
---
Not Your Average Berry Recipes
We asked Chef de Cuisine James Windau, formerly at at UW's Cultivate, to share some of his favorite recipes with blackberries.
"I stayed away from the usual cobbler/muffin/pie/pastry things as there are billions of these recipes out there already. I love using berries in sauces for salmon, chicken, duck, pork, even beef, so I included a few of those here." – James Windau
Close out the last few weeks of abundant berries with the following unique recipes.
---
Blackberry Port Sauce
This sauce is great on salmon or pork chops.
Ingredients
3 pt. blackberries, divided
2 tablespoons water
2 teaspoons olive oil
2 shallots, minced
2 teaspoons dried thyme
¾ cup port
¾ cup blackberry juice
¾ cup stock (I prefer veggie, but chicken also works)
1 tablespoon balsamic vinegar
2 teaspoon cornstarch
2 teaspoon water
Instructions
1. Place 2 pints of the berries and the water in a saucepan and heat until berries begin breaking down. Strain through a fine mesh strainer, pressing to extract all of the juice. Reserve.
2. Heat the oil over med-high heat and cook the shallots and thyme until the shallots turn translucent, 1-2 minutes. Pour in the port, blackberry juice, stock, and balsamic vinegar. Cook until reduced by 1/3, roughly 5 minutes.
3. Combine cornstarch and water in a small bowl to form a paste. Stir into the sauce and simmer until it reaches the desired consistency. Reduce heat to low and add the remaining pint of blackberries. Heat gently so as not to break down the berries.
---
Blackberry Teriyaki Sauce (makes 1 qt)
Ingredients
½ cup soy sauce (gluten free if desired)
2 cups water
1 teaspoons ground ginger
½ teaspoons garlic powder
½ cup plus 2T brown sugar (or more or less, depending on your taste)
¼ cup honey
1 pint fresh blackberries
¼ cup cornstarch
½ cup water
Instructions
1. Place all but the cornstarch and ½ c water in a saucepan. Place on med-high heat until it begins to simmer. Let simmer ~20 minutes until the berries begin to break down. Strain through a fine mesh strainer, pressing the berries to extract all of the juice while leaving the seeds behind, and return to the saucepan.
2. In a separate bowl, combine the cornstarch with ½ cup water and stir to dissolve.
3. Return the sauce to the heat. Whisk in the cornstarch slurry and let cook until the sauce reaches the desired consistency. Add water to thin if the sauce is too thick.
---
Blueberry Clafouti
Ingredients
1 pound blueberries
½ cup sugar
1 cup milk
½ cup flour
2 eggs
1 teaspoon orange rind
1 teaspoon vanilla extract
½ teaspoon cinnamon
2 tablespoons powdered sugar
Instructions
1. Combine the berries with 2 tablespoons of the sugar and set aside.
2. In a food processor or blender, combine the remaining sugar, milk, flour, eggs, orange rind, vanilla, and cinnamon. Process until smooth, about 30 seconds.
3. Grease a 9" pie plate. Place the blueberries on the bottom. Spread the batter evenly over the berries, and bake 35-40 minutes at 375 or until puffed and slightly golden. Sprinkle with powdered sugar. Serve warm topped with whipped cream, vanilla yogurt, or ice cream.
---
Raspberry-Mint Ice Pops
Ingredients
1/3 cup sugar
1/4 cup water
1/4 cup mint leaves
2 pounds raspberries
1 tablespoon lemon juice
Instructions
1. Combine sugar, 1/4 cup water, and mint in a small saucepan over medium heat; cook 4 minutes or until sugar dissolves, stirring frequently. Let stand 30 minutes. Strain through a sieve over a bowl; discard solids.
2. Combine mint syrup, berries, and juice in a blender; process until smooth.
3. Divide mixture evenly among 9 (4-ounce) ice-pop molds. Top with lid; insert craft sticks. Freeze pops overnight or until set.
---
Raspberry Vinaigrette
Ingredients
1 cup raspberries
1/2 cup sherry vinegar or champagne vinegar
2 teaspoon dijon
2 teaspoon honey
1 teaspoon onion powder
1/2 teaspoon salt
1 cup olive oil
Instructions
Puree all ingredients except the olive oil in a blender. With the motor running, slowly add the olive oil in a steady stream until the vinaigrette thickens slightly. Refrigerate.
---
Strawberry, Peach, and Basil Salad with Orange Vinaigrette
Ingredients
1 cup fresh orange juice
1 1/2 tablespoons sugar
1 1/2 tablespoons champagne vinegar or white wine vinegar
1 tablespoon extra-virgin olive oil
Dash of salt
1 1/2 cups fresh blueberries
1 pound fresh strawberries, halved
1 large ripe peach or nectarine, cut into 16 wedges
1/4 cup small fresh basil leaves
Instructions
1. Combine first 3 ingredients in a small saucepan; bring to a boil. Cook until reduced to 1/2 cup, about 15 minutes. Add oil and salt to pan, stirring with a whisk. Let stand 2 minutes.
2. Combine berries and peach in a large bowl. Add juice mixture, stirring gently. Sprinkle with basil.
---
Have any other berry tips or recipes? Please share in the comments, and thank you Chef James for such tasty and unusual recipes!