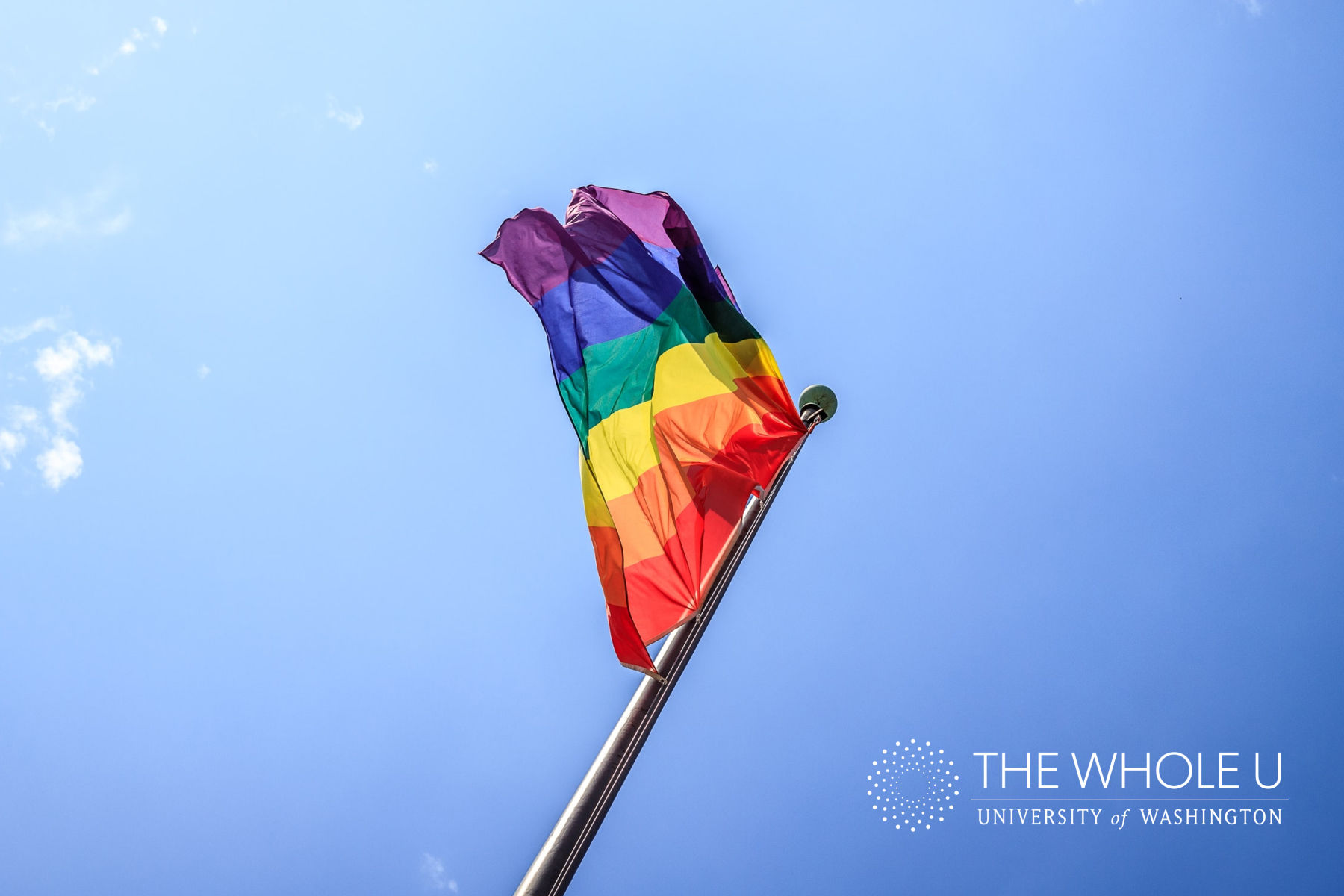 June is nationally recognized as Pride Month, a month dedicated to honoring the 1969 Stonewall Riots in Manhattan, celebrating LGBTQIA+ communities, and raising awareness for LGBTQIA+ equality.
While this June may look a little different, virtual Pride Month events and activities are still happening in full force with a sprinkle of in person opportunities. We invite you to explore ways to engage with Pride Month and resources for LGBTQIA+ communities at UW below.
---
Events
---
Seattle Pride
Each year, Seattle Pride brings to life a wide variety of ways to engage in the LGBTQIA+ community, learn about advocacy efforts, celebrate Pride Month, and connect with local artists and musicians. Explore all that Seattle Pride has to offer in 2021 here and view a list of events here.
There are many virtual opportunities as well as information on how to further get involved.
---
Seattle Pride's Virtual LGBTQIA+ Celebration Resilience, June 26 & 27
On top of ongoing events and activities to get involved with, Seattle Pride hosts an annual celebration culminating Pride Month. This year the celebration is on June 26 and 27 and the theme is resilience. Learn more about this virtual celebration, check out the schedule of events, and sign up to attend here.
The Seattle Times published an article giving an inside look into what you can expect from this year's virtual celebration, and how interactive the expo will be. Check it out here.
---
Seattle Pride Magazine
Another item from Seattle Pride is the Seattle Pride Magazine, a colorful publication amplifying LGBTQIA+ voices in our greater PNW communities and bringing LGBTQIA+ stories to the forefront of published media. Check out the 2021 Pride Month issue here and view previous issues here.
The Pride Month issue will include virtual pride information and stories covering the Queer history of Pioneer Square, student work in youth advocacy, and a rising star inspiring Trans athletes.
---
Seattle PrideFest 2021
 Another popular Pride celebration in the greater Seattle area is Seattle's PrideFest, a 2-day event that takes place each year in the Capitol Hill neighborhood. PrideFest recently announced that an in-person celebration is in the works for later this summer, so stay tuned for updated information and details.
Subscribe to PrideFest's newsletter to ensure you stay in the know.
---
Taking Pride in Capitol Hill Cleanup, June 6
Although Seattle's PrideFest in Capitol Hill is scheduled for later this summer, PrideFest invites all to join in an annual cleanup that has been customary for over a decade now each June.
Volunteers come together to kick-off Pride Month with breakfast, lunch, cleaning supplies, and lots of fun. Learn more and register here.
---
Stream the NYC Pride Parade & Festivities, June 27
If you're looking for Pride Celebrations, just about every major city in the world hosts a celebration either virtually, or in person. One noteworthy celebration that you can tune into from the PNW is the NYC Pride March.
Follow along from home with live broadcast on ABC, Facebook, and YouTube Sunday, June 27 beginning at noon PT or 3 p.m. ET. Learn more here.
---
Resources
---
Pride Month U Book Store Reads
Staying at home and want to pass time with a good read?
The University Book Store has compiled a list of rich, eye-opening books to read for this Pride Month.
Check out 7 fantastic titles about queer people. From non-fiction, memoir, to riveting novels, each one of these books reveal different aspects of queer life.
---
The Q Center
The Q Center offers professional resources, support, and a mentoring center for all queer University of Washington students. From counseling to social events, the Q center has moved online for the spring but continues to offer gender discussion groups, queer mentoring programs, and more.
The Q Center facilitates and enhances a brave, affirming, liberatory, and celebratory environment for students, faculty, staff, and alumni of all sexual and gender orientations, identities, and expressions.
---
UW Q Faculty, Staff & Allies Affinity Group
The University of Washington Queer (Q) Faculty, Staff, and Allies Affinity Group is an association whose vision is to foster a campus climate where all Q Faculty, Staff and Allies are valued and respected, regardless of sexual orientation or gender identity. Their mission is to ensure the inclusion and success of Q faculty, staff and allies through recruitment, retention and training opportunities. Learn more about QFSA events, initiatives, and resources available here.
---
Our celebration of the LGBTQIA+ community shouldn't stop once June concludes. Check out the Seattle Pride website for future events celebrating the unique communities in the Seattle area! We invite you to share with us more virtual Pride Month events and activities to add to the list.