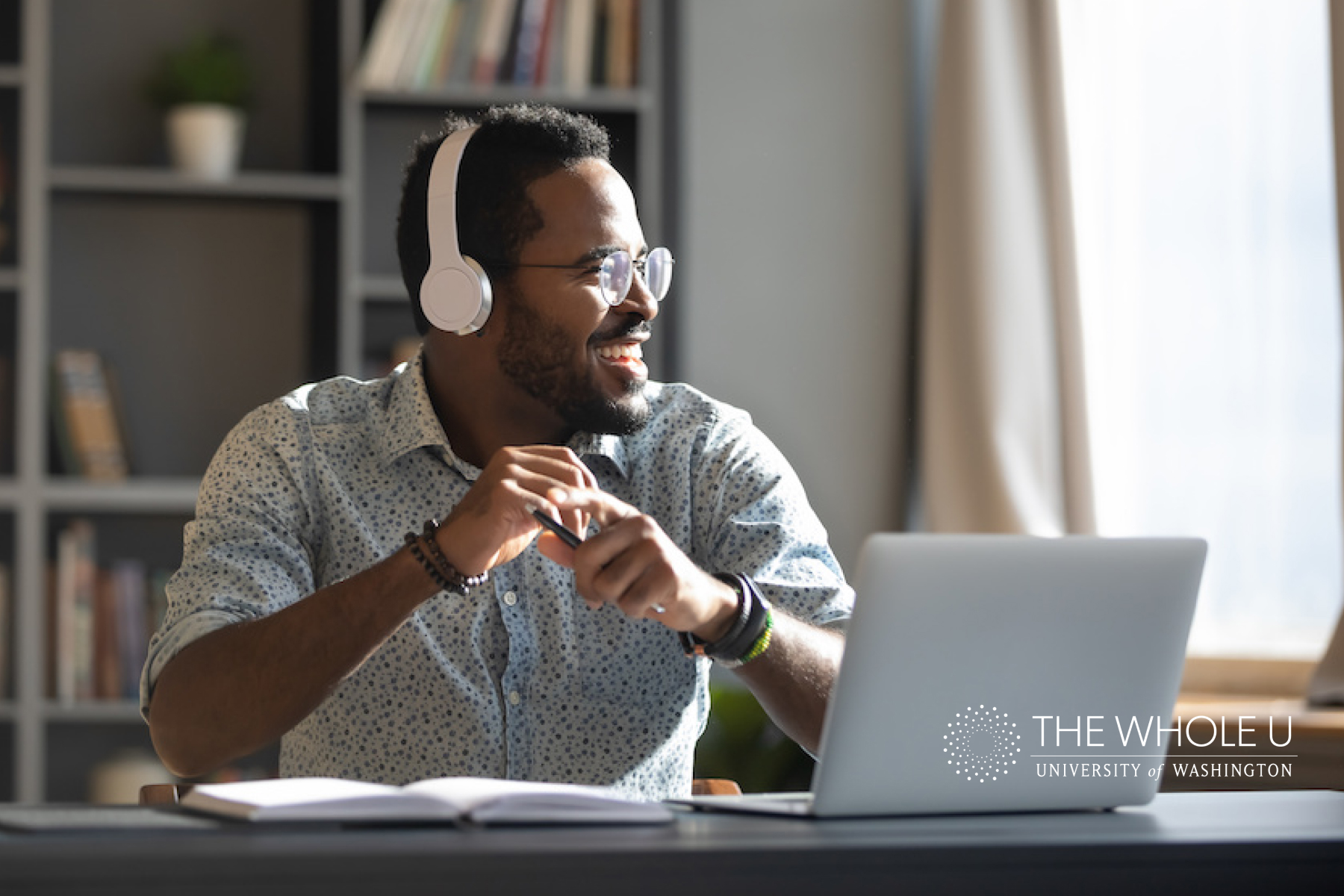 Plug in your headphones or turn on your device speakers and tune in to The Whole U Spotify! Over the years, we've found that there's nothing quite like a high-tempo workout playlist to push you through your squats and crunches or a relaxing instrumental tune for better focus during meditation. That's why we've launched our very own Spotify—so you can listen along with us to curated playlists for your every move.
Click here to visit The Whole U Spotify and make sure to follow our account so you never miss a new playlist and can always find your favorites. Thus far, we've created 7 unique playlists.
Here's what we're playing:
As with all things The Whole U, we want our Spotify to represent YOU—the greater UW community! Do you have a favorite song and want it to be included on The Whole U Spotify? Comment below or email us with song and playlist suggestions. Over time, we can create a collective space to share our love of music.
Why music you ask?
Here at The Whole U, we are on a constant quest to connect with the UW community prioritizing your health and wellness. Music contributes significantly to health and wellness beyond the enjoyment you feel listening to a favorite tune. Have you ever wondered why you can't help but smile and dance when a song you love comes on? Or why certain types of music make it so that your afternoon of work seems to fly right by?
Top proven benefits from listening to music are:
Expanded feeling of cohesion and social connectedness
Stronger drive for learning
Boosted memory
Reduced stress and release of dopamine and serotonin in the brain
Lowered anxiety
Decreased fatigue and boosted exercise performance
Help with pain management
Increased productivity
Do you listen to music while working?
A 2018 study found that 8 in 10 workers listen to music while working and 71 percent of workers feel more productive listening to music. Of course, this depends on what type of music you choose and the type of work you need to get done—but overall music can be a great addition to your workday. Give it a try with our 5 playlists to Stress Less, full of mellow tunes to reduce anxiety and complement your workflow.
Music for self-care
Board certified music therapist and licensed creative arts therapist Kristen O'Grady, MA, LCAT, MT-BC, knows better than many that music can be an integral method to improving mental health and practicing self-care. Kristen shares that "Music can give voice to our emotions in ways which we may otherwise be unable." When thinking about how to take care of ourselves with music, Kristen explains that the first step is to ask yourself "What do I need right now?" From there, create a playlist or find a song that speaks to how you are feeling or what you are seeking. Many of us already do this without realizing that we are! Take some time to reflect on how you feel, and just as you would write in a journal, create a playlist based on what you are seeking or grappling with.
Needing motivation or encouragement? Look to songs with uplifting messaging, perhaps ones with a character facing a challenge. Carrying a lot of tension and stress? Look for soft and melodic songs with guided imagery. Ready to release emotional weight you've been carrying? Find a song you can relate to that can facilitate the release of your emotions while comforting you with melodic structure. Kristen offers "Let it be" by the Beatles as an example for one such song.
Press play with us!
We can't wait to build more playlists with and for you and look forward to hearing which Whole U playlists you love. Click here to subscribe now!
A special thanks to The Whole U design specialist Jubilee Cho for jump starting The Whole U Spotify. Jubilee is in her last year at UW studying Visual Communication Design and double majoring in Law, Societies and Justice. Outside of The Whole U, Jubilee spends her time doing photography, exploring new music, and going to concerts. Jubilee is a volunteer DJ for Rainy Dawg Radio and serves as the president and co-founder of Asian Americans in Media, a newer RSO on campus that is a platform for Asian and Pacific Islander creatives. Jubilee is passionate about representation, storytelling, and supporting communities.