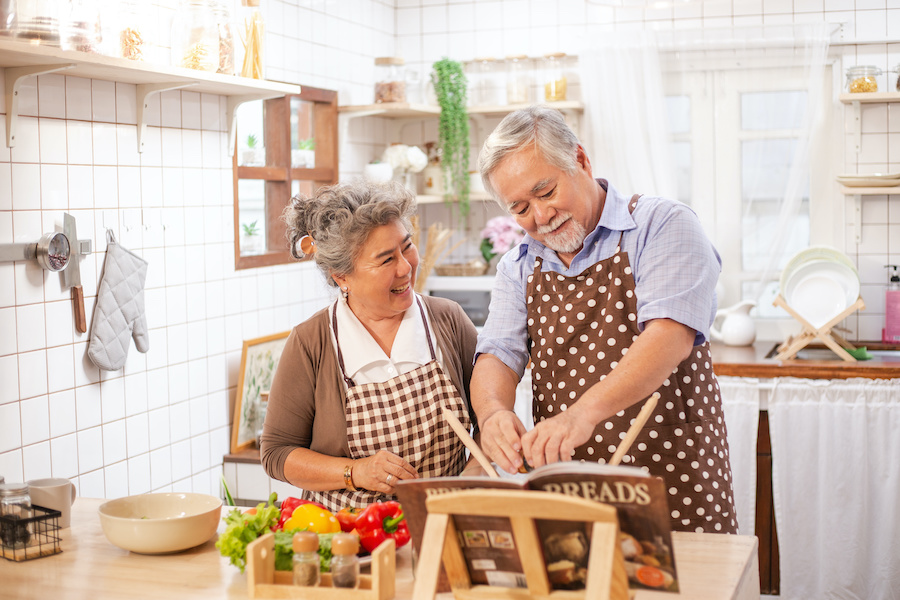 Cookbooks For Your Every Craving
Many of us have that one recipe or cookbook we absolutely love to return back to time after time when we're not sure what to cook. But if you're looking for something new and find yourself overwhelmed by the millions of cookbooks out there, here's a tried and true list created by Harborview Medical Center registered dietitians in honor of National Nutrition Month.
Whether you're looking to just get started in the kitchen and build up your cooking skills, want to try creating homemade sourdough bread, have specific dietary needs, or are just hoping to try something different–this list has you covered. Each of the 13 cookbooks below are featured for a unique reason. See what our registered dietitians had to say about each and if you find something of interest to you, it's time to get cookin'!
---
Table of contents
For those just getting started in the kitchen
For when you're pressed on time
For fighting inflammation
For the chocaholic
For the baker
For the plant-based chef
For the pressure cooker
For trying something new
---
For those just getting started in the kitchen

Joy of Cooking by Irma Rombauer
Joy of Cooking remains the greatest teaching cookbook ever written. Reference material gives cooks the precise information they need for success. New illustrations focus on techniques, including everything from knife skills to splitting cake layers, setting a table, and making tamales. This edition offers endless choice for virtually every occasion, situation, and need, from a ten-minute stir-fry on a weekday night to Baby Back Ribs and Grilled Corn in the backyard, or a towering Chocolate Layer Cake with Chocolate Fudge Frosting and Homemade Vanilla Ice Cream. JOY will show you the delicious way just as it has done for countless cooks before you.
"I like the science they add to the recipes" – Marilyn Shelton, RD
---
I'm Just Here For the Food by Alton Brown
Alton Brown's first cookbook blends humor with history and pop culture with science to present an instructional guide to basic cooking techniques, each accompanied by an easy-to-follow master recipe.
"An approachable and fun read; it's great for the beginner home chef looking to be more confident in the kitchen." – Johanna Behrens, RD, CNSC
---
Eating Well Magazine
Eating Well (Formerly Cooking Light) Magazine offers fresh, nutritious and easy-to-follow kitchen-tested recipes for every day living or special occasions. Whether you are in a hurry to prepare a quick and easy dinner or need a game plan for entertaining, Eating Well offers tools and recipes for cooks of all levels to feel confident in creating great tasting, healthy meals.
"I know the recipes are well-tested and always contain a variety of vegetables." – Megan Nordlund, MS, RD, CSG
---
For when you're pressed on time

The Best 30 Minute Recipe by Cook's Illustrated editors
The Best 30-Minute Recipe features a surprisingly wide range of recipes. Includes naturally quick dishes like salads and stir-fries, as well as quick and easy recipes for typically long-cooking dishes that you'd never even think of making on a weeknight including meatloaf, lasagna, beef pot pie, and a pad thai. The time-pressed cook's guide to getting dinner on the table, night after night.
"There are family-friendly recipes from so many genres in this book, pretty fast to make, and very authentic in flavor." – Susan McBride, MS, RD
---
Minimalist Baker's Everyday Cooking by Dana Shultz
Dana Shultz founded the Minimalist Baker blog in 2012 to share her passion for simple cooking and quickly gained a devoted worldwide following. Now, in her debut cookbook, Dana shares 101 vibrant, simple recipes that are entirely plant-based and mostly gluten-free.  Recipes require 10 ingredients or less, can be made in one bowl, or require 30 minutes or less to prepare.
"Easy, plant-based recipes, usually only one bowl to clean up! I sub non-vegan ingredients, too." – Katy Lane, MS, RD
---
For fighting inflammation

Anti-Inflammatory Diet Meal Prep by Ginger Hultin, MS, RD, CSO
Sticking to an anti inflammatory diet can feel overwhelming, but the Anti-Inflammatory Diet Meal Prep cookbook makes it efficient, effective, and delicious to improve your inflammation through diet choices. This book shows you how to make portioned, pre-prepared meals for six full weeks, so whenever you open your fridge or freezer, you'll have healthy, home-cooked, anti inflammatory options ready to go.
"Written by a Seattle dietitian, this book has delicious and healthy meals to make-ahead for a busy week." – Bonnie Beardsley, MPH, RD
---
For the chocaholic

Luscious Chocolate Desserts by Lori Longbotham
Lori Longbotham, author of the best-selling Luscious Lemon Desserts, delivers more than 70 of the best recipes for tantalizing cakes, sumptuous tarts and pies, velvety puddings and souffles, plus melt-in-your-mouth cookies, ice cream, and candy—all with enough chocolate to satisfy even the deepest craving.
"Every dessert int his book is chocolately-rich and amazing. I especially love the deep dark chocolate crème pie." – Susan McBride, MS, RD
---
For the baker

Sourdough by Sarah Owens
In Sourdough, Sarah demystifies keeping a sourdough culture, which is an extended fermentation process that allows for maximum flavor and easy digestion, showing us just how simple it can be to create a healthy starter from scratch. Moreover, Sarah uses home-grown sourdough starter in dozens of baked goods, including cookies, cakes, scones, flatbreads, tarts, and more, well beyond bread.
"Did you get a sourdough starter this past year? This cookbook has great recipes for using up discard starter, and so many delicious bread recipes!" – Tina Hayashi, RD, CSO, CNSC
---
For the plant-based chef

Love Real Food by Kathryne Taylor
Kathryne Taylor, author of America's most popular vegetarian food blog Cookie and Kate, offers 100 approachable and outrageously delicious meatless recipes complete with substitutions to make meals special diet-friendly (gluten-free, dairy-free, and egg-free) whenever possible. Her book is designed to show everyone―vegetarians, vegans, and meat-eaters alike―how to eat well and feel well.
"Interesting and flavorful vegetarian recipes. The sweet potato poblano enchiladas are fantastic. Want meat? Add a topper!" – Susan McBride, MS, RD
---
Mandy's Gourmet Salads: Recipes for Lettuce and Life by Mandy Wolfe
In Mandy's Gourmet Salads, Mandy and Rebecca talk you through how to create their coveted salads at home, including easy prep steps for essential ingredients, how to mix their famous dressings, and how to combine flavors and textures to create a salad masterpiece. Also inside are recipes for Mandy's nutritious, filling and fantastic grain bowls (for those who want a bit more sustenance) as well as chapters dedicated to smoothies and sweets.
"Everything is delicious, creative, easy, and exactly what I like to eat." – Natalia Groat, MS, RD
---
For the pressure cooker

The Great Big Pressure Cooker Book by Bruce Weinstein and Mark Scarbrough
The old-fashioned pressure cooker has been rediscovered by modern home cooks, both for its quick-cooking powers and for its ability to infuse foods with intense flavor. The Great Big Pressure Cooker Book has recipes for every device, stovetop and electric, no matter the manufacturer. Whether you're seeking an adventurous array of spices, found in dishes such as Cherry Chipotle Pulled Chicken or Smashed Sweet Potatoes with Pineapple and Ginger, or pure comfort food, like French Toast Bread Pudding or Classic Pot Roast and Potatoes, you'll find the perfect recipe, each labeled by level of ease, to feast on with 500 to pick from.
"I love to use my pressure cooker for main dishes during the week; this cookbook has a variety of options for chicken, pork, beef, and vegetarian meals. Recipes use simple ingredients and the instructions are easy to follow." – Kellie Farias, MPH, RD
---
For trying something new

The Wok of Life
The Wok of Life is a recipe blog that combines stories and memories, ramblings and musings with humble kitchen ingredients to create a dish that will tickle your mind along with your palate. Dishes explore a variety of cultures from around the world. Curator Suparna Shantagiri invites you to walk along with her on a culinary path and blend in every recipe with humor, observation and at times nostalgia, and cook up some unique food.
"The recipes are easy to follow and pretty authentic" – Sophia Wang, MPH, RD
---
Small Victories by Julia Turshen
This cookbook of more than 400 simple cooking recipes and variations from Julia Turshen demystifies the process of truly great home cooking by offering lessons called out as "small victories" in the funny, encouraging headnotes. This beautifully curated, deeply personal collection emphasizes bold-flavored, honest food for breakfast, lunch, dinner, and dessert.
"Everything has been delicious, and she has spin-offs for many recipes. She has an equity lens with stories shared." – Karen Conger, MS, RD, CDE
---
Share with us your favorite cookbooks in the comments below and let us know what you think about these many unique cookbooks! Some of our favorite cookbooks from the greater UW community include the official 2020 Husky Cookbook and the 2021 National Nutrition Month cookbook with recipes from HMC dietitians. Check out both cookbooks and download them from The Whole U events page.
Thank you to AT&T for sponsoring National Nutrition Month