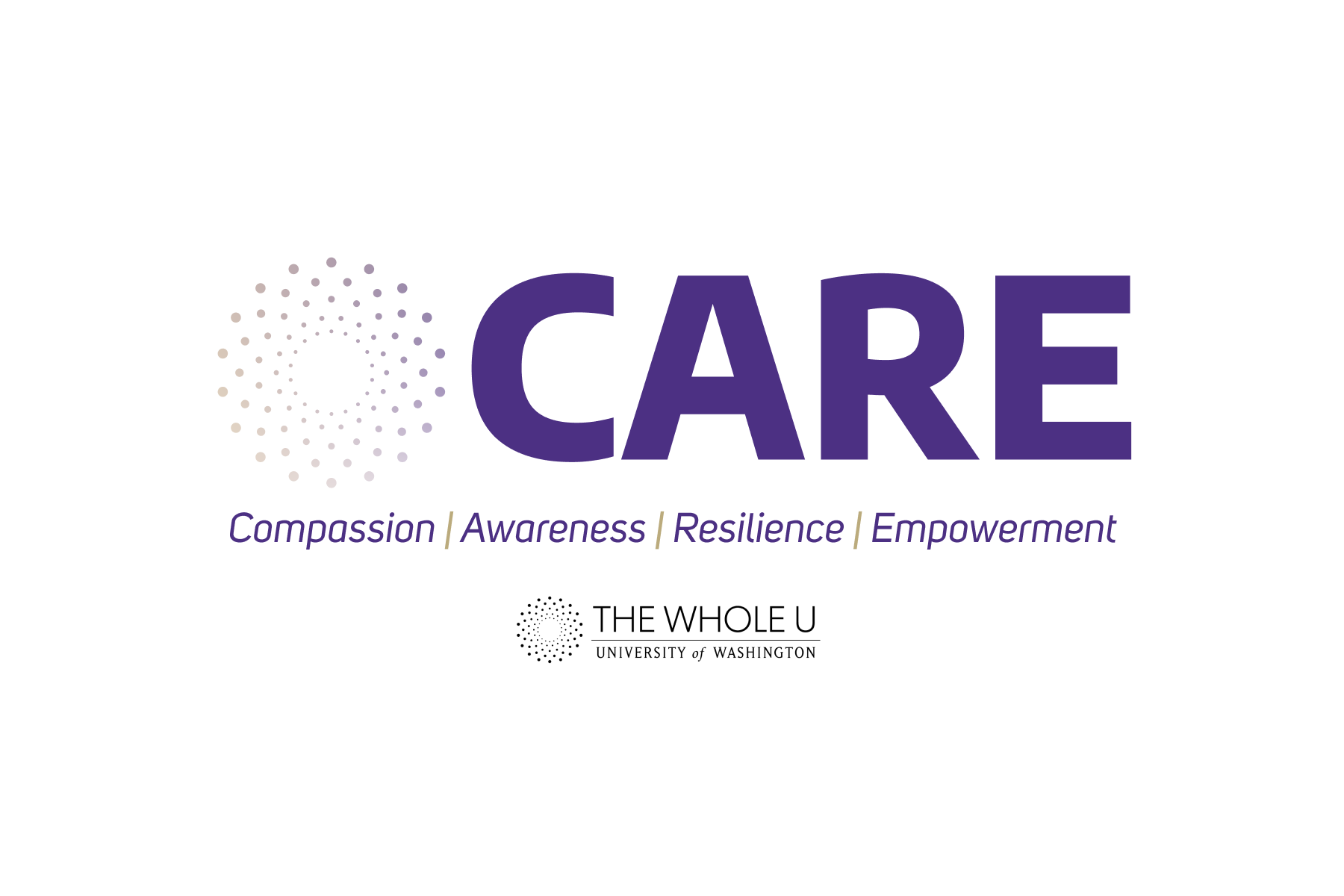 8 Week CARE Training for UW Medicine
This spring, The Whole U is offering a free, self-paced virtual course developed to reduce burnout and increase wellbeing and self-compassion to 200 UW Medicine frontline healthcare workers who identify as female.
CARE, a course developed by Associate Professor Jane Compson provides training in compassion, awareness, resilience, and empowerment with the specific goal of protecting against burnout. It creates an accessible portal into self-care practices and is developed to synthesize the bewildering array of resources available to us around self-care and well-being.
Participants will:
Learn tools and practices to develop self-care literacy and protect against or reduce burnout
Increase self-compassion and empowerment
Join a supportive group environment to learn and practice self-care skills, sharing in your experience as frontline healthcare working women
Below you can learn more about the training and how to participate.
---
Course Details
Length: 8 weeks
Format: Combination of Bridge modules and Zoom sessions
Date: April 5 – May 28
This free course will begin Monday, April 5 and finish at the end of May. Participants will progress through virtual, self-paced modules and join discussion groups with fellow participants. All participants will participate in pre- and post-course assessments to evaluate the efficacy of CARE training for healthcare populations.
The course will consist of the following components:
Virtual, self-paced weekly learning modules
Virtual weekly discussion sessions to connect with others in the course and discuss course concepts with Jane Compson (optional)
Ongoing discussion board for course participants (optional)
Pre and post assessment to evaluate the efficacy of CARE training for healthcare workers
---
Apply
Click here to fill out a brief application verifying your employment status at UW. The first 200 eligible applicants will be enrolled in the course and notified via email. This course is limited to those who identity as female.
Application deadline March 27 at 5:00 p.m. Both the application and course are free.
---
About the Instructor
Jane Compson, PhD is associate professor in the School of Interdisciplinary Arts and Sciences at the University of Washington, Tacoma, where she teaches philosophy, applied ethics and religious studies.  Her research includes mindfulness and compassion training, both in theory and practice. She is a trained teacher in Mindfulness Based Stress Reduction and Compassion Cultivation Training, and has published numerous articles in journals including Mindfulness, Contemporary Buddhism, Journal of Nursing Education and Practice. She is co-author of the book Practitioner's Guide to Ethics and Mindfulness-Based Interventions (Springer, 2017).
She has developed a training program called CARE training, designed to be a portal into self-care literacy and practice.  CARE stands for compassion, awareness, resilience and empowerment; for each of these topics, participants learn theories and practices to support well-being and reduce burnout.
Education
Ph.D. Comparative Religion, University of Bristol, UK
M.A. Philosophy (Bioethics), Colorado State University
M.A. Religion in the Contemporary World, University of Bristol, UK
B.A. English Literature, University of Exeter, UK
---
Why CARE?
This project is funded by the Compassion Seed Grants from The UW Resilience Lab and Campus Sustainability Fund. Funded projects are supporting populations disproportionately impacted by the COVID-19 pandemic with a specific focus on the intersectionality of social and environmental sustainability.
The healthcare environment, with packed workdays, demanding pace, time pressures, and emotional intensity, puts workers at high risk for burnout. Burnout is a long-term stress reaction marked by emotional exhaustion, depersonalization, and a lack in sense of personal accomplishment. Coupled with mental and physical health impacts of the COVID-19 outbreak, burnout in healthcare workers has increased to unprecedented levels as the pandemic continues.
The UN Sustainable Development Goals for 2030 include good health and wellbeing and gender equality. Women make up 70 percent of health and social workers, playing a disproportionate role in responding to the virus as frontline healthcare workers.  Women also bear additional household burdens during the pandemic with widespread shutdowns keeping families and children at home. Previous to the COVID-19 pandemic, women spent three times as many hours in unpaid domestic and care work as men. You can learn more about the COVID-19 pandemic impact on women including the targets and indicators for advancing gender equality from the UN Department of Economic and Social Affairs.
The CARE course will provide an immediate intervention for our community's frontline healthcare women who are facing stressors in both environments.