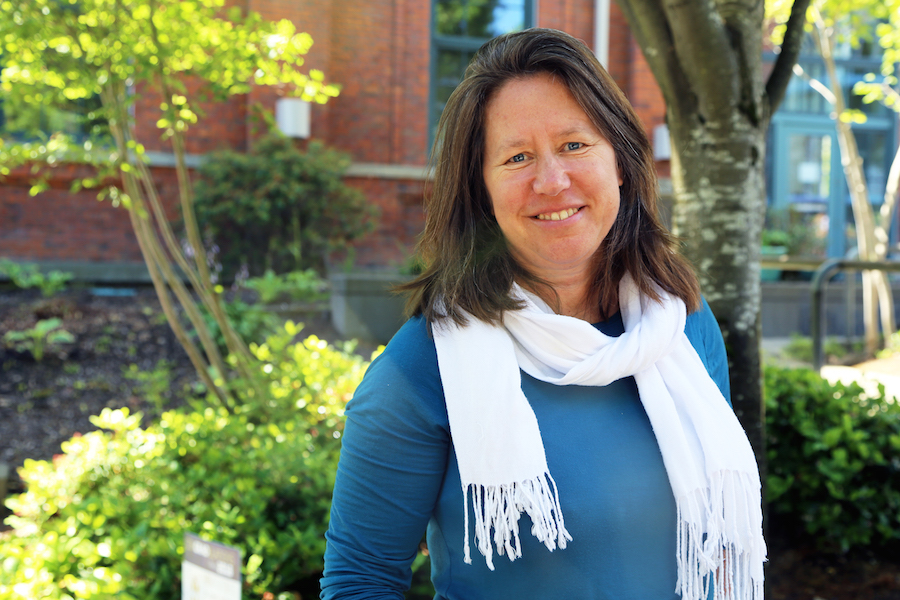 Faculty Friday: Jane Compson
Call her a professor. Call her a Buddhist chaplain. But before anything else, call Jane Compson what she calls herself: a curator.
"I'm not a psychologist; I'm not a neuroscientist; but one of the things I think I am quite good at is explaining concepts to laypeople, because I am one myself," says Compson, an assistant professor at UW Tacoma. "That's just what CARE is: a curation."
CARE, which stands for Compassion, Awareness, Resilience, and Empowerment, is a newly-formed program that aims to deal with issues of chronic stress. Compson, who teaches courses on religion, ethics, and the environment, developed the framework for CARE while investigating burnout among nurses, detailing the CARE heuristic for a paper published in The Journal of Nursing Education and Practice.
"Burnout is a huge problem in the nursing profession and in the healthcare profession as a whole," she says, citing that stress a major cause of attrition in healthcare professionals in the US and worldwide. "When you are feeling stressed, you are feeling increasingly isolated and one of the things that can help you come back to resilience is a sense of social connectedness."
It's that sense of connectedness that forms the basis for CARE. Designed as a portal that offers a brief, yet substantive introduction to self-care and stress-reduction practices and research to people whose stress is high and whose time is limited (i.e. nurses, students, or other working professionals), CARE seeks to deliver the benefits of mindfulness practices without the considerable time-commitment of some other training courses—often the greatest deterrent for people who, because of their overwork or exhaustion, may benefit from them the most.
"The idea is to give people an intro and then have them take it from there," Compson says. By combining different approaches to stress-management and well-being while giving participants an opportunity to experiment with different techniques, CARE provides an accessible introduction to stress-reduction practices and offers preliminary steps towards self-care literacy.
This past spring, Compson gathered two groups of about sixteen staff, faculty, and community members to participate in a pilot study to gauge CARE's efficacy. The intent: build a program that helps people reduce stress, but with a research- and science-backed approach.
Each session of the program, which spans a 4- to 8-week period with one gathering a week, begins with a brief meditation and check-in, followed by an education segment intended to provide more cognitive understanding behind the practices explored. Then, participants delve into different exercises of reflection and grounding before taking them beyond the session to apply to their everyday lives.
Compassion, not critique
In her work as a professor and director of CARE, Compson draws on her own background in religious studies—particularly Buddhist understandings of the mind and its relation to suffering—and applies them to contemporary contexts, especially higher education pedagogy, environmental education, and healthcare.
"Buddhist teachings argue that we all have the capacity for ethical conduct, meditation, and wisdom, but, like anything else, you can develop them in a positive way or a negative way," Compson says. "If you do certain actions, you're going to develop your capacity positively or negatively."
That path as an educator is not always an easy one. Compson speaks to a "division" in how mindfulness is often perceived at the academic level.
"On the one hand, you might say using religious-based practices in a secular space is boundary violation—or could be," she says, citing a critique that is often called "Stealth Buddhism." Those critics posit that mindfulness has no place in schools, universities, or healthcare without the informed consent of saying, "This is a Buddhist-based practice."
While she understands where that critique comes from, Compson doesn't find it very convincing.
"It involves a certain assumption about what a religion means," she says. "The kind of thinking that says mindfulness must be Buddhist is applying that idea of a religion being a discreet thing and anachronistically applying that to evolving traditions and practices; one religion doesn't own a practice that is a human capability, though it might give us many helpful insights and trainings around it."
(Indeed, the term Buddhism as an -ism was first used in the West in 1801, referring to a range of different schools and practices based on the teachings of Gautama Buddha, which date to 500 B.C.)
On the other side, the so-called "McMindfulness" critique is one in which warns that mindfulness can become far too divorced from its spiritual training and ethical context—a catch-all application deployed to support or reinforce practices such as unethical behavior or adverse work conditions that mindfulness might ultimately seek to challenge.
"There's something to be heeded in that critique and I think, sometimes, it can be accurately applied," Compson says. "Sometimes when [mindfulness] becomes divorced from its ethical context, that can be a problem."
Compson says that while "it's certainly worth interrogating what is meant by religion and philosophy" as well as being meta-mindful about how and in what contexts the practice of mindfulness is encouraged, she's most interested helping people reach the tangible, positive outcomes that emerge from the practice itself.
"People get the critique, but what they feel like they are getting [when they practice] is bigger bandwidth to address injustices," she says. "It's not an instead-of, it's a power-up—and that's my hope and intention. If you have more bandwidth to cope with things, it's easier to stand up." Her come-to-mindfulness message is: "Come to it and see; don't take anything on authority."
In addition to CARE, Compson is also part of the Courageous Engagement series, teaming up with Richard Wilkinson in UW Tacoma HR to give workshops on compassion and communication to faculty and staff with the help of a 2-year grant from the Strategic Initiative Fund. For Compson, the widespread stigma around mental health issues—even and especially among those who work in positions as a teacher or purveyor of wellbeing and mental health—is particularly in need of breaking down.
In such instances, for just-beginning and well-seasoned practitioners alike, Compson says it's key to remember such practices and insight are not a cure-all for ridding oneself of pain or suffering; rather that mindfulness practice can be incredibly effective in changing the way one relates to them.
"One of the things we talk about in CARE is how, if you hold something really tight in your hand, you're holding it successfully, but it's actually really painful," she says. "If you can hold it gently, it's much more comfortable. That's the analogy with mindfulness I'm trying to think about and get across: it doesn't mean that good experience or a bad experience goes away; but you can create more spaciousness in the way you encounter it."
Compton encountered her own such experience when she was ten, losing her 12-year-old brother to cancer.
"Even though, in so many ways, my childhood was idyllic, having that experience of mortality and suffering when I was that young just made me really curious about life, death and the meaning of everything," she says. "When I got to university and found religion-philosophy, I realized this was a discipline in which I could actually think about this stuff."
She found Buddhism through her subsequent religious studies. She says its question of, "How do we deal with the problem of suffering," resonated most.
"That a question every single person is preoccupied with. Who doesn't care about suffering? We all do."
After receiving her Ph.D., she worked for a nonprofit for a spell, but found she missed academia. She saw an ad for a master's in Environmental Philosophy at Colorado State where, already equipped with a Ph.D., she was able to teach while simultaneously continuing her studies. After that followed a stint teaching at University of Central Florida before she found a position opening at UW Tacoma and applied.
"When I came out here I was so happy. Everything fell into place—it was one of those 'yes' moments." As if to underscore her choice to join the UW Tacoma faculty, her husband, a school psychologist, almost immediately landed a job in a local school district soon after she'd accepted. "I felt that they showed me the love."
Compson says what she loves most about UW Tacoma is its "truly interdisciplinary" nature.
"It's super exciting to have students from all walks of life and all different ages," she says. "I've been really impressed by the depth of conversations we can have." Those conversations form the basis for community—community Compson hopes to grow and strengthen through the CARE program, where intentionality and vulnerability are held in common within a collective, comfortable space.
"It's like a class, but it's more experiential—the relationship is different because people are getting more vulnerable with each other than they would in a class," Compson says. "My hope is to normalize an environment where inner work is just as important as outer work."
Jane will be one of several UW faculty and staff contributing downloadable mediations to our Raise the Bar team wellness challenge this summer. Register here to receive this content and much more as it debuts throughout July and August.
---
Jane Compson holds a B.A. in English Literature from the University of Exeter, an M.A. in Religion in the Contemporary World and a Ph.D. in Comparative Religion from the University of Bristol, and an M.A. in Philosophy (Bioethics) from Colorado State University. Hear and see more of her work here.