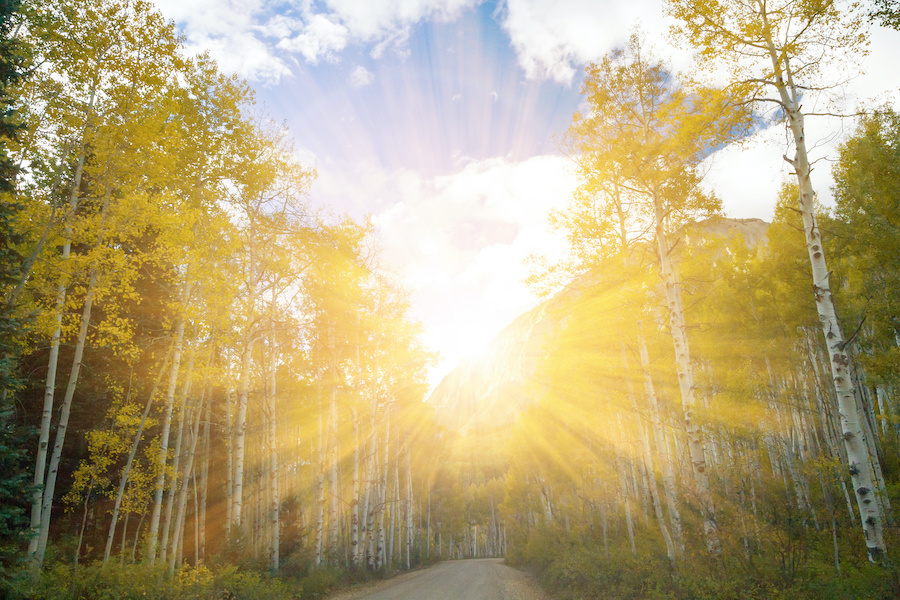 No matter where you went or who you talked to this past weekend, it seemed as if collectively everyone was taking a large sigh of relief with the year 2020 coming to an end. Although we continue to face many challenges and remain fighting the COVID-19 pandemic, there's something about the start of a new year that can bring in a breath of fresh air. The start of a new year gives us all a moment to pause and think about where we've been and where we're going.
As many times as you've heard it said before, we really are in a year like no other. Facing unprecedented change and upheaval—much being long overdue, and some more abrupt. As we usher in a New Year, we have an opportunity to reflect on everything we have experienced in the past year. We set intentions and look both within and around ourselves for strength and determination to see through our goals and survive the parts of our lives that are testing us.
One thing many of us truly learned this year is how important an investment into our holistic wellbeing is. Physical, social, and mental wellness are key parts to living a balanced life. Wellness can see us through extremely tough times and help us to appreciate wonderful times. No matter what your goals are in the coming year, The Whole U will be here to cheer you on, offer support, and hopefully guide you on your personal wellness journey.
There are many facets to holistic wellbeing—and trying to accomplish all parts is downright overwhelming! I recommend you start simple and make small changes that build into larger habits for a more rounded life. Have some fun with it, explore new opportunities and see what makes you click. One great way to do so is to sign up for The Whole U's First 90 Days: A New Year's Challenge to Make 2021 Count.
The challenge is to pick one or two areas of wellness and join a community group for the first 90 days of 2021. You will hone in on your goals in that area of wellness and incorporate it more into your daily life. It's up to you whether that be a traditional wellness group like focusing on physical activity and nutrition, or joining a group focused on igniting creativity and even reading more. There are 10 groups to choose from. Each group offers a unique experience to set goals, learn, grow, and stay motivated. We are officially kicking off the challenge today—but you can join at any time. Learn more and register here.
---
As you continue to think about the year to come—we compiled reflections about staying motivated from UW leaders that have contributed to The Whole U over the years. Each of these members of the UW community have worked hard to be where they are today and offer meaningful recommendations for weathering the storm and seeing through your goals. 2021, here we come!
UW Registered Dietitians share how to make resolutions into habits
Each year, UW's registered dietitians offer The Whole U insights and tried and true methods to approaching nutrition from a thoughtful and scientific perspective. In this New Year's article from 2018, five RD's offer their top practices to sticking with your resolutions. Check it out here.
UW staff offer insights for achieving goals
Following the theme above, this article puts together words of insight, encouragement, and inspiration from UW staff on how to achieve your goals. This article will make you smile, appreciate the determination across our campus, and inspire your own goals. See what they have to say here. 
Staying motivated when everything around you is changing
Published this past July, this article from UW Recreation's fitness program manager Jeff Palmer speaks to the many changes we're all facing in our lives right now and how to not hit "pause" on your fitness goals. Read this when you're ready for an extra push or need a coach's voice to keep on going.
Finding fitness motivation from UW exercise experts
Flash back to the start of 2016 and you may remember this article with amazing advice from fitness experts across UW on how to stay motivated on your own fitness journey. From head coaches at UW to former athletes, they share personal reflections and guidance. Read it here. 
---
Last but not least, join The Whole U for 3 motivational webinars in January to start off the year strong! 
Make 2021 Count with UW Athletic Director Jennifer Cohen
The University of Washington athletic director is the only female one in the Pac-12 and one of five in the Power 5 conferences to hold the position. The journey Cohen took to get there has helped her navigate the uncertainties of 2020. Get inspired with Jennifer Cohen on Zoom and learn how to win what you can control in 2021. Register now!
---
Goal Setting: Creating what you already have with Lee Davis
Setting goals, following through with them, and facing the barriers that keep you from accomplishing goals is one of the most important steps to conquering a new year resolution and preparing for a successful year to follow.
In this workshop, you will be given a comprehensive definition and example of the mechanics of goal setting.  How to create goals, how to spot check your goals, and how to see your goals through completion are just a few of the major themes that will be covered.  Additionally, strategies on remaining emotionally resilient during tumultuous times, remaining rooted during change, and increasing focus during times of uncertainty! Register now for Friday, Jan. 8 OR Friday, Jan. 22!
---
What are your resolutions this year? What have you learned throughout 2020 and what are you looking forward to exploring more in 2021? Share with us in the comments below.