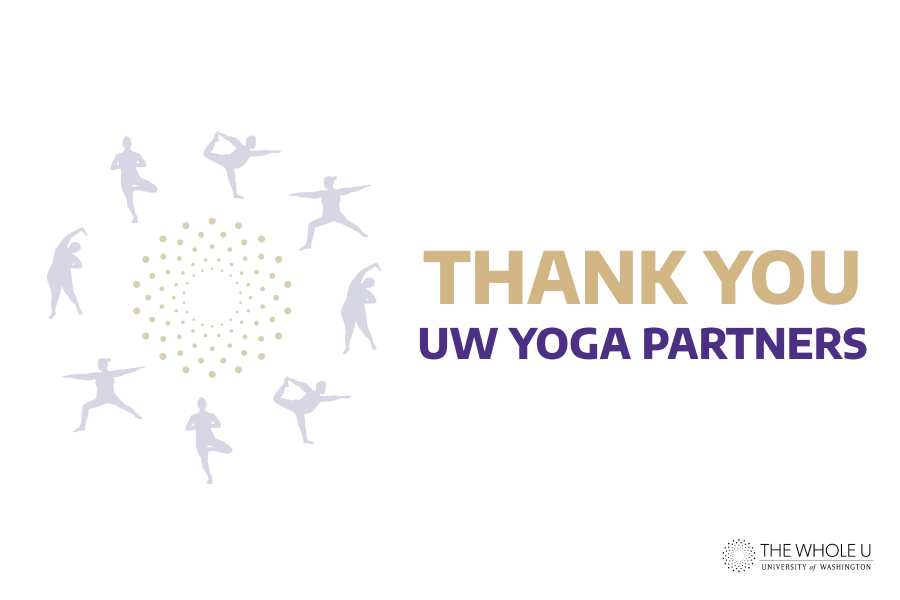 Community Yoga Partners – A Big Thank You!
UW Yoga Month just would not be the same without our community partners. As we celebrate and practice together, we also want to thank and feature our incredible teachers.  Many yoga studios this year had to reimagine their businesses and offerings into a virtual experience.  As some slowly open up and others remain behind the screen, a few of our partners have graciously offered free classes to our UW community throughout the month of October.
Check them out below and don't worry, it's not too late to sign up for UW Yoga Month. Register here.  Also look into the month activities and opportunities here!
---

Athletes for Yoga is the the only athlete-led, on-demand yoga video platform + app that puts yoga into context of your sport and goals, you can use yoga anytime, anywhere (even offline) to become a more balanced, resilient, and powerful athlete.
Access one free month at video.athletesforyoga.com with the following code: UWRESET
*must be used by Oct 31.
---

OmCulture invites you to nourish your mind, body and spirit with daily opportunities for self care so you can better serve your local and global communities.  OmCulture is a visionary institution dedicated to the art of moving the body to move the mind to a peaceful place. They strive to create an open, welcoming community that makes everyone feel at home. They are committed to building this community through the practice of yoga, dance, wellness and other (body, breath, balance) movement practices.  OmCulture nurtures adults, children, and toddlers in being happy, connected, and deeply in tune with their bodies.  The teachers and staff at OmCulture strive to promote and share the healing, growth, and transformation that movement can create with people of all ages, backgrounds, and abilities.
Students new to OmCulture can enjoy the gift of a free 5 class pass to explore the schedule of yoga and dance offered live online, outdoor, on demand and in our beautiful home studio in Wallingford near gasworks park that's walking/biking distance from the University of Washington!  OmCulture also offers 3 months of free yoga with our first responder pass for healthcare workers and others working on the front lines.
---

Pineapple Life is a place where imperfection is celebrated, acceptance is expected, and everyone is treated with value, respect and kindness; aka Ohana.
Pineapple Life sees the light and value in each and every perfectly-imperfect soul. They believe that wellness is all encompassing: mind + body + spirit and begins with a community of all inclusiveness, mutual acceptance and love.
Check them out here.
---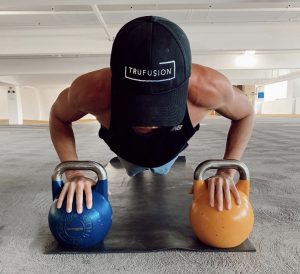 TruFusion is a group fitness facility offering heated and unheated Yoga, Barre, Pilates, Bootcamp, Kettlebell, Battle Ropes, Boxing, and TRX. We have 4 studios under one roof, over 65 class styles and up to 240 group classes per week. For more information visit www.trufusion.com.
While our studios in Bellevue and Ballard are temporarily closed our community continues to gather online. Take FREE online classes with our instructors each week. Schedule and Zoom link posted daily on Instagram @trufusion_wa.
---
Invest in your physical and mental health and wellbeing! With the REC CLASS PASS you'll enjoy access to over 100 fitness and mindfulness classes. New classes include Fight Fit, Barre Burn, Hip Hop Dance, Sunrise/Sunset Cycle, Street-Style Jazz, and Modern Dance, and we've kept recurring favorites such as Vinyasa Yoga, meditation, Zumba, Total Body Fitness, UWild Clinics, and more.
Also new this quarter, UW Recreation be offering morning, afternoon, evening, and weekend options, so something is sure to fit into your schedule. The innovative instructors offer classes that are friendly, active, and stress-reducing.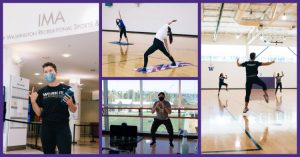 FREE to UW students (included as part of the Student Activity Fee), $65 for UW Employees, Retirees, UWAA Members, and Parent & Family Programs Connect with classmates, invite a friend to join you, and get ready to engage, relax, or have a blast! Classes run 11 weeks, September 28 through December 13.
Most yoga and fitness classes have the opportunity for five people to attend in-person (preregistration required, one allowed per week). In addition, all classes will be live-streamed. Enjoy up to 40+ classes a week for just $65.
---
Seattle Yoga Arts offers alignment-based, heart-infused yoga that is body nourishing, soul satisfying and sanity supporting. Who couldn't use a little extra sanity support during these unprecedented times? Seattle Yoga Arts classes, instructors and community combine to reset the nervous system and strengthen resilience so you can move through each day with a bit more grace and ease. Seattle Yoga Arts is currently live-streaming over 25 classes each week and has 70+ classes On Demand through Vimeo. Practice whenever and wherever it's most convenient for you! Classes are offered for every level of practitioner – from Gentle, Restorative and Prenatal to Essentials and Deepening – as well as a variety of workshops and trainings.

Get a taste of the studio with our New Student Special – just $39 for 3 weeks of unlimited live classes. If you've already been to SYA, we'd love to have you back! Check out our tuition page for package and drop-in pricing.
Please email info@seattleyogaarts.com with any questions you may have about getting started with SYA! Learn more here.
---
shefayoga Roosevelt was rated #1 yoga studio in the greater Seattle area in 2019! The online classes are of highest quality where sound, music and visual are top notch. shefayoga teachers are some of the most experienced and well known in the Seattle area. The studio offers daily online livestream classes and is also open for in studio classes. If you cannot make one of the livestreams, the studio will send you the recording to practice at your convenience! Check them out here.

FREE Class? Please email info@shefayoga.com from your UW email with "UW Yoga Month free class" in the title to receive a free class to any of our online livestream classes.
---
Tacoma yoga by Tuladhara sprouted out of a space that was already rooted in the community of Tacoma, WA, and that's why the team recently expanded their yoga family to Tacoma! Located in the heart of the Proctor district in Tacoma, this location offers a fun, relaxed feel with some of the best teachers in the area.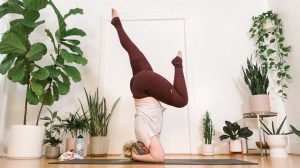 Their vision is to create a safe space that allows you to find balance – body, mind and spirit. A space where you can connect with yourself and your community through yoga. Their values are rooted in community, inclusivity and respect. Learn more about Tuladhara's Tacoma location on Instagram at @tacomayoga. They are now  open for socially distanced In-studio classes as well as live streaming all of our classes. Register online through the website.
Tuladhara will also be expanding it's yoga family to Gig Harbor later this fall! Follow us on social @tuladharayoga for more updates! Visit Tuladhara's website here. 
---
All of our partners have offered free opportunities to try or practice yoga this month. Check out all of this months activities and opportunities here! Thank you so much. Our UW Community is strong as ever. Namaste.
Thank you to AT&T and BECU for being our Whole U program sponsors.