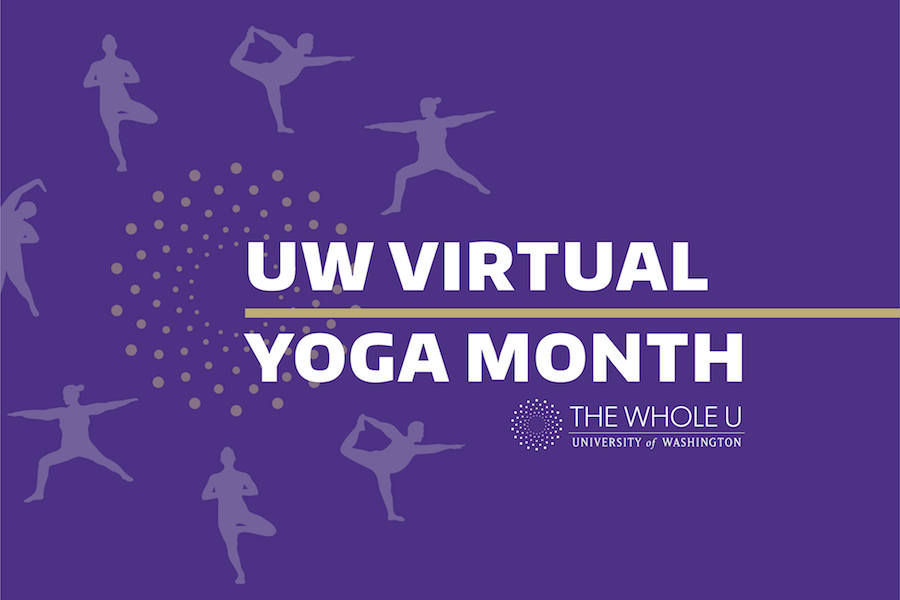 Free Yoga Classes This October
UW Yoga Month starts Monday, October 5! Have you registered yet? With the changing of the seasons and the start of a new school year, October is the perfect month to spend some time practicing yoga. This Yoga Month, we've rounded up a wide variety of virtual yoga opportunities. Whether you have only have 10 minutes or can set aside an hour, there is something for everyone. Be sure to add to your calendar the opportunities below and we look forward to seeing you online!
Daily Yoga Break with Danny Arguetty and UW Recreation Yoga Instructors
Every day of the week at 11:00 a.m., join Danny Arguetty, Reyna Cohan, Ashwini Sadekar, and Taylor Darneille for a calming 15-minute yoga break. The daily break will start on Monday, October 5. Commit to a few a week or every day for the month!
Click here to join the class on Zoom. 

UW Partner Classes
Don't miss out on these free yoga classes this October in celebration of UW Yoga Month! Each class is hosted virtually over Zoom. All you need is a space on the floor! Grab a yoga mat, towel, or simply bring yourself.
Time: Noon – 1:00 p.m.
Level: All levels welcome
Learn more and register here!
---
Time: 9:30 – 10:30 a.m.
Level: All levels welcome, some experience with yoga recommended.
Learn more and register here!
---
Time: 10:00 – 11:00 a.m.
Level: All levels welcome.
Learn more and register here!
---
Time: Noon – 1:00 p.m.
Levels: All levels welcome.
Learn more and register here!

Month-long Virtual Yoga Subscription
This year included in Yoga Month is a free month subscription to Athletes for Yoga, the only athlete-led, on-demand yoga video + app that puts yoga into context of your sport and goals. With this subscription comes a customizable Reset Plan to help you outline your free month and schedule classes based on your needs.
Access your free month by clicking here.
Code: UWRESET
Note: Code mist be used by Oct. 31.
---
Yoga on Your Own Time
Many of our UW yoga partners are offering opportunities for you to practice yoga virtually when works best for you. The following classes can either be watched at any time, or scheduled based on your availability.
shefayoga
shefayoga Roosevelt was rated the #1 yoga studio in the greater Seattle area in 2019!  shefa's online classes are of highest quality where sound, music and visual are top notch.  shefa offers daily online livestream classes. If you cannot make one of the livestreams, shefa is happy to send you the recording to practice at your convenience! For Yoga Month, all UW participants can access one free livestream class by emailing shefayoga. Instructions below.
Send email to: info@shefayoga.com (from your UW email)
Email subject: UW Yoga Month free class
Email text: Request access to free, livestream class!
Pineapple Life
Happy Hips Vinyasa Flow online recording  – click here to learn more and access!
Sweat, strengthen, and push your limits with Happy Hips Vinyasa Flow; focusing on the lower body. An energizing and dynamic practice that lubricates every joint, activates and strengthens muscles and helps loosen tight muscles. This class will elevate your athleticism and endurance. Building on your physical, mental and mental power from the ground up.
Virtual Full Body Pilates online recording – click here to learn more and access!
This Full Body Pilates workout is packed with low-impact exercises intended to strengthen muscles while improving postural alignment and flexibility. Performed on the floor using gravity and your own body weight to provide resistance, this workout will leave your body feeling amazing and alive. All the focus is on conditioning the deeper, supporting muscles of your body to improve posture, balance and coordination. Join Skye for this empowering class and get ready to feel awesome!
Whole Body Barre Class online recording – click here to learn more and access!
Join Pineapple Life for this booty lifting, ab sculpting, thigh shaping and arm firming Barre workout. Kelly will guide you through these fun low impact, strength training moves will give you a Whole Body Workout.
---
We hope to see you at these free, virtual yoga classes throughout October! Through yoga you can practice being intentional with your body and mind, and setting aside time to be present. 2020 has been moving at warp speed and yet at times feels like it will never end. Reconnect with the ground beneath you, creating a sense of normalcy and calmness through yoga.
Thank you to UW Recreation, AT&T, BECU and US Bank for being Whole U program sponsors!
---