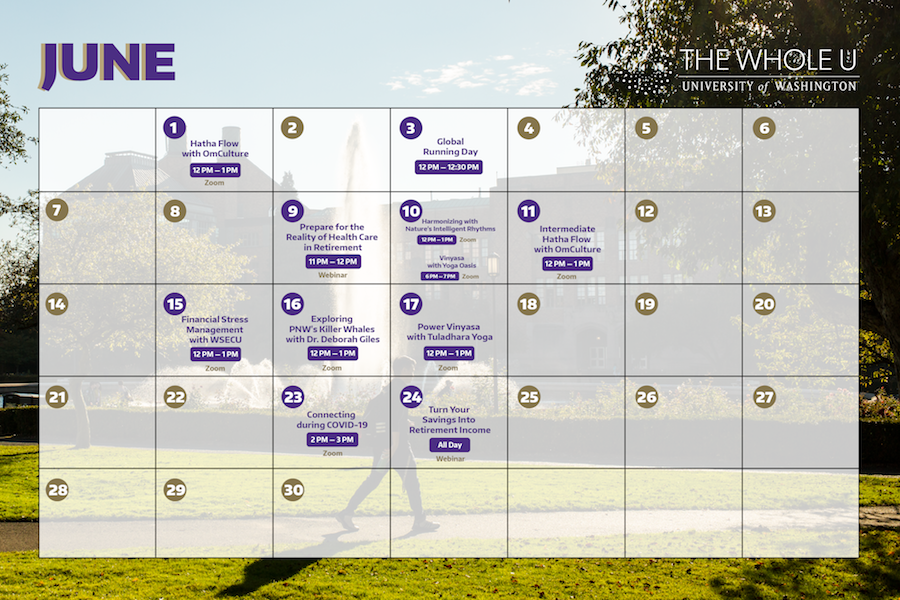 Shine in June with events from The Whole U
It's nearly summer! The Whole U is excited to present another month of wellness-focused virtual events to the wider University of Washington community. From starting a pledge to run, walk, or wheel on June 3 for Global Running Day to learning about nature and Ayurveda, there is something new and exciting for everyone to try this June.
Looking for more virtual activities to practice mindfulness and staying active?
Tune in with The Whole U to free online mindfulness and fitness classes. Whether you join in a dance class, practice push ups with The Whole U, bend your way into a yoga pose or take 20 minutes to practice meditation, we've got you covered with a variety of opportunities. There is no better time than now to join in!
---

Date and time: June 1, noon—1 pm
Find balance between effort and relaxation in this yoga class that combines the strength of held postures and the serenity of breath-directed movement. This class is based around the fluid movements of the sun salutation and other breath-directed movements.
---
Date and time: June 3, noon—12:30 pm
Celebrate Global Running Day June 3 and pledge to run, walk, or use mobility devices for 1 mile or more reaching a total of 1,000 miles together! Global Running Day is a worldwide celebration of running that encourages everyone to get moving. It doesn't matter how fast you run or how far you go—what's important is that you take part and enjoy being active!
---
Date and time: June 3, noon—1 pm
UW Sustainability is hosting Audryana Nay, a master's student at the University of Washington in the School of Environmental & Forest Science for a seminar discussing her cutting edge urban design tool Nostos AI. Nostos AI is a design tool for urban planners to incorporate nature in city designs. There is currently no tool for incorporating nature interaction into urban design, let alone quantify it. Nostos AI seeks to fill this gap in the urban design industry, providing a design tool that can add meaningful and authentic human-nature into our cities allowing humanity to thrive.
---
Date and time: June 9, 11 am—noon
This Fidelity Investments workshop will help you to understand the costs of health care in retirement, and how you can prepare for them. After the workshop you should be able to estimate your health care costs and factor them into your retirement paycheck, understand your options for health care coverage before and after age 65, and successfully plan for your retirement health care costs.
---
Date and Time: June 10, noon—1 pm
Learn about Ayurveda (science of life), an intricate elemental system from India (akin to Chinese medicine) that provides insight on individual body constitution and personality type in this seminar hosted by Danny Arguetty. You will gain knowledge on staying in balance with changing seasons, cultivating more empathy for yourself and others, and creating a plan of how to integrate new, effective life habits to your own success.
---

Date and time: June 10, 6—7 pm
Join UW Alum Carrie Johnson for her signature FIRE class; a thoughtful and creative approach to a vinyasa yoga practice. During this practice you will create heat in the body through fluid movement and traditional yoga postures while cultivating a stronger mind-body connection to release stress. This class is appropriate for all levels of yoga students or anyone curious about what yoga has to offer.
---
Date and time: June 11, noon—1 pm
Join Nicole from OmCulture Yoga for an intermediate level Hatha Flow class.
This class is accessible to beginners but provides more opportunity for strength building through a creatively sequenced class with inspiring music to keep you energized.
---
Date and Time: June 15, noon—1 pm
From credit card debt and car repairs to vet bills and other unexpected expenses, sometimes it can feel impossible to catch up. This comprehensive workshop with WSECU is full of tangible tips and tools that will allow you to take control of your finances and gain a stronger sense of financial freedom. You'll discuss methods to reduce debt, increase financial literacy, and manage financial stressors.
---
Date and Time: June 16, noon—1 pm
Join Dr. Deborah Giles, PhD Research Tech at the UW Center for Conservation Biology and resident scientist and lecturer at the UW Friday Harbor Labs, for an inside look into the life of our local killer whales. Dr. Giles will share what the UW killer whale research project team has learned about killer whale health as well as possible causes for population decline. Come to learn more about these incredible animals who inhabit our waters. This seminar will be family friendly and we invite you to share with your family and friends!
---
Date and time: June 17, noon—1 pm
Vinyasa Level 2 is an athletic, vigorous and dynamic, flow-based yoga. Challenge yourself to build strength, cardiovascular health, flexibility, and concentration as you experience Vinyasa as a true movement based meditation. This class is sweaty, challenging, but also a lot of fun!
---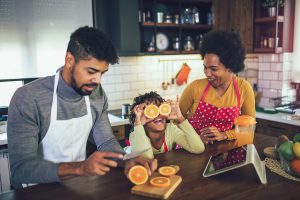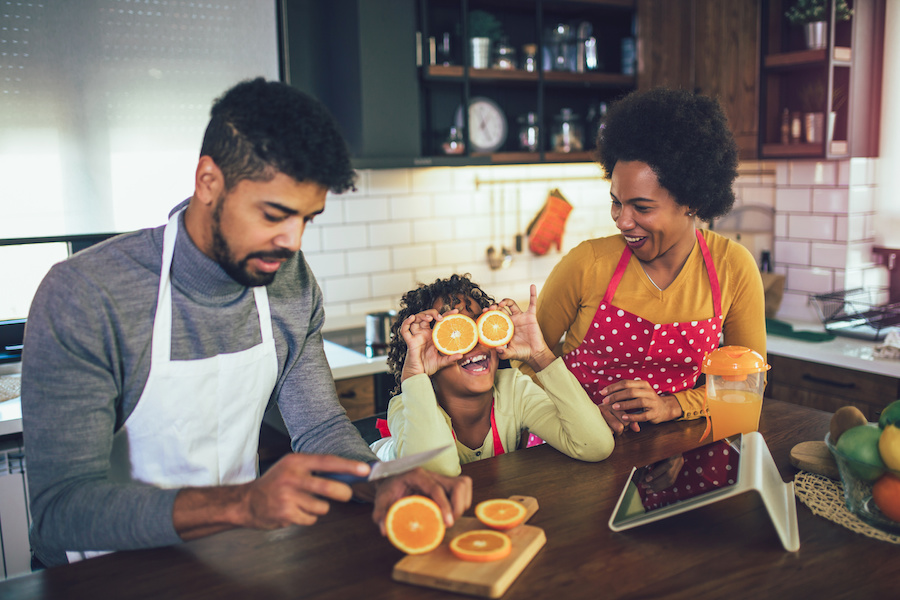 Date and Time: June 23, 2—3 pm
Family and loved ones get us through life's rough spots. But a pandemic is not an ordinary bump in the road. Relationships may matter more than ever during COVID-19 but the pandemic has made connecting with others more challenging than ever, too. Join Dr. Pepper Schwartz for a seminar navigating relationships and connection during COVID-19, guided by your own questions.
---
Date and Time: June 24, 1—2 pm
This workshop will help you learn why it's important to have a plan for generating income in retirement, factors to consider when transitioning your savings into retirement income and how to develop an income plan. You will learn the benefits of having a retirement income plan, important considerations for retirement income and expenses, and understand which income strategies may fit your needs for retirement.
---
Wondering what other fun, exciting events and informative articles are offered by The Whole U? Head to our events page to explore all the do-it-yourself downloads and fitness plans that will help you take life to the next level!
From helpful kitchen "cheat-sheets" for creating delicious, nutritious meals to workout plans for getting stronger and healthier overall, use our virtual trainings to be more accountable and driven in your daily life. Follow us on Facebook, on Twitter, or on Instagram to stay up to date on everything going on, including fun social media-specific features and contests!