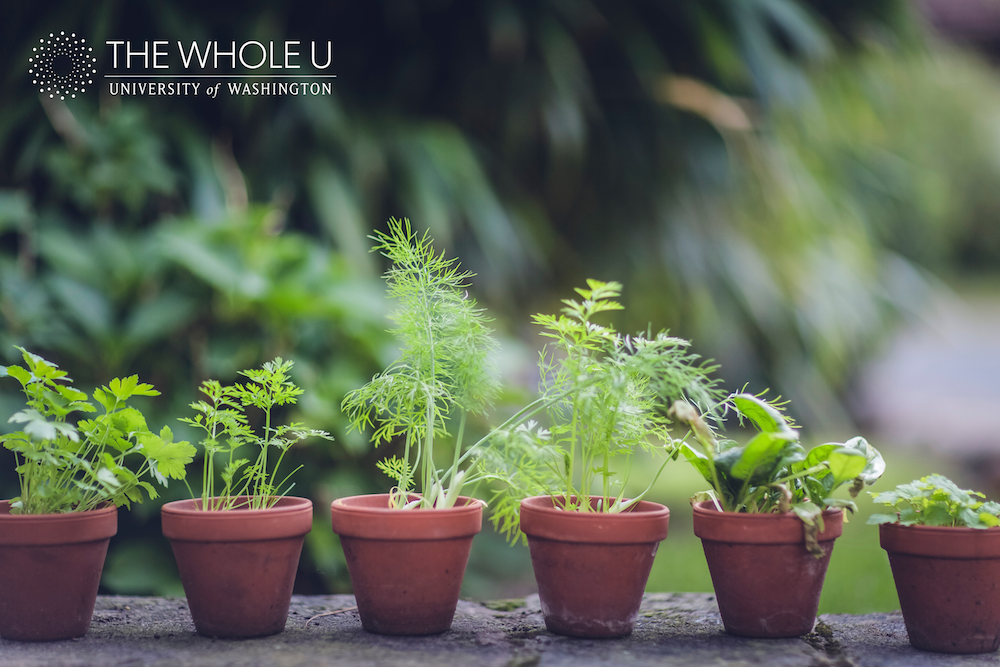 The Whole U among Husky Green Award nominees
The Whole U works to promote health and wellness among the University of Washington community through a variety of different engaging pillars, including Eating Well, Being Active, and Financially Fit. But we also recognize that notions of health and wellness extend well beyond the needs of the individual to encompass how each of us can contribute in mindful and positive ways to the overall health and wellness of our planet as well.
From learning about gardening and sustainable agriculture to appreciating the bounty and biological diversity of the region of the world we inhabit, finding ways to take care of the Earth is one of the most fundamental ways we can also take care of ourselves. That's why The Whole U was thrilled to be among those nominated for the 2020 Husky Green Award.
Presented annually by UW Sustainability, the Husky Green Award recognizes exemplary achievements of UW individuals and teams from all campuses who have demonstrated leadership, initiative and dedication to campus sustainability.
The Whole U continues to strive to promote and make sustainability practices fun, easy and accessible—finding ways to connect the UW community with opportunities to learn about ways to live a more sustainable lifestyle and how that relates to one's overall wellness. In addition to working with the University of Washington on the UW Sustainability Plan, sustainability outreach from The Whole U includes workshops, seminars, articles, handouts, and challenges.
Some examples include:
At the beginning of every new year, The Whole U challenges the UW community to focus and improve on six areas of wellness under the Dare to Do New Year's Challenge. One of these areas of wellness is Dare to Reduce, which encompasses a week long focus on ways to reduce and make sustainability a daily habit. Throughout the week, The Whole U provides sustainability content from articles and seminars by UW sustainability and environmental health experts, a week long sustainability challenge, to tips and tricks to make sustainability practices easy.
Every year, as Earth Day falls in the month of April, The Whole U utilizes this month to bring awareness to sustainability and environmental health. The Whole U challenges the UW community to takes actions every day to reduce their carbon footprint, to learn simple and unique ways to practice sustainability, and to motivate others to learn about our planet's health in the 30 Day Sustainability Challenge.
Sustainability Articles & Handouts
Throughout the year, The Whole provides the UW community a variety of sustainability and environmental health content, from articles by UW sustainability and environmental health experts, to handouts on sustainability practices such as proper ways to recycle. Recently, Yona Sipos, a lecturer in the Department of Environmental & Occupational Health Sciences and the Nutritional Sciences Program as well as core faculty in the Food Systems, Nutrition, and Health major, collaborated with The Whole U and answered questions on nutritional sustainability and how our food system relates to environmental health. Further article topics include climate change, proper ways to reduce and dispose of waste, sustainability tips for the winter months, promoting Earth Day, gardening, and sustainable grocery shopping practices.
---
Along with The Whole U, numerous individuals and groups from the University of Washington have put forth significant sustainability and environmental health efforts. A variety of these individuals and groups have also been recognized and nominated for the 2020 Husky Green Award. We're proud to share the honor of being nominated alongside so many inspiring UW faculty, staff and teams and congratulate all the recipients of year's Husky Green Award! Read more about other staff and faculty nominations below:
Individual Staff & Faculty Nominees
Elise Glassman, staff, UW Sustainability/Office of Budget and Planning
Diversity, equity, and inclusion are always on Elise Glassman's mind. Elise works as the project manager in the Office of Budget and Planning, and formerly held the same role at UW Sustainability. She managed the development of the Sustainability Action Plan, where she implemented a DEI lens early in the process. To follow through with that commitment, Elise connected with underrepresented groups and international students to mix their feedback into the plan. When hiring new students for the office, Elise always focused on prioritizing DEI during the process. Elise's passion for sustainability also shows in her personal life as she frequently utilizes public transportation and eats vegetarian.
---
Lauren Rowe, staff, UW Autism Center
All around UW Marketing and Communications, Lauren Rowe encourages her peers to practice mindful habits. Since joining the office, she has informed others about small sustainable changes they can make in their daily office work. She is also part of the UW Tower Sustainability Committee, where she continues sharing her knowledge of green practices.
Some of her activism includes her reminding others to use reusable cups, repurposing printed documents as scratch paper, recycling used pens, and helped produce the Sustainability Film Series, which showcased a monthly film for community members to learn about local sustainability efforts. Outside the office, she also volunteers with the UW Botanic Garden to keep the greenery.
---
Kate Simonen, faculty, Architecture
For associate professor Kate Simonen, her expertise in architecture goes hand-in-hand with her passion for reducing carbon emissions. Her research has focused on the innovation of construction materials and practices that will go a long way in creating a low-carbon future. Kate heads the Carbon Leadership Forum (CLF) as the founding director, powering research on a link between environmental life cycle assessments to construction methods.
Her efforts have brought attention to low-carbon practices in the architecture community; ARCHITECT Magazine referenced the CLF in their January 2020 edition entitled "The Carbon Issue." Numerous media outlets have recognized Kate in the media for her commitment to sustainability as well.
---
Yona Sipos, faculty, Nutritional Sciences
Dr. Yona Sipos inspires passion in her students during her Environmental and Occupational Health Sciences lecture, while also leading by example. She goes beyond the coursework to teach environmental justice topics to her students and also promotes ways to engage with these topics, as well as creating spaces for students and community members to get involved in food justice.
Dr. Sipos participates on the advisory team for the UW Farm, where she implements sustainable methods into the farm's operations, and she also contributed to the creation of the upcoming Sustainability Action Plan. In addition, Dr. Sipos has played a role in producing sustainability reports on food systems and is a part of a couple food policy councils.
---
Chris Wade, faculty, UW Bothell School of Nursing and Health Studies
If you're sitting in Chris Wade's nursing classes, you might be a little surprised to hear him teaching about sustainability. At UW Bothell, Wade often weaves climate change discussions into his curriculum—and is working to do the same across all fields of study. Wade created a working group at UW Bothell to further this goal, which has since grown into a Teaching and Learning Community. Now there's an interdisciplinary mix of faculty, staff, and students onboard for making climate change education more prominent. With this grand goal in mind, he considers many strategies and ideas for ensuring that students can learn about sustainability during their time at UWB.
---
Jan Whittington, faculty, Urban Design and Planning
Jan Whittington's leadership paves the way for students to become involved in improving campus sustainability. As an associate professor in the Department of Urban Design and Planning and the director of the UW Solar group, Whittington works with students academically and professionally to advise them in proposing and designing new solar panel installations across campus.
Whittington encourages students to address their projects from many lenses and angles, allowing all members to play a part. For example, students need to evaluate physical infrastructure, ease of installation, future research potential, and policy change. Through her impact, UW Solar acts as a de-facto alternative energy consulting firm on campus.
---
Ursula Valdez, faculty, UW Bothell
Ursula Valdez started her movement at UW during her time as a graduate student in the department of biology, where she created the Bio-Sustainability Group. As a faculty member, Valdez also incorporates conservation into her classes and activities. She actively encourages students and researchers to document avian diversity in urban spaces, and educates them on how to restore these habitats.
Valdez also created a "Sustainability on a Student Budget" course to teach students how to embrace affordable, sustainable practices for everyday life. Outside of the university, she helped establish the Amazonian Center for Education, Science, and Conservation, an organization that promotes the conservation of tropical diversity.
---
Staff & Faculty Team Nominees
Center for Shared Services, staff team, Health Sciences Administration
Since its formation in 2018, the Health Sciences Administration Center for Shared Services (CSS) has committed to limiting their use of consumable and disposable items. By going digital with their work when possible, the CSS prioritizes efficient procedures and minimizes waste. The CSS offers its services in a way that prioritizes efficiency and conservation.
---
Diversity, Equity and Inclusion Office, staff team
College of the Environment Diversity, Equity and Inclusion
The College of the Environment's Diversity, Equity, and Inclusion team is always asking hard questions to see if they're representing groups equally in the conversation about sustainability. The DEI seeks to create a perspective that is inclusive of various identities, and propose solutions to key environmental issues. Two members, Terryl Ross and Isabel Carrera Zamanillo, have been integral in a collaborative planning process with UW Sustainability to plan Earth Day events for the past few years. The DEI spearheaded the Intersectionality Project, a collaboration with UW Sustainability, to bring together people and encourage them to share authentic dialogue relating to environmental sustainability.
---
Learning and Information Technologies, staff team, School of Nursing
The leadership members of the School of Nursing's Learning and Information Technologies (L&IT) department are always brainstorming ways to create a more sustainable office. L&IT leads by example, putting in the work to help other divisions to succeed as well as taking their own initiative, in addition to promoting the UW's sustainability goals and reminding others to think green.
Thinking both economically and environmentally, L&IT took the steps to become paperless as a group. Within the past year, L&IT leadership researched the effects of printing to present this information to other departments, joining hands to reduce paper consumption. They also encourage offices to become Green Office Certified to promote sustainability at UW.
---
UW Tacoma Giving Garden
The efforts of the Giving Garden at UW Tacoma center around addressing food justice. This organization is partnered with the campus food bank to distribute food to their students, one-third of whom are facing food insecurity.
The Giving Garden uses sustainable methods to grow their greens, like keeping rain barrels, maintaining a living roof, and creating their own compost. Taking initiative, the Giving Garden also promotes these practices on campus and within the greater Tacoma community. Students clocked in over 600 volunteer hours in 2019 and hosted 16 events.
The same year, staff also incorporated the Giving Garden into five curriculums at UWT to teach food security, sustainable urban agriculture, and sustainability.
---
UW Tower Green Team
The UW Tower Green Team always encourage their peers to practice sustainability. They helped host the Sustainability Film Series, which showcased a monthly film for community members to learn about local sustainability efforts. Screenings covered topics like the life cycle of a t-shirt and blue carbon in marine ecosystems. With the help of a grant from the Campus Sustainability Fund, the Green Team created a "Green Square" garden this year to showcase native plants, vegetables, and herbs.
Throughout the UW Tower, Green Team members implemented compost bins and electronic waste drop-off opportunities. They also participate in local conferences to help inspire higher education institutions to enact greener policies.
---
Catch the complete list of nominee here!