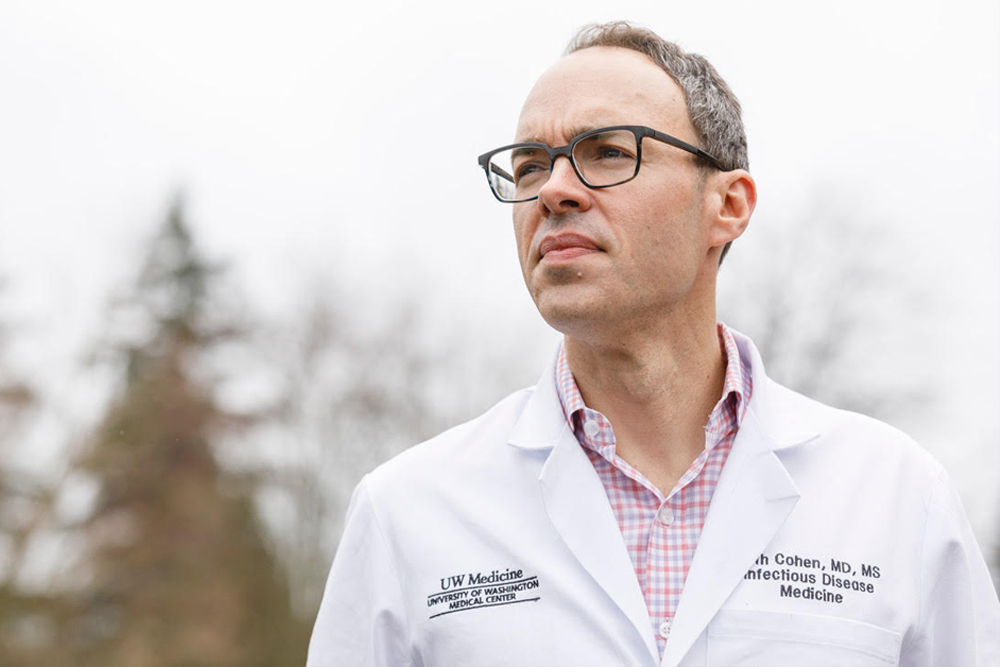 Faculty Friday: Seth Cohen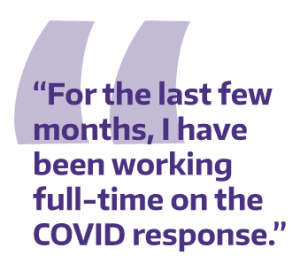 When Dr. Seth Cohen calls UW Medicine's fight against COVID-19 a "team sport," he does so with a world champion's conviction. A gold medalist with the US National Team at the 1999 Ultimate Frisbee World Championships while in college, Cohen now serves as Medical Director for Infection Prevention at UWMC-Northwest as well as chief of its Infectious Disease Clinic.
Before the COVID-19 outbreak overtook the state of Washington late last winter, Cohen says his focus was threefold: seeing patients, educating students, and working on infection prevention—that is, making the hospital safer for patients and staff.
While he typically would normally spend much of his time working with medical students and residents, teaching the annual Tropical Medicine elective and a course on clinical infectious diseases at the UW School of Medicine, since COVID hit, Cohen has exclusively focused on infection prevention as part of UW Medicine's "whirlwind" efforts to quell the spread of the novel coronavirus.
"For the last few months, I have been working full-time on the COVID response," Cohen says, adding that his infection prevention work is now "all-consuming." His first responsibility was to focus on making the hospital environment safer—both for patients and those caring for them.
"We had to think through how to make three floors of the hospital negative pressure and work through some of the air-handling challenges," Cohen says. COVID is something that "touches every area of the hospital," he says, requiring interface with every department at UW Medicine.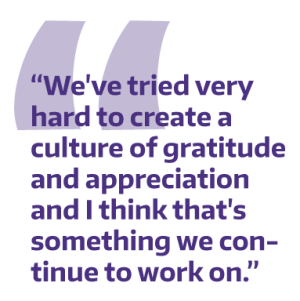 As part of these efforts, UWMC Northwest opened a testing site on March 6 in the form of a drive-through clinic on the ground floor of the hospital's parking garage.
Within a week, the mobile clinic had screened 476 patients, with eight cases testing positive for COVID-19 and many more testing positive for influenza.
The ability to provide rapid access to testing for staff across UW Medicine has been a critical component of the region's response to the epidemic.
"I think it's been a very effective way to get diagnoses and get people out of work who have COVID and then get people back to work sooner," Cohen says, adding the process is ongoing with plans to implement serology testing for employees over the next few weeks.
Cohen emphasized the importance of the overall health and wellbeing of UW Medicine employees in an article co-published with UW Medicine colleagues on April 24, writing: "As we rushed to mobilize to support the increasing numbers of patients with COVID-19, we learned that we needed to focus just as intently on the care of our colleagues who were struggling with the uncertainty and rapid change of this crisis.
"Clinicians share the same fear and concern as those outside health care, worrying about how this global pandemic will impact our health, families, and livelihood."
A key part of that has been practicing gratitude.
"There are lots of challenges," Cohen says, "but I think one of the biggest issues is just for us to keep our heads up and say thank you to our staff. We've tried very hard to create a culture of gratitude and appreciation and I think that's something we continue to work on."
Those efforts included the launch of Together UW, a grassroots effort led by students at UW School of Medicine to document and amplify the stories of healthcare workers through such challenging times.
Cohen concedes the challenges of trying to encourage wellbeing in the midst of a crisis are "multifold," but says that there's "a lot of really fantastic work being done on this," acknowledging resources across the UW he hopes staff can utilize to stay strong and as centered as possible through challenging times.
"I think it has been incredibly emotionally taxing for everybody involved and I think it has really highlighted how staff at our hospitals have really gone above and beyond," he says. "Everybody has just been really amazing and dedicated."
---
Cohen says his was a "nontraditional path to medicine."
He took four years off after completing his undergraduate degree as he contemplated pursuing a career in neuroscience research. He started work in a lab, but soon realized he enjoyed patient interactions, so he ended up taking another job in an infectious disease lab.
"From there I was hooked."
Between studying parasites and living in India for a spell, Cohen says he "fell in love" with the work he was doing there, which focused on public health, specifically HIV and parasitic co-infection.
After applying to medical school from India, Cohen graduated from Emory University School of Medicine in Georgia before completing a Residency in Internal Medicine at the University of California in San Francisco.
"Since then I've been laser-focused on a career in infectious diseases," says Cohen, who likens his work to a detective's: working through a broad list of possibilities to identify the cause of a problem and present a solution.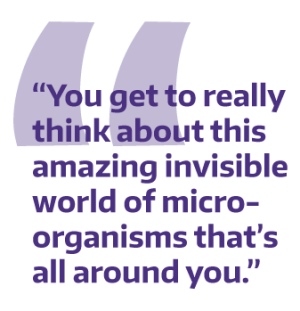 "You get to really think about this amazing invisible world of microorganisms that's all around us," he says. "Infectious diseases really keep you current with things that are going on globally."
COVID-19, he says, is a great example of that.
"We were following COVID with great interest at the beginning and of course didn't know what was going to happen, but infectious diseases have shaped large parts of history as COVID is doing now," Cohen says. "I think infection prevention is a natural extension of that."
While it remains hard to envision how and when this global epidemic will end, Cohen says he feels "incredibly fortunate" to be part of a UW community that he believes will be seen as a leader from beginning to end, having set a collaborative tone by sharing best practices and protocols with other institutions.
"Every day is a little bit different, but I find the work incredibly rewarding," he says. "You're constantly learning. I'm incredibly proud of what our colleagues here have achieved. I think one of the things I'm really proud of is our system was very supportive of quickly developing policies and then publishing them openly on the internet so that other institutions would be able to have access to them."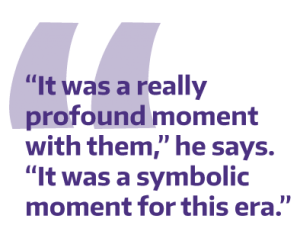 Though his daily work remains "fast paced and at times emotionally draining," Cohen says he is continually buoyed by the pride he feels at the resiliency of healthcare professionals and patients alike. He relates one of several instance of interacting with patients on a deeply emotional level.
"We had a patient in the ICU who was relatively young and he was on a breathing machine due to COVID and his wife called us and had some mild respiratory symptoms. She was incredibly scared about him. This at a time when, because of infection concerns, visitors aren't allowed in the hospital."
So Cohen met her outside the infectious disease clinic, still in full PPE gear, in an attempt to provide a measure of comfort and connection and to assuage her fears. Several weeks later, her husband was discharged.
"It was a really profound moment with them," he says. "It was a symbolic moment for this era."
Until there are more and better ways to get people rapidly screened, Cohen says he thinks he and his fellow healthcare workers "are in this for the long haul." But amid manifold challenges, there are also many reasons for hope and celebration.
"I'd say the silver lining is it has really brought our infection prevention teams together on all sites as well as hospital leadership," Cohen says. "We're really speaking with one voice."
---
Dr. Cohen holds an MD from Emory University School of Medicine, completed a residency in Internal Medicine
University of California, San Francisco Department of Medicine, and held a Fellowship in Infectious Diseases
University of Washington in 2016.