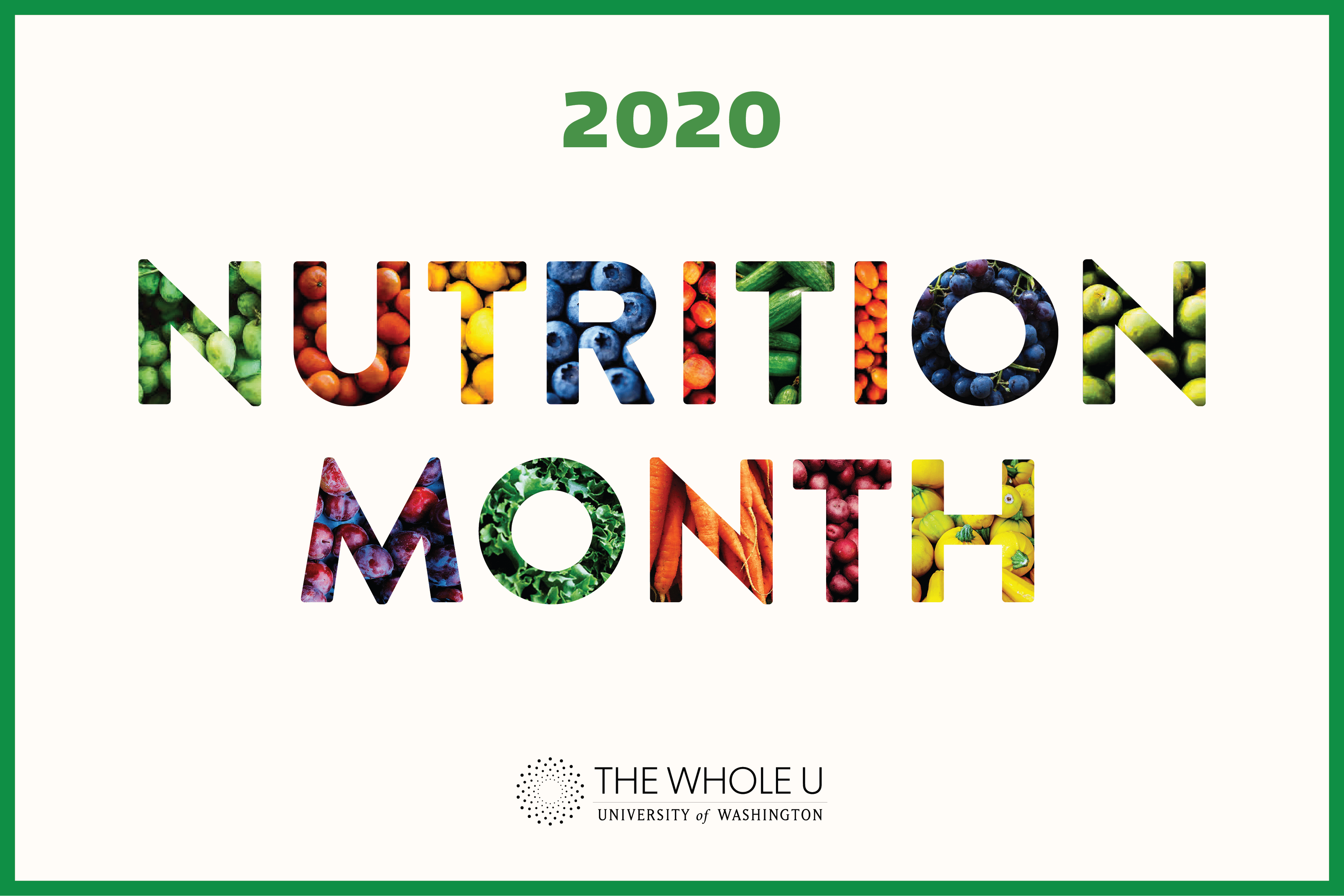 2020 National Nutrition Month
Spring into March—or march into Spring—with National Nutrition Month at the University of Washington!
Join The Whole U for a month-long celebration of nutrition and eating well with health in mind around this year's National Nutrition Month theme, Eat Right, Bite by Bite. From team potluck challenges to a month full of content and activities, National Nutrition Month 2020 is an ideal opportunity to begin eating better and explore the powerful properties of the foods we consume.
Click here to register now and learn more about what National Nutrition Month is all about!
Here's what's included:
Weekly Article Content
Each week, The Whole U website will feature articles focused on nutrition and its relationship to a different facet of health:
Week 1 – Foods for the brain and mental health
Week 2 – Foods to fuel for performance
Week 3 – Diet to promote skin health
Week 4 – Diet and food choices that promote environmental health and sustainability
Events & Activities
Learn how to cook greens at a special cooking class with Chef Tracey, UW Executive Chef
Attend a seminar on fueling for performance hosted by Dr. Elizabeth Kirk, UW Nutritional Sciences
Participate in the 31 Days of Fruits and Vegetables Challenge
Learn to utilize a fruit and vegetable serving tracker
Try simple, healthy recipes that are easy and enjoyable to make at home
Last but not least, host a team healthy potluck as part of the Healthy Potluck Challenge!
March Healthy Potluck Challenge
Nothing brings people closer together than healthy, delicious food! The Whole U invites all departments and teams to join a March Healthy Potluck Challenge.
With over 200 teams participating in years past, it is always fun to see how creative and exciting potlucks can get from creative themes to colorful dishes. On top of an event with amazing food and your favorite colleagues, all team potlucks will be eligible to win a potted basil plant! Learn more about how the challenge works and register here.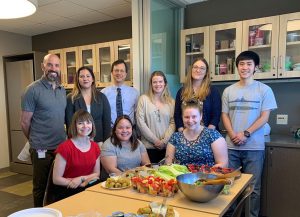 ---
Get Ready to Veggie with UW Medicine Veggie Madness!
National Nutrition Month happens to fall during one of the biggest college sporting events of the year: March Madness. Lettuce celebrate with a little healthy competition. Veggie Madness, the UW Medicine tournament of fiber, is back for year three. Fill out a bracket and root for your favorite veggie by casting your vote starting on March 9. Learn more here!
---
Are you seeking more inspiration this March for healthy eating patterns? Join The Whole U Eating Well Facebook Group for tips and motivation. Or if you want to be adventurous with your next meal, check out a complete list of The Whole U resources for eating well here.