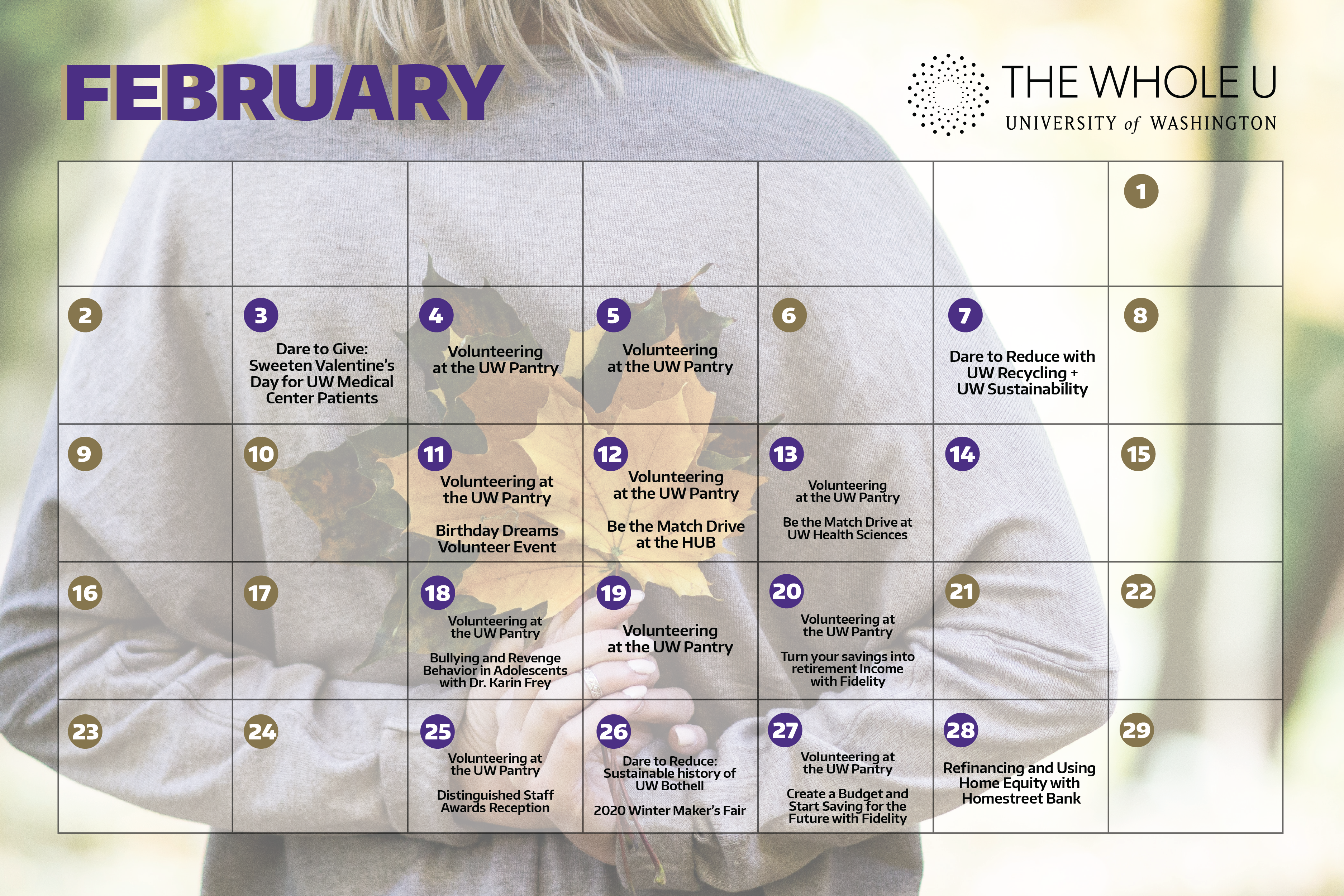 Share Love in February with Events from The Whole U
The longest, coldest month of the year is almost at an end, giving way to, well, the shortest, coldest month.
But February at the University of Washington has a lot more in store than wet, chilly weather. As thousands from across the UW continue to challenge themselves to stick to New Year's resolutions in the fifth and sixth weeks of the 2020 Dare to Do challenge (keep up the good work!), The Whole U will be hosting events and activities that offer all Huskies opportunities to get involved, give back, move more, and practice more sustainable lifestyles. There will also be eye-opening lectures and staff recognition ceremonies this month that you won't want to miss out on!
---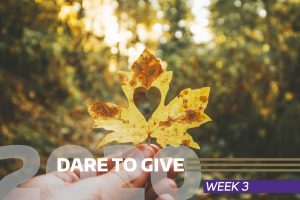 Dare to Give: Sweeten Valentine's Day for UW Medical Center Patients
February 3 at the UWMC, 10:30 am—4:30 pm
Are you searching for a fun, creative way to give back to your community? Do you love arts and craft and are genuinely passionate about helping and cheering up others around you?
If so, join The Whole U at the Dare to Give, Valentine's Day card making event. Bring your work friends to help craft 550 handmade Valentine Cards for the UW Medical Center patients! In honor of giving, you can make one for your special someone after making a card for a patient.
---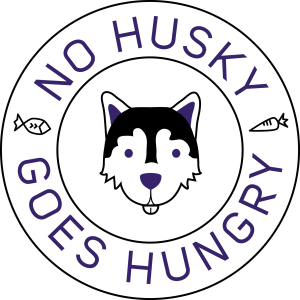 February 4, 5, 6, 11, 12, 13, 18, 19, 20, 25, 26, 27 at the UW Food Pantry, noon—1 pm
Looking for a great way to give back to the Husky community?
The UW Pantry needs your help!
The Whole U is looking for volunteers during lunch hour on Tuesdays and Thursdays throughout this February to alleviate hunger and stress for UW faculty, staff, and students.
Help us organize and restock non-perishable items, community resources, and feminine products at the UW Pantry.
Remember to invite your work friends to help UW together!
---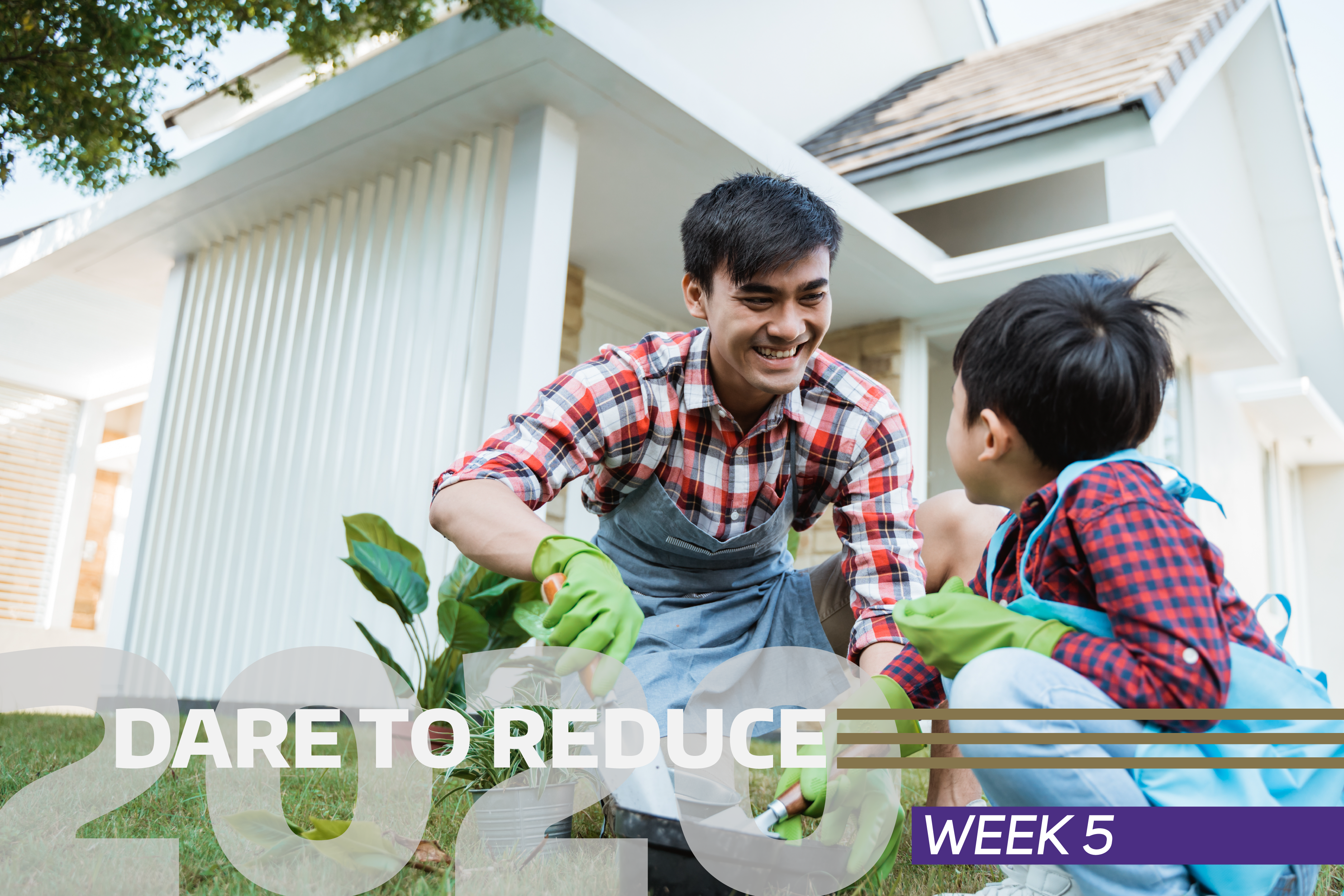 Dare to Reduce with UW Recycling and UW Sustainability!
February 7 at the HUB, noon—1 pm
Whether you are looking to reduce your waste at home, work, or on your commute, there are plenty of easy ways to achieve that goal this new year!
Come join us to learn more about how to lessen your carbon footprint through reusing, reducing, recycling, and composting. This seminar will include Daimon Eklund from UW Sustainability and Adam Fehn from UW Recycling who will both provide professional insight on how to make a positive impact on our environment.
---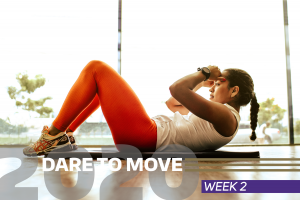 Dare to Move: Harborview Bootcamp Workout Class with NW Fitness
February 11 at NW Fitness Gym, noon—1 pm
Looking to continue the New Year's fitness motivation with an interactive, full body workout?
The Whole U presents a Harborview Bootcamp class with John Carrico, owner and personal trainer at NW Fitness! Come enjoy this circuit training style class with your colleagues to boost your energy levels and increase your day's physical movement.
---
Be the Match Drive
February 12 at HUB, 10 am—1 pm
February 13 at UW Health Sciences – 10 AM to 4 PM
Become part of the UW's movement t0 help find cures for those living with blood cancers!
Stop by the HUB on Wednesday, February 12 or Health Sciences on Thursday, February 13 for a tabling event, where students, faculty, and staff can learn more about how joining the Be the Match registry of potential donors can save lives and help increase the chances for people of mixed ethnicity who are historically underrepresented among donors matches.
Bring your colleagues with you to stop by and register!
---
Bullying and Revenge Behaviors in Adolescents with Dr. Karin Frey
February 18 at HUB, noon—1 pm
Do you want to learn how everyone can contribute to making growing up safer and easier for children? Join us at Dr. Karin Frey's lecture about school bullying which will examine and, in some cases, upend stereotypes about bullies and victims. Karin Frey, a Research Associate Professor of Educational Psychology at the College of Education, studies influences on revenge, helping behavior, self-identity, and bullying. Read more about her here.
---
Distinguished Staff Awards Reception
February 25 at the HUB, 2–3:30 pm
Whether you are supporting your colleagues or simply looking to celebrate the amazing contributions UW staff make, you don't want to miss out on this year's Distinguished Staff Awards Reception! President Ana Mari Cauce, Vice President of Human Resources Mindy Kornberg, and other campus leaders will be speaking at the reception. Come with your work friends and register now to reserve your spot!
---
Dare to Reduce: Sustainable history of UW Bothell and Wetlands Tour
February 26 at the UW Bothell North Creek Event Center, noon–1 pm
Are you curious about how UW Bothell works towards sustainability with their wetlands and green infrastructures around the campus?
For the week of Dare to Reduce, join us at the Sustainable History of UW Bothell and Wetlands Tour where we will uncover the history of the land the university sits on.
There will also be an interactive tour of the 58-acrewetland on campus. Please bring your own boots if you have or prefer them.
---

2020 Winter Maker's Fair!
February 26 at the HUB, 11 am—3 pm
Whether you are looking for homemade gifts to give to your loved ones or supporting our vendors within the UW community, the Winter Maker's Fair is the perfect place to swing by during the work day!
Many of these unique, handmade pieces have a story behind them.
Stop by to talk to the vendors and hear their story and passions!
---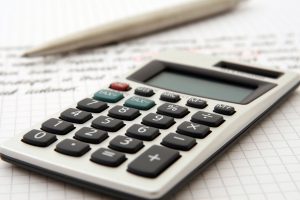 Create a Budget, Ditch your Debt, and Start Saving for the Future with Fidelity
February 27 at South Lake Union, noon—1 pm
Whether you are looking to track your expenses or create a sustainable budget, we have the perfect seminar for you!
The Whole U presents a workshop with Fidelity where topics on eliminating debt, saving for the future, and understanding your credit score will be addressed by Dan Kline, a Fidelity director and retirement planner. Bring your notes and questions for this interactive, yet informative event!
---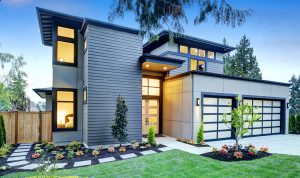 Refinancing and Using Home Equity with HomeStreet Bank
February 28 at UW Tower, noon—1 pm
Do you want to learn more about how to refinance a home or using cash from your home to avoid debt?
If so, check out this seminar presented by Homestreet Bank where you can discover all the benefits of refinancing and consolidating to better your financial health. Bring your work friends and your questions to take advantage of this informational seminar!
---
Wondering what other fun, exciting events and informative articles are in store from The Whole U? Head to our events page to scope out do-it-yourself downloads that will help you take life to the next level!
From helpful kitchen "cheat-sheets" for creating delicious, nutritious meals to workout plans for getting stronger and healthier overall, use our downloads to be more accountable and driven in your daily life. Follow us on Facebook, on Twitter, or on Instagram to stay up to date on everything going on, including fun social media-specific features and contests!